The UN planned to provide assistance to about 250,000 displaced people in Afghanistan this year. Now it's looking at a million — far more than the government and aid agencies are able to handle.
There are four reasons for the spike: Pakistan has been pushing Afghans back over the border, and so has Iran. Far more people than expected have been displaced by war inside the country this year. Despite the worsening conflict, the European Union has made a deal that could see tens of thousands of Afghans who were denied asylum sent home.
As winter approaches, the dire situation threatens to become a full-blown humanitarian crisis. Already, some internally displaced people are in remote and insecure areas, beyond reach of aid agencies. And the Norwegian Refugee Council has documented malnutrition amongst returnees from Pakistan, some of whom are living in tents.
In September, the UN launched an emergency appeal for $152 million to help the rapidly increasing number of "people on the move". Donors have so far committed $58 million, the UN emergency aid coordination body, OCHA, told IRIN.
Afghanistan has been in a state of conflict since the 1970s and remains so today. Still, Pakistan has said it wants all Afghan refugees to go, and the authorities have been harassing them. To date this year, almost 448,000 have returned, according to OCHA.
Afghans are also facing harassment in Iran, including theft and beatings, while others have become drug addicts as they were paid by their employers in heroin, according to the International Organization for Migration. More than 250,000 people have crossed the border this year, "but most are going back to abject poverty, joblessness and the horrors of war".
Meanwhile, the conflict is getting measurably worse.
So far this year, 382,371 people have fled their homes due to fighting, according to OCHA. The UN Assistance Mission in Afghanistan said on 19 October that 8,397 civilians were killed or injured from January to September this year, about the same number for the first nine months of last year. In total, 2015 saw 11,002 civilian casualties, including 3,545 deaths — a record since UNAMA began counting in 2007, when 1,523 civilians were killed.
Despite those statistics, the European countries are shifting away from considering Afghans refugees. After a period of relative security (and relative is a very relative term in Afghanistan), the war started heating up over the past few years. As the chart below indicates, European countries correspondingly granted more Afghans asylum. Rejection rates dropped from 48 percent in 2013 to 35 percent in 2014. In 2013, UNAMA recorded 8,615 civilian casualties; the number jumped to 10,548 the following year.
As security deteriorated, Afghans began leaving the country in droves. By October last year, more were fleeing than at any time since the Taliban, and Afghans made up a quarter of asylum seekers in Europe. Unfortunately for them, Syrians were fleeing war in their country in even greater numbers and comprised the largest group of asylum seekers.
There has been a growing perception among Europeans that they are being overwhelmed by refugees, and governments have tried hard to pump the brakes. During the first three quarters of 2016 – when casualties were roughly the same as the record-setting numbers last year – the rejection rate of Afghan asylum seekers has risen to 45 percent, on a much greater volume of applications.
As a critical conference approached early this month in Brussels, where international donors would decide how much aid to provide over the next four years, the European Union negotiated a deal with Afghanistan to return rejected asylum seekers. It will see the EU put failed asylum seekers on flights home, including – controversially – "non-voluntary returnees".
What will all of these people be coming home to? Below is a selection of images by Andrew Quilty, a photojournalist who has lived in Afghanistan since 2013.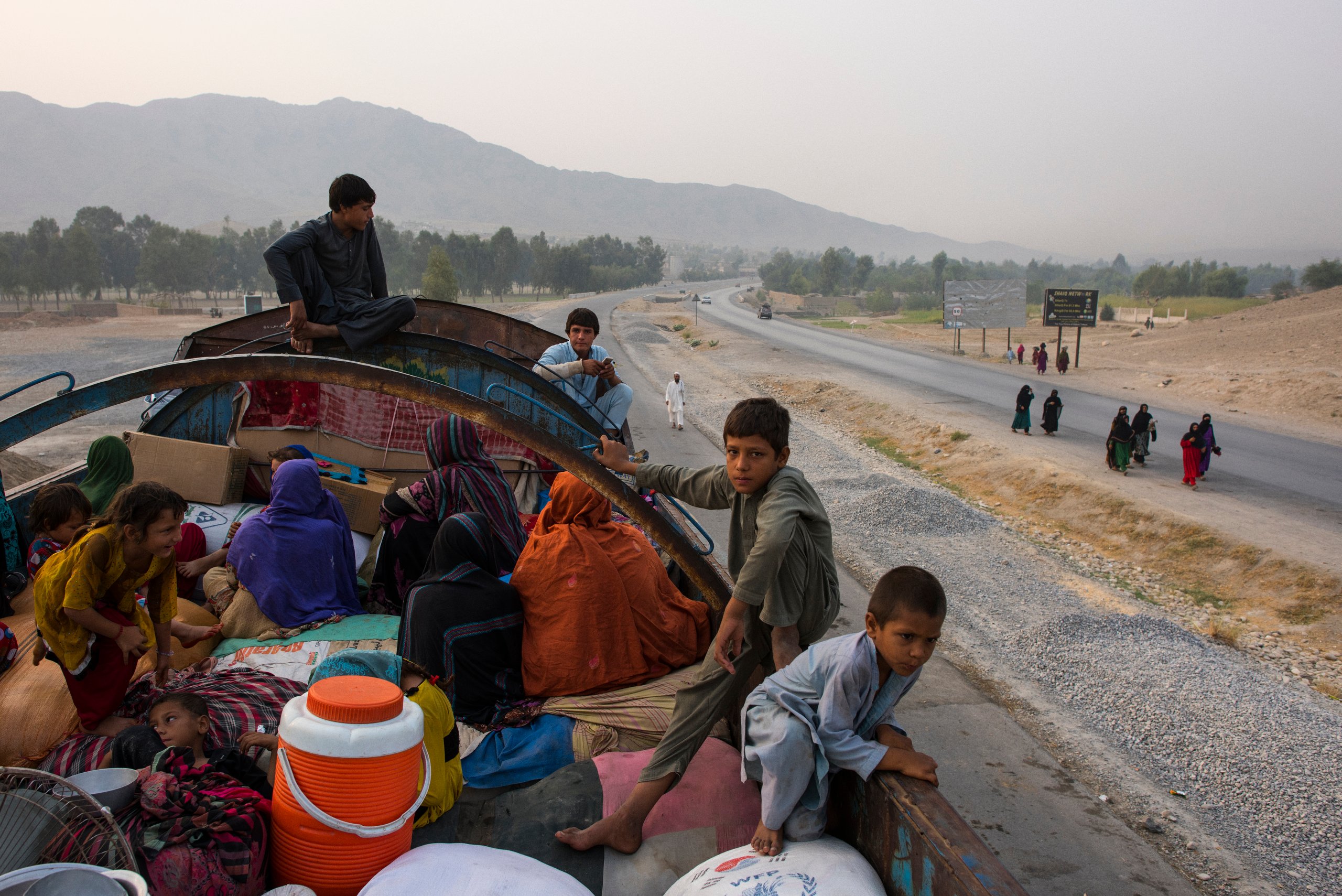 Early morning outside the UN's intake centre between the Pakistan border and the city of Jalalabad in Afghanistan's Nangarhar Province. This family lived almost 40 years in the Baraki refugee camp near the Pakistani city of Peshawar, but they've joined the mass migration home as Pakistan pressures them to leave.
At the intake centre, those who were registered as refugees in Pakistan are given a small amount of cash to help them resettle. From there, the convoys of trucks disperse throughout the country, taking returnees either to where they came from originally or to places where they still have family who can assist them with shelter in the short term.​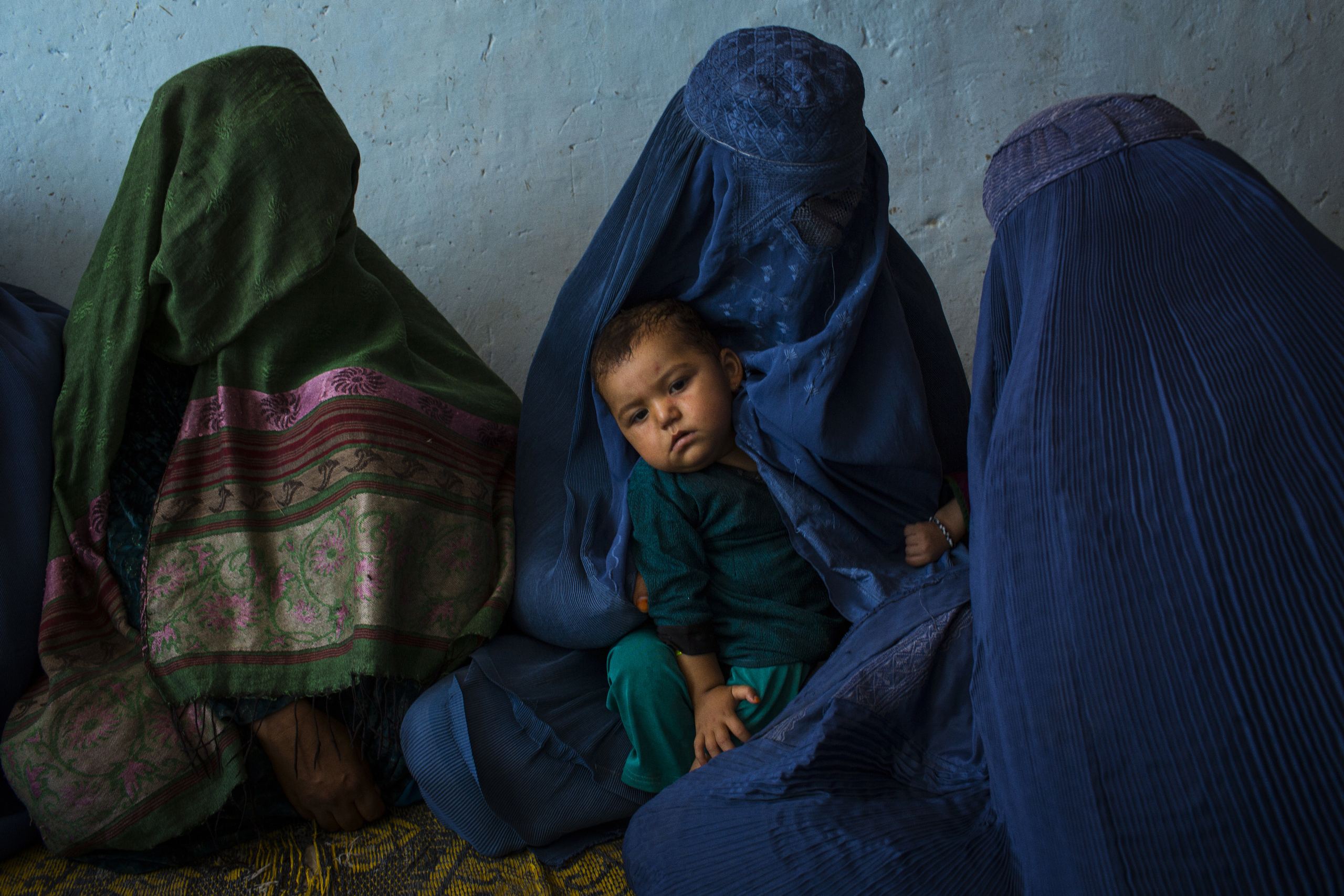 Several women and girls from the district of Pashtun Kot in Faryab Province sit in the room of a house that the owner has provided, rent-free, in the provincial capital, Maimana, after they were forced to flee their village on 18 August 2015. Two of the women say that their husbands were killed in recent fighting, while another disappeared years ago after becoming addicted to opium.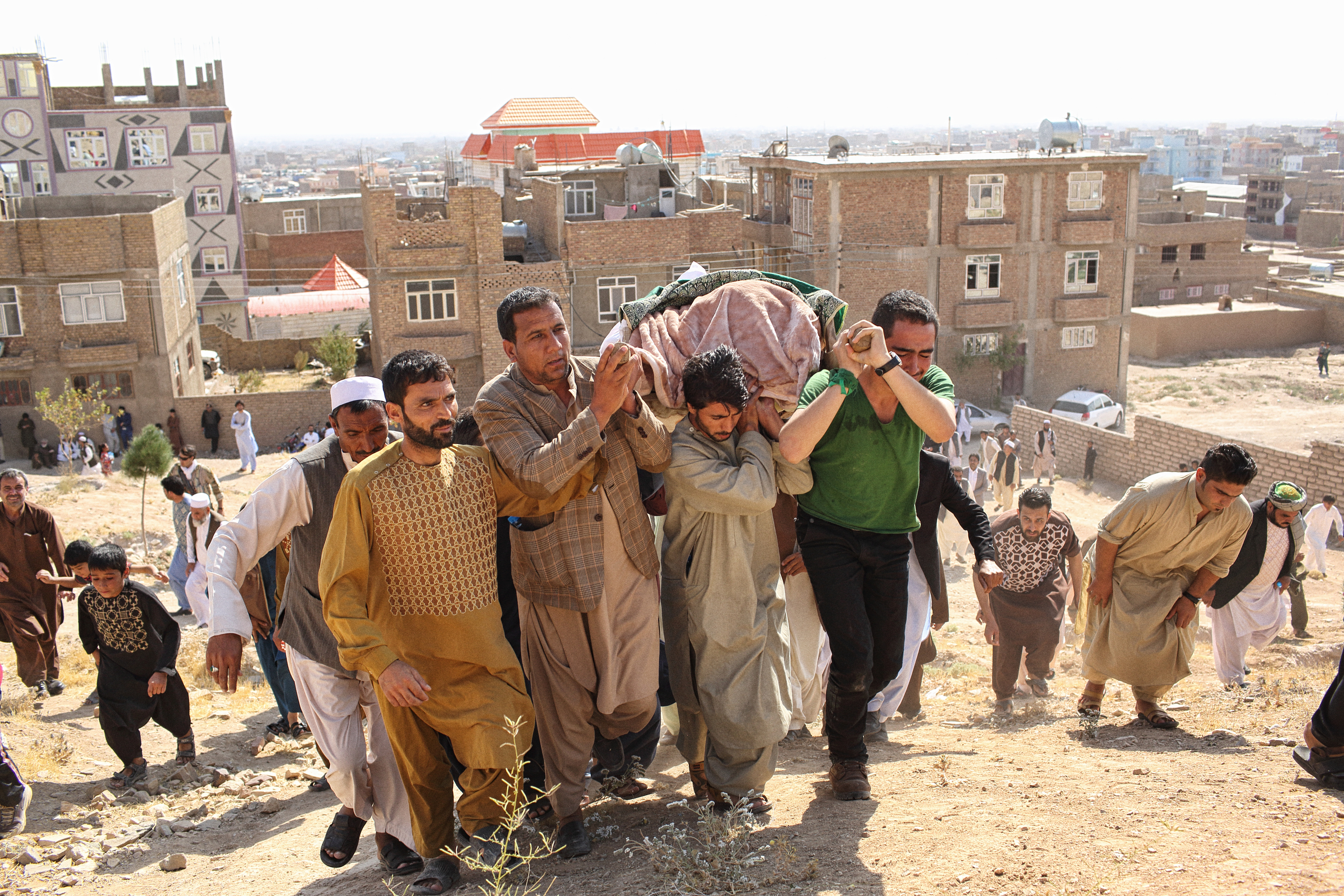 Rezwan (wearing a green shirt), the eldest son of Seema, helps to carry his mother's body to her grave in a cemetery on the outskirts of the city of Herat, in western Afghanistan. Seema was shot in front of Rezwan and her other children a week earlier by Iranian police near the Turkish border.
Seema and her children had left Afghanistan and crossed most of Iran on their way to Turkey. After she was killed, the children were detained and then deported to Afghanistan. The children had come directly from the Iranian border to the cemetery for their mother's burial.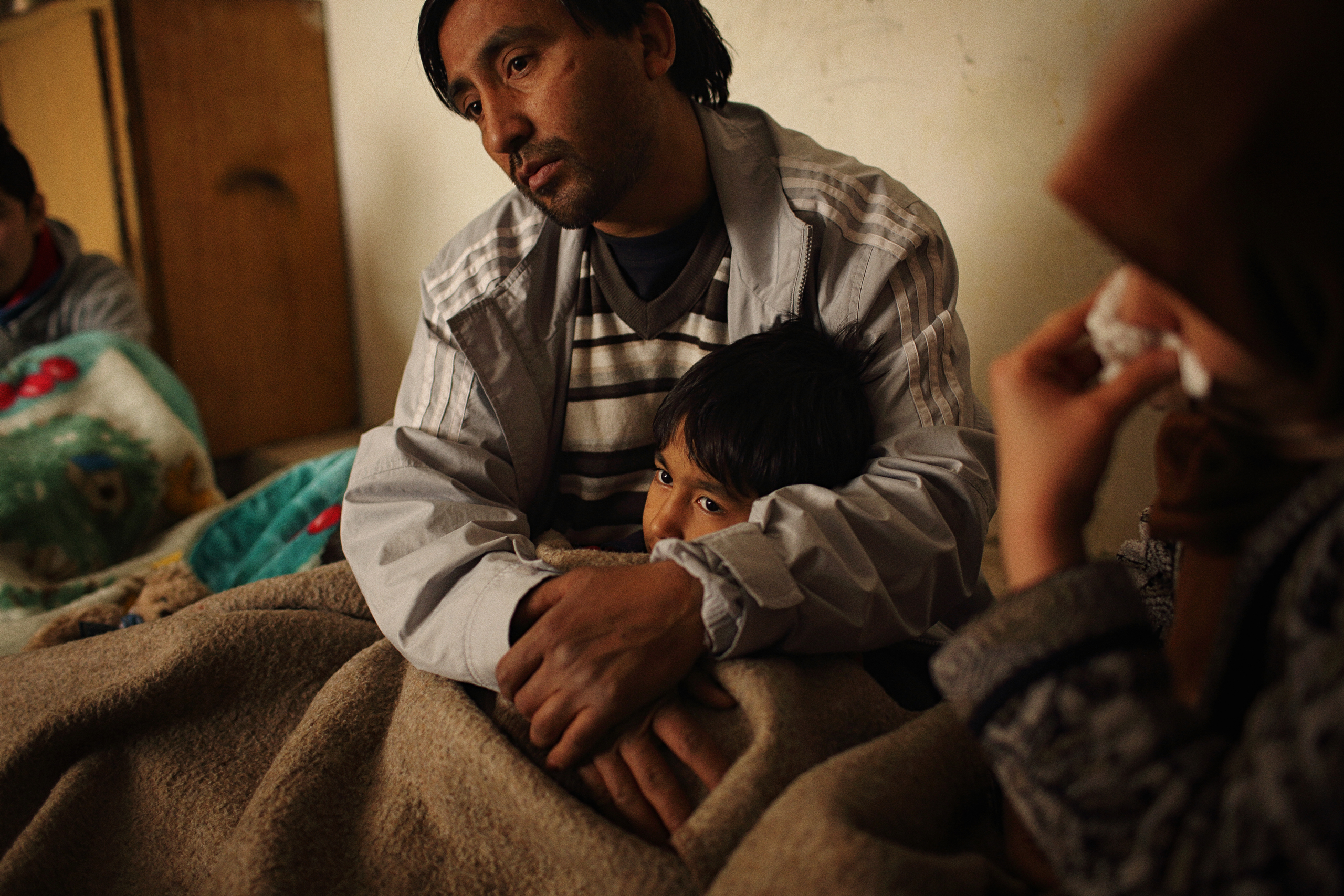 Ahmad and Nadereh Hashemi and their six-year-old child Mohammad were deported from Norway in November 2014. They had lived there for four years and in Iran prior to that for approximately 10 years. None of their three children had ever been to Afghanistan before they boarded the plane. The two youngest were born in Norway but the government does not automatically grant citizenship to those born in the country.
The family of five is living in a room in the Chandawol area of Kabul, which is a largely ethnic Hazara neighbourhood. The room is approximately five by three metres square, with only a gas cooking stove for heating. Ahmad is trying to find construction work, but it's difficult in the winter months. The rest of the family — including Nadereh who suffers from depression — stay at home, frightened to leave the house because of security concerns.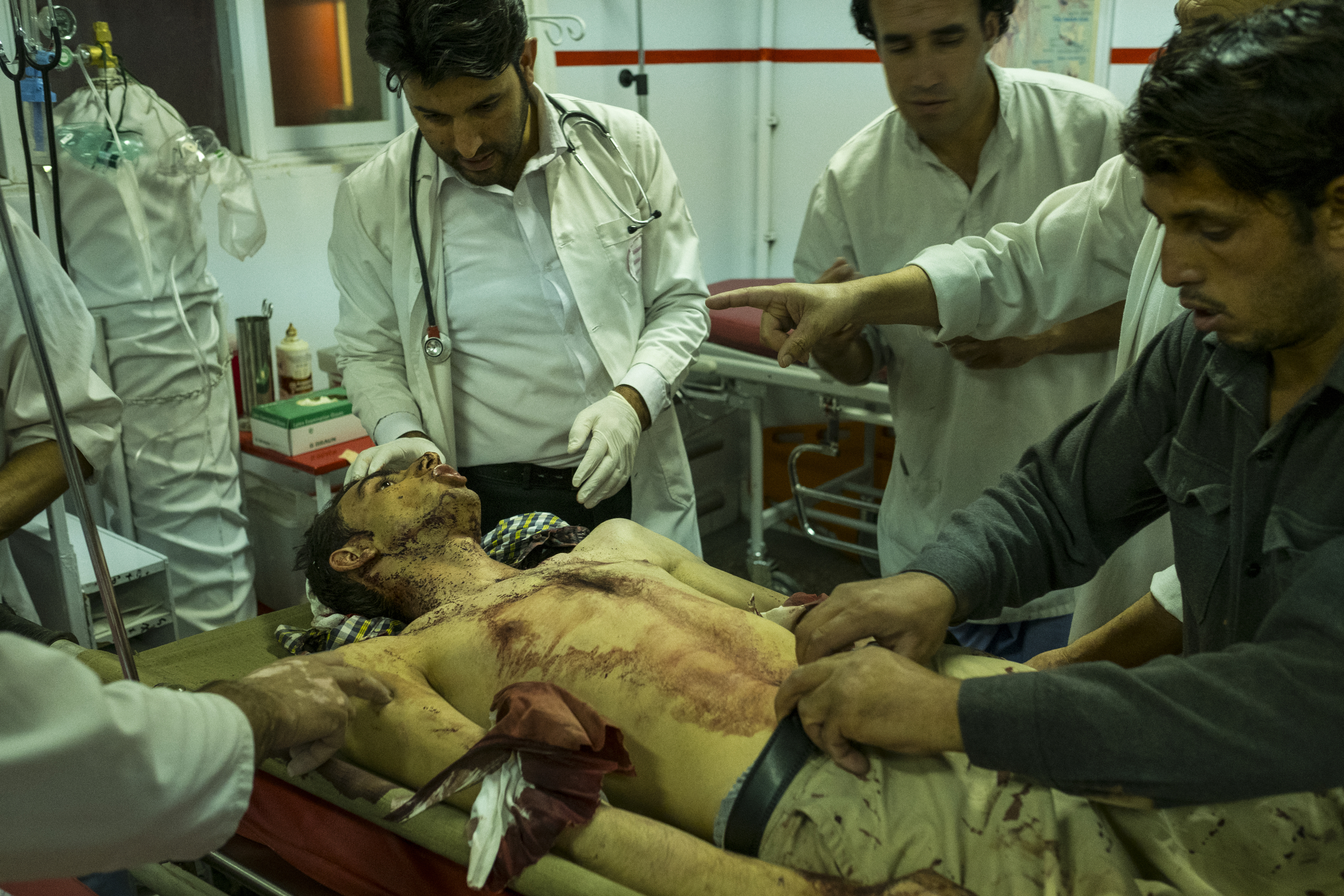 Medical staff members with the Italian NGO, Emergency, treat a survivor of an attack in August at the American University in Kabul. Militants set off a car bomb just after 7 p.m. and then stormed the facility. More than a dozen people were killed, including students and a professor. At the time this photo was taken, officials believed two attackers remained in the university with an unknown number of students and staff trapped inside as well.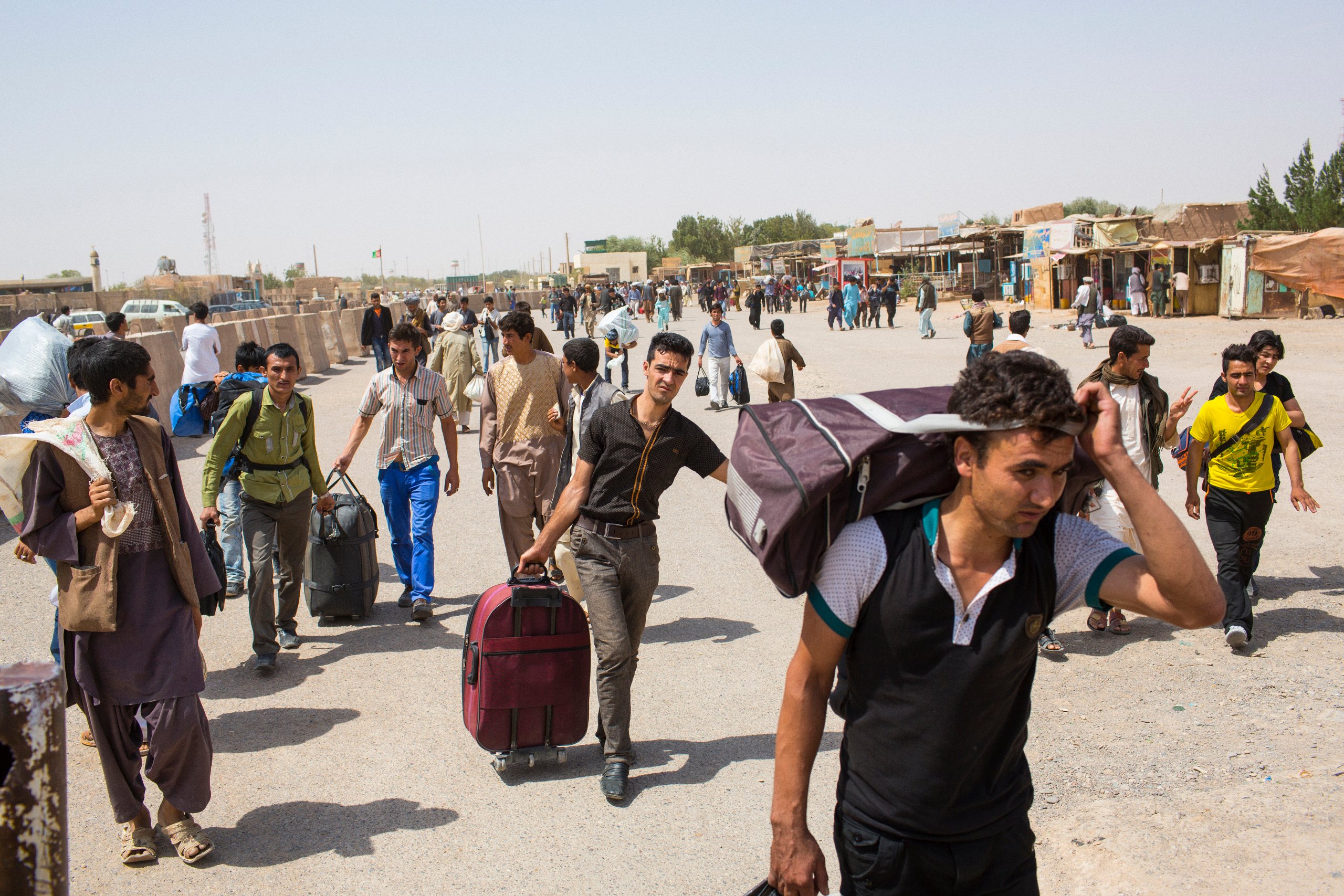 Afghan men – the majority of whom have just been deported from Iran – carry their belongings a couple of hundred metres beyond the Iranian border towards vehicles waiting to transport them toward the city of Herat. As many as 2,000 people per day are coming from Iran into Afghanistan at the Islam Qala crossing in Herat Provinc, and many of them are deportees. They are usually young men who went to Iran from the southern province of Nimroz. They planned to either find work in that country or continue westward to Europe.​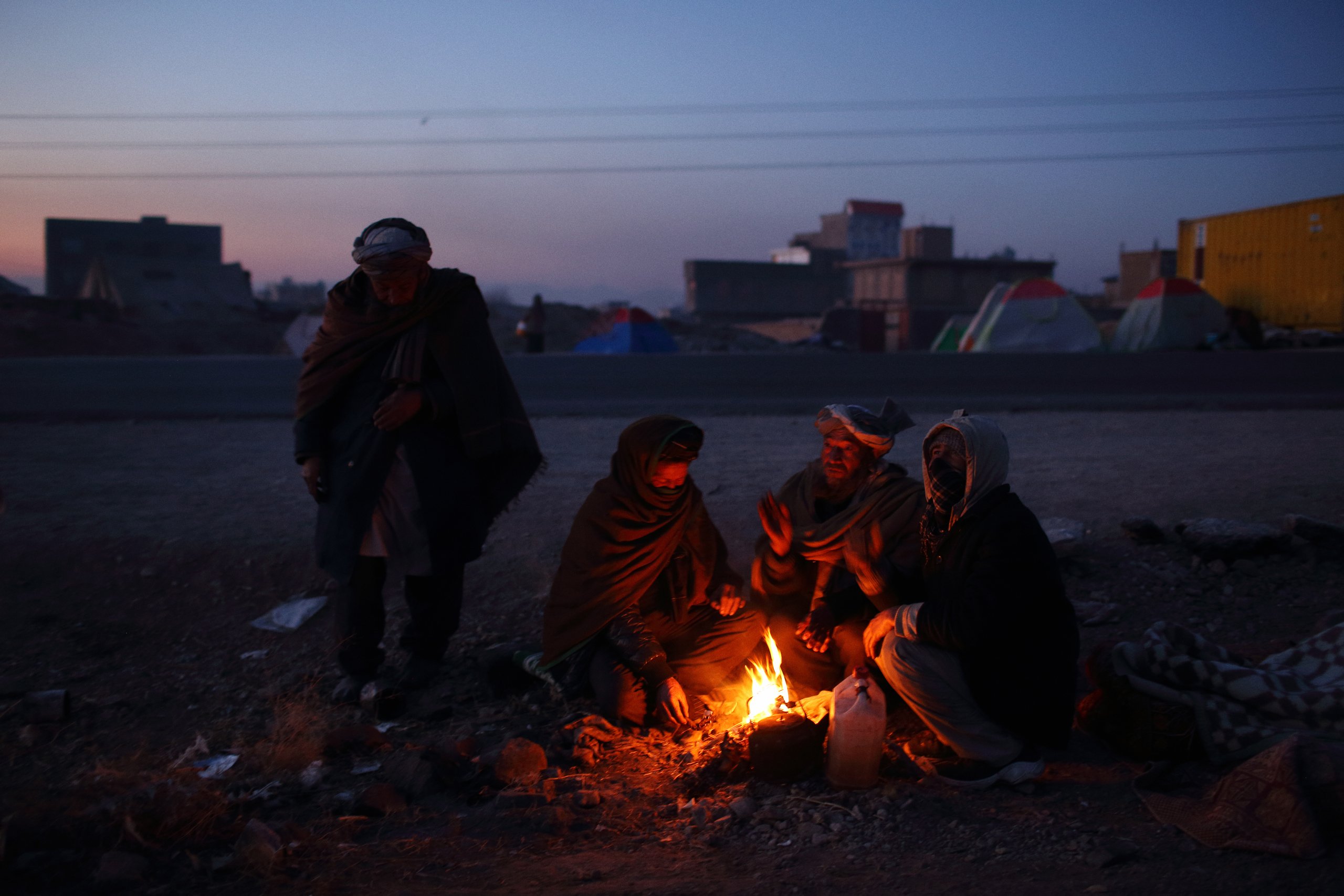 Before sunrise on the northern edge of the city of Herat in western Afghanistan – only a couple of hundred meters from the US Consulate and on the edge of a main road – families from Ghor Province gather by fires to stave off temperatures of around minus 8 degrees Celsius. About 300 people are living in makeshift shelters and tents after fleeing their homes due to fighting and drought, which ruined their harvests.​
(TOP PHOTO: In July, just a few kilometres towards the centre of Kabul from this barren hilltop, a suicide bomber detonated explosives in a crowd gathered for a peaceful demonstration. More than 80 people were killed, mostly ethnic Hazaras, and 250 more were wounded. It was the worst single attack in Afghanistan since the US-led invasion of 2001. The so-called Islamic State claimed responsibility, a first in the Afghan capital. The following day, with the help of an earthmover, more than 20 of the dead were buried here on the far southern outskirts of the city. Women who gathered to mourn made their way through the rows of headstones, stopping and crouching at each to offer prayers as men stood back in a solemn row. CREDIT: Andrew Quilty/IRIN)
aq/jf/bp/ag