The stray dogs bite at my ankles. The wind threatens to yank off my carefully tied hijab. My face shield painfully whips against my cheeks. I see a line of human beings form hastily in front of me. A hundred muffled voices call out from behind face masks in Dari, French Lingala, and Somali insisting they need to be seen by a doctor.
These people have escaped from war zones, crossed hostile borders, and braved the sea, only to end up here, on the Greek island of Lesvos, where I've seen the EU's racist, xenophobic, and Islamophobic migration policies intensify during the coronavirus pandemic.
I returned to work as a volunteer physician on Lesvos in December last year. Since my last visit, in February 2020, Moria – long a symbol of the failures of EU migration policy – has burned to the ground. Now, around 7,000 people are living in Kara Tepe II, a quickly erected, makeshift camp on a windswept, lead-contaminated, flood-prone patch of land next to the sea. 
Conditions in Kara Tepe II are arguably worse than in Moria, where the situation was already beyond dismal. And greater restrictions on refugees' movement due to the pandemic have seriously hampered their ability to access basic services, like healthcare.
The sanitation facilities in Kara Tepe II are inadequate, and refugees are only provided two meals a day, often consisting of rotten, inedible food. Many refugees used to rely on grocery stores outside the camp to supplement meager rations. But the pandemic has made even this small, autonomous act more difficult as security guards use social distancing measures as an excuse to deny refugees access to stores. 
My refugee translators say they have been threatened, harassed, and sometimes physically assaulted in Lesvos' streets by civilians and Greek police, who often use racist and anti-Muslim slurs – troubling evidence of a rising "social pandemic" of anti-Muslim hatred in Europe during COVID, which presents a real and present danger to many of my patients.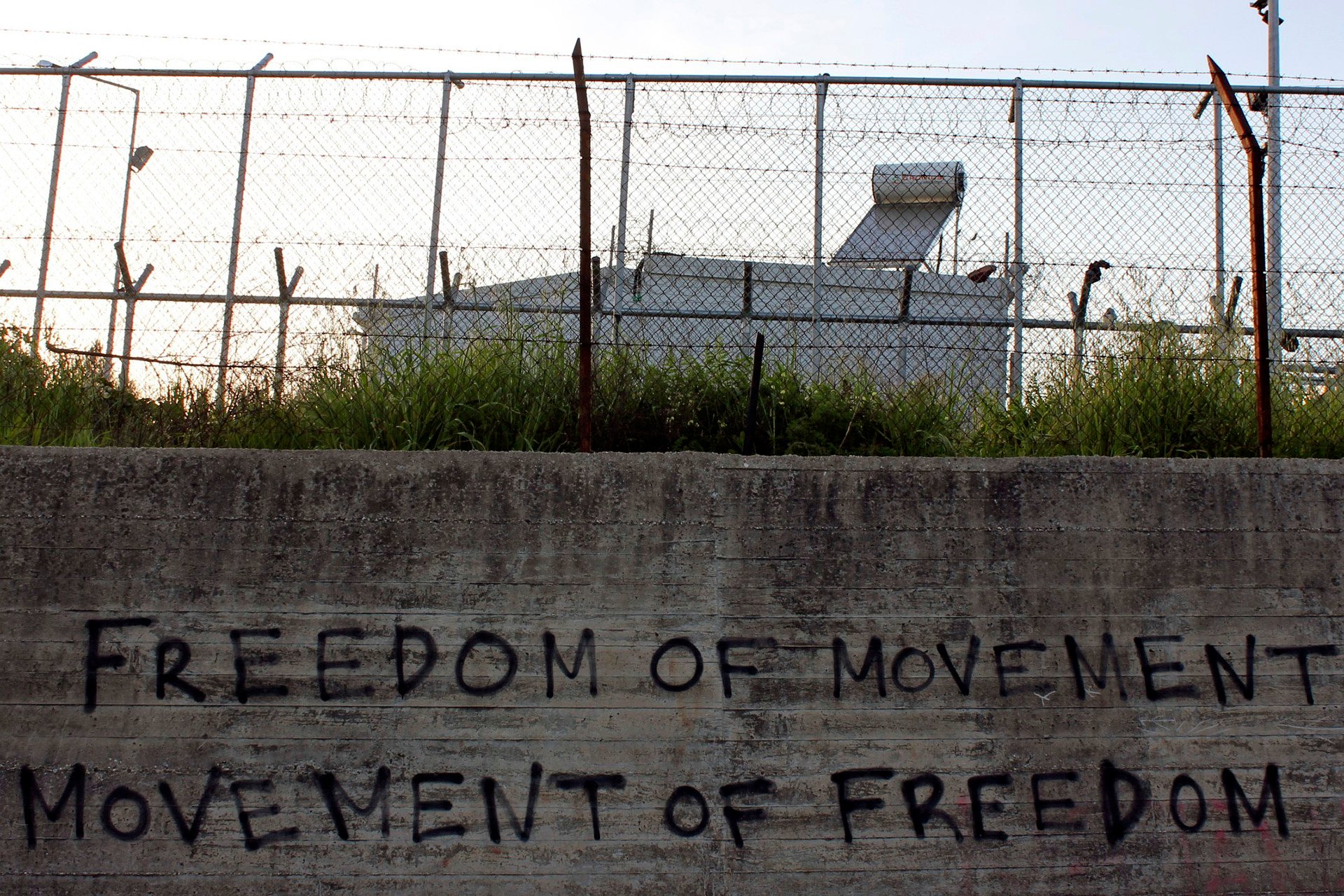 On my own journey to Lesvos, airport security repeatedly forced me to remove my hijab, something I have only previously experienced in Xinjiang province, where the Chinese government is holding an estimated 1.5 million Uighurs and other Muslim minorities in so-called 're-education camps' where rape and torture are reportedly systematic. On the streets of Mytilini, the main town on Lesvos, I was also stopped several times by police who seemed to find it hard to believe I was a Canadian citizen, not a refugee with a stolen passport.
Triage
In this setting, I worked in triage in a medical clinic made of port-a-cabins on the shoreline next to Kara Tepe II. Before the pandemic, we worked inside Moria. Now, to access basic medical care, refugees have to pass through multiple checks to prove to Greek police they have a problem that requires attention. 
In our clinic, we have essential medicines for a variety of medical conditions, our stethoscopes, and not much else. I check vitals, screen for COVID symptoms, and try to decide who should be allowed through to see my fellow doctors and nurses inside. It is a terrible thing to have to decide who is and who is not deserving of care. 
A line of people forms in front of me. The 'lucky ones' receive the few tickets we have available each day for dental care and scabies treatment. The rest I have to turn away. 
*Ahmad makes it to the front of the line carrying his two-year-old daughter, carefully wrapped in a blanket. She has been wheezing all night. I tell him she needs to get tested for COVID, and he and his wife may need to as well. After a negative test, they will be able to see a doctor. But if they test positive, they will be sent to the 'isolation centre', which is really a series of tents cordoned off behind barbed wire where necessary care is non-existent. 
This is the protocol I am required to follow. But Ahmad's eyes fill with fear, and he backs away. "We came to you for help, and you aren't helping. You are making it worse," he cries. 
The truth of his words sting. 
Clinic
On days I am working inside the clinic, I meet men like Mohammed, a former political prisoner in Syria. He is anxious, and his sentences jumble together. He has a sharp pain running from his head to his toes, and he can't sleep at night. 
I need to know if he is a torture survivor so I can refer him to more-specialised psychiatric care. To avoid retraumatisation, I gently ask him to simply answer "yes" or "no". Instead, he tells me he was hung upside down and beaten for days. The prison guards allowed just enough blood to run down his face to make him feel like he was drowning. 
Mohammed's wife holds his arm to comfort him. He tells me living in this camp is even worse than being tortured in Syria. The conditions, the inhumane treatment in a place that was supposed to be a refuge, have left him believing he and his family have no future. The thought is crushing his soul.  
It is a terrible thing to have to decide who is and who is not deserving of care.
When I step outside to sip water from under my many layers of PPE, I see an Afghan woman behind the barbed wire separating the COVID 'isolation centre' from the clinic. She is holding her swaddled four-month-old baby and cries out for help. 
The child has been having diarrhoea for several days. I try to find a doctor from the Greek national health system, which is in charge of the isolation centre, but I'm gruffly told by Greek staff that the situation is under control. 
Back inside the clinic, I meet 25-year-old Fatima. She is shaking and shivering with a fever and showing signs of kidney infection and severe dehydration. She's alone in Greece, except for a friend whose hand she holds onto tightly. They fled Somalia together. I struggle to comprehend how someone so frail survived the arduous journey. 
I run some IV fluids and speak with Greek colleagues about transferring her to a hospital. I'm told she's unlikely to get the tests that she needs. Resources on the island are stretched thin due to COVID. 
I try to warm up Fatima's hands so the pulse oximeter will take an accurate reading of her blood oxygen level. Our Somali interpreter, Abdi, is close by. He is a refugee and also lives in the camp. Without saying a word, he takes off his jacket in the freezing cold and gently drapes it over Fatima's shaking body.
Dehumanisation 
Since the the beginning of COVID lockdowns, there has been a 66 percent increase in attempted suicides and other self-harming behaviours amongst refugees on Lesvos. It is clear to me that this is what happens when racist, xenophobic, and Islamophobic border policies collide with a pandemic: People who have already been dehumanised are neglected, or worse, targeted. 
This dehumanisation started long before the pandemic, but COVID has provided a pretext for it to continue largely under the radar and with impunity – as evidenced by the increase in violent and illegal pushbacks at the EU's external borders in the past year. 
If European countries remain unwilling to reckon with the larger identity crisis underlying these policies – the refusal to accept non-white and non-Christian refugees as integral parts of their societies – a generation of people like Ahmad, Mohammed, and Fatima will continue to be dehumanised and retraumatised.
*The names of all the asylum seekers and refugees mentioned have been changed to protect their identities.