Imagine having to choose between fleeing your home – risking exposure to the coronavirus – or staying put and possibly getting caught in a crossfire.
This is what people in parts of Mindanao in the southern Philippines are facing, as conflict and violence during the COVID-19 pandemic forces communities to confront this unacceptable dilemma.
UN Secretary-General António Guterres has called for an immediate global ceasefire to ensure lifesaving aid reaches the poorest and most vulnerable in conflict areas across the globe. Yet violence continues; international peace efforts during the pandemic have been a catastrophic failure.
The experiences of people in Mindanao, especially women and girls, show why this is so crucial.
The Philippines, particularly here in its southernmost region, has long been plagued by conflict between the government and armed groups, as well as banditry and clan feuding, known as "rido". This is worsened by extreme poverty and the threat of various hazards, from typhoons and earthquakes to frequent floods and even volcanic eruptions.
There are some 370,000 people displaced by intermittent conflict and disasters in central and southwestern Mindanao, according to the UN. These numbers are rising, despite government-ordered coronavirus lockdowns that have mandated movement restrictions and curfews in many communities. At least 26,300 people were forced from their homes in the first quarter of 2020, mainly by clan feuding, according to the UN. Families have also fled hostilities between government forces and members of the Bangsamoro Islamic Freedom Fighters, or BIFF.
"Some families must evacuate up to three to four times a month."
Mindanao's displaced are caught between conflict and the coronavirus. Women and girls in particular face disproportionate impacts due to traditional gender roles. They're expected to shoulder the bulk of unpaid care work, and often eat less from already limited food rations in order to prioritise other family members, especially children.
Some families must evacuate up to three to four times a month. They return to their homes to gather food and harvest crops like bananas or coconuts so they can earn a living. By nightfall, they return to their evacuation centres to rest rather than risk staying home – only to be awakened by gunfire or explosions in the middle of the night.
In under-serviced evacuation centres, one shanty usually houses two or three families. There are limited bathing and hand-washing facilities; as many as 70 families might share a single toilet. Access to health services – extremely limited even before the pandemic – is now completely disrupted.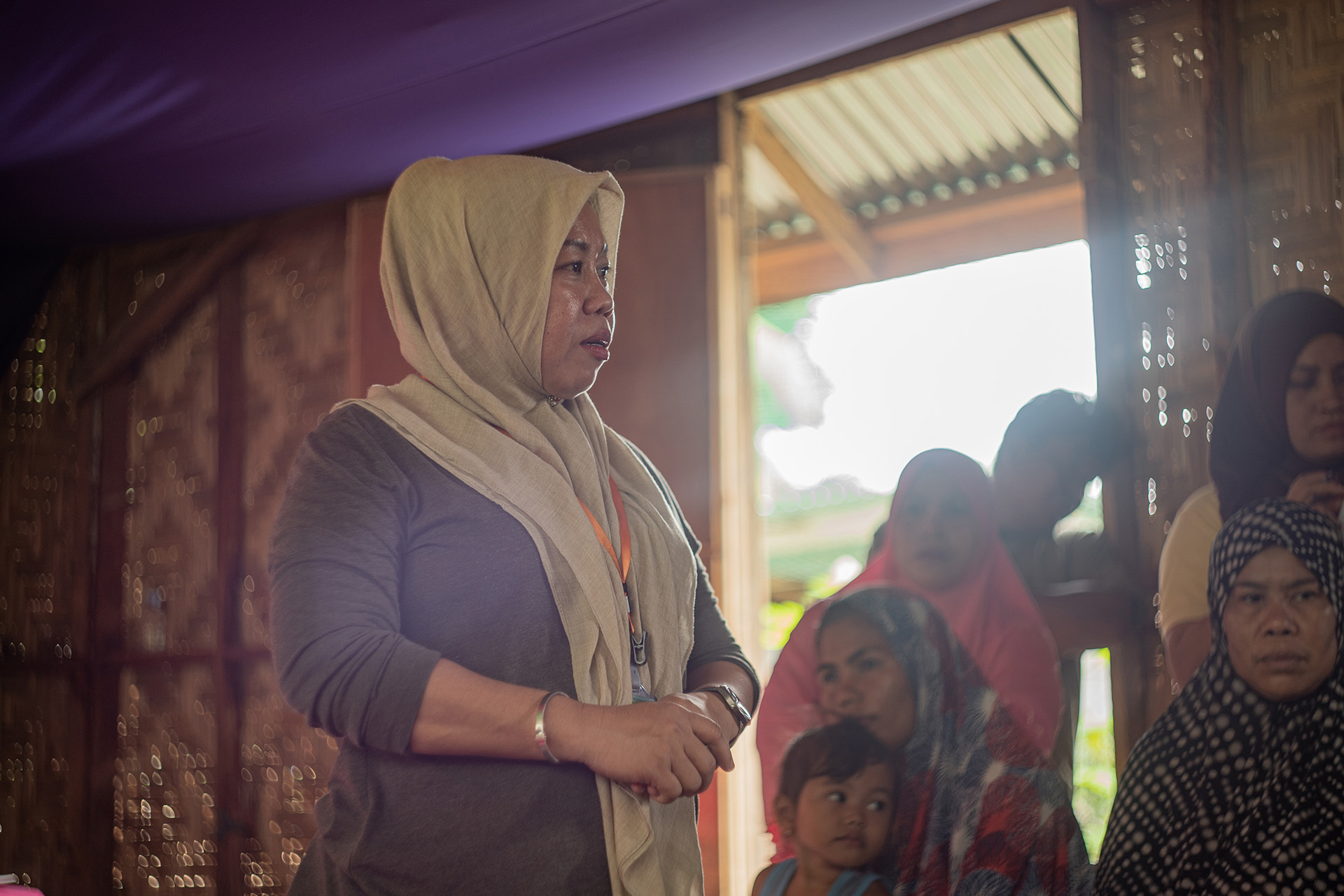 A 2019 study conducted by Oxfam in parts of Maguindanao province showed that 91 percent of indigenous internally displaced people, or IDPs, in the municipality of Datu Hoffer did not seek medical services due to long distances to hospitals and health staff. Indigenous Lumad IDPs said high insecurity in their areas prevented them from seeking medical help. Overall, nine percent of women respondents said they never had a health check-up or sought any kind of medical care because of responsibilities in their homes, cultural practices that force many women and girls to seek permission from husbands or fathers before going to a health clinic, and the unavailability of health personnel.
Now, the threat of COVID-19 looms even larger for families on the move. 
This should be a stark reminder that no one is safe until all of us are safe. Just as communities are the first line of defence to stop the transmission of COVID-19, community-level peacebuilding is the first line of defence for conflict-affected populations. 
An immediate ceasefire in the Philippines is a critical step towards ensuring an effective COVID-19 response, and building an inclusive, lasting peace in a region that has seen decades of conflict and multiple peace attempts.
The Philippine government must increase efforts to support and build local capacities, including among women's rights and youth-led organisations, so that community groups already on the front lines of crises can better mobilise and own the COVID-19 response.
Our experiences of working and living in Mindanao show that militarised and draconian measures harm communities. Referred to locally as kamay na bakal (iron-fisted), this approach focuses more on closing borders, erecting military and police checkpoints, and imposing strict curfews – creating fear and silence among communities because of the threat of punishment for alleged quarantine violations. Furthermore, armed groups tend to target areas where there is a large military presence. When military forces set up camp near evacuation centres or villages, residents fear they will be collateral damage when the inevitable firefight erupts.
A gender perspective is needed to ensure response operations do not reinforce discrimination, or enable impunity and violence to thrive. Failure to account for the different needs of women and girls can lead to inappropriate and even harmful responses, such as neglecting to include menstrual hygiene items, or failing to provide sexual and reproductive health aid and counselling in evacuation centres and displacement camps. 
"Armed groups tend to target areas where there is a large military presence. When military forces set up camp near evacuation centres or villages, residents fear they will be collateral damage when the inevitable firefight erupts."
A truly inclusive COVID-19 response should encompass the different needs of women and girls, the homeless and displaced, indigenous peoples, people with disabilities, and other groups with vulnerabilities.
The government must also examine the roots of armed conflict in Mindanao, and ensure that aggrieved communities are able to decide on matters that directly affect them. In the past, failure to properly consult the local population has threatened hard-won gains in the region's multiple peace processes, and risked derailing post-conflict reconstruction.
Failing to address these grievances – injustices against the Bangsamoro people, socio-economic disparities, discrimination, and disenfranchisement from political processes – will allow conflict to spark anew. Women and youth must play a meaningful role in shaping the agenda – both in the response to the coronavirus, and also in building a lasting peace.
As long as the unrest continues, Mindanao's displaced will continue to be trapped between two unenviable threats: conflict or the coronavirus.