Military clampdowns and the coronavirus pandemic have closed schools in Indian-administered Kashmir for nearly a year, raising warnings from educators about the mental health toll on students whose lives have been repeatedly disrupted.
Child psychologists and teachers say extended school closures have compounded stress and anxiety for children already on edge after years of erratic education, conflict, and civil strife. Schools were shuttered last August, when India stripped the state of Jammu and Kashmir of its semi-autonomous status and put the region on lockdown – escalating a campaign to quell a decades-long insurgency. Classes resumed briefly in February, only to pause indefinitely a month later due to the pandemic. 
Frequent disruptions in formal schooling, limited opportunities to socialise, and erratic schedules are leading to a rise in depression and behavioural issues among children, said Dr. Syed Karrar, a child and adolescent psychiatrist at the Institute of Mental Health and Neurosciences (IMHANS) in Srinagar, Kashmir's largest city.
"Routines of children have been disrupted and families find it overwhelming at times to engage with their children, who are confined to their homes for long periods," Karrar said.
"It gets worse if it's prolonged amid uncertainties in the backdrop of living in a conflict zone like Kashmir."
The government says schools will remain closed until at least the beginning of August, but it's unclear when formal classes will resume. Kashmir is reporting hundreds of new coronavirus cases a day, and authorities have re-imposed more stringent neighbourhood lockdowns as a result. Military operations against suspected insurgents are ongoing, while border skirmishes with China in nearby Ladakh have also escalated tensions.
"There is too much uncertainty in people's minds and panic around their worries."
Farhana Yaseen, a counsellor at the IMHANS-run Child Guidance and Well-being Centre in Srinagar, said the extended lockdowns caused by conflict and the pandemic are adding to psychological problems among the children she sees. The centre is Kashmir's first facility providing mental health services and counselling to children and teenagers.
"As a mental health professional, I have noticed an increase in the number of cases from the past year," Yaseen said. "There is too much uncertainty in people's minds and panic around their worries, which is resulting in anxiety and other mental health issues among children."
Educators around the world have relied on online learning to bridge the gap, but the Indian government has restricted high-speed internet in Kashmir since last August. Frequent outages of low-speed mobile internet services also prevent many children from tapping into virtual classrooms. 
Some teachers have started informal community schools to compensate, although girls have been turning up in lower numbers as they generally face more pressure from their families to stay home.
Conflict leads to trauma
Military clampdowns – and shuttered services – are frequent in Kashmir. Schools were closed for six months during widespread protests in 2016, followed by weeks-long closures the following year.
Mental health among Kashmir's children is understudied, though research from 2006 found high levels of post-traumatic stress disorder, or PTSD, in a group of 100 children between the ages of three and 16. A 2016 study by IMHANS and ActionAid estimated that more than one in 10 people, including adults, had a mental health disorder, ranging from anxiety or depression to PTSD.
More recently, a November report compiled by a Delhi-based group that included human rights activists and a psychiatrist suggested the disruption caused by the August lockdowns had a profound impact on children's lives. 
"There is no school, no routine or structure, no healthy recreation, and no sense of safety or predictability, which are essential for normal growth and emotional development," the report stated, citing local mental health professionals' assessments that acute anxiety, panic attacks, suicidal tendencies, and symptoms of post traumatic stress were growing among children.
At the same time, the wider conflict continues even amid the lockdowns. According to Jammu and Kashmir police, 38 local militants were killed in showdowns with security forces in June alone.
At least 229 people were killed during the first six months of 2020, according to the Jammu and Kashmir Coalition of Civil Society, a rights monitoring group. There were 271 recorded deaths over the same period last year.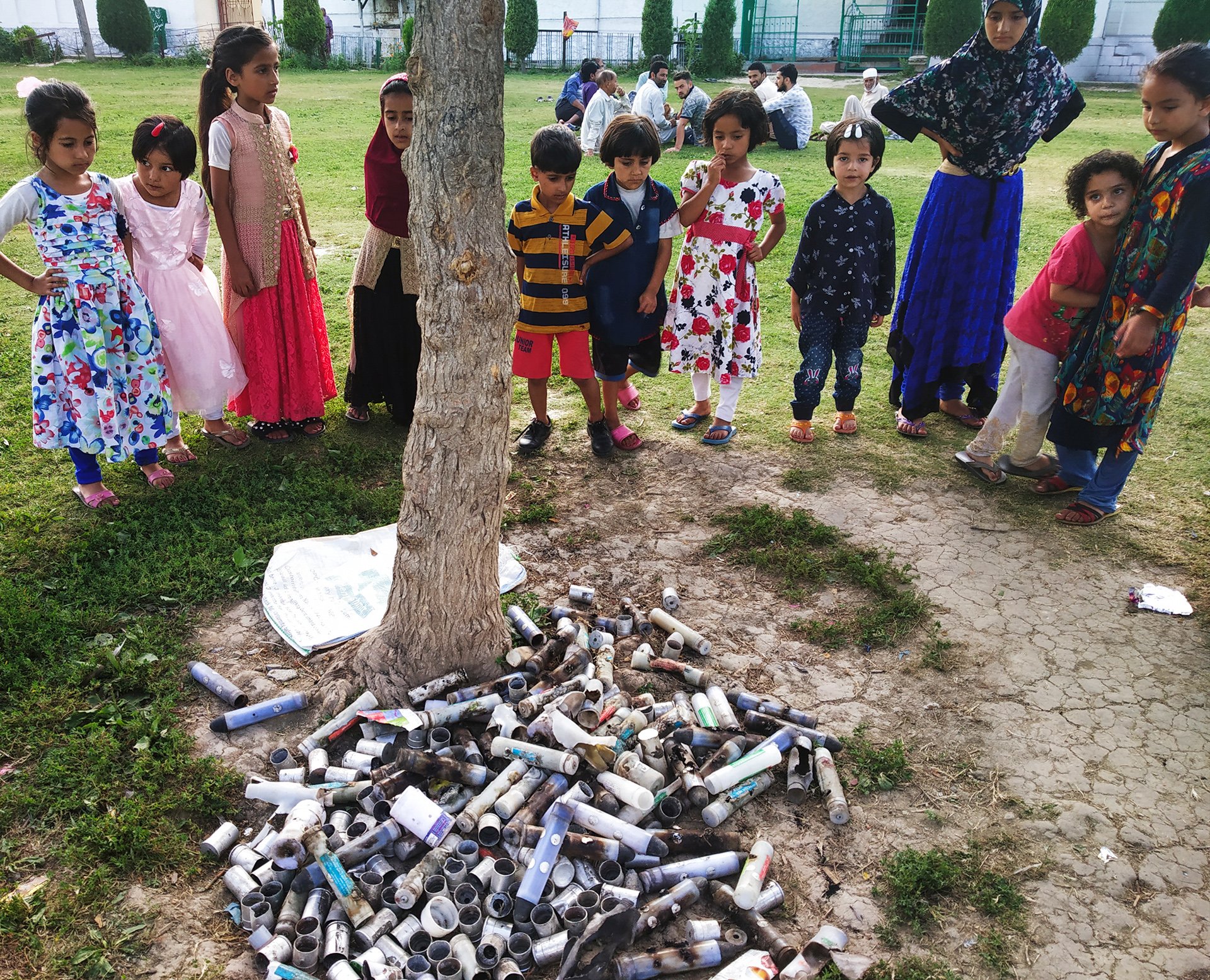 Mental health professionals like Yaseen say worries about COVID-19 are adding new pressures for children with pre-existing issues or those in vulnerable home environments, unable to attend school.
She cited the case of a 14-year-old previously diagnosed with obsessive compulsive disorder who reached out to counsellors via a hotline a week after coronavirus lockdowns began in March. The teen's symptoms had worsened due to the pandemic: He complained of fear of contamination, excessive hand washing, and compulsively checking the news. 
Since April, 124 patients have been referred to the IMHANS centre with coronavirus-related stress and anxiety, along with more than 800 children and teens who receive counselling by phone.
But these numbers don't reflect the full extent of mental health issues, Yaseen said, as many children and their parents don't report or seek treatment for their problems due to stigma or a lack of awareness. Outreach programmes at schools are normally an important way to identify and treat children before their conditions worsen, she added – but classes remain cancelled.
Slow internet and disrupted mobile phone connections also block access to counsellors at a time when mental health professionals like Karrar must use online tools to reach children.
There's "immense need" in Kashmir for more child psychiatry services, he said: "There is a long way to go given the limitations in space and human resources."
Frequent disruptions to school
Iyman Khan, a student from Ganderbal district, north of Srinagar, is frustrated by frequent school closures and shutdowns. The 14-year-old said this year is likely to be her fourth mass promotion – when every student is advanced to the next grade level, even if they haven't covered all the material in their course curricula.
"I feel I will lag behind as I didn't get to study properly all these years because of frequent shutdowns and school closures every other year," she said. 
"The lockdown has made it even harder for girls like us to move out and access resources."
Slow internet connections make it difficult for Khan to study online. Even when the teacher is able to upload lectures, she said, students often can't access them due to the throttled speeds. Sometimes, it takes a day or two to download a single video lecture.
"It's frustrating," Khan said. "How will we compete with other students from outside Kashmir and prepare for competitive exams if this continues?" 
Raheen Wani, a Srinagar student who was supposed to start her first year of higher education this year, said girls – more so than boys – rely heavily on formal classrooms: Some traditional families may restrict girls' freedom of movement and social circles, especially in rural areas.
"The lockdown has made it even harder for girls like us to move out and access resources," she said. "This year's lockdown due to COVID has also put an extra burden of household chores on us, which limits our time we could spend on studies."
Muhammad Younis Malik, director of school education for Kashmir, said the government is planning to establish a full-time community radio station that will cater to primary and secondary-level students.
"The community radio station can be easily accessed and benefit more students across the region if schools remain closed for longer periods," Malik said.
Educators get creative
Government school teachers were directed to start virtual classrooms during the COVID-19 lockdown. 
Facing slow internet speeds and disruptions to phone lines, however, educators like Umar Rashid Bhat in Baramulla district, west of Srinagar, began teaching small groups of students in open fields and local mosques. 
"We felt students were missing out on education and not getting a conducive teaching atmosphere at their homes," Bhat said. 
What started as a network of 20 teachers now includes more than 200 instructors from government and private schools.
So far, teachers have found that older students are more likely to be anxious or show behavioural changes, including substance abuse, Bhat said. While education is important, keeping students' minds off the pandemic, and the conflict around them, is another goal.
"We try to keep them busy and give them home assignments so that they have less time to get distracted or be in bad company," he said.
mm/ag/il/js