"They told us, the young boys, to take a gun and go fight. Because of that I escaped from there [and] came here," Mohammed, a 16-year-old from Ghazni province in Afghanistan, said while sitting in the entrance of a small, summer camping tent on the Greek island of Lesvos in early October. 
Nearby, across a narrow streambed, the din of voices rose from behind the barbed wire-topped fences surrounding Moria, Europe's largest refugee camp.
With the capacity to house around 3,000 people, the camp has long since spilled out of its walls, spreading into the olive groves on the surrounding hills, and is continuing to grow each day, with dangers of sickness and accidents set to increase in the winter months ahead.
The population of the camp exploded this summer, from about 4,500 people in May to almost 14,000 by the end of October, reflecting a spike in the number of people crossing the Aegean Sea from Turkey in recent months. So far this year, nearly 44,000 people have landed on the Greek islands, compared to around 32,500 in all of 2018. 
The increase is being led by Afghans, accounting for nearly 40 percent of arrivals, and Syrians, around 25 percent, and appears to be driven by worsening conflict and instability in their respective countries and increasingly hostile Turkish policies towards refugees. 
Isn't it normal to see a surge this time of year?
Arrivals to Greece usually peak in the summertime, when weather conditions are better for making the passage from the Turkish coast.
But the increase this year has been "unprecedented", according to Astrid Castelein, head of the UN refugee agency (UNHCR) office on Lesvos. 
Since the EU and Turkey signed an agreement in March 2016 aimed at stopping the flow of asylum seekers and migrants across the Aegean, arrivals to the Greek Islands during the summer have ranged from around 2,000 to just under 5,000 people per month.
In July this year, arrivals rose to more than 5,000 and continued to climb to nearly 8,000 in August, before peaking at over 10,000 in September. 
These numbers are a far cry from the height of the European migration crisis in 2015, when over 850,000 people crossed the Aegean in 12 months and more than 5,000 often landed on the islands in a single day.
Still, this year's uptick has caused European leaders to warn about the potential that arrivals from Turkey could once again reach 2015 levels.  
What is Turkey threatening to do?
Turkey hosts the largest refugee population in the world, at around four million people, including around 3.6 million Syrians.
In recent months, Turkish President Recep Tayyip Erdogan has repeatedly threatened to "open the gates" of migration, using the spectre of increased refugee arrivals to try to pressure the EU to support controversial plans for "a safe zone" in northern Syria. He wielded it again to try to get EU leaders to dampen their criticism of the military offensive Turkey launched at the beginning of October, which had the stated aim of carving out the zone, as well as fending off a Kurdish-led militia it considers terrorists. 
But despite the rhetoric, apprehensions of asylum seekers and migrants trying to leave Turkey have increased along with arrivals to the Greek islands.
Between the beginning of July and the end of September, the Turkish Coast Guard apprehended around 25,500 people attempting to cross the Aegean Sea, compared to around 8,600 in the previous three months. 
"This stark increase is in line with the increase in [the] number of people crossing the Eastern Mediterranean," Simon Verduijn, a Middle East migration specialist with the Mixed Migration Centre, said via email. "The Turkish Coast Guard seems to monitor the Aegean seas very carefully." 
"The situation has not changed," Ali Hekmat, founder of the Afghan Refugees Association in Turkey, said, referring to the difficulty of crossing the sea without being apprehended, "but the number of boats increased."
Why are there so many Afghans?
The spike in people trying to reach the Greek islands also coincides with an increase in the number of asylum seekers and migrants crossing into Turkey.
"We've noticed a general… increase in movement across the country lately," said Lanna Walsh, a spokesperson for the UN's migration agency, IOM, in Turkey. 
So far this year, Turkish authorities have apprehended more than 330,000 people who irregularly entered the country, compared to just under 270,000 all of last year. Similar to the Greek islands, Afghans are crossing into Turkey in greater numbers than any other nationality, accounting for 44 percent of people who have been apprehended, following a spike in Afghan arrivals that started last year. 
"It's not surprising that people see that they no longer have a future in Turkey."
2018 was the deadliest year for civilians in Afghanistan out of the past decade, and the violence has continued this year, crescendoing in recent months as peace talks between the United States and the Taliban gained momentum and then collapsed and the country held presidential elections. Afghanistan is now the world's least peaceful country, trading places with Syria, according to the Institute for Economics and Peace, an Australia-based think tank that publishes an annual Global Peace Index. 
At the same time, options for Afghans seeking refuge outside the country have narrowed. Conditions for around three million Afghans living in Iran – many without legal status – have deteriorated, with US sanctions squeezing the economy and the Iranian government deporting people back to Afghanistan. 
Turkey has also carried out mass deportations of Afghans for the past two years, changes to the Turkish asylum system have made it extremely difficult for Afghans to access protection and services in the country, and legal routes out of the country – even for the most vulnerable – have dried up following deep cuts to the US refugee resettlement programme, according to independent migration consultant Izza Leghtas.      
"It's not surprising that people see that they no longer have a future in Turkey," Leghtas said.  
What do the refugees themselves say?
The stories of Afghans who have made it to Lesvos reflect these difficult circumstances. Mohammed, the 16-year-old who fled Afghanistan because he didn't want to fight, said that the Taliban had attacked the area near his home in Ghazni province. He decided to flee when local men who were fighting the Taliban told him and other young men to take up arms. "We just want to get [an] education… We want to live. We don't want to fight," he said. 
Mohammed went to Iran using his Afghan passport and then crossed the border into Turkey with the help of a smuggler, walking for about 14 hours before he reached a safe location inside the country. After about a month, he boarded an inflatable dinghy with other refugees and crossed from the Turkish coast to Lesvos. "There's no way to live in Turkey," he said when asked why he didn't want to stay in the country. "If they found out that I am Afghan… the police arrest Afghan people who are refugees."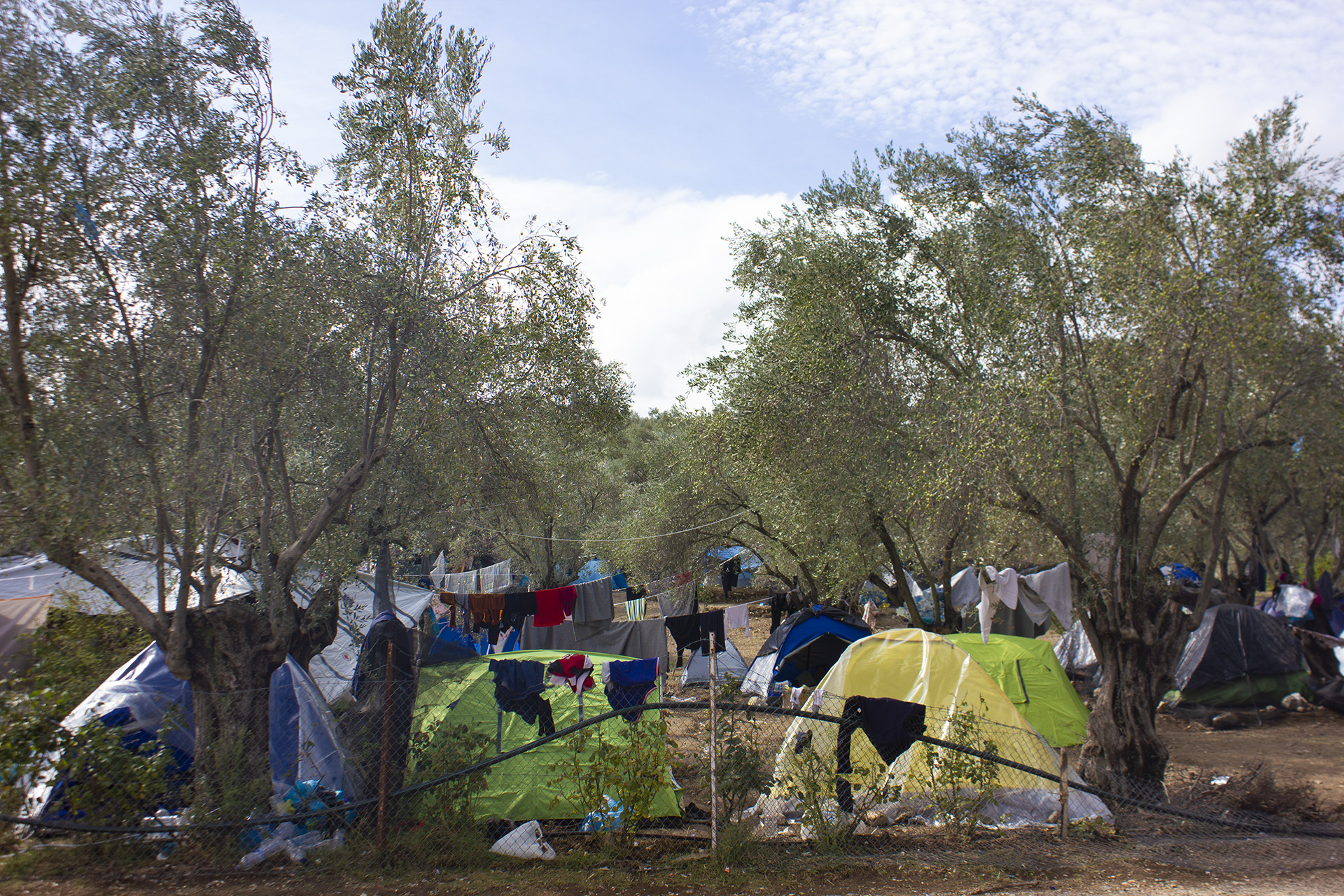 Ahmad, a 23-year-old Afghan asylum seeker also camping out in the olive groves at Moria, left Afghanistan three years ago because of tensions between ethnic groups in the country and because of Taliban violence. He spent two years in Iran, working illegally – "the government didn't give us permission to work," he said – before crossing into Turkey last year. He eventually found a job in Turkey and was able to save up enough money to come to Greece after struggling to register as an asylum seeker in Turkey.
Ali, a 17-year-old Afghan asylum seeker, was born in Iran. Ali's father was the only member of the family with a job and wasn't earning enough money to cover the family's expenses. Ali also wasn't able to register for school in Iran, so he decided to come to Europe to continue his education. "I wanted to go to Afghanistan, but I heard that Afghanistan isn't safe for students or anyone," Ali said. 
Is pressure growing on Syrian refugees?
UNHCR also noticed an increase in the proportion of Syrians arriving to the Greek islands in August and September compared to previous months, according to Castelein. 
Since July, human rights organisations have documented cases of Turkish authorities forcibly returning Syrians from Istanbul to Idlib, a rebel-held province in northwestern Syria, which has been the target of an intense bombing campaign by the Syrian government and its Russian allies since April. The Turkish government has denied that it is forcibly returning people to northwest Syria, which would be a violation of customary international law.  
"I left for safety – not to take a vacation – for safety, for a safe country that has work, that has hope, that life."
Tighter controls on residency permits, more police checks, and increased public hostility towards Syrians amidst an economic downturn in Turkey have also added to a climate of fear. "People that don't have a kimlik (a Turkish identity card) aren't leaving their houses. They're afraid they'll be sent back to Syria," said Mustafa, a 22-year-old Syrian asylum seeker on Lesvos who asked that his name be changed.
Until recently, Mustafa was living in the countryside of Damascus, Syria's capital, in an area controlled by the Syrian government. His family was displaced early on in Syria's more than eight and a half year civil war, but he decided to leave the country only now, after being called up for mandatory military service. "I didn't know what to do. They want you to go fight in Idlib," he said. 
Mustafa spent a month in Istanbul before crossing to Lesvos at the end of September. "I saw that the situation was terrible in Turkey, so I decided to come here," he added. "I left for safety – not to take a vacation – for safety, for a safe country that has work, that has hope, that life."
How shaky is the EU-Turkey deal?
The military campaign Turkey launched in the Kurdish-administered part of northeast Syria at the beginning of October displaced some 180,000 people, and around 106,000 have yet to return. Another 12,000 Syrians have crossed the border into Iraq. 
A ceasefire is now in place but the future of the region remains unclear, so it's too early to tell what impact, if any, it will have on migration across the Aegean, according to Gerry Simpson, associate director of Human Rights Watch's crisis and conflict division. 
But Turkey's tightening residency restrictions, deportations, and talk of mass expulsions could, Simpson said, be a "game-changer" for the EU-Turkey deal, which is credited with reducing the number of people crossing the Aegean since March 2016. 
The agreement is based on the idea that Turkey is a safe third country for asylum seekers and migrants to be sent back to, a claim human rights groups have always taken issue with. 
In the more than three years since the deal was signed, fewer than 3,000 people have been returned from Greece to Turkey. But Greece's new government, which came to power in July, has said it will speed up returns, sending 10,000 people back to Turkey by the end of 2020. 
"This idea that [Turkey] is a safe third country of asylum was never acceptable to begin with. Obviously, now we've seen [that] even more concretely with very well documented returns, not only of Syrians, but also of Afghans," Leghtas, the migration consultant, said.  
"Whether that changes the two sides' approach to the [EU-Turkey deal] is another matter because in practical terms… the only real effect of the [deal] has been to trap people on the islands," Simpson added. 
er/ag