Syrians living in the United States have won an 18-month extension on their "Temporary Protected Status". The status allows them to live and work in the United States.
Some 7,000 Syrians in the United States are among more than 300,000 people whose immigration status has been protected after fleeing from war, natural disasters, or disease. Other countries such as Australia and Canada offer similar programmes for Syrians.
"It's impossible for me to go back to Syria," says Nada Odeh, a single mother of two teenagers, referring to continued fighting and battered infrastructure.
Odeh was born and raised in Damascus but left Syria with her children in 2012 as the violence began to intensify. She now works as an artist in Syracuse, New York. Her paintings feature displaced Syrians living in refugee camps.
Fighting has continued for almost nine years in Syria and is still raging in northwestern Idlib. Some parts of the country have returned to calm, but neighbourhoods and city blocks in certain areas are in ruins. A complex web of new property laws introduced by the government also means many refugees may never be able to return home.
"We're talking about a dire humanitarian situation," says Sara Kayyali, a researcher for Human Rights Watch, which recently urged the United States to renew TPS for Syrians. "The very conditions that resulted in Syrians fleeing [since the start of the conflict] are more or less still the same."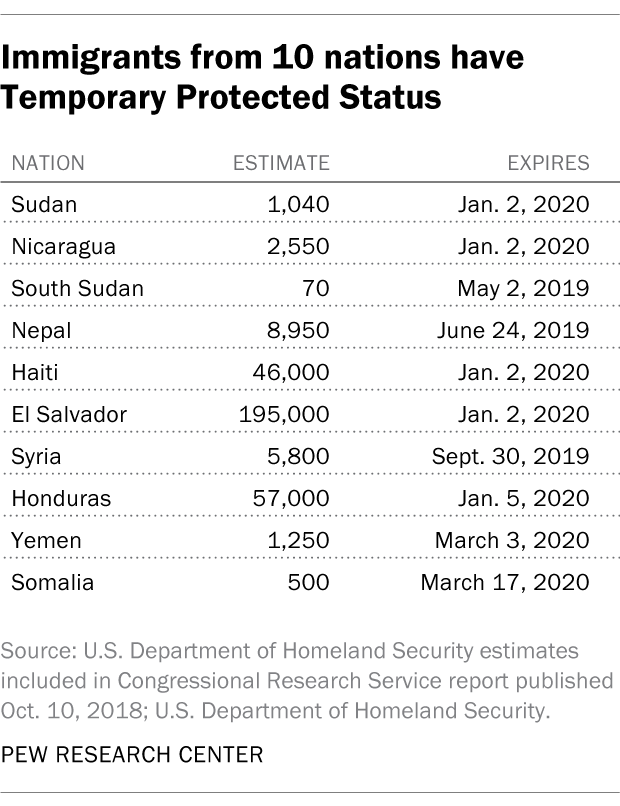 Established in 1990, TPS is a federal programme meant to bar deportation of people from countries undergoing conflict or natural disasters.
US authorities first designated Syria with TPS status in 2012, months into the now more than eight-year war. The programme has been extended and redesignated several times since then.
"Nothing's guaranteed – which is the whole point of TPS," says Matthew Chrastek, programme coordinator for the American Relief Coalition for Syria, a humanitarian aid NGO. "The point of TPS is to allow people to stay here safely until conditions in Syria are safe for them to return."
Last year, rights groups raised alarms when some 200,000 TPS holders from El Salvador faced possible deportation after the federal government said their protection would end in September 2019. The programme was later extended until 2020.
Still, the instability left shockwaves among those who feared they could be deported.
TPS had been scheduled to expire this year for four other countries – Sudan, Nicaragua, Haiti, and El Salvador – but the government has extended it through Jan. 2, 2020, after being blocked in court. Immigrant advocates recently filed a separate lawsuit challenging the decision to end TPS for those from Nepal and Honduras. Only those from South Sudan, Syria, Yemen and Somalia have received TPS extensions with the possibility of future extension.
(TOP PHOTO: Destruction in Idlib on 14 March 2019.)
me/pd/ag