The last decade has been cruel to Haiti: one of the world's deadliest ever earthquakes struck in 2010; cholera, brought in accidentally by UN peacekeepers, then ravaged the country for years afterwards, claiming at least 10,000 lives; and, in October 2016, Hurricane Matthew wiped out 90 percent of buildings along the southern coast at an estimated cost of $1.9 billion.
The Caribbean country is now gripped by deadly protests over allegations of government corruption and the crippling effects of stubbornly high inflation – protests that could bring down President Jovenel Moïse and have already plunged the nation of 11 million people into renewed uncertainty.
☰ Read more: Haiti's changing fortunes
Haiti, which shares the Caribbean island of Hispaniola with the Dominican Republic to the east, has a proud history – a successful revolution against French rule culminated in the formation of the world's first black republic in 1804.
But since three decades of brutal Duvalier dictatorship ended in 1986, its more recent past has been marked by revolts, coups, natural disasters, questionable military and foreign interventions, and political mismanagement.
Over the course of a few decades, Haiti went from being a booming (if short-lived) tourist destination, and a large exporter of food and other goods, to a failed economic state that has to import more than 80 percent of its rice at a cost of hundreds of millions of dollars a year.
According to the World Bank, 59 percent of Haiti's population lives below the poverty line (on less than $2.41 a day), and almost one in four in extreme poverty (less than $1.23 a day). Only a quarter of Haitians have access to electricity. The country has an official unemployment rate of 30 percent, but the real figure is believed to be higher.
"Haitians want to work, but they can't find jobs," said Haitian economist Eddy Labossière, calling in particular for a better loan system for the country's farmers. It is very difficult for Haitians to get credit to help start or build businesses – 80 percent of loans given out by the banks go to just 10 percent of borrowers.
Clarens Renois, a former journalist who is now the president of the National Union for Integration and Reconciliation, or UNIR, a centre-left opposition party, called for dialogue and said he didn't think it wise for Moïse to resign without a plan in place.
"There are many players," Renois said. "You have the private sector; in the past you had the military; you have the international community playing into it; and, of course, the Haitian politicians."
Haitians use democracy to protest in the streets, he said, but they can't even find food to feed their children. "I think we're in a really big crisis," Renois said. "Even if schools reopen and things return to normal, you will still have to address this in the next three to six months."
One of the most vulnerable countries to extreme weather events, Haiti has long had chronic problems trying to feed its population. In December, the UN's World Food Programme stated that "between March and June 2019, it is projected that 2.6 million people will be acutely food insecure, including 571,000 in a food emergency."
But the current political and economic crisis, aid officials are warning, will only worsen the humanitarian prognosis for what is already the poorest country in the western hemisphere.
Why did protests erupt?
A report published in 2017 by the Haitian Senate accused dozens of government officials and heads of private firms of embezzling $2 billion from Petrocaribe – a cut-price-oil aid programme Venezuela offers to several Caribbean countries. According to the Miami Herald, the report listed a firm Moïse owns as a beneficiary of funds from a road construction project that never had a signed contract.
The funds were supposed to go to infrastructure development and health, education, and social programmes. The allegations fed into existing questions about what successive governments had to show for some $9 billion in foreign aid since the 2010 earthquake, even though little of it went directly to the Haitian government of Haitian firms.
Demonstrations over a 40 percent hike in fuel prices in July 2018 marked the beginning of the current unrest. Then, on 14 August, Haitian filmmaker and writer Gilbert Mirambeau Jr. posted a photo of himself on social media holding a sign asking where the PetroCaribe funds had gone, hashtag #PetroCaribeChallenge.
The tweet quickly went viral, inspiring both the Haitian youth and the Haitian diaspora. Black banners started being draped above streets in the capital, Port-au-Prince, asking "Kot Kòb Petwo Karibe a?" or "Where is the PetroCaribe money?"
Pascale Solages, a spokeswoman for the PetroCaribe Challenge, said the movement is inspiring everyone to rise up and speak out against corruption. "We need to have investigations," she told IRIN. "The people who are accused need to go on trial; we need to have justice."
When did the violence start?
The movement began peacefully, attracting thousands of protesters demanding greater government accountability. However, as it grew, opposition politicians became involved and different agendas came into play. The first clashes were reported in October and November.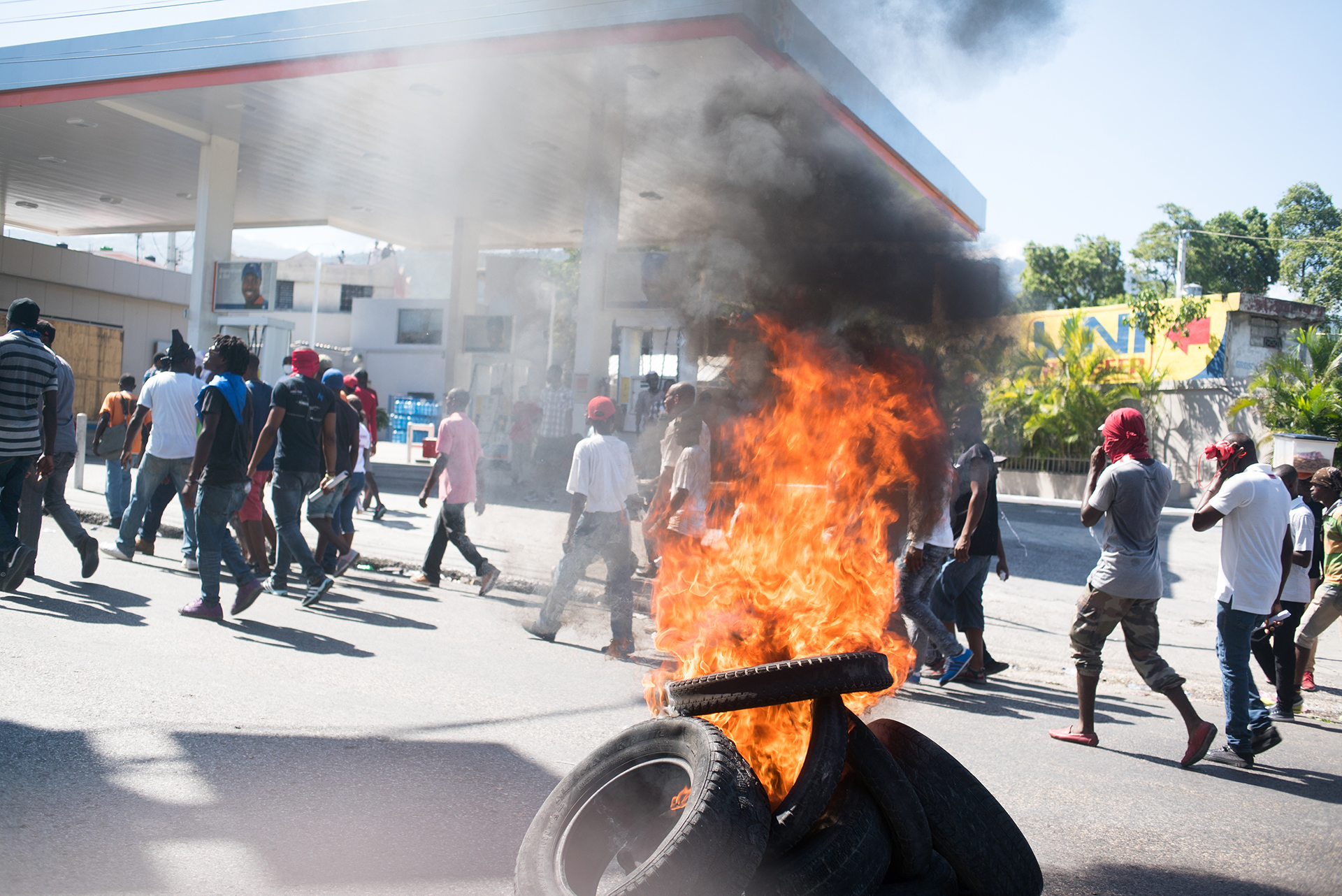 Frustration over corruption but also over inflation, gas shortages, and failed government promises to introduce 24-hour electricity and boost agricultural production came to a head on 7 February when the opposition began a series of protests dubbed "Operation Lockdown Haiti", marching on the presidential palace, and blocking the road to the airport.
Some protesters burned cars and looted as the security situation deteriorated. At least nine people have been killed and dozens injured in 10 days of protests that also saw 78 detainees escape from a prison in Aquin, a town in southern Haiti.
President Moïse didn't address the nation until last Thursday, a week after the protests started. He called for the country to stand behind him, saying he wouldn't resign to armed gangs and drug dealers. The US Embassy released a statement shortly after the address, supporting Moïse but urging his government to crack down on corruption and find those responsible for the missing PetroCaribe funds.
Protests continued after Moïse's speech and into the weekend, but the streets have been calmer since Sunday even while uncertainty remains.
What are the humanitarian needs?
High inflation for several years, recently exceeding 15 percent, has made it ever more difficult for most Haitians to buy the bare necessities and feed their families. A few months ago one US dollar was equivalent to roughly 71 gourdes. It has now risen to nearly 85. One small can of rice used to cost 35 gourdes. Now, it costs 60.
Hospitals in the capital reported being besieged during the protests, unable to get doctors or patients in, let alone medicines, although one doctor told CNN: "To be honest this is normal for this hospital – we don't have medicines, we don't have any working equipment."
"Generally speaking there is food available, it's just that people don't have the cash to buy anything."
WFP supported a national analysis in December that found "a significant deterioration of food security and the nutritional situation of rural households". It said 2.2 million Haitians were facing acute food insecurity, including 386,000 in a food emergency.
Jessica Pearl, country director of Mercy Corps, explained how most people in Haiti live on the margins, so her organisation works to build their resilience and leave them less dependent on foreign aid.
"In the humanitarian community, we try to distribute cash instead of food so that people can support the local economy, and the cash circulates in the local economy," she told IRIN. "In the areas where the food is not available, there would be some distribution of food that is handled by the UN World Food Programme. Generally speaking there is food available, it's just that people don't have the cash to buy anything. This will be the largest challenge for people."
What are the risks ahead?
Pearl warned that the situation was now likely to get worse. "We were already in a difficult food security situation, and there were already plans underway to provide food assistance to a large number of people across the country," she said. "So that need hasn't gone away and if anything it's probably been exacerbated."
The WFP prediction for March-June represents an almost 50 percent increase in those with "food emergency" status in just a few months.
For Mercy Corps and other aid agencies, as well as any government response efforts, the volatility and unpredictability of the demonstrations makes it difficult to move safely through the streets, particularly in the overcrowded capital. This has prevented the delivery of water and fuel, and the restocking of markets.
According to the Miami Herald, aid groups have been unclear whether the situation is even safe enough to enter Haiti.
"We want the price of goods to go down and for the possibility to find work. We just want the country to function well."
In the countryside, Haitians are often dependent on gas and food coming overland from the Dominican Republic. The economic crisis has meant trucks have had difficulty providing diesel to stations outside the capital, and roadblocks have disrupted trade.
Kesner Pharel, a Harvard graduate and economist in Haiti, warned that continued political instability would hit the economy hard as renewed calm will be needed to draw back in some foreign investment and make the devalued gourde more competitive.
"If you look at the last 10 months, you see the riots in July, a big strike in October, one week of strikes in November, and now the country has been closed for more than a week. It's a big shock for the economic supply," Pharel said. "If you aren't creating wealth, how can you solve unemployment? Where are you getting the money to buy?"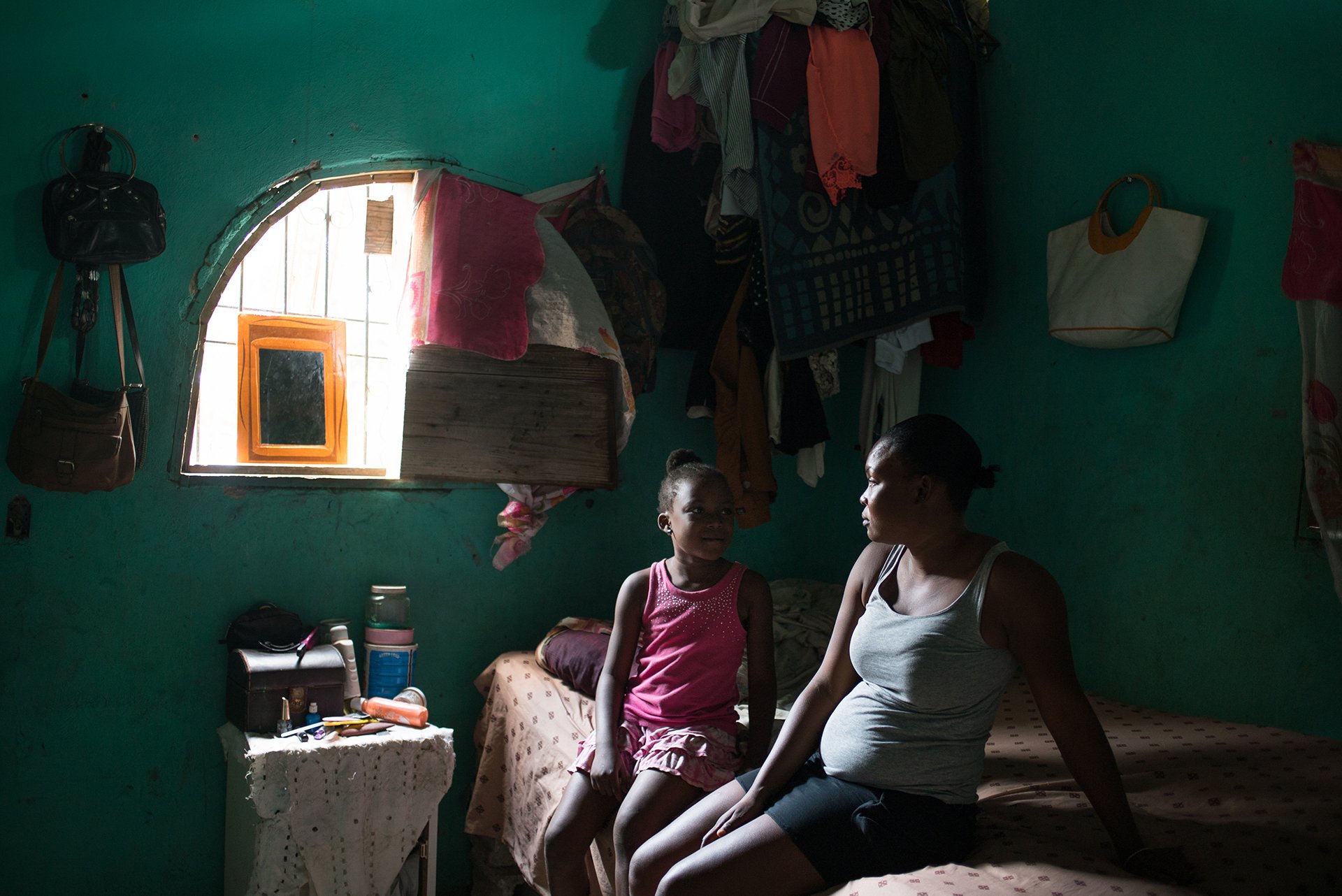 What do ordinary Haitians think?
On the steep hillside in the Turgeau neighborhood of Port-au-Prince, you can almost convince yourself that all is well below. However, Kessia Madocher, 31, struggles to find drinking water and food for her daughter and four brothers and sisters.
Normally, she'd be able to send her water canisters down the hill on a motorcycle. Now, she has to walk long distances to stand in long lines with no guarantee of getting any. Madocher has resorted to buying water from neighbours' rain basins – used normally for bathing – and treating it with clorox. Since the unrest, she says they've had to cut back on food and water.
Savanel St. Jour works as a motorcycle driver in the capital. He took part in the most recent protests and says Moïse must go because no one can trust what he says any longer.
Madocher isn't so sure. A friend of hers was killed last week in the demonstrations, and she says she's afraid to leave her home to look for food and can't send her daughter to school.
"Jovenel didn't say anything of substance," Madocher says. "He didn't speak for us or about the missing money people are protesting about. He's speaking for the rich people that are with him."
Madocher leaves an empty cup used to measure rice on the table in her house. Gallons of empty jugs of water are piled up in the corner of the room. She wants the country to change, but in a way that all Haitians feel the impact. "We want the price of goods to go down and for the possibility to find work," she says. "We just want the country to function well."
(TOP PHOTO: Protesters demonstrate in anger at the PetroCaribe scandal. CREDIT: Jessica Obert/IRIN)
jo/ag