Codrington is a ghost town – frozen in time before clean up could begin. Trees are stripped bare, electric pylons are down, roofs ripped off, and wooden houses collapsed like matchboxes. Clothes, furniture and household belongings are scattered in yards. Corrugated iron sheets, bent by the wind like scraps of paper, are wrapped around trees. 
Barbuda was the worst hit of all the Caribbean islands by Irma – a category 5 hurricane. It swept through Codrington, the main town, on 6 September, severely damaging over 40 percent of its buildings, leaving just 5 percent untouched, according to a preliminary survey.
The whole island of up to 2,000 people was evacuated, and until water and electricity are restored, civilians are not allowed to stay here.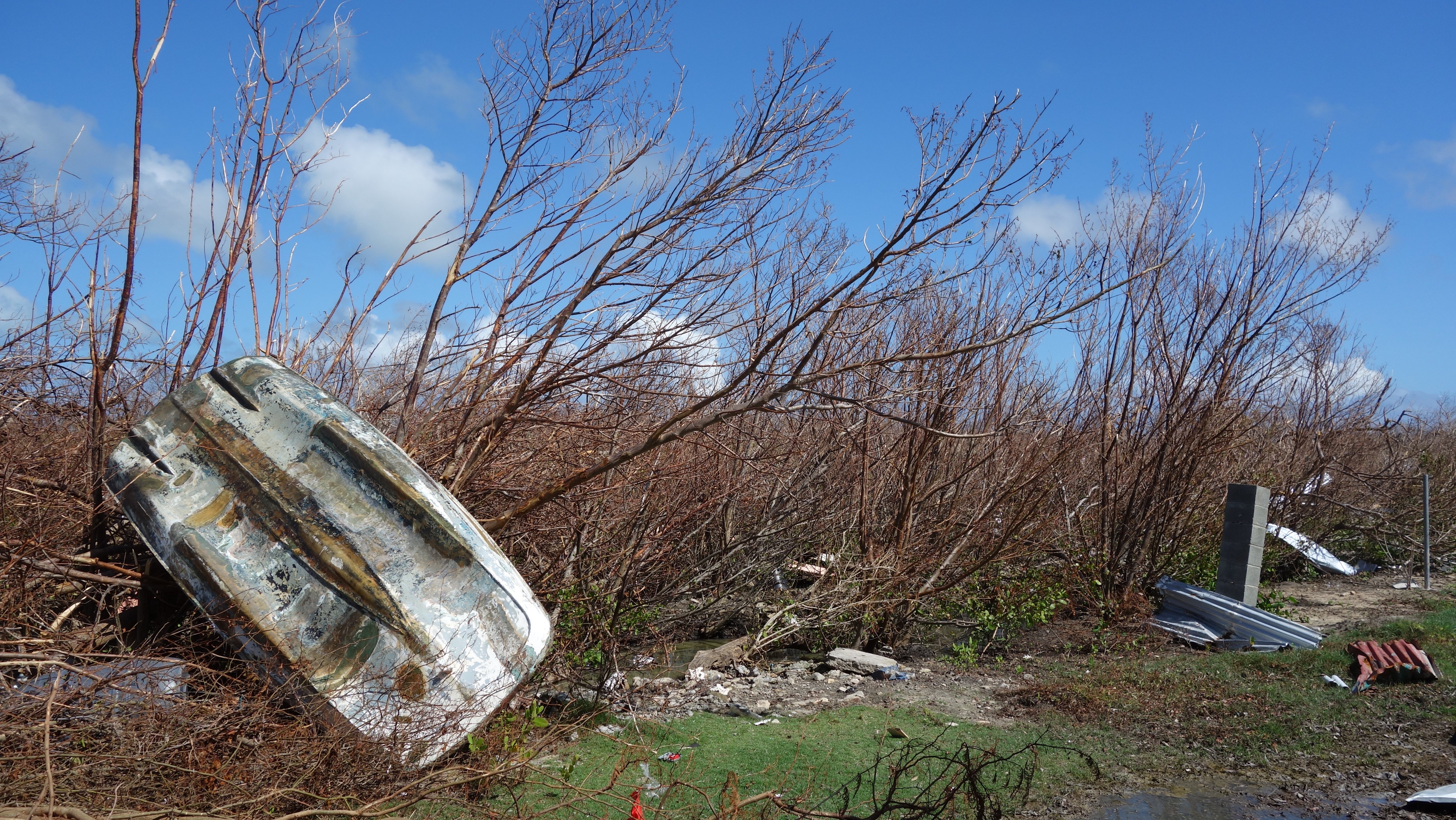 IRIN visited Barbuda with government officials and locals going back on a day trip to check their properties. There are clear skies today, but the Barbuda Express ferry may be the last for a few days. The brisk wind and sea swell are a hint that Hurricane Maria is heading this way. 
Fishing boats are upturned on the shore – one boat owner said he was heading to check whether the "old-time" method of securing the boat in the mangroves had protected its engine.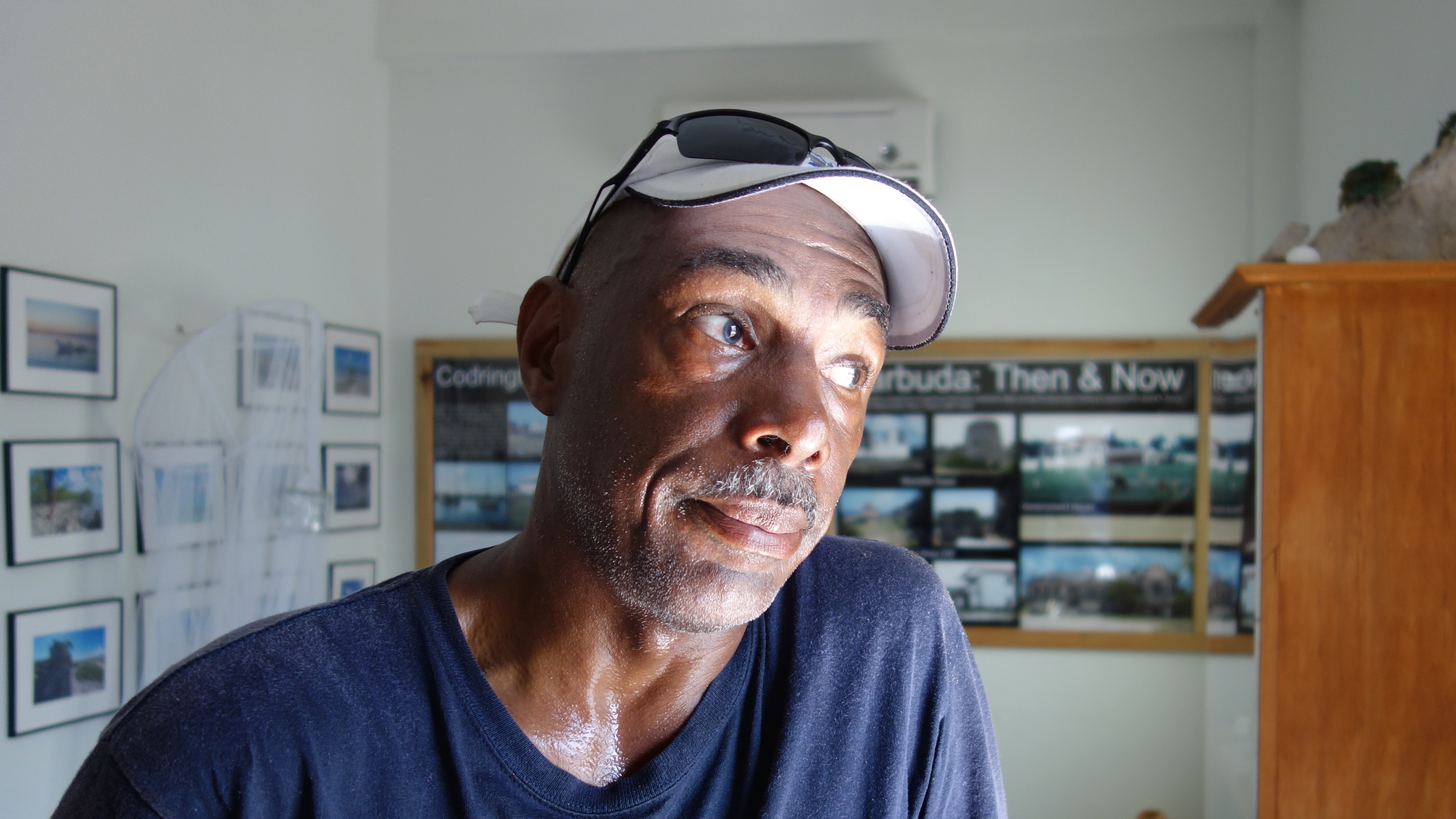 In front of Barbuda museum's "then and now" poster display, Ogden Kelly Burton swigged orange squash from a cut-off plastic water bottle. One of the few officials staying on the island, Burton says the damage was fundamental: "You see places you don't recognise."
New realities
Burton usually works for the Department of Environment on nature reserves and is checking the impact of the hurricane on the rare frigate bird.
Although saddened, he says being involved in the clean-up is "part of the healing". He expects change, some for the better. Buildings in the new Barbuda will have to suit a new reality.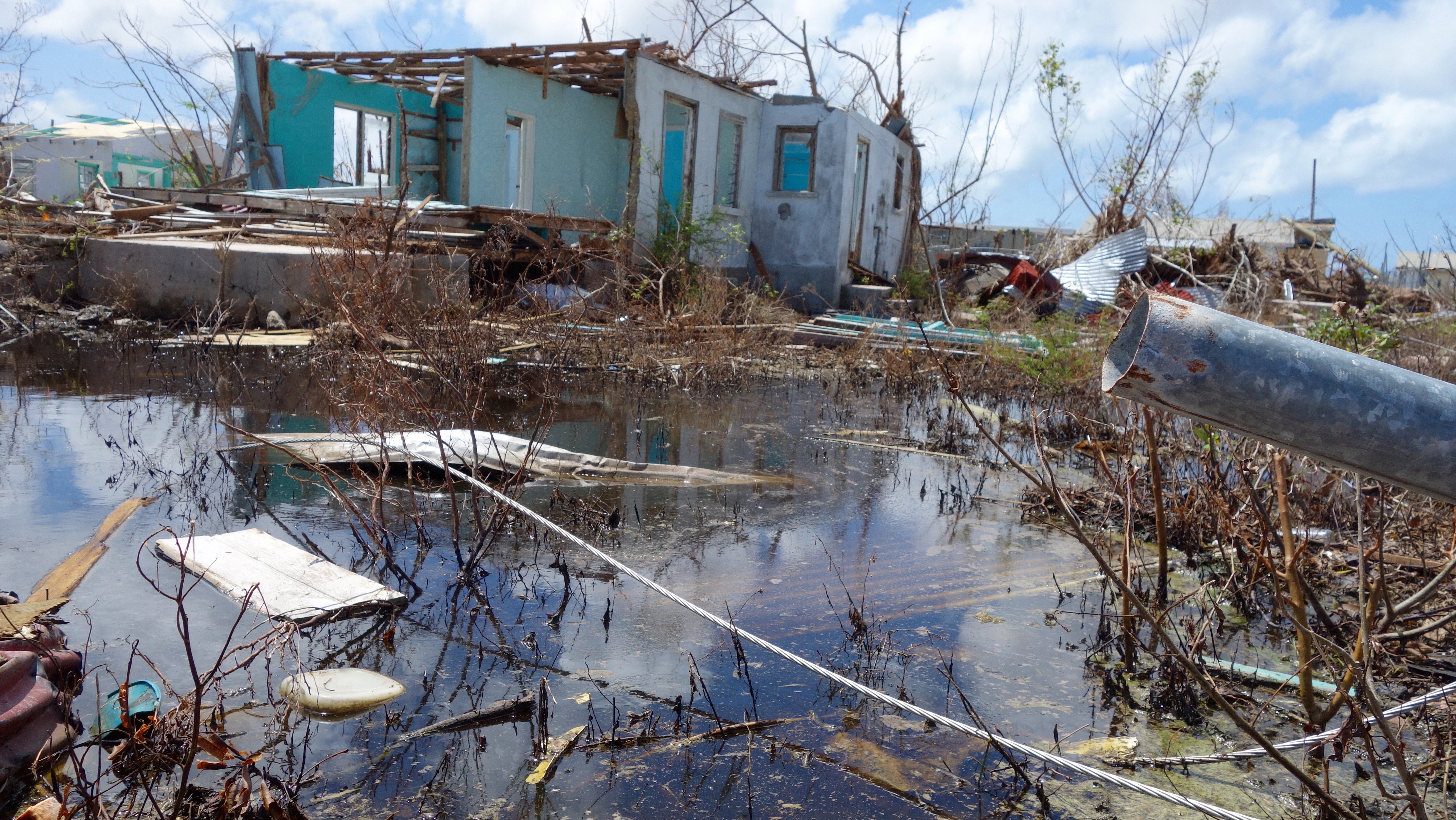 "We know climate change is real, because storms are more intense," he noted. "Our structures should reflect that."
The walls of most concrete buildings remain standing in Codrington, but wooden structures and roofing in general collapsed or was ripped away.
"We are a very resilient people," said Burton, and although political rumblings over reconstruction and future policy are starting, he remains confident: "Barbuda is unique".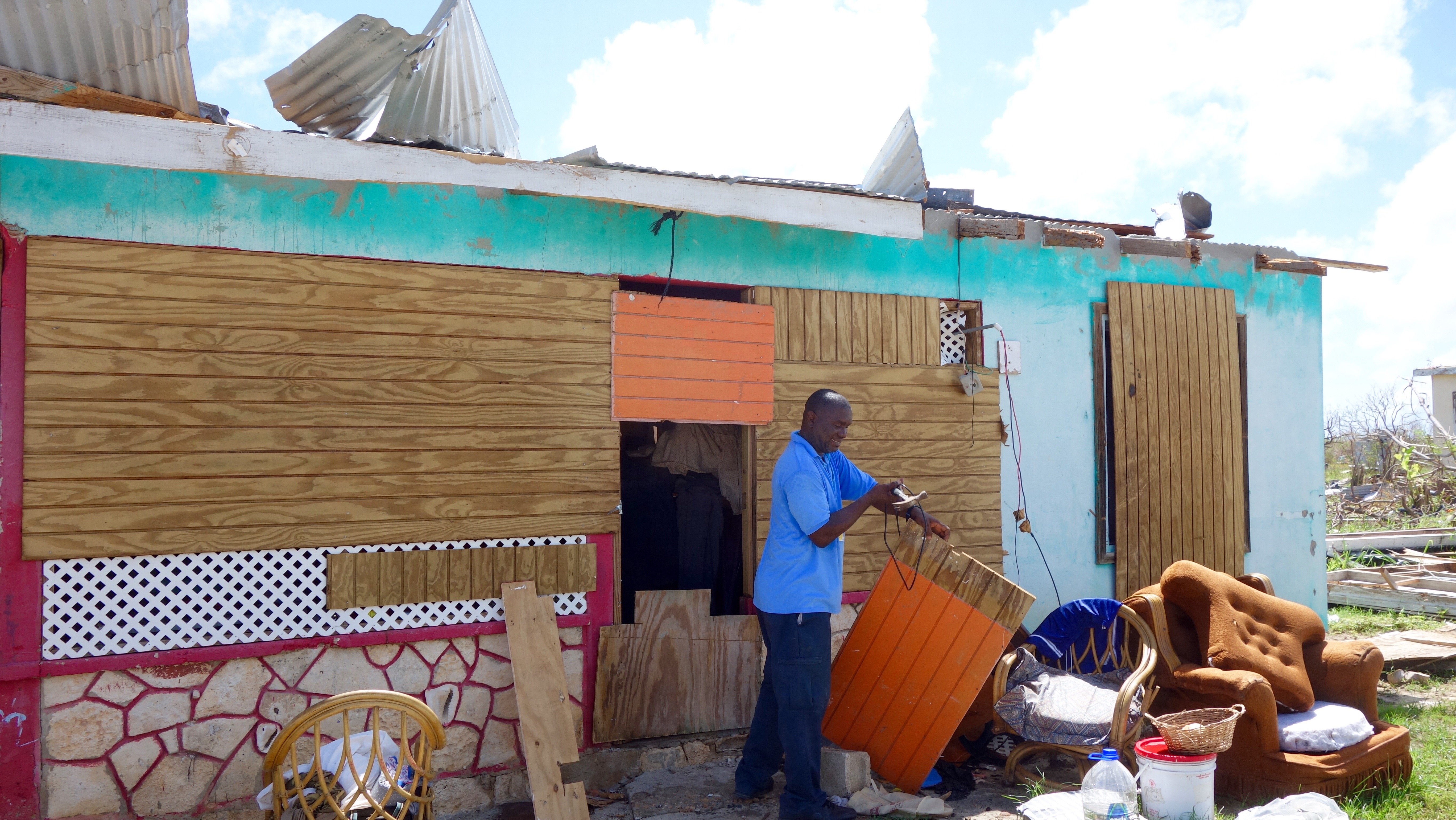 A block or two ahead, Muhinda Walbrook hammers plywood across the front door of a modest house, already decorated with a patchwork of different coloured planks and iron sheets.
The house belongs to his 79-year-old father, waiting on neighbouring Antigua, to know how and when he can return and "start all over again", said Walbrook. "He couldn't afford insurance," he added.
We were told only military, police and officials like Ogden are stationed on the island. So it was a surprise to follow the sound of a chainsaw and meet American Ed Harris of San Diego.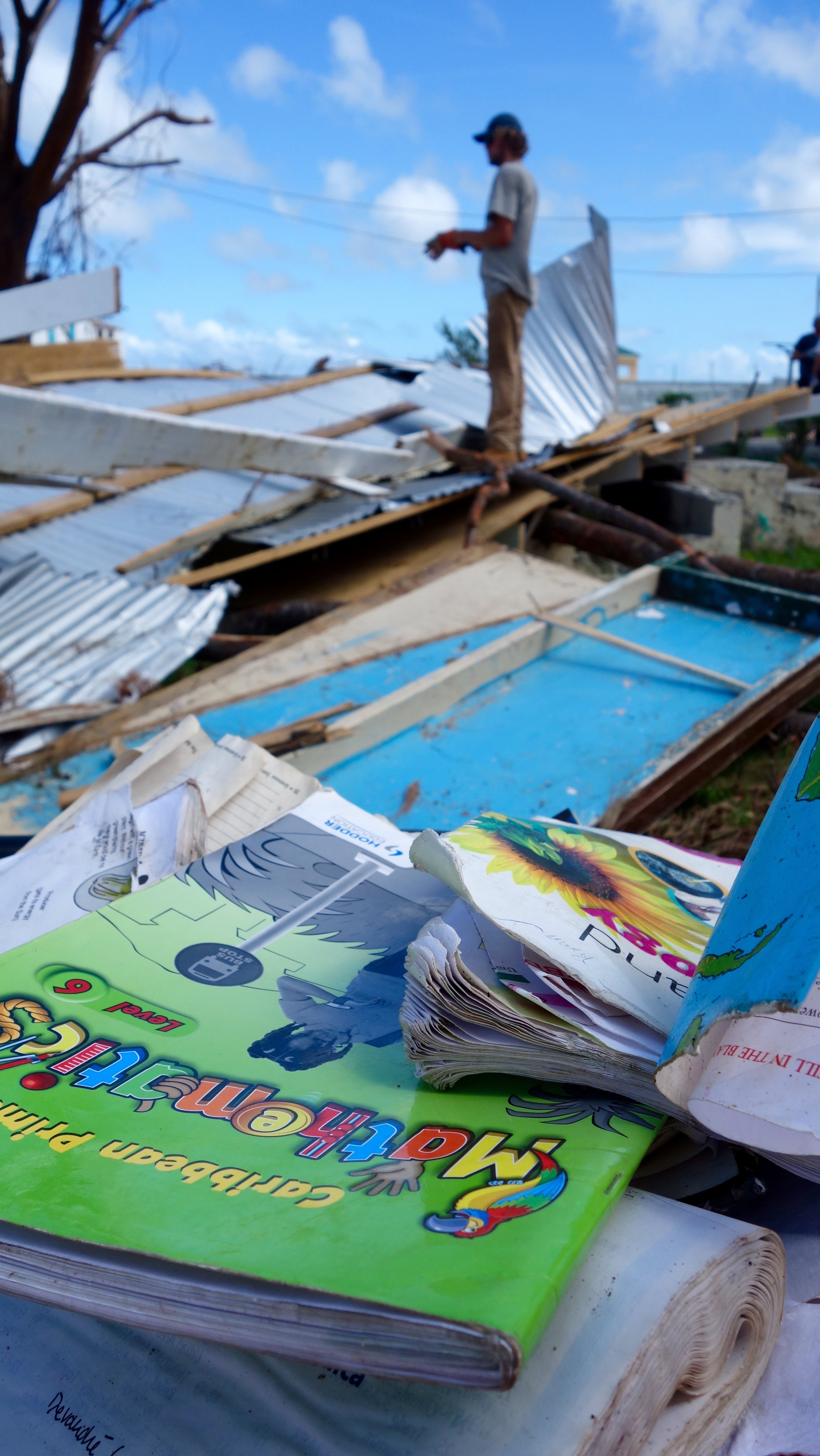 He and his companions had volunteered to help with the clean-up and had been on the island for a few days. They were flown in at the invitation of the US-based Waitt Foundation, which supports environmental protection on Barbuda.
Harris and his crew were clearing debris from Codrington's main school, now a roofless collection of one-story pink buildings.
His team are San Diego lifeguards, Harris explains, with a range of life-saving and rescue skills. Here he admits they are mainly just using muscle power to clear the school while awaiting heavier equipment. 
Why are they here? "They asked", said Harris.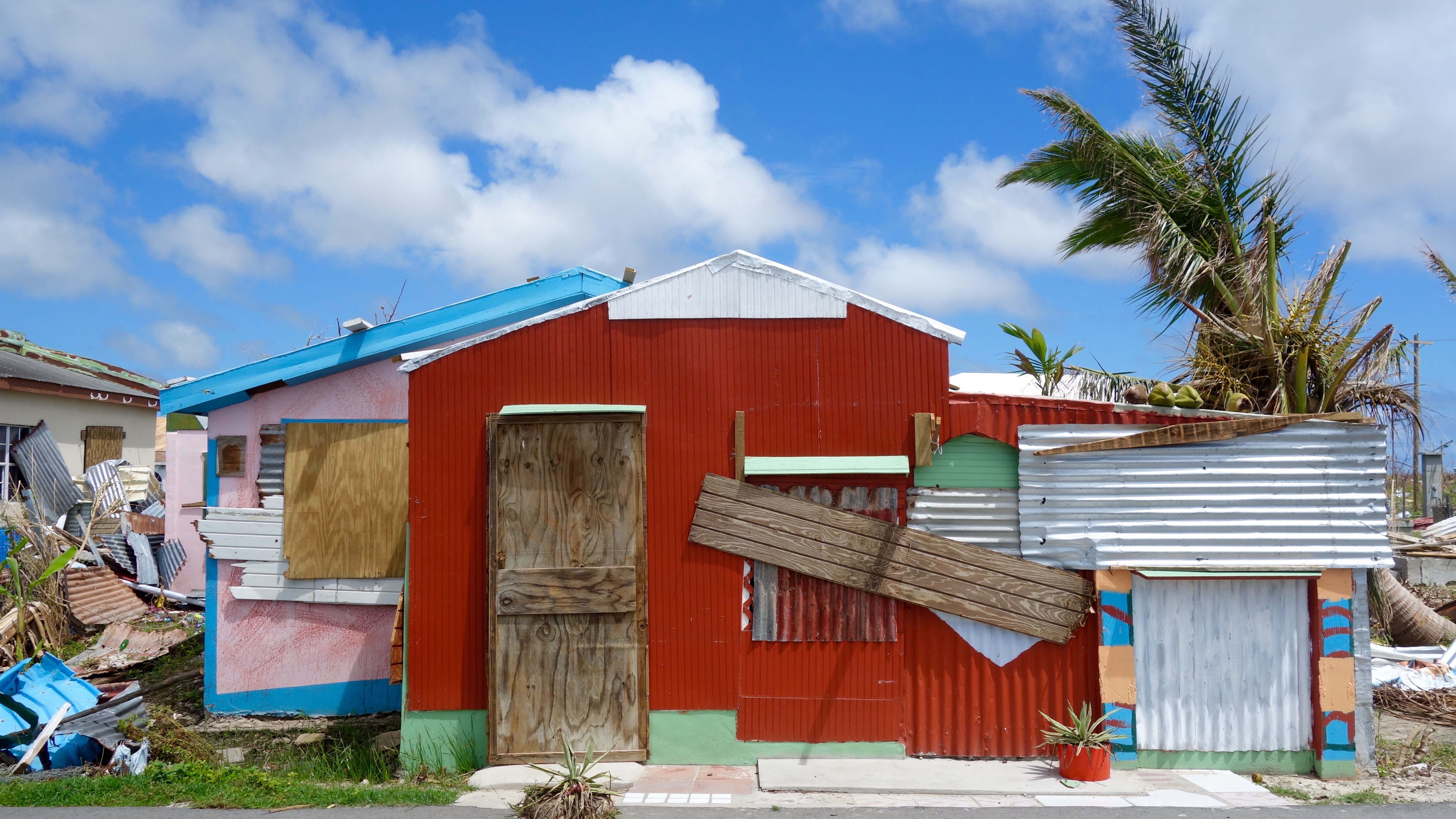 The lifeguards came self-sufficient and are sleeping at the island's tiny museum, which is relatively unscathed.
Counting the cost
Stabilising environmental health is a first step to preparing the island to be reoccupied. A large "vector control" crew has finished a first round of spraying to control mosquitoes, a sewage tanker is sucking up the ponds of standing water.
Next on the list: disposal of dead domestic animals, mainly dogs, which are swarming with maggots and powerfully smelly.  The remaining domestic animals and pets are a worry for the Barbudan evacuees. An animal welfare charity has distributed piles of dog food around the town, while donkeys, pigs and chickens roam free.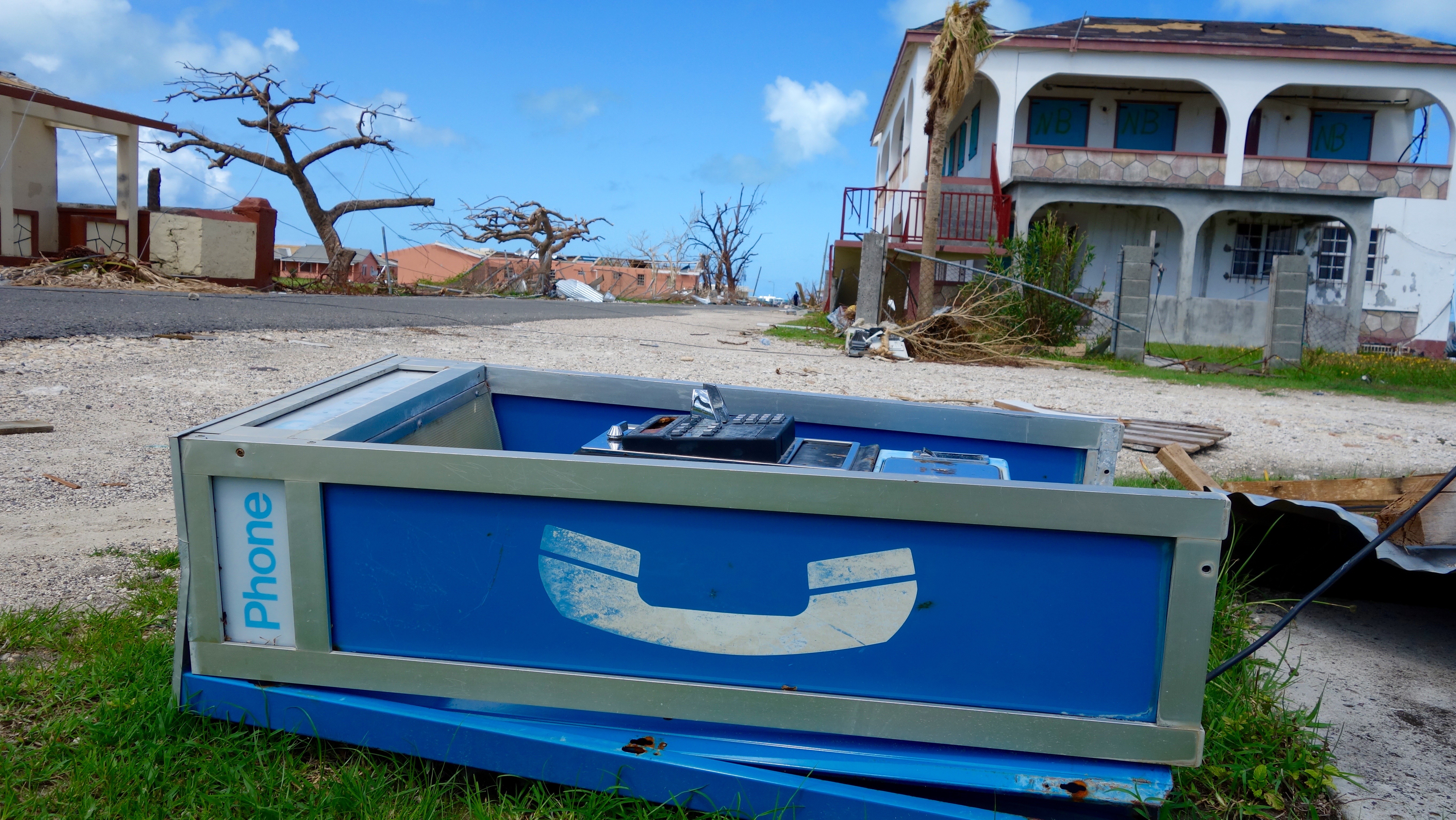 To prepare for reconstruction, surveyors are cataloguing the damage.  Sidra Samuel, a Land Information Officer, is making an assessment plot by plot, and entering data into a Samsung tablet, building a database of every property and its state of disrepair. 
She says the spraying has had a positive impact – on previous visits the clouds of mosquitoes seemed big enough to "pick you up."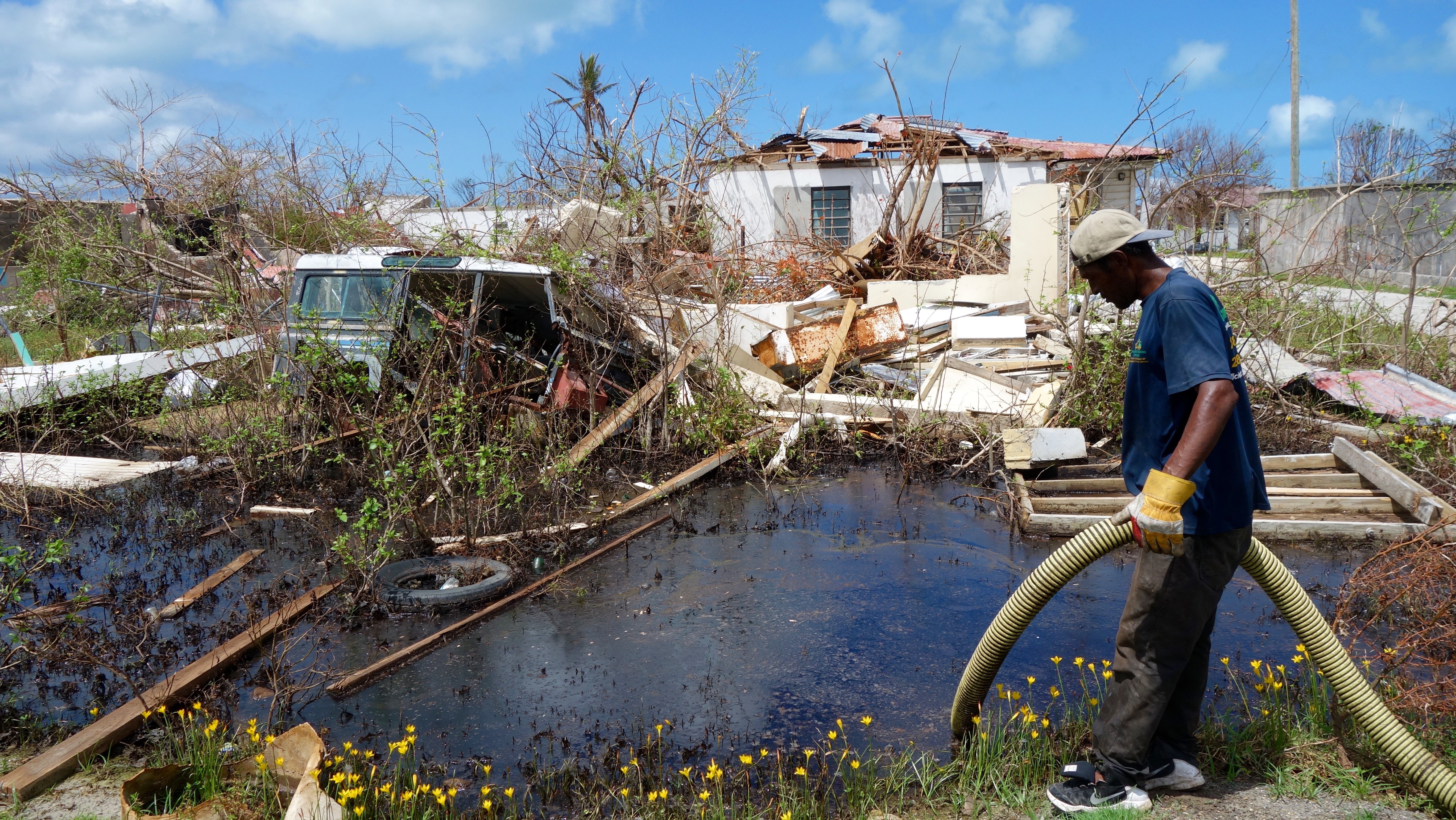 Drone operators Aerovision, working with Canadian NGO Globalmedic, are adding a detailed photo montage to the damage assessment process using industry-quality drone equipment and software.
Their machine buzzed overhead as Samuel and her colleagues trudged around the deserted streets.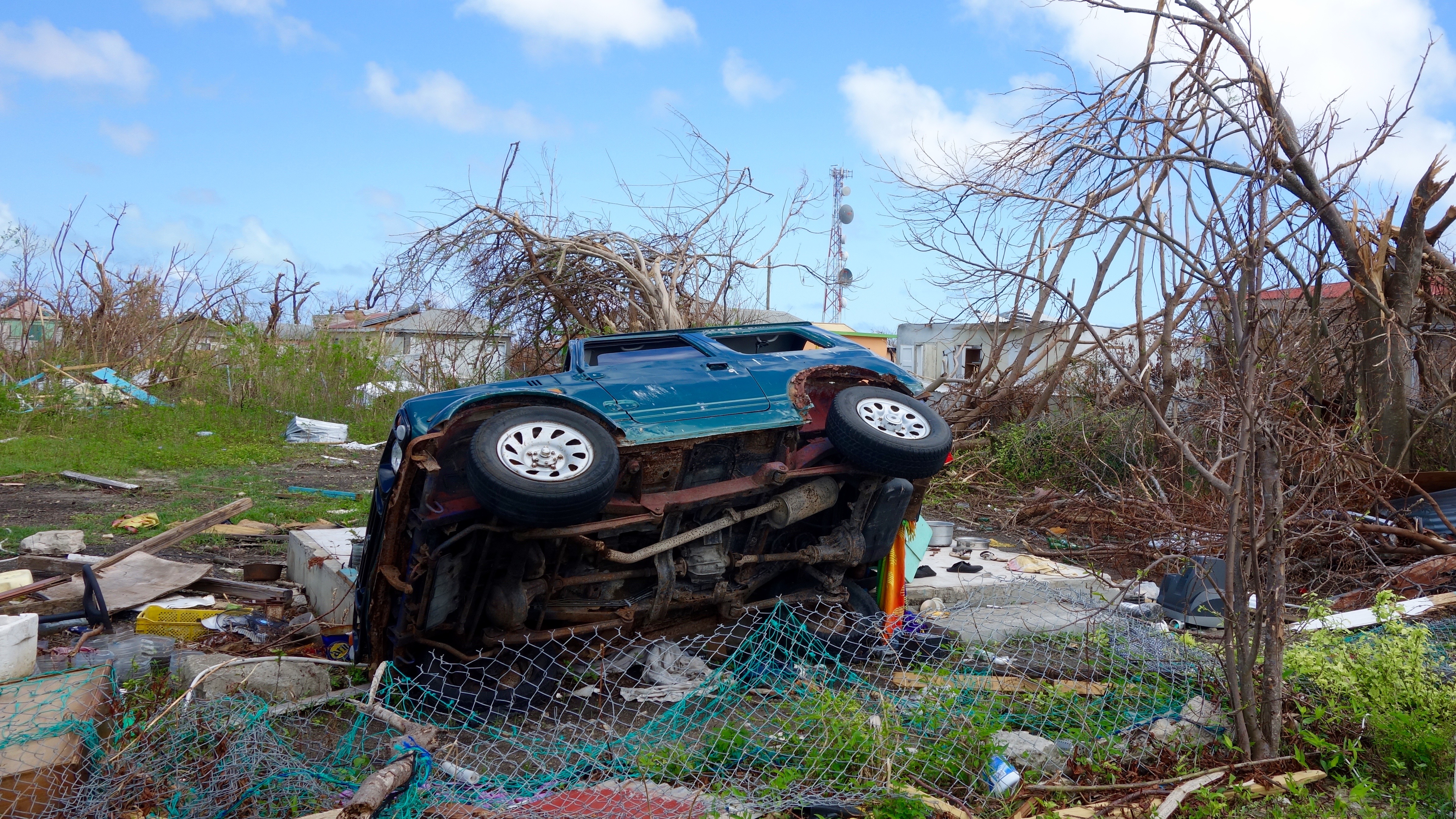 Walbrook continued to explore the chaos of the back yard of his father's house. He knocked out some nails from a plank on the ground.
Asked if he was planning to re-use them, he said it was just a precaution against treading on them: "Prevention is better than cure".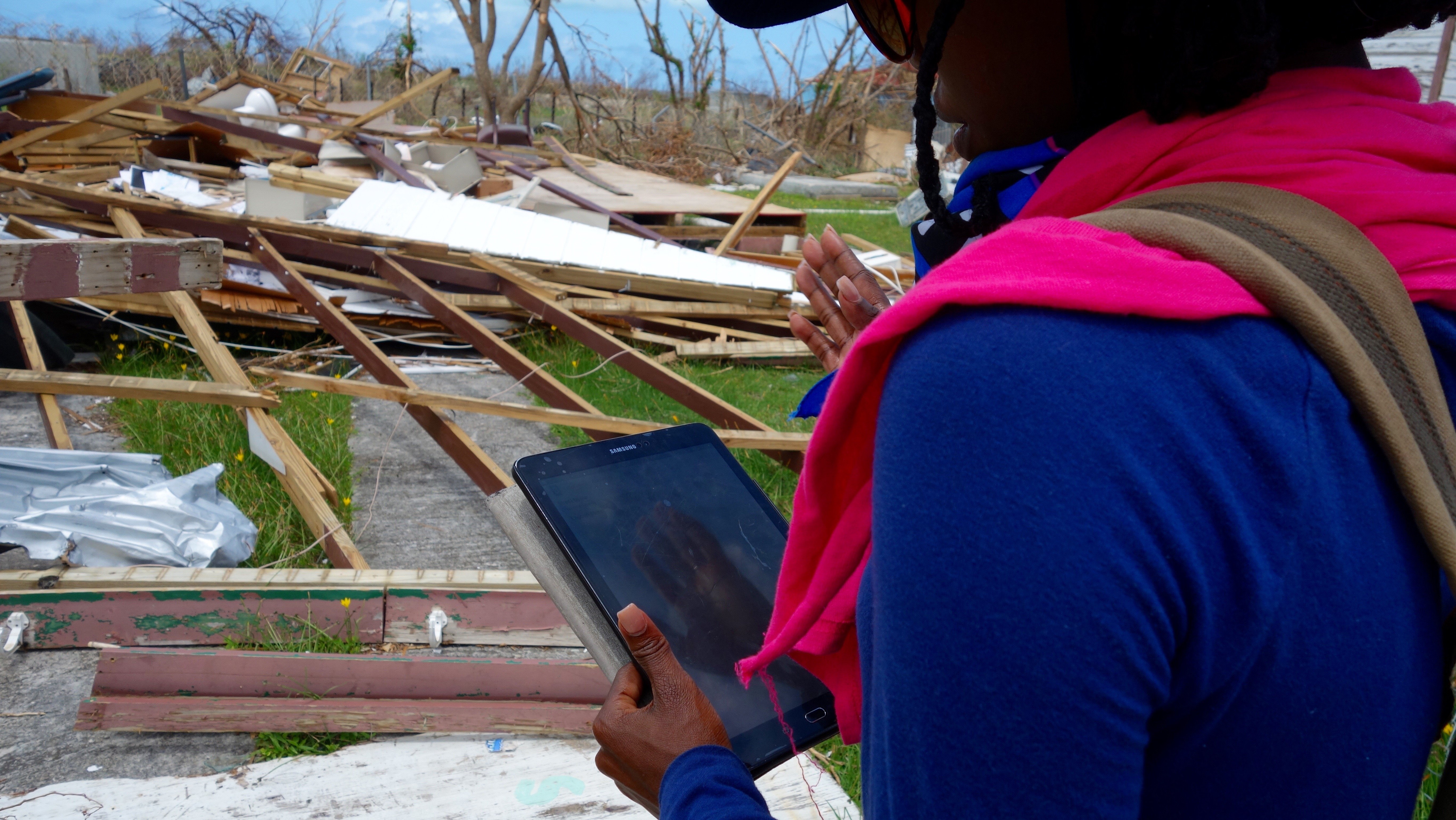 For more photos: see our Facebook album.
bp/oa