The South African border town of Musina is bracing for an increase in migrants as faith in Zimbabwe's new unity government wanes and the lure of a new permit system specifically tailored for Zimbabweans makes it easier for them to work and study in South Africa.
Musina, 17km south of Zimbabwe, has been the first port of call for millions of Zimbabweans fleeing an economic collapse usually associated with a country at war, and has tested the capacity of the South African authorities.
Concerned NGOs have either politely termed South Africa's approach to the flood of Zimbabwean migrants pouring across the border for almost a decade as "fluid", or more pointedly noted that "the only consistency of its migration policy is its inconsistency".
Before South Africa's Home Affairs Department decided to adopt the new one-size-fits-all policy, which has been warmly welcomed by NGOs and the UN Refugee Agency (UNHCR), it tried a variety of solutions to staunch the flow of migrants - from mass deportations to handing out asylum seeker permits - but by its own admission succeeded only in encouraging corrupt practices in the department.
The nature of Zimbabwean migration makes it difficult to determine the numbers involved, and estimates range from one million to more than three million people, a figure further complicated by those criss-crossing the border for a variety of reasons, but despite the numbers involved, South Africa has leaned towards accepting rather than preventing migration.
There are myriad categories of migrants, from asylum seekers escaping political persecution to people fleeing economic collapse for a better life over the Limpopo River, cross-border traders, students and shoppers, all contributing to clogging South Africa's bureaucracy with their differing demands.
Sebelo Sibanda, in the Musina office of Lawyers for Human Rights, told IRIN the police would need a sea change in their attitude to Zimbabwean migrants if a new permit system was to work efficiently, because of their track record of "highly confusing policies, contradictory to the rest of the country".
The scale and complexity of migration can be overwhelming. "Either I'm the crazy one, or the system is crazy, or I am failing to grasp what is happening," Sibanda commented.
"According to the Refugee Act, if someone is inside the country seeking asylum, regardless of how they got into the country they cannot be deported and they can apply for documentation. South Africa acts contrary to its own Act."
Whether we like it or not, the decision to introduce a permit system will attract more people from Zimbabwe, and that is inevitable. In Zimbabwe the reaction to the announcement of special permits was 'Great!' as people said, 'We can go to South Africa and not be harassed or deported
Musina's police spokesman, Captain Sydney Ringane, told IRIN: "We do arrest [Zimbabwean migrants], except when they are on their way to the show grounds." This is a barren shadeless area a couple of hectares in extent, enclosed by a broken chain-link fence, adjacent to the home affairs offices at the southern end of town, which is viewed as a sanctuary by migrants seeking greener pastures in South Africa.
"There was an understanding that when people get to the show ground they [migrants] won't get deported [by the police]," Sibanda said. "But migrants still had to negotiate a 20km gauntlet and risk arrest and deportation on the way."
The police have not always respected the show grounds as a sanctuary. Sibanda recollected police rounding up asylum seekers and placing them in "preventative detention for the week-end", after blaming migrants for an increase in crime. Later they imposed a 100m cordon around the area and arrested and deported anyone straying beyond this point.
The effect of the cordon forced 5,000 people to stay inside it without adequate sanitation facilities or water supplies, which was widely blamed for contributing to the outbreak of cholera in the town. Aid agencies subsequently supplied sanitation facilities and drinking water.
"Whether we like it or not, the decision to introduce a permit system will attract more people from Zimbabwe, and that is inevitable. In Zimbabwe the reaction to the announcement of special permits was 'Great!' as people said, 'We can go to South Africa and not be harassed or deported.' But the arresting is not going to stop, they [the police] will continue to arrest; people will be arrested for a nationality check," Sibanda said.
Since the demise of apartheid, South Africa, the continent's largest economy, has become a magnet to other African nationals; according to analysts, the Zimbabwe permit could spawn a new avenue of corruption as other African nationals use it to gain access.
Methods used to determine someone's country of origin include proficiency in the languages spoken there, and testing specific local knowledge of the regions people claim to come from.
Migration is an acid test of Zimbabwe's recovery

Migration from Zimbabwe is seen as a barometer of the country's ills. It was hoped that the formation of the unity government on 11 February 2009 would be the first step towards recovery, but confidence in the new administration has yet to impact significantly on the flow of migrants.
"People are very sceptical about it [unity government]. Shops are now full, but what's the point? No work, no money to buy goods, and the schooling remains compromised," Sibanda said. "If you criticize the unity government then you are unpatriotic - it's back to the ZANU-PF [Zimbabwe's ruling party for 29 years] thing that everyone has to sing from the same song sheet."
Timothy Mugabe, 30, a former Zimbabwe policeman, was one of about 500 people queuing for documentation at the show ground recently. He fled the country in September 2008 after being tortured and detained for seven days because he refused to obey an order by the commanding officer of Midland Province, Charles Mufandaedza, to vote for Robert Mugabe in the 2008 run-off presidential elections.
After persistent death threats he left for South Africa in September 2008 with his four-year-old son, but went to Musina in April 2009 to meet his wife, who was coming across the border. "I will return [to Zimbabwe] when there is a new government. The unity government will not solve the political problems," he said.
Raphael Majoni (not his real name), 22, said he had arrived in Musina after paying a policeman R100 (US$10) to cross the border, and a further R150 (US$15) for safe passage by taxi to the show grounds. The usual taxi fare from the Zimbabwe border to Musina is R30 (US$3).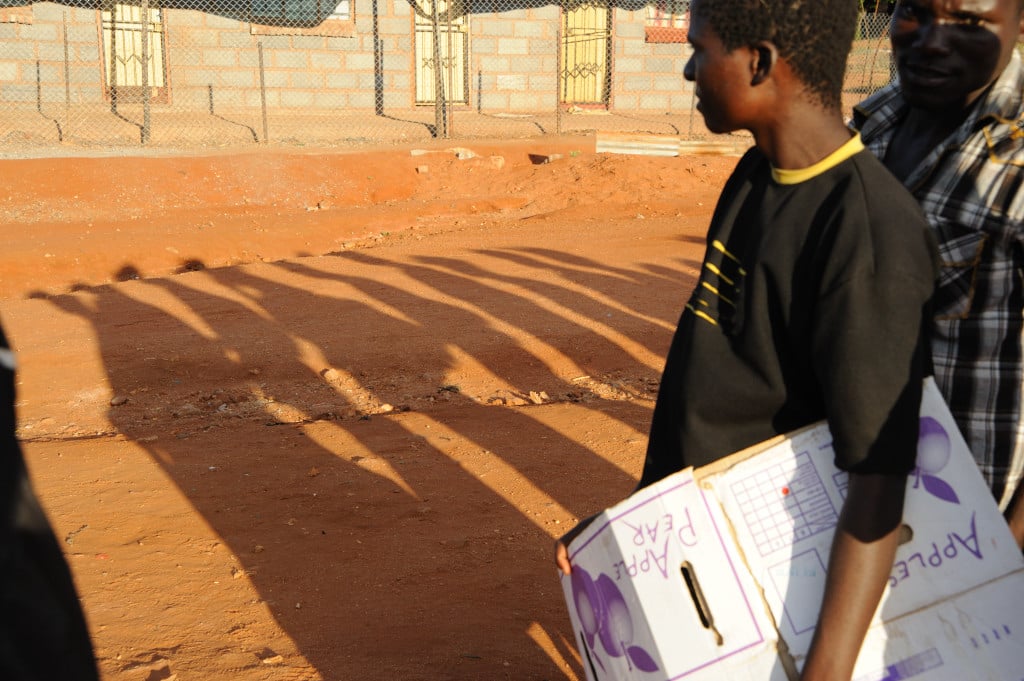 200904301451130646
Photo: Guy Oliver/IRIN
A Zimbabwean carries cardboard to use as a bed at a temporary shelter in Musina
Majoni was drawn to South Africa in the hope of continuing his education. He passed nine O (Ordinary) Level subjects to obtain a school-leaving certificate in the British education system followed in Zimbabwe, and had worked at odd jobs for three years but still could not afford to study for his A (Advanced) Level graduation certificate.
"I want to get a job and go to school, to try my best to meet my goals and objectives, and to make money to feed my family back home," he told IRIN.
A migration specialist who declined to be named told IRIN that bribing officials on both sides of the border was big business, but the South African police consistently denied that their members indulged in corrupt activities.
"The Zimbabwe permit allows migrants to work and study and to go back and forth [across the border]. This is what a lot of Zimbabweans - who in some cases are supporting an entire family - have been looking for as a way to take remittances or food back to relatives, and then return to their job in South Africa," UNHCR field officer Camilla Kragelund told IRIN.
"It is an initiative that we welcome and is a very positive step by South Africa. The new permit will address the need for many Zimbabweans, and will also ease the pressure on the asylum system, as this means those people coming to South Africa seeking international protection because they are not safe in their own country will now have a better access to the asylum system," she said.
Before South Africa's authorities decided to introduce special permits for Zimbabweans, the policy had been to give asylum seekers permits, but after six months these had to be reviewed by a panel, and a decision taken on the validity of the application, which overloaded the asylum process.
UNHCR assisted home affairs in processing a few hundred asylum seeker applications daily at the show grounds. "We set up a pre-registration desk and worked closely with the department, which was very responsive, and ensured free access to the asylum system and a fair refugee process," Kragelund said.
"The new permit will not require the same resource-intensive process as the asylum seekers permit, and just has a time limit, which will really relieve the asylum seekers system."
Decongesting Musina

Desperation drives most Zimbabwean migrants to South Africa. They arrive in Musina with little more than the clothes on their backs and, if they are lucky, a few rands in their pockets. The migrants compete for work in Musina to earn money to travel to South Africa's urban centres, where job opportunities are greater.
"Johannesburg is the gold city, not of Africa, but of the whole world. People have a choice to go anywhere, but most choose Johannesburg," Jacob Matakanye, CEO of the Musina Legal Advice Centre, told IRIN.
The advice centre uses South Africa's rail network to ferry as many as 500 migrants a day to destinations of their choice, and reunite migrants with relatives or friends in the country, which has reduced the pressure in Musina, but has increased pressures in other parts of South Africa, where the newly arrived compete with locals for increasingly scarce resources.
The special permits will see people coming, knowing that they will not be pushed back home, and there will be a problem in Musina, as greater numbers will come across, and where are they going to stay? There is no shelter
"The special permits will see people coming, knowing that they will not be pushed back home, and there will be a problem in Musina, as greater numbers will come across, and where are they going to stay? There is no shelter," Matakanye said.
Faith-based organizations have established a few temporary shelters where migrants stay for three days on average, and although international aid agencies say the conditions are not of international standard, they concede that with little else available they are better than nothing.
The permit system is seen as a key incentive to make returning to Zimbabwe an easier choice. "People are not going back in numbers because the asylum seekers permit does not allow them to return," Matakanye said.
"But with the new permit people can go back to Zimbabwe and return to South Africa without losing their status. It provides people with freedom of movement."
go/he
---
This article was produced by IRIN News while it was part of the United Nations Office for the Coordination of Humanitarian Affairs. Please send queries on copyright or liability to the UN. For more information: https://shop.un.org/rights-permissions