Only women and children are allowed through the doors of the Technical and Vocational Education and Training College in Abiy Addi, a village in Ethiopia's northern Tigray region. But no one comes here to teach or learn: since war broke out in November 2020, the school, like others in the village, has housed hundreds of displaced people. 
A ceasefire between the Tigray People's Liberation Front (TPLF) and the Ethiopian federal government, signed in November last year, has done nothing to make it a place of learning again. 
Few people living here feel ready to return to their homes, and the school's courtyard is still full of tents emblazoned with the logo of the UN's refugee agency (UNHCR) and young boys playing football. 
Aid has been generally slow to arrive in Tigray, despite the lifting of a government blockade. Between November and March, barely 5,500 trucks of relief arrived in the region, enough to meet just a fraction of the needs after two gruelling years of war.
Around 1.8 million people are currently internally displaced within Tigray. And between the COVID-19 pandemic and the war, 2.3 million children in the region have not attended school and 22,500 teachers have not been paid since early 2020, according to Save the Children.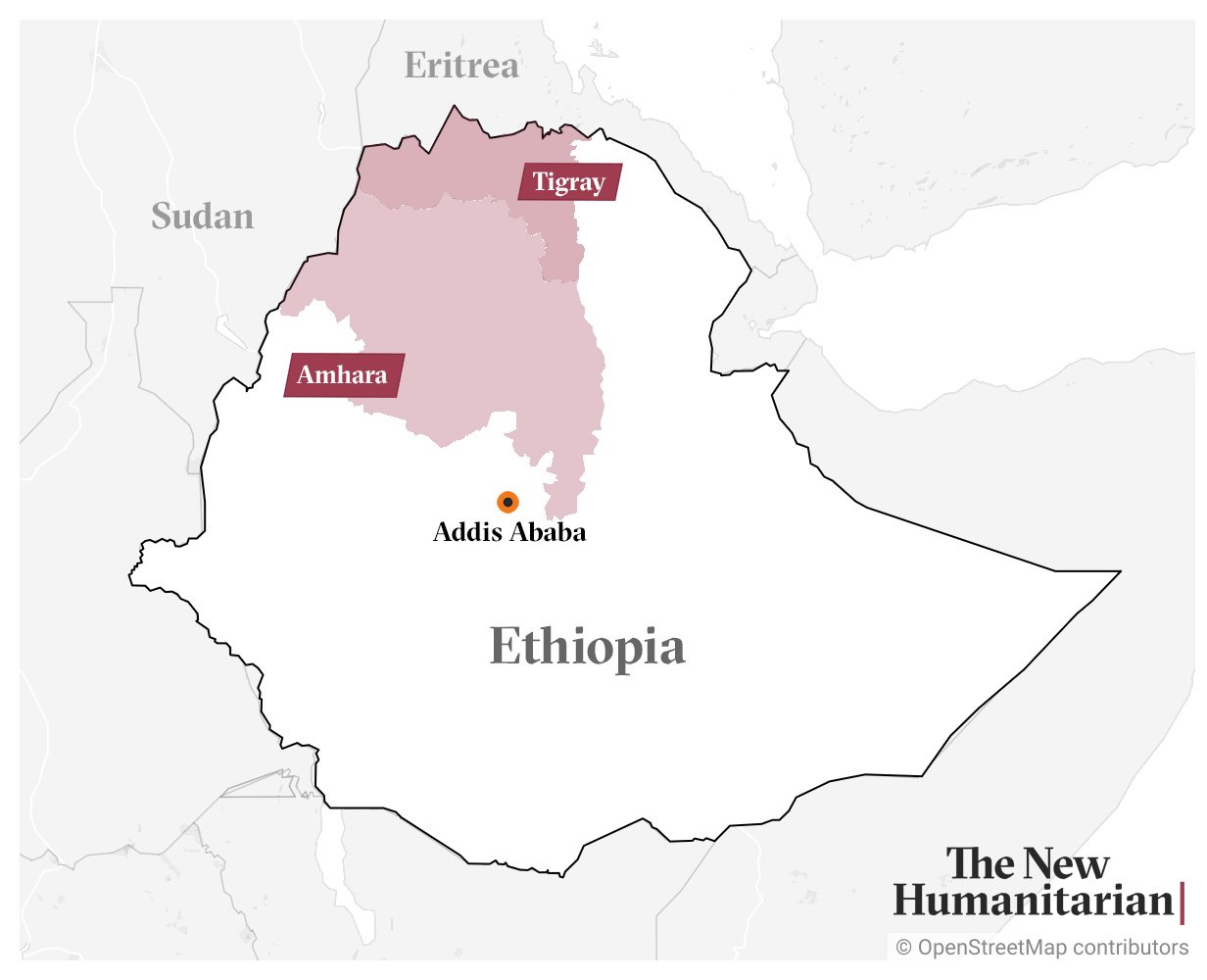 Electricity supplies are slowly being restored and communication links are back up with the outside world, but over five million people out of a population of six million are still short of food. Prospects of the situation improving – at least in the short-term – are slim.
The appointment in March of an interim administration in Tigray unlocked an initial 25% of the approximately 12 billion birr ($222 million) annual budgetary allocation by Addis Ababa to the region, which was halted during the war. 
But much more is needed for post-war reconstruction. 
"The entire economy has been damaged," explained Muuz Hadush, an economics professor and former director of the Economic Damage Assessment Centre, which was set up by the TPLF administration in 2021. "Eighty percent of the livestock was killed or stolen, 90% of the crops were destroyed, industrial sites were systematically looted or demolished, and not a single shop was left open."
Forced from their homes
In one of the tents in Abiy Addi, nine-year-old Hailu* stares into space as he listens to his grandmother, Lulit*, calmly recounting the traumatic events of the past two years. "I don't know where his parents are," Lulit told The New Humanitarian. "My daughter and her husband had to flee at the beginning of the conflict, and we haven't seen them since." 
When the war first erupted, the pair were at their home in Dansheha, a village in the territory of Western Tigray, a fertile patch of land on Ethiopia's borders with Sudan and Eritrea. Under Ethiopia's constitution, it is part of Tigray. But the area was seized shortly after the war broke out by forces from the Amhara region, who have long claimed it as their own and call it Wolkait Tegede.
As a gateway to Sudan, and leading producer of sesame, the status of Western Tigray is a major stumbling block to lasting peace. Just this month, reports emerged of Amhara forces displacing tens of thousands of ethnic Tigrayans from nearby territory they still occupy, while Tigray's regional government has long demanded the region's return.
These Amhara forces include fighters from the Fano, an ethno-nationalist militia that is accused of committing some of the worst abuses of the war as they fought alongside federal troops against the TPLF. "They regularly raided villages and rounded up Tigrayans and loaded them onto trucks," recalled Lulit.
For almost a year, Hailu and his grandmother slipped through the net. But in November 2021, Fano fighters forced them into the back of a truck without telling them where they were headed. "They were mainly women, piled on top of each other, their clothes torn," said Lulit. "Some had been raped."
"My daughter and her husband had to flee at the beginning of the conflict, and we haven't seen them since." 
After half a day on the road, their convoy stopped at the edge of the Tekeze River, a natural boundary that marks the border between Western Tigray and the remainder of the region, and ordered their abductees off the trucks. One man died of asphyxiation as they disembarked, according to Lulit. 
After that, the Amhara fighters forced them to swim across the river. Some drowned. Those who made it to the other side walked about 60 kilometres to the city of Shire, where Lulit and Hailu found refuge until the last phase of the war engulfed the city in August 2022.
Under a hail of artillery shells hurled by the Eritrean army, another ally of Ethiopia's federal military, the young boy and his grandmother fled eastwards on foot. Three days of walking down back roads lead them to Abiy Addi, a small market town in central Tigray, about 90 kilometres west of Mekele, Tigray's administrative capital. They have been stuck there ever since. 
Abiy Addi is now home to tens of thousands of internally displaced persons (IDPs) like Lulit and Hailu. In towns across Tigray, schools serve as makeshift IDP camps, with residents crowded into classrooms and tents that lack basic amenities. 
In Abiy Addi, some don't even have jerry cans to fill during water distributions and make do with small plastic cups.
Berhane, a young student living in another of Abiy Addi's camps, comes from the Western Tigray district of Tsegede. Like many others, he was forced to drop out of school twice: first at the onset of the COVID-19 pandemic; and then when the war broke out. 
"I was a journalism student at the University of Mekele, and now more than ever I want to pursue this career and tell the story of what happened," he told The New Humanitarian.
Those that can are leaving Tigray
The long, winding road between Abiy Addi and Mekele is littered with the scars of the war: Here, the fractured dome of a ruined monastery; there, a burnt-out vehicle; walls everywhere are peppered with bullet holes. A few kilometres outside the regional capital, a rare sign of hope: a cement factory spared by the fighting is back in operation. 
But those who can are leaving. Tigray was ravaged not only by the war but also by a two-year blockade. After the peace deal was signed, commercial flights to Addis Ababa finally resumed at the end of December. This has prompted a veritable exodus – with some ruinous consequences, particularly in the already hard-hit health sector.
A cork noticeboard in front of the main entrance to Mekele's Ayder Hospital now overflows with notices asking for the personnel to return to their workplace. Every morning, more hospital employees don't show up for work, either because they have left Tigray or found other work in Mekele. 
"I can't blame them," said Kibrom Gebreselassie, the hospital's exhausted director. "Their salaries haven't been paid for almost two years, and the lack of basic medical equipment prevents us from doing our job properly."
Kibrom has to scramble for every last cent to keep the place running. Lacking sufficient assistance from formal donors, he turned to the Tigrayan diaspora, but with only moderate success. Between November's peace deal and March, the hospital raised about 15 million birr ($276,500) – a fraction of its pre-war 500 million birr ($9.2 million) annual budget.
Ayder Hospital depends on federal funding from Addis Ababa. In January, the central government gradually started paying the salaries of Tigray's 30,000 federal civil servants again, but without covering their 17 months of arrears, according to Muuz. 
The 131,000 people employed by Tigray's regional government had to wait a little longer, but their salaries started coming in mid-April.
A troubled interim administration 
Since November, a semblance of normal life and commerce have gradually returned to the streets of Mekele. Despite a serious shortage of cash, the banking system is also once again operational, and relations with Addis Ababa are slowly normalising.
But divisions persist, even within Tigray itself. Two of the region's three opposition parties played no part in the negotiations that led in March to the formation of the interim administration, which is dominated by the TPLF. It is headed by Getachew Reda, a TPLF stalwart and a former advisor to his predecessor, Debretsion Gebremichael, who had been in office since 2018.
"Life is more and more difficult. We lack everything. I've come to a point where I miss what I had in the previous camps."
"The TPLF is partly responsible for the war we went through. Their ideology is illiberal and authoritarian. They must leave," lamented Dejen Mezgebe, of the Tigray Independence Party, a few weeks before the new interim administration was formed. 
Grumblings of discontent like these are common in Mekele. Many residents believe the TPLF should step aside after leading the region through a disastrous war and allow fresh faces to take the helm, rather than cling to power.
For now, the most pressing priority is reconstruction and a gradual return to normalcy. Earlier this month the new regional administration announced schools would reopen soon and universities have called on students to register for the new academic year. 
To make room for pupils, IDPs now living in schools will be relocated, once again, to other camps. "Life is hard here. Nights are cold," said Lulit, who is not looking forward to having to move to a fourth temporary home. 
"Life is more and more difficult. We lack everything. I've come to a point where I miss what I had in the previous camps. In Western Tigray, I had land, work, and a life. Of course, I miss it and want to go back there. But if Fano is staying there, we just cannot – not after what happened." 
Overcome, she stops speaking for a short while, before managing to add: "I had nine children and grandchildren. Now, I only have this little one left."
*Names have been changed for security reasons
This article was written and reported by a journalist who was recently in Tigray
Edited by Anthony Morland and Obi Anyadike