In the four and a half months since Russia began its full-scale invasion of Ukraine, the refugee crisis sparked by the war has quickly become one of the largest in the world, with more than 5.8 million people said to be displaced from the country to other parts of Europe. But behind that topline figure is a complex and blurry picture of a crisis still taking shape. 
Of the 5.8 million estimated refugees, 1.6 million have entered the Russian Federation, where UN agencies have limited visibility about what happens next; and 3.6 million have registered for protection in the EU, where the activation of a never-before-used Temporary Protection Directive has paved the way for people fleeing the war to stay legally for up to three years. 
In Poland – which has recorded some 4.6 million border crossings from Ukraine since Russia's invasion began, by far the most of any neighbouring country – around 1.2 million people have registered for Temporary Protection. Some Ukrainians have remained in Poland without registering, but others travelled further into the EU, Neil Brighton, the Poland country director for the Norwegian Refugee Council (NRC), told The New Humanitarian.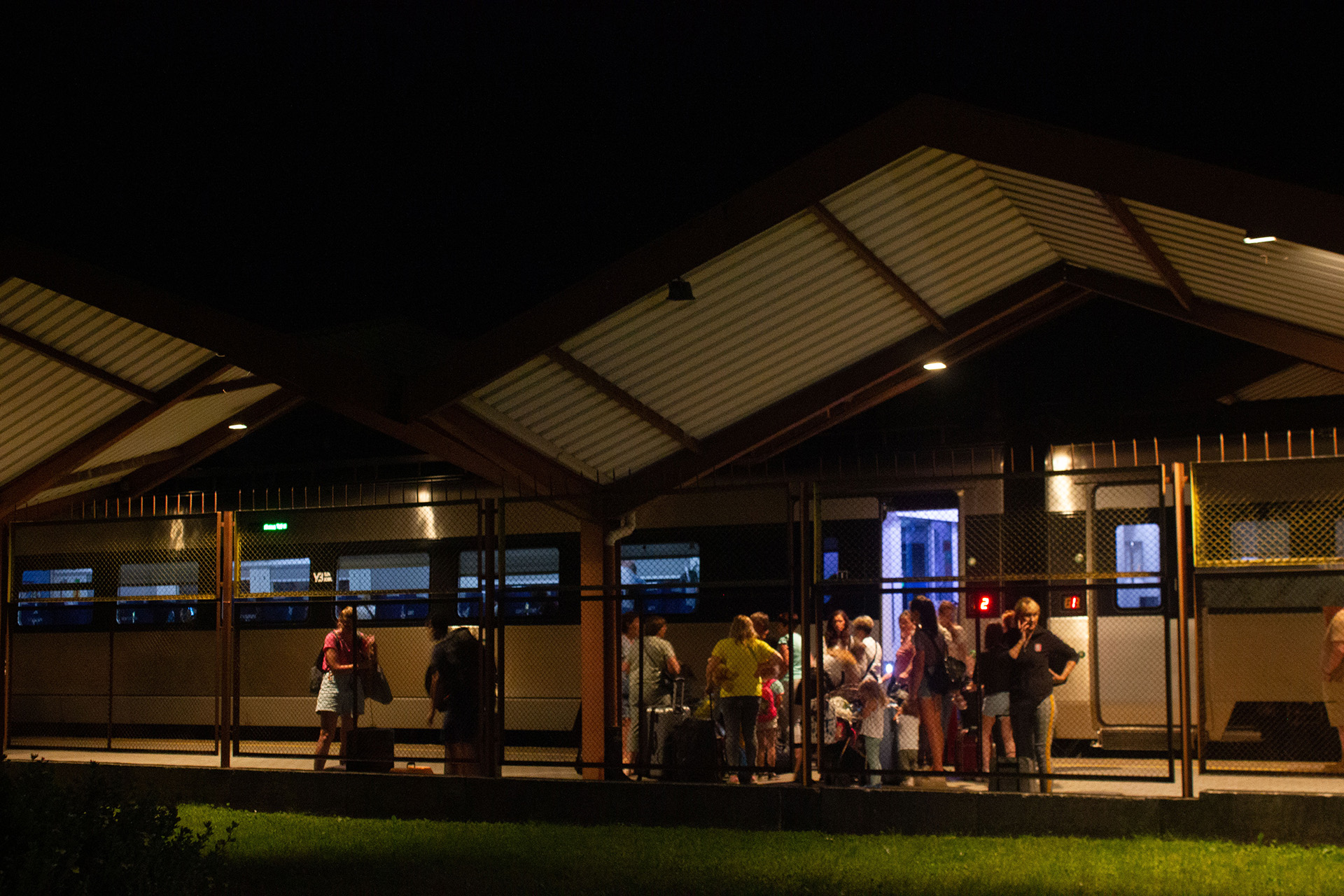 From there, according to Brighton, the picture gets even more complicated.
Some people who went to other EU countries are starting to come back to Poland, either to stay there or to return to Ukraine. And an increasing number of people appear to be travelling back and forth between the EU and Ukraine to visit family or their homes, making it difficult to tell how many new refugees are leaving Ukraine and how many people are going back for good. "Everyone is still struggling a little bit to know where everybody is," Brighton said.
Meanwhile, experts say the war is turning into a protracted conflict that could potentially drag on for years. Intense fighting is raging in the eastern Donbas region, and Russian bombing and shelling frequently hits civilian targets in other parts of the country. 
Read more → With focus on refugees, no end in sight for Ukraine's internally displaced
Thousands of Ukrainian refugees continue to arrive in the EU on a daily basis – including an increasing number of people from areas now occupied by Russia. But since mid-April, the numbers entering Ukraine have slightly outpaced those exiting. The pace of returns increased considerably in late May and continued to rise through the end of June, although at a slower rate, according to the humanitarian data initiative REACH.
One reason is because areas in the west of Ukraine and around the capital, Kyiv, are perceived to be relatively safe – at least at the moment. But another is because, when it started, few people expected the war to last this long. Many are now starting to run out of resources or are growing weary of living as refugees and being separated from family members and loved ones who remain in Ukraine – particularly men between the ages 18 and 60 who are barred from leaving the country under martial law. 
Even for those who have registered for protection in the EU, it's hard to imagine what their lives will look like two to three months down the line, and whether they will stay where they are or consider returning to Ukraine.
In the beginning, "everybody thought, 'Okay, it will last till May, maybe, and [then] it will be over, and we will go home," said Anna Zamaraiva, a 29-year-old from the Black Sea port city of Odessa who was volunteering to help other refugees at the Central Train Station in Berlin when The New Humanitarian met her at the end of June. Now, Zamaraiva added, people understand that the war will not be ending anytime soon, and some are thinking, "'We can't wait so much. We want to return home'."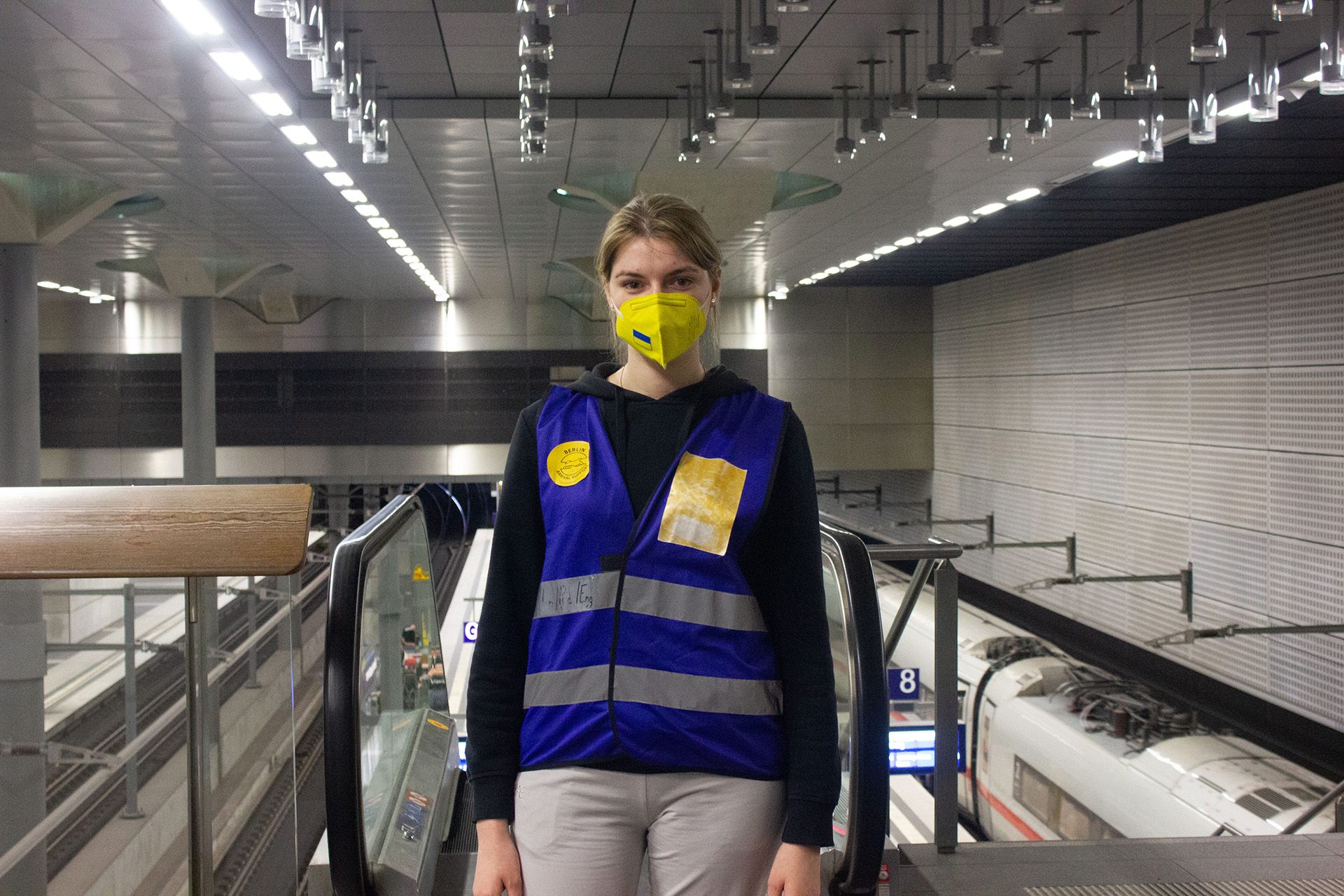 In around a dozen conversations with The New Humanitarian, Ukrainian refugees in Germany and Poland – as well as numerous volunteers and local and international NGO workers – described the ongoing dangers in Ukraine as well as the sense of dislocation, uncertainty, fear, and pain influencing people's decisions to seek safety outside the country, return home, or continue to navigate their lives in limbo in host countries in the EU. 
'Exposed to the trauma of war'
On a hot, late-June afternoon, Sergiy – a 49-year-old from the southern Ukrainian port city of Mariupol – paced back and forth in a small patch of shade outside a large tent at a transit site set up for refugees at a railway station on the outskirts of the Polish capital, Warsaw, anxiously making phone calls while chain smoking cigarettes. 
Short and powerfully built with a gravelly voice and a few days of white stubble, Sergiy is not the typical image of a Ukrainian refugee – the vast majority of whom are women and children because of the ban on men leaving the country. Around him, workers were disassembling modular buildings to consolidate the transit site due the smaller number of people arriving. But even as numbers have decreased, the needs of those arriving have grown more acute.
"In the first wave, we saw that people had more resources. They knew where they were going," said Mala Roche, an information, counselling, and legal assistance project manager for NRC, which manages the transit site, along with the Polish Centre for International Aid (PCPM). "In subsequent waves, people have spent more time in Ukraine; they've been using up their financial resources; they've been exposed to the trauma of war." 
Sergiy, for example, worked in the Azovstal steel plant in Mariupol. He was sheltering with other civilians and Ukrainian soldiers in the facility as Russian troops laid siege to it for weeks; until the Ukrainian forces surrendered in mid-May. With the fall of the plant, Russia took full control of Mariupol, which had been devastated by months of Russian bombardment, resulting in as many as 22,000 civilian deaths, according to Ukrainian authorities.
For people like Sergiy, from parts of Ukraine that are now occupied, leaving the country is often only possible through Russia. "Usually, they cannot go into [Ukrainian-held territory]. They are not allowed by Russians," explained Andrij Stepanov, a 54-year-old Ukrainian volunteer at the transit site in Warsaw who has been living in Poland for around 30 years.  
From Mariupol, Sergiy said he was evacuated to Moscow, before crossing into Belarus and then entering Poland. Now, he was planning to continue to Germany to find work, but he had left behind his wife and daughter, who were still sheltering in a basement in Mariupol. They were too afraid to leave, he said, his face crumpling into tears. 
'I want to feel my country'
Since the end of February, the train station in the eastern city of Przemyśl, Poland has served as one of the main transit points for people leaving Ukraine. Now, it's also the point many Ukrainians depart from to return home. 
On the night of 25 June, hundreds of people crowded inside the entrance hall. Every chair in a waiting room set aside for women and children was full, and the floor of a veranda at the back of the station was also crowded. Women and small children were lying down on coats, using travel bags as pillows, preparing to try to sleep.
The trains that were supposed to arrive from and depart for Ukraine that day were delayed by hours, and people who came to the station expecting to board the trains going back ended up stranded. Rumours swirled about the tracks on the Ukrainian side of the border – only around 12 kilometres away – being damaged. Earlier, Russia had launched barrages of rockets at cities and towns in the north and west of Ukraine that had been relatively calm for weeks, including Kyiv and the western city of Lviv.
Svitlana, a 38-year-old from Kyiv who had been in Germany for the past three months, was standing in a crowd with her luggage outside the Polish customs house that people have to pass through to reach the track leading to Ukraine.
When the invasion started, "I was very scared because of the fighting, because there were bombs everywhere," Svitlana, who asked to use only her first name, told The New Humanitarian. 
But after reaching Germany, Svitlana said she became deeply depressed. Talking to colleagues who said that people in Kyiv were trying to live their lives as normally as possible despite the ongoing war convinced her to go back. "I'm worried, but being with our friends, with our family – this makes us stronger," she added.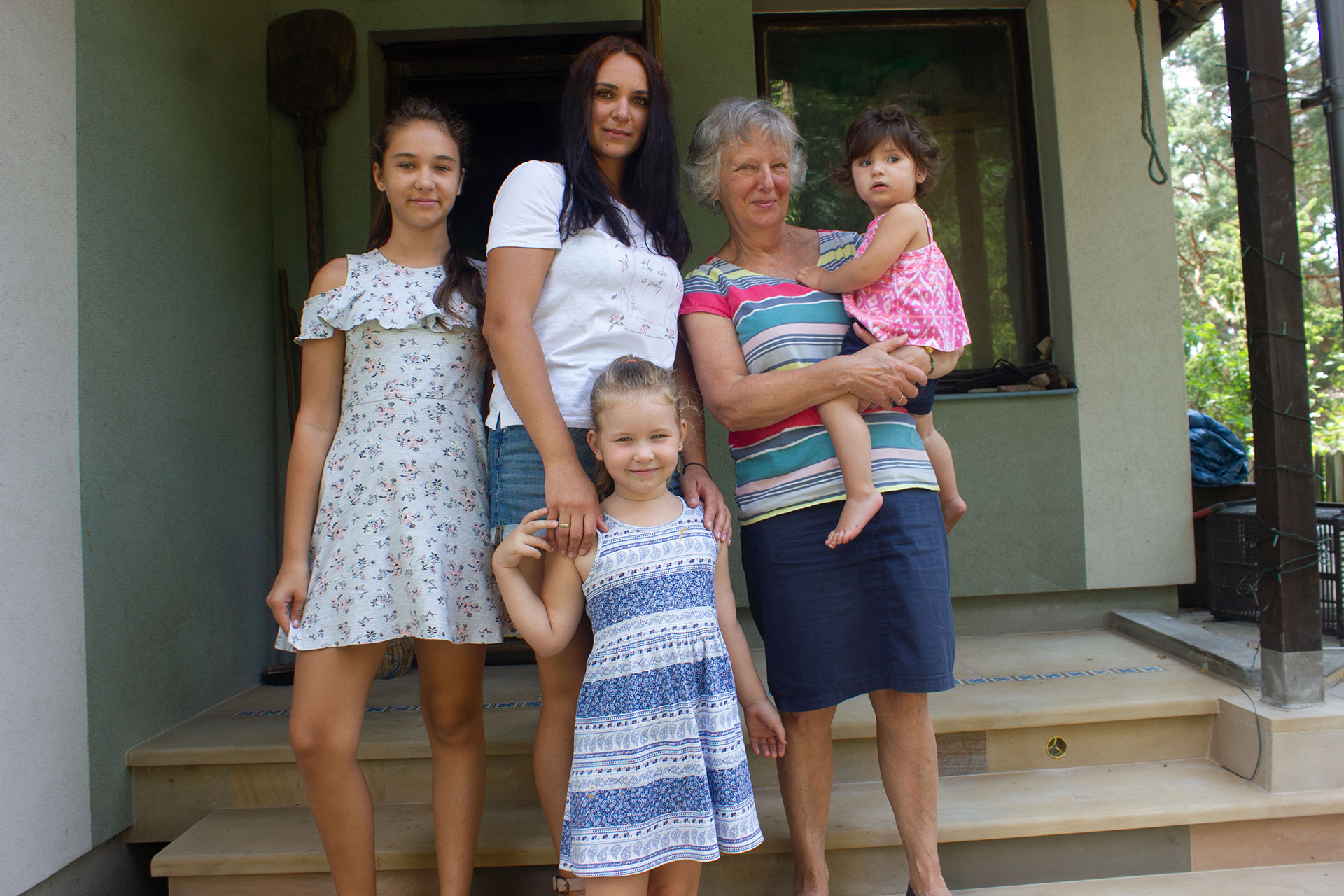 Two days later, The New Humanitarian spoke with Oksana Zameynskaya around the kitchen table of her Polish host family's house in the suburbs of Warsaw. She had been living there for several weeks with her five- and 11-year-old nieces and barely one-year-old daughter. Two weeks earlier, she had set a deadline with her husband, a police officer in Kyiv: If the situation in the city remained calm until 25 June, Zameynskaya and the children would return home. 
The recent missile strikes were now giving her pause. "When I decided to go home, I thought it would be a bit safe in Kyiv," 38-year-old Zameynskaya said. "Maybe I will stay there one or two weeks, and after that maybe I will come back [to Poland]. But I have no idea."
"I understand that it's not safe, but I'm missing home," she continued. "It's hard to describe this feeling. I want to feel my country."
'You cannot plan anything'
On another sunny afternoon, Yulia Vuitsvyk, 33, sat at a cafe at the base of the towering Soviet-era Palace of Culture and Science in central Warsaw. Despite having left her home in Lviv four months ago, she considers herself to be comparatively fortunate. Her brother already lived in Warsaw before the Russian invasion began, so Vuitsvyk had someone to rely on when she first arrived. She has also been able to continue working remotely in the same job she had before, and has found an apartment in Warsaw to rent on her own.
Still, making decisions about what to do next is complicated. Vuitsvyk has a three-year-old son and is pregnant, which is why she left Ukraine in the first place. "If it was not for my kid, maybe I would not go anywhere," she said. "[But] I had to make sure my kid is safe."
In the beginning, Vuitsvyk thought she would stay in Poland for three or four weeks, before being able to return to Lviv. "Later, I was thinking maybe I will come back [to Ukraine] by Easter. Then, I was thinking maybe I'll get back home by the end of spring. Right now, I'm clear that I won't be going home sooner than probably September," she said. 
At that point, she will have to make a decision about whether to enrol her son in kindergarten for the school year and, importantly, where she wants to give birth. "I'm not going to deliver my baby somewhere in some shelter under the rockets falling," she said. "You cannot plan anything because the situation changes each day, and there is no – absolutely no – safe place in Ukraine."
Staying positive has been difficult.
"Sometimes you feel down, and you are on the very edge of despair, not knowing when you will be able to reunite with your family, with my husband. My kid is living without his dad for four months already, and I don't know when they will meet," Vuitsvyk said. "When I try to think of positive things, when I try to find something good in life, when I go out, when I see the parks, when I see trees in bloom, it makes you think that life is beautiful – it's still beautiful. It still goes on, and you have to live it, whatever it is. I have to live it for my kid."
Despite the circumstances in which she left her home, Vuitsvyk doesn't think of herself as a refugee. "I have a home back [in Ukraine]... which is not ruined," she said. "I still have a place to go back [to]. I still think that's my choice. I would like to hope that it's my choice to stay here."
The longer the war drags on, and the more destruction it brings, the fewer people will have that choice.
Edited by Andrew Gully.