Russia's invasion of Ukraine has caused the largest and fastest-growing displacement crisis in Europe since World War II. More than 4.8 million people have been recorded as refugees since the invasion began on 24 February. But this is dwarfed by the more than 7.1 million estimated to be internally displaced within Ukraine.
While the EU and European governments have activated a never-before-used policy mechanism and mobilised resources to help refugees from Ukraine, local volunteers and aid workers inside the country say the same amount of attention and support isn't being extended to internally displaced people (IDPs).
"If you compare the level of help and accommodation you see on television and the news, [refugees] receive more [than IDPs]," 43-year-old Mariana Kraynyakovets, from a grassroots volunteer group in the western Ukrainian town of Turka, told The New Humanitarian. 
To assist the 1,200 displaced people in Turka, members of Kraynyakovets' group drive around 15 kilometres across the border into Poland several times a month to gather supplies from Polish aid organisations and volunteers there. Driving in supplies from Poland is the fastest way because of Turka's proximity to the border and the fact that aid from international organisations rarely arrives in the town, according to Kraynyakovets.
"If you compare the level of help and accommodation you see on television and the news, refugees receive more than IDPs."
Overall, the numbers leaving Ukraine have slowed since the first months of the war, and some refugees are starting to return home. At the same time, intense fighting in eastern Ukraine continues to force people from their homes – including many who lack the financial resources to leave the country, or who are elderly, disabled, or otherwise vulnerable. Experts say the war is turning into a protracted conflict that could drag on, potentially for years. 
So far, local and international aid groups have largely focused on responding to urgent humanitarian needs: access to food and medicine, and evacuating people to safety. As a result, the government and NGOs have articulated few concrete medium- or longer-term plans to address the needs of IDPs.  
Many of those displaced early on sought shelter in western Ukraine, where fighting has been less intense. But four months on, even here, people who have struggled to find jobs are running out of resources and say they're not receiving adequate humanitarian support.
Already, the number of IDPs has decreased from a peak of around eight million at the end of May. Some of this decrease can be attributed to people returning to areas around the Ukrainian capital, Kyiv, that the Russian military withdrew from at the beginning of April.
Many homes have been damaged or razed to the ground, or the areas displaced people are from are too dangerous to return to. Because of dwindling resources and the absence of adequate aid, some people feel they have little choice but to return home anyway, even to areas close to the front lines. 
Elena Holodnaya, 47, left her home in a village near the northeastern city of Kharkiv in early April after sheltering in a basement for more than a month. Close to the border with Russia, Kharkiv has been heavily bombarded by the Russian military.
Holodnaya's village, five kilometres from the current front line, is under constant attack. Despite that, Holodnaya was visiting the village, where The New Humanitarian met her outside her home, to see if it would be possible to return. "We would like to move back… because we don't have enough money," she said. 
Need for longer-term solutions as winter lies ahead
The western city of Lviv has been the main gateway for refugees escaping to the EU. Some five million people have passed through the city since the invasion began. The vast majority continue on into Poland, but around 150,000 have stayed put, according to local authorities.
Four months into the war, Lviv and surrounding towns are straining under the pressure.
Many IDPs have rented apartments or are staying in gymnasiums, churches, municipal buildings, or with host families. More than 10,000 are living in over 100 school buildings in and around Lviv, and around 1,000 are staying in un-winterised mobile houses, some of which have been placed in parks in the city. After the summer, the city will need to find somewhere else to house these people – once school starts again and temperatures begin to drop.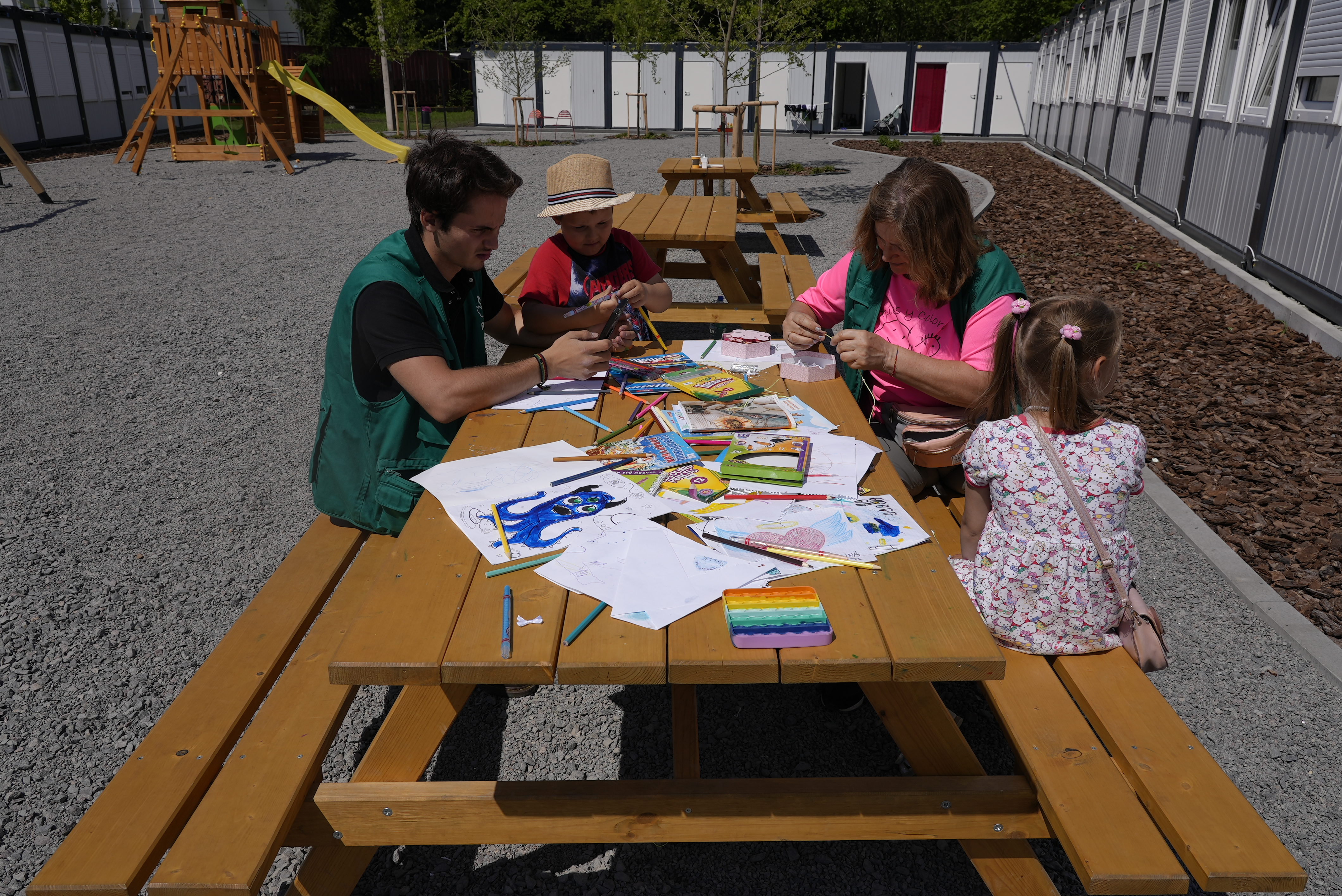 "[It's a] huge pressure on my head," Lviv Mayor Andriy Sadovyy told The New Humanitarian. "I have three months, and I must look for a good combination [of solutions] and remove [displaced people] from schools in different locations." Sadovyy is desperately hoping the war will end soon, so displaced people can return to their homes.
Sadovyy said the government has refurbished some 500 municipal buildings – schools, gyms, theatres, and libraries – and constructed three shelters to temporarily house people. It is also building a special wooden house for expectant mothers, which will open in July. But it's not enough. According to Sadovyy, permanent housing and care for the tens of thousands of IDPs expected to remain in Lviv for the long term will cost 750 million euros.
Some have suggested reviving economically struggling towns that were largely empty of inhabitants before the war, and putting displaced people and businesses in them. "It's not normal that people are living [in mobile homes] in a park in Lviv," said Anna Didukh, one of the founders of "I Am Not Alone", a local aid organisation that has appealed to the government for funding for the project and is putting together proposals for donors.
Compounding the housing problem is soaring unemployment.
The war has pushed nearly five million people – around 30 percent of Ukraine's pre-war workforce – out of their jobs, according to the International Labour Organization. And the number of IDPs needing financial assistance has increased from 49 percent during the first weeks of the invasion to 66 percent now, according to internal emails between aid groups seen by The New Humanitarian. 
The government and humanitarians are using cash as one of the primary forms of assistance, but many locals say they don't know how to register for it, or they have registered but they haven't received anything.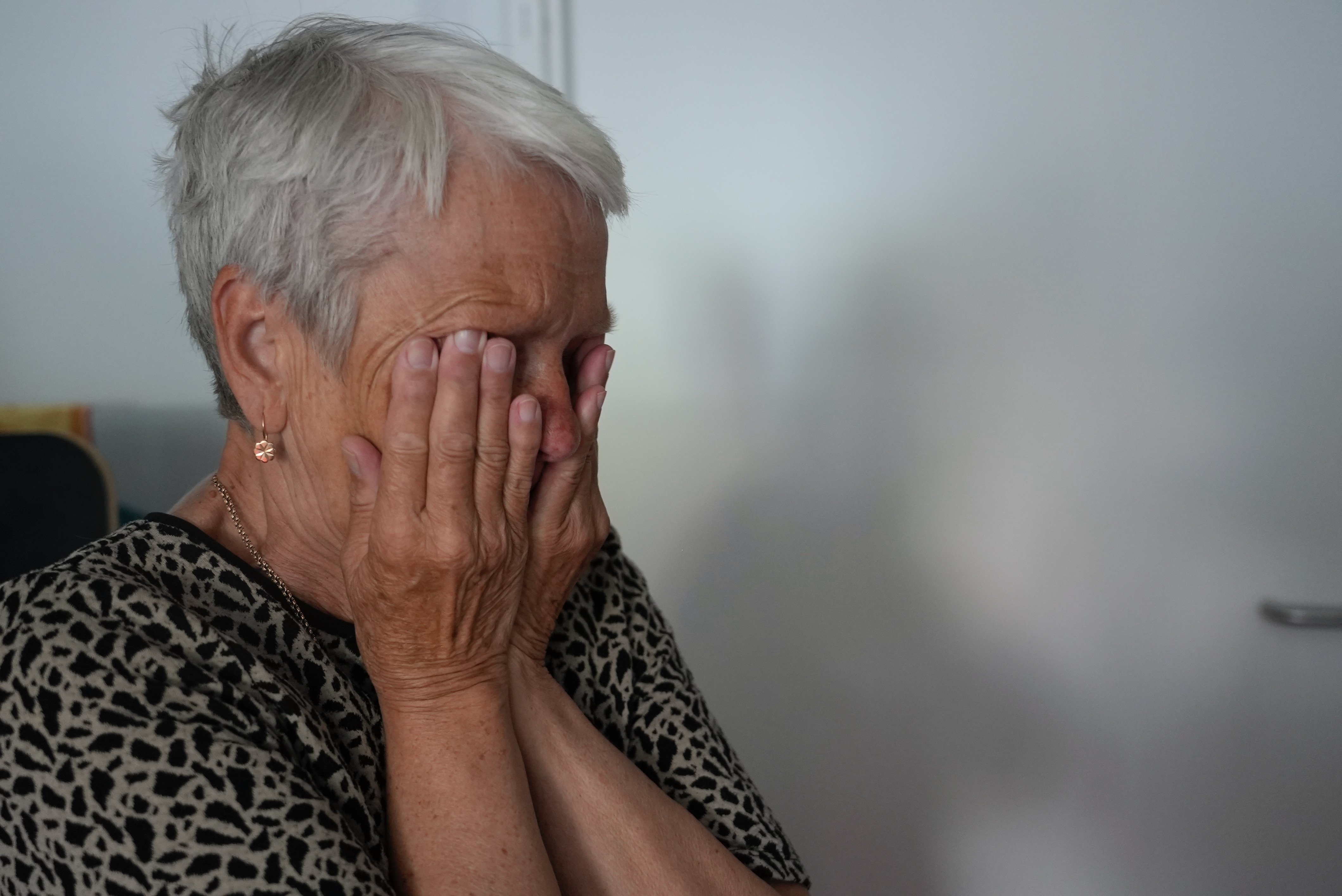 Natalia Zakharova, who was displaced from her home in March, now lives in a mobile housing site in a park on the outskirts of Lviv with her mother and daughter. She told The New Humanitarian she had received one month's worth of UN cash assistance (around $74) in April but nothing since.
The 36-year-old single mother from Severodonetsk – a key town in the east recently seized by Russian forces – lost her job at the recycling company when the invasion started. She tried to find work in Lviv washing dishes and cleaning streets but was told there are no vacancies.
"It's very hard living one day to the next. It's hard to plan for the future," Zakharova said. "If our government says we're united and all together, then why not help people… The government should do something about normal housing."
'We don't know where to go'
For people who have found shelter in smaller towns outside Lviv, like Turka, the situation is even more difficult: The more remote the location is, the fewer visits they receive from international NGOs. 
Pulling a crumpled, worn piece of paper out of his pocket, Mykolai Nikitina wipes tears from his cheeks. After fleeing his home in the eastern city of Kramatorsk in April, the 63-year-old travelled west to Turka looking for an old friend he thought he could stay with. The paper Nikitina was holding had his friend's address on it, scribbled down years earlier.
Sobbing, Nikitina recounted the fear of wandering the village confused and helpless, unable to find his friend and with no idea where to go. A stranger found him by the train station and brought him to a school housing displaced people. Weeks later, his wife and nine-year-old daughter joined him in a cramped room in the damp building where the three now shelter. When classes restart in September, the family will be uprooted again. 
"We were told we had two months to be here. But we don't know where to go," said Nikitina, his face weary from the turmoil of the last four months and betraying his anxiety and uncertainty over what lies ahead.
Some families, like Nikitina's, are starting to lose hope they'll be able to go back to their homes. Kramatorsk is in the Donbas region of Ukraine, where the most intense fighting is now taking place, and where Russia has slowly been gaining ground. So far, Nikitina's wife has been able to keep her job working remotely as a teacher of Ukrainian literature at a university in Kramatorsk, but she'll be out of a job if Russia takes the town. 
The family didn't want to leave Kramatorsk. They stayed as long as they could because their 22-year-old son is in the army and they wanted to be close should something happen. "I was afraid to leave the city in case I lost communication with him, and if he died I wanted to be there for his body," said Victoria Nikitina, 48. 
Life in Turka isn't easy. The couple and their young daughter sleep, work, and play in a tiny room on the second floor of a school where local volunteers provide daily meals.
The parents registered for government assistance, but only one has received any money – all Ukrainian family members had been eligible for special monthly war payments of around $70, but that recently changed to just those in or from frontline areas. To get UN cash aid, which has seen similar restrictions and requires a separate registration, the Nikitinas must travel an hour each way by bus to a larger town.
Volunteers who travel to Poland to get supplies crossed daily at the start of the invasion. Now, they only go around four times a month, but the trips are becoming more expensive as gas prices have doubled due to the country's fuel crisis.
Impossible choices
Even as the war grinds on, some people are unwilling or unable to remain displaced and wait for longer-term solutions, even if returning home means living in ruins under constant shelling or Russian occupation.
During a trip to a frontline village outside Kharkiv in June, as thousands from Russian-occupied areas were evacuating into Ukrainian-held territory, The New Humanitarian met several women heading the other way.
Irina said she ended up stranded in Kharkiv shortly after the invasion but wants to return to her husband and two children in a small village under Russian occupation despite the fact they tell her the situation is miserable. 
Russians are patrolling the streets of the village and few public services work, yet the Russian soldiers keep telling people that everything will be okay, Irina said. Russian soldiers even organised a celebration for the International Day for the Protection of Children – which takes place on 1 June – and forced locals to come, she said. 
"Our men are stuck there; Russians won't allow them to leave," said 53-year-old Irina, who wanted to protect her identity by only using her first name.
Others returning to Russian-occupied areas said they were running out of money, wanted to care for elderly parents, or needed medicine that was hard to access in unfamiliar towns on the Ukrainian-held side – such as insulin for diabetes.
Aid workers helping displaced people cope with their trauma told The New Humanitarian their work often centres on helping people process the gut-wrenching choices they're being forced to make.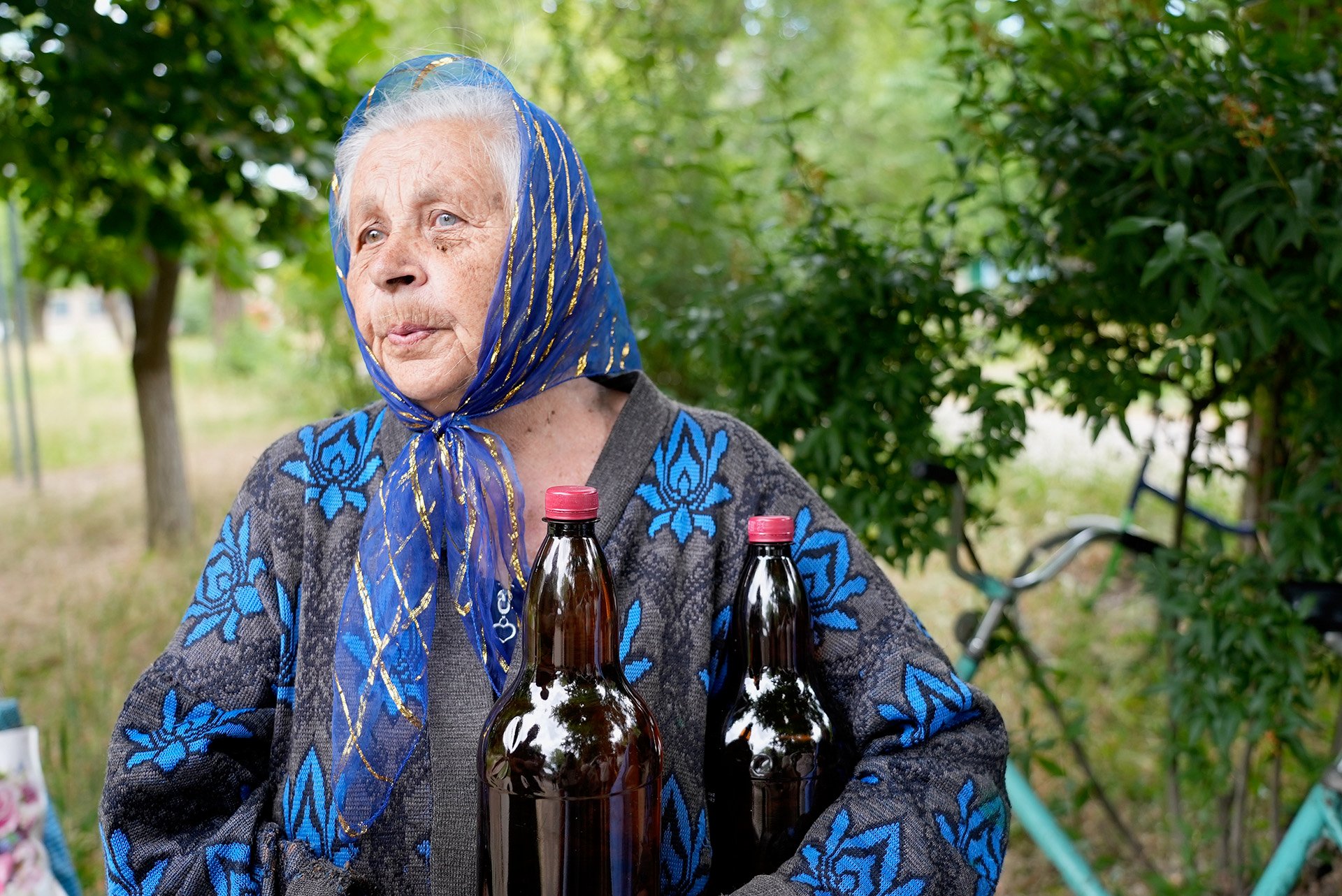 "People were forced to make a decision: stay or leave, cope or fight, run or seek protection, stay together or leave your loved ones behind, remain to take care of an older relative or move to protect a younger one… return home despite insecurity or build a new life somewhere else," explained Camilo Garcia, mental health manager for Médecins Sans Frontières (MSF) in Ukraine. "At some point, every Ukrainian has been forced to make a decision like this. And those who are the most vulnerable [the elderly, disabled, or poor] have fewer chances to make decisions."
As Ukraine's internal displacement takes on more and more of the hallmarks of a protracted crisis, aid groups are urging all actors to ramp up their longer-term thinking and planning.
"Humanitarian organisations, local actors, government, development partners, and donors need to start working together now to ensure that the prism of durable solutions is applied since the very early stages of this crisis and response," said Ganna Dudinska, Ukraine's advocacy manager for the Norwegian Refugee Council.
The UN has an 18-month transitional plan in the country, which in part is looking at longer-term solutions such as housing and social protection, and getting people jobs and documents so they can work in the places they've been displaced to.
A Ukraine Recovery Conference focused on development efforts and reconstruction is scheduled for 4 and 5 July in Switzerland. But government officials say it will take billions to rebuild the country and solutions need to be found fast.
In the meantime, more people are newly displaced from the east every day with less means than those who fled their homes in the initial stage of the invasion. After months of living under shelling or Russian occupation, some are at a complete loss for what to do next. 
Sitting at a transit centre in a small town outside Kharkiv after being evacuated from a Russian-occupied city where she took shelter in a basement for months under endless attacks, Natasha, whose last name is being withheld to protect her identity, choked back tears. "I have no job, I don't know how to live," the 48-year-old said. "I have to start from zero."
Edited by Eric Reidy.