Since Russia launched its full-scale invasion of Ukraine at the end of February, the International Committee of the Red Cross – one of the world's oldest and most venerated humanitarian organisations – has found itself engulfed by a neutrality row, marked by unsubstantiated claims that it has been abetting the forced evacuation of civilians to Russia and broader perceptions that it hasn't done enough to assist Ukrainians. 
The ICRC says both sets of allegations are false and part of a deliberate misinformation campaign. But the fallout has affected not only the ICRC but also the Ukrainian Red Cross – a related but independent national organisation. 
"There is not only a distortion, there is simply wrong information out there, and it is extraordinarily damaging to us and to the Ukrainian Red Cross," Gherardo Pontrandolfi, head of the ICRC office in Kyiv, told The New Humanitarian. "But those who pay the price are the civilians here in Ukraine, because we will not be able to carry out our work."
The Ukrainian Red Cross says the row has had real-world consequences. "Due to statements by the International Committee of the Red Cross, in some cases our volunteers and staff faced aggression from the people we helped," the group told The New Humanitarian in a written response to questions, without specifying which statements. 
After weeks of trying, the ICRC and the UN negotiated a humanitarian corridor that led to the evacuation of around 100 civilians from a steel plant in the city of Mariupol over the weekend. But for many caught in the miseries of the war in Ukraine, successes like this have been overshadowed by previous failures to evacuate frontline areas. Compounded by the ICRC's continued engagement with Russian leaders, this has led to disappointment, anger, and a loss of faith in the ICRC's core principles: neutrality, and engagement with all sides in a conflict to help affected civilians.   
Svitlana Panyushkina, a Ukrainian TV journalist, had her hopes in the ICRC dashed when she and her family were trapped for two weeks by Russian forces in Zoloty Bereh, a small settlement north of Kyiv. From 24 February, they lived under shelling, cut off from almost all communication, and without electricity, gas, and water. Food and medicines soon ran out. In early March, a woman from a neighbouring village managed to reach them and told them Russian forces were killing or kidnapping local men.
Charging her phone at a neighbour's generator, Panyushkina reached out, via her private contacts, to Ukrainian government representatives and to the ICRC, begging for help to escape. The messages came back – no one could organise a safe corridor for evacuation to Ukraine-held territory.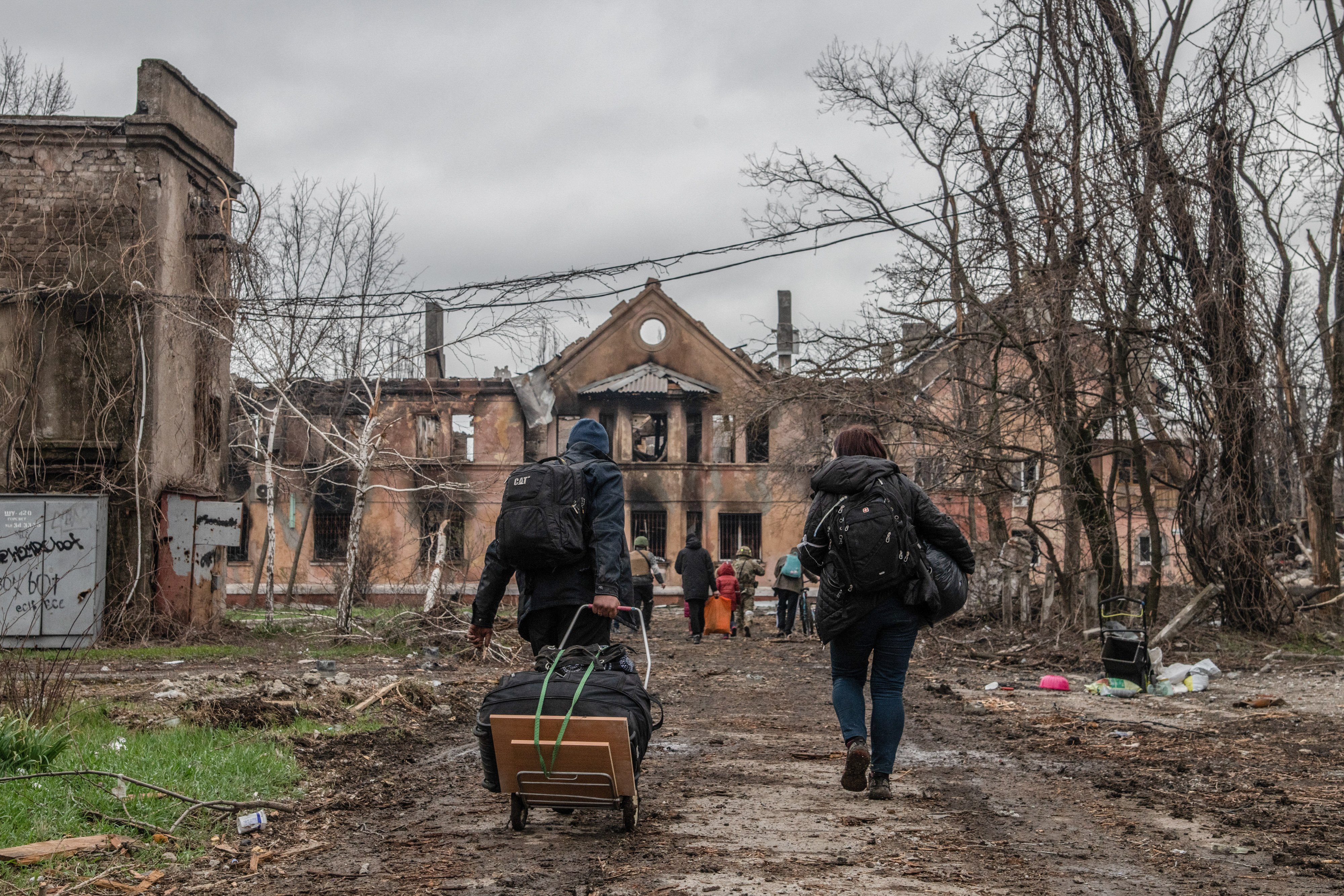 The only option was to go to Belarus, a Russian ally and staging ground for the Russian military effort. One of Panyushkina's neighbours said they were told by Russian soldiers that they could evacuate to Belarus if they signed a statement renouncing their Ukrainian citizenship and stating that they were "fleeing from Nazis". Panyushkina didn't know it at the time, but stories were emerging across Ukraine about civilians being taken, often without their consent, to Russia and Belarus. 
Panyushkina's family, along with about 100 other people, managed to escape to Kyiv on their own on 11 March. "All we could do was to leave by ourselves," Panyushkina said. "We thought the Red Cross would make a corridor and at least get children and civilians out. But the Red Cross was not there."     
The disappointment Ukrainians like Panyushkina feel springs from unrealistic expectations as well as false information, said Pontrandolfi.  
"I don't think the ICRC has ever been able to be on a par with the humanitarian needs of any war," he said. "But the expectations of the response of the ICRC are so high that people think we could stop the war." 
Sparking controversy 
While Panyushkina was escaping from Zoloty Bereh, much of the international media's attention was focused on the southeastern Ukrainian port city of Mariupol. Surrounded by Russian forces, hundreds of thousands of people were trapped under bombardment without essential supplies and services as Russia refused to open humanitarian corridors for civilians to evacuate to Ukrainian-held territory. Numerous attempts by the ICRC to organise safe passage failed.  
Meanwhile, thousands from Mariupol were being evacuated to Russia under uncertain circumstances. The Ukrainian government and many evacuees said that people were being transferred by force, which could constitute a violation of the Geneva Conventions.
On 23 and 24 March, ICRC President Peter Maurer, who had previously visited Kyiv, went to Moscow to discuss humanitarian issues with Russian authorities. While shocking images of the humanitarian catastrophe in Mariupol continued to emerge, along with credible stories about forced evacuations, he was pictured smiling and shaking hands with Russian Foreign Minister Sergey Lavrov. 
"From the media point of view, it looked like the ICRC is okay with this… It looked like a legalisation of that process."
The ICRC's staff had recently been evacuated from Mariupol as it was too dangerous to work there (aid workers from other organisations who remained have been killed). When Maurer requested permission from Lavrov to open an ICRC office in Rostov-on-Don, a major destination for Ukrainians evacuated by Russia from Mariupol, simmering frustrations with the ICRC in Ukraine boiled over into a storm of protest. 
Many Ukrainians called on those wanting to support humanitarian efforts in Ukraine not to donate to the ICRC and the Ukrainian Red Cross, claiming the aid was not reaching beneficiaries. A Ukrainian MP called for the ICRC to leave the country.  
Nina Kuryata, a Ukrainian journalist and media coach, was one of many to publicly criticise the ICRC's actions. "The ICRC's top person met Lavrov in Russia and the discussion was about how to help Ukrainian refugees in Russia, and it was when we knew Russia was bringing Ukrainians to Russia by force," she said. "From the media point of view, it looked like the ICRC is okay with this… It looked like a legalisation of that process."
The ICRC stringently denies playing any role in facilitating forced evacuations. "The ICRC does not ever help organise or carry out forced evacuations. This applies everywhere we work. We would not support any operation that would go against people's will and our principles," the organisation said in a statement on 26 March. 
Russia says nearly one million people have crossed into its territory from Ukraine since the invasion began, while the UN estimates the figure at around 681,000. An increasing number of media reports document stories of Ukrainians who say they were removed from the country against their will, but with independent media access to Russia severely limited, it is hard to get a comprehensive picture.
According to Pontrandolfi, an office in Rostov-on-Don would allow the ICRC to get a clearer idea of the circumstances surrounding the evacuations, and to fulfil its mandate of protecting and helping civilians on all sides of the conflict. 
"We have to be as close as possible to the conflict areas, and we have to be able to talk to people, to civilians getting out of these zones, wherever they are, wherever they get out, voluntarily or not voluntarily," he said. 
Misinformation and animosity  
Ukraine is far from the first war in which the ICRC has faced accusations of bias. Idrees Ahmad, director of the International Journalism programme at the University of Stirling and an expert on misinformation, points to Syria as another recent example. 
Contrary to the ICRC's assertion, Ahmad does not see evidence of a deliberate misinformation campaign against the organisation in Ukraine. Instead, he thinks that the optics of Maurer's meeting with Lavrov spurred understandable outrage among Ukrainians  who are savvy at using social media to amplify messaging after years of engagement in an information war with Russia. 
"My sense is not that it's an effort to discredit the ICRC," he said. "It's natural anger at the optics and the lack of clarity."
Still, the controversy has had consequences for the ICRC, the Ukrainian Red Cross, and other humanitarian actors. Many in Ukraine have conflated the two organisations and directed their ire at the local group, threatening volunteers and preventing them from carrying out aid activities.
"We practically couldn't work for a week [after the Maurer-Lavrov meeting]. People were so stressed and didn't have time to analyse or properly grasp the situation," said Tetiana Hoyenko, director of the Kyiv city organisation of the Ukrainian Red Cross. "They just heard the words Red Cross and that was it – we were all traitors and our volunteers were getting guns pointed at them."
The animosity added to the dangers volunteers face while deployed with medics and other humanitarian workers to rescue civilians. Red Cross volunteers have been targeted by Russian forces, and one Ukrainian Red Cross volunteer who had been helping people evacuate from occupied areas north of Kyiv was found killed – his hands bound – in a mass grave after Russian forces withdrew from the town of Bucha, Hoyenko said. The body was identified by his Red Cross accreditation. 
Since the Russian military withdrew from areas around Kyiv in early April, the bodies of more than 900 civilians have been found – many in mass graves – in towns and villages it once occupied, and human rights groups and investigators are collecting evidence of violations including summary executions, torture, and rape.
"We really doubt our own mission now because the principles are not being fulfilled at all."
For some local aid workers in Ukraine, this evidence, combined with the controversy surrounding the ICRC, has caused them to question the principle of neutrality.   
Hoyenko, who had to discuss neutrality with Ukrainian Red Cross volunteers outraged by the photos of Maurer and Lavrov, said that coming face to face with apparent war crimes in her country has strained her belief in the founding principles of the Red Cross.
"These actions are a violation of all principles of international law, and I don't even know what the International Committee of the Red Cross can do," she said. "We really doubt our own mission now because the principles [of International Humanitarian Law] are not being fulfilled at all, as far as we can see. We see that these principles don't work."
One of Hoyenko's staff intends to leave the Ukrainian Red Cross after seeing the deaths and destruction left by Russian forces. "She said she'd resign because she can't keep the principles of neutrality," said Hoyenko. "She said, 'I like my work and I want to do good, but I'm too biased after what I've seen'."    
Neutrality and disappointment 
Defenders of International Humanitarian Law say that much of the criticism of the ICRC in Ukraine, and in other conflicts, stems from a misunderstanding of neutrality and of the ICRC's mandate. The principle of neutrality demands that humanitarian actors engage with all sides in a conflict to have a better chance of gaining access to people in need of assistance.
"If we talk only to one side, then we lose impartiality and neutrality," said Marie Lequin, head of Eurasia programmes at Geneva Call, an organisation that promotes adherence to International Humanitarian Law in conflicts around the world
While attention has focused on violations being committed in Ukraine, engaging with both Russia and Ukraine has delivered some positive – although less visible – results. After ICRC meetings with Ukrainian and Russian authorities, both countries have established a National Information Bureau tasked with collecting and sharing information on prisoners of war, civilian internees, and missing and wounded people. The countries are obliged to share this information with the ICRC's central tracing agency in Geneva, which can then inform relatives about what has happened to their loved ones.
In order to explain the purpose, limits, and successes of humanitarian action, the ICRC and other aid groups need better communication strategies, according to Lequin. But she also said that it is important for countries not to use the presence of international humanitarian organisations to try to legitimise their actions in a conflict – as Ukrainians like Kuryata say the ICRC's request to open an office in Rostov-on-Don allowed the Russian government to do.    
"Humanitarian aid is there only to alleviate suffering... It's not a political tool or diplomatic tool," Lequin said. "Let's not politicise human suffering."
Neither is the international humanitarian community, or the laws it upholds, empowered to stop wars or prevent the damage they cause, according to the ICRC's Pontrandolfi – that's the job of politicians and diplomats. 
"I find it disturbing when things are put the other way round, and humanitarian organisations are made responsible to end a war or to make sure that during a war no one gets injured," he said.
But for people suffering on the ground in wartime, the familiar symbol of the red cross can hold boundless hope. When that hope is dashed, as it was for Panyushkina looking for a safe route for her family out of Zoloty Bereh, it can lead to more than disappointment and turn to anger, said Pontrandolfi. "We become a symbol of the international community that has failed them miserably," he said.  
Edited by Eric Reidy.