COVID-19 vaccines are trickling in to the Amazon region, but public mistrust in official responses and rollouts is high, prompting some Indigenous leaders in areas hit hard by the pandemic to look for their own procurement solutions as fears grow over a new variant.
The accelerated spread of the new strain, thought to have originated in Brazil, has preyed on poor prevention measures and limited access to health services for millions of the region's Indigenous people, driving up deaths in recent weeks. And as the unequal global distribution of vaccines becomes more evident, anger in Amazon countries at rampant official corruption and weak government responses has eroded public trust just when it is needed most.
Brazil has a long history of successful immunisation programmes, but under the much-criticised leadership of President Jair Bolsonaro, vaccine disinformation is flourishing and threatening to slow the rollout's effectiveness. Official scandals surrounding access to the jabs in Peru have discredited institutions, while in Colombia, like elsewhere in the region, the distribution of vaccines requiring deep-freezing and double doses is proving impractical for isolated communities. Neither Venezuela nor Bolivia, whose territories also straddle the Amazon, have yet confirmed a timetable for their vaccination programmes.
For Miguel Hilario-Manemina, a university professor in Peru's eastern city of Pucallpa, it's too dangerous to leave it to the state to provide and distribute vaccines to Indigenous communities in a timely manner. "We couldn't put our faith in the health ministry again," he told The New Humanitarian.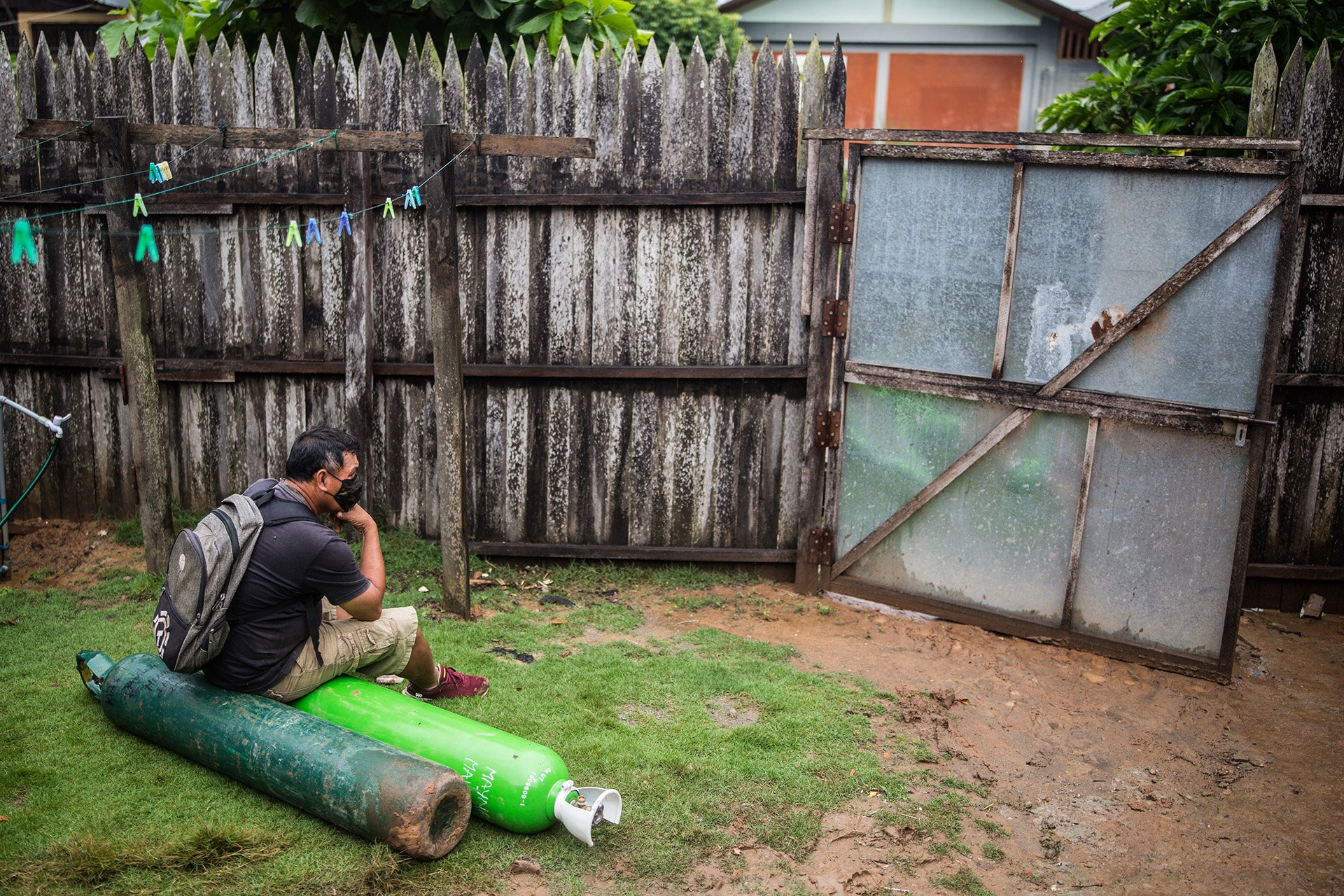 The coronavirus ripped through Shipibo-Conibo communities in his region, Ucayali, last year. With a chronic lack of oxygen and overwhelmed hospitals, it devastated Pucallpa, the regional capital, and spread to remote communities that lacked basic medical supplies and personnel. An ongoing second spike has coincided in some districts with flooding from the Ucayali River.
Hilario-Manemina, an Oxford University graduate, fundraised for his own medical task force – La Semilla, or The Seed – whose four nurses treated more than 1,000 patients in remote Indigenous communities last year. With donations from churches in the United States, he is now exploring how to purchase vaccine doses directly from a biotech company in Hong Kong.
Also an Indigenous community leader in Yarinacocha, near Pucallpa, Hilario-Manemina explained how the 13 relatives he had lost to the virus wouldn't be counted as part of Peru's official COVID-19 toll as many families stopped registering their deaths for fear they would be cremated, which runs counter to Shipibo-Conibo burial traditions.
Peru's long-awaited rollout began last month for medical professionals and other frontline health workers, with one million doses of the vaccine developed by Sinopharm, the Chinese pharmaceutical giant. But as in other parts of South America – where similar stories of influence peddling and graft have emerged – trust in the Peruvian government to run a fair and efficient rollout has been dented by scandal. In February, in what became known as "Vacunagate", it was revealed that 487 people, including former president Martín Vizcarra, government ministers, and other senior politicians, had secretly been vaccinated with the Chinese jab months earlier.
And it's not only Hilario-Manemina in Peru taking matters into his own hands. Indigenous leaders in Ecuador, where only 0.4 percent of the population has so far received a vaccine dose, met this month at the Russian embassy to discuss vaccination procurement strategies in the hope of obtaining the Sputnik V shot. 
A new threat
Since the first death from COVID-19 last April among the Amazon's Indigenous populations, the virus has killed 55,593 people and infected over 220,000 in the Amazon according to official tallies compiled by the Pan-Amazonian Eclessial Network, or REPAM.
The Coalition of Indigenous Peoples of Brazil, or APIB, says the death rate for Indigenous people in Brazil has been 16 percent higher than for the general population. Fatalities have included health workers, traditional healers, and tribal leaders, including, on 17 February, Aruká Juma, the last male member of the Juma people.
The emergence in late 2020 of the highly infectious P1 variant of the virus, believed to have originated in Brazil's Amazonas State, has heightened concerns throughout the region and added a new urgency to vaccine rollout plans.
Exposure to COVID-19 in the Amazon had already been overwhelming during the first wave in mid-2020. In Iquitos, the capital of Peru's Loreto region – where a third of the country's Amazonian Indigenous population lives and which is closest to Amazonas State – one study estimated that roughly 70 percent of people had been infected by the initial outbreak. In Brazil's Manaus, the capital of Amazonas State, three quarters of residents were reported to have caught the disease by October 2020.
However, any assumption that "herd immunity" had been achieved was dispelled when a powerful second wave hit Manaus – and neighbouring regions – in early 2021, and hospitals and clinics again became overwhelmed.
Studies indicate that in addition to being more transmissible and possibly resistant to certain vaccines, the P1 variant evaded immunity in people who had the original version of the virus. Maria Van Kerkhove, the World Health Organization's technical lead on COVID-19, said on 12 March that some studies suggest it may even enhance the severity of the disease.
The Coordination of the Indigenous Organizations of the Brazilian Amazon, or COIAB, a member of APIB, reported higher rates of reinfection amongst Indigenous people than in the general population.
In Leticia, Colombia – at the triple Amazonian border shared with Brazil and Peru – authorities suspended air travel after the new COVID-19 strain was detected in January. But Indigenous leaders in the region say there's a lack of accurate information on its spread. 
Soon after the spread of P1 was confirmed in Peru in early February, patients with severe COVID-19 symptoms began streaming into hospitals in Loreto, filling them to capacity and straining oxygen supplies. Villagers travelling to towns to collect government relief payments were suspected of having carried the virus back to their remote communities.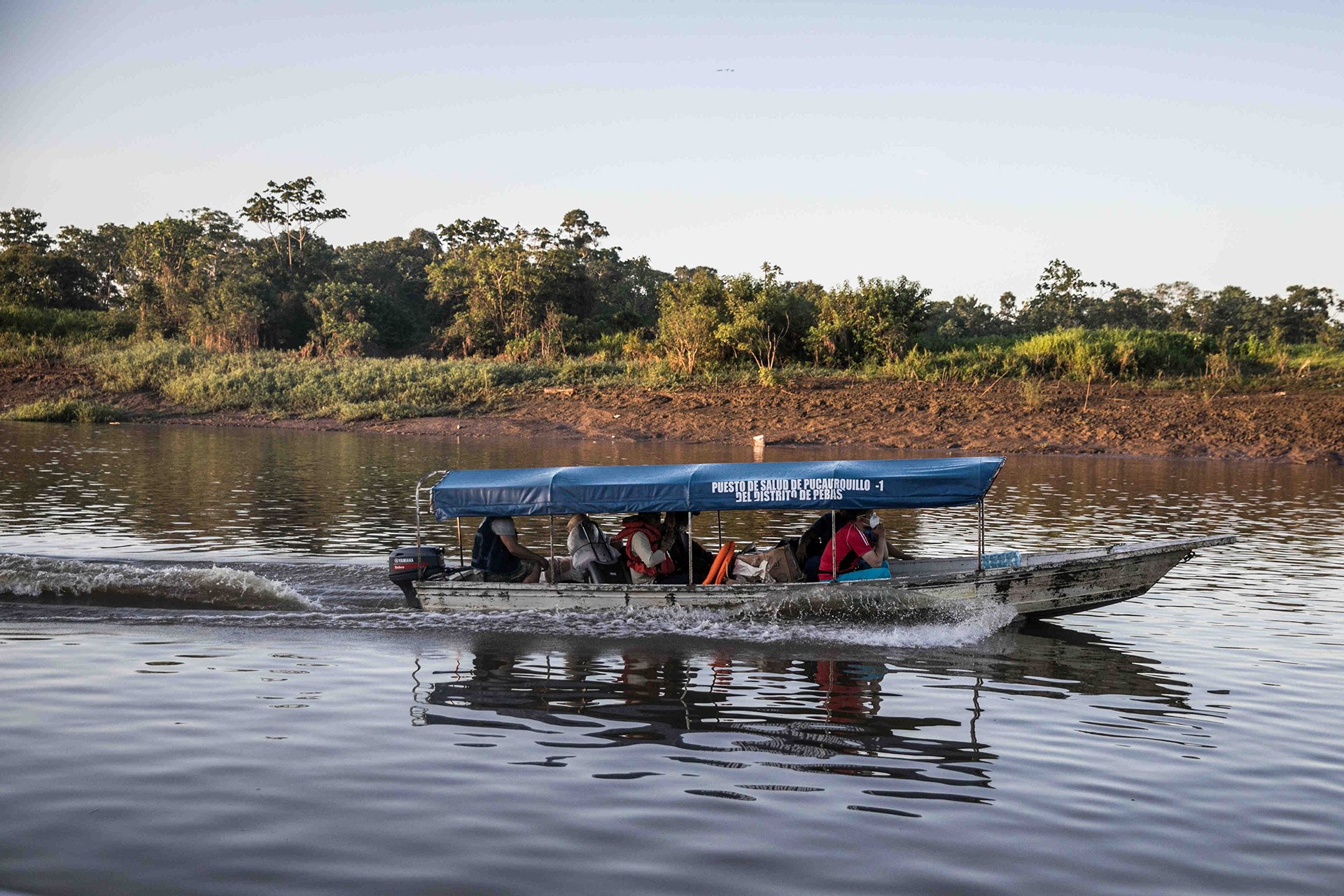 José Gregorio Diaz Mirabal, a member of the Wakuenai Kurripaco people of Venezuela and general coordinator of the Congress of Indigenous Organizations of the Amazon Basin, or COICA, warned that the situation could get even worse. "As long as those levels do not decrease, it's possible that new variants can emerge," he told TNH.
Rollout hurdles
Mirabal's concerns over variants are amplified by the slow distribution of vaccines. But as governments now realise, not all vaccines are created equal, neither in terms of access for poorer countries, nor when it comes to logistics.
The Pfizer/BioNTech vaccine – shown to be 91 percent effective in preventing infection and part of the allocations to a number of Amazon countries through the WHO-backed COVAX distribution scheme – requires deep-freezing and double doses three weeks apart. For hard-to-reach communities in the Amazon, this combination becomes problematic if not impossible.
Also requiring two doses is another popular COVAX jab, the Oxford-AstraZeneca vaccine, which can be kept at regular refrigerator temperatures. Recent studies in the United States have shown that it is 79 percent effective in warding off the virus.
In spite of only performing effectively in little more than half of trial recipients in Brazil, China's Sinovac double-dose vaccine has found takers in the region, whereas the single shot Johnson and Johnson (or Jansen) vaccine – cheap, 66 percent effective in global tests, and easy to store – is arguably the most sought-after but harder to come by.
READ MORE: The vaccine procurement challenge
With its recent orders for 100 million doses of the Pfizer vaccine and 38 million from Jansen, Brazil is hoping to accelerate its vaccine programme. To date 70 percent of administered doses have been of Sinovac, also called CoronaVac, developed in cooperation with São Paulo State and produced there. One recent study, however, suggested this jab may not be "sufficiently" effective against the P1 variant.
Brazil's recent deals add to agreements with Pfizer for 86.5 million doses expected in the second half of the year, and its allocation, via COVAX, of over nine million AstraZeneca doses. In total, Brazil is expecting eventually 573.4 million doses through its various procurement agreements, or 135 percent of what is needed for its population. More than a million of its first AstraZeneca doses through COVAX arrived on 21 March.
On 21 March, Deputy Health Minister Percy Minaya said Peru had secured contracts for the delivery of 48 million vaccine doses – 20 million from Pfizer, 19.9 million from AstraZeneca, and the rest from the WHO's COVAX facility. The delivery of an expected 37 million Sinopharm doses has been delayed, with some reports questioning its efficacy.
Peruvian Prime Minister Violeta Bermúdez has said the country is negotiating with Johnson & Johnson for its single dose vaccine, which would be easier to distribute in remote areas. 
Like other middle-income countries in the region, Colombia has had to join the vaccine queue behind wealthy nations, spending $850 million on bilateral orders with pharmaceutical companies. 
Colombia has received nearly 362,000 AstraZeneca and Pfizer doses from COVAX, with another 1.8 million of the former jab yet to be delivered through the scheme. As of 17 March, approximately 400,000 additional doses from Pfizer and nearly one million doses from Sinovac had also been delivered through direct agreements with the companies.
The first batch of vaccines in Colombia arrived on 1 March from COVAX, but it was of the Pfizer-BioNTech vaccine, which the government has said can't be used in its more remote regions. A second batch arrived on 20 March, of Oxford-AstraZeneca.
Brazil – the most proactive of Amazonian countries on vaccination – did prioritise Indigenous people, and over half of the 409,883 people covered by Sesai, the Indigenous health agency, had received two vaccine doses as of 23 March, with more than 70 percent receiving at least one dose. However, another 400,000 Indigenous people who live in towns and cities don't benefit from the agency's services.
Peru has been one of the Amazon countries hardest hit by the virus, with nearly 1.5 million cases and over 50,000 deaths recorded, but its vaccine rollout has been slower. The first phase has been prolonged until possibly June to vaccinate more than four million over 60-year-olds, meaning the second phase – to include Indigenous communities – might not begin now until the second half of the year. According to the health ministry's database, some 706,000 Peruvians had received at least one vaccine dose by 23 March.
Antonia Hinostroza, deputy head of Peru's regional health directorate in Ucayali, confirmed there was no fixed date for the arrival of vaccines for Indigenous communities there, telling TNH: "We are inoculating the elderly, and that will take some weeks yet."
Some 70 percent of health posts in Ucayali are only accessible by river. Hinostroza said some of the more than 400 Indigenous communities in the region, such as the Purús, can only be reached by plane, or after a five-day river boat journey from Pucallpa. "Access is difficult, so we will send 'brigades', medical teams to individual communities," she explained. 
The Colombian health authorities have said everyone in remote targeted localities will receive a vaccination, not just the usual priority groups. But it's unlikely the government's defined rollout targets for vaccinating the first Indigenous groups will be met, even with Colombian President Iván Duque earmarking 45,000 of 192,000 doses from a second Sinovac delivery for the Indigenous-majority departments of Amazonas, Guainía, and Mitú.
Fake news and trust issues
COICA's Mirabal warned that the number of vaccine doses expected to be delivered throughout Amazon countries in March isn't enough to satisfy demand in cities, let alone in remote areas. "What we see is that there are none for the Indigenous people," he said.
While he recognised that some countries have reserved some vaccines for Indigenous populations, "it is minimal," he said. "It will require a really big deployment through river and air transport, and the countries haven't managed this even within their own capitals."
Some remote Amazon villages have sought to stop anyone from entering their territory from elsewhere, and, with limited access to health services, are relying on traditional medicines.
"People have lost hope because support has not arrived… after a year," Mirabal said. "They have had to resolve their situation with their own protocols, their own medication."
A further obstacle has been the spread of fake news, about both the vaccines and the rollout efforts – unhelpful in combating hesitancy in often marginalised Indigenous regions that have long distrusted central authorities.
In Peru, Indigenous community radio stations have been picking up and disseminating false information from the internet that casts doubt on the efficacy of vaccines, particularly Chinese brands such as Sinopharm, Hilario-Manemina said.
But disinformation campaigns about the vaccines have also been increasing nationally ahead of Peru's presidential elections in April. "Some of the information says that we [the Indigenous] are being tested on like guinea pigs," Hilario-Manemina said. "The people have little confidence in the government, for obvious reasons, so there's a culture of withdrawing from the vaccine."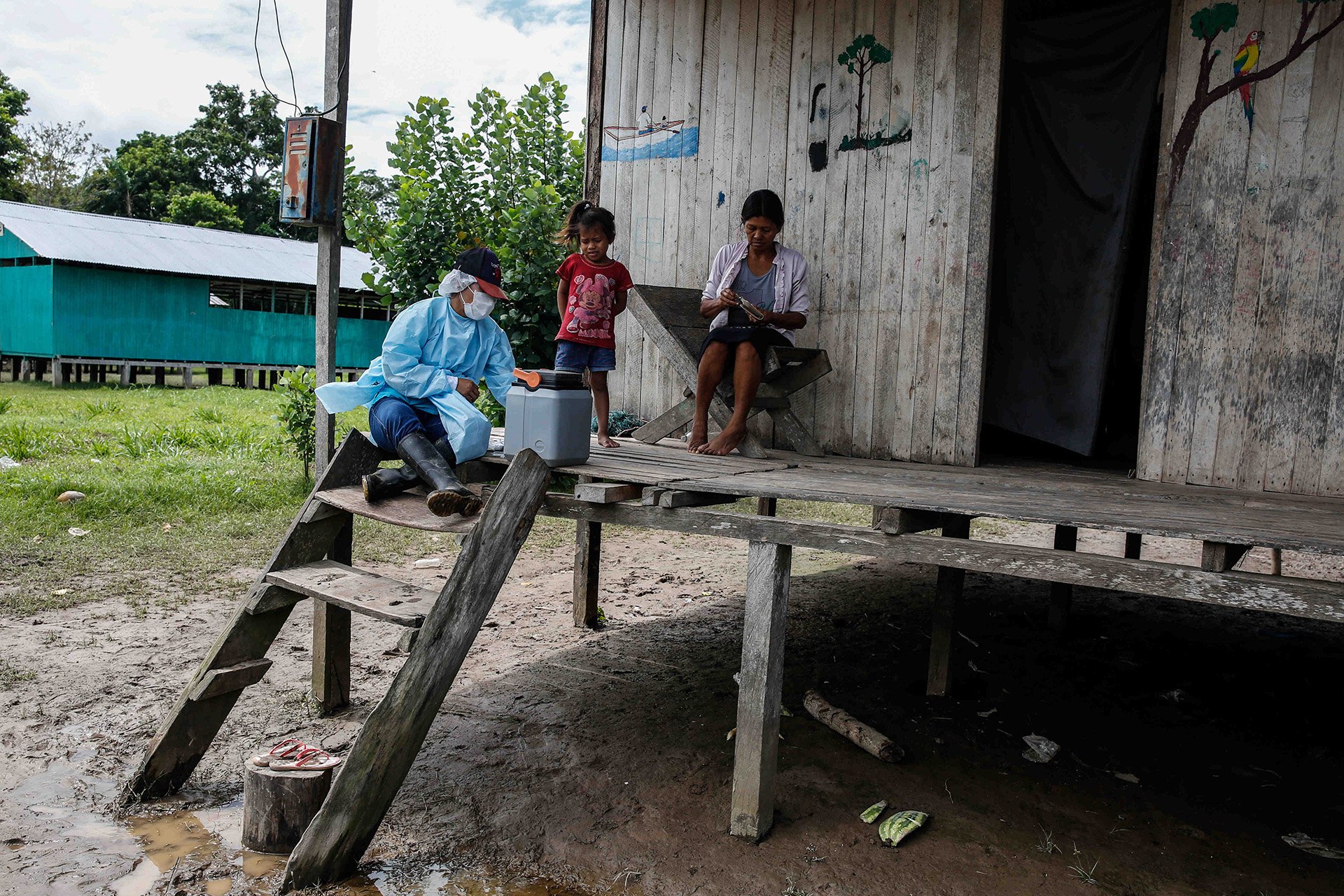 In Brazil, evangelical missionaries have reportedly stirred fears among Indigenous people, spreading conspiracy theories about the vaccines. Bolsonaro, who long minimised the gravity of COVID-19 and counts evangelicals among his staunchest supporters, recently stated sarcastically that the vaccine could turn people into alligators.
Rodrigo Lazo, a medical anthropologist in Peru specialising in the health of Indigenous peoples, said conspiracy theories about COVID-19 vaccines were common. 
"There are local theories which vary from witchcraft to a plot by the global powers to eradicate Indigenous people," said Lazo, who is based in Pucallpa. "The absence of a state information campaign [on the vaccines] has left very fertile ground [for these theories].
Mirabal said COICA had discussed the lack of vaccine programmes for Indigenous communities with the WHO and that he was expecting to meet with representatives of its regional wing, PAHO, this week to push the case further. "The COVAX programme has to include a vaccination target for Indigenous peoples," he said. 
But Jarbas Barbosa, PAHO's assistant director, told TNH it was up to individual health ministries to develop their own strategies determining priority groups for vaccination. "The situation is different in every country," he said. "But these populations should be included in the priority groups because they are more vulnerable due to the conditions that they live in and limited access to health services."
Given the lack of urgency from Amazon governments and the longer-term neglect of Indigenous concerns, Lazo wasn't surprised that some community leaders were going it alone. "There is a deep-seated feeling that the state cannot be trusted," he said. "The crisis of governance has led the people to seek to resolve the problem autonomously."
dc-pdd/ag