Dozens of women in military uniforms, some gripping rifles, sing cadence as they march in formation in the mountainous borderlands of Myanmar's northern Kachin State. 
These women are training to join the ranks of the Arakan Army, one of several armed groups fighting for autonomy and greater rights for ethnic minority communities in Myanmar.
Female soldiers aren't a rarity among Myanmar's armed organisations. But their numbers are rising in the Arakan Army, which draws support from the ethnic Rakhine population, also known as Arakanese, in western Myanmar. The Arakan Army insurgency is Myanmar's latest and its most intense, displacing some 230,000 people since late 2018.
Civil society organisations say escalating violence, military abuses, and a lack of jobs in impoverished Rakhine are pushing more women to join.
"Women and children suffer most because of the fighting, with tens of thousands living in inadequate displacement camps without physical and psychological safety," said Ma Nyo Aye of the Rakhine Women's Network, which works with victims of violence. "Unsurprisingly, lack of employment and extreme poverty also drive young women to join the insurgent group."
Analysts, and some female soldiers, say women are often limited to subordinate roles within Myanmar's ethnic armed groups, when they could be taking on leadership positions and having a greater say in sporadic national peace negotiations. Some see the recruitment of women as propaganda intended to showcase an armed group's prominence, especially in military-style parades on important anniversaries. 
However, the rise in female soldiers is also a sign of mounting frustrations caused by the conflict and years of marginalisation. Many Rakhine civilians increasingly believe armed groups are more likely to deliver change than a political system dominated by Myanmar's majority Bamar population, local civil society groups say. In 8 November elections, voting was cancelled in much of Rakhine and other conflict areas. Rights groups warn this could add to tensions and fuel further conflict.
Saw San Nyein Thu, chairperson of the Rakhine Women's Initiative Organisation, a rights group, believes women are joining the Arakan Army because they've witnessed family members killed in clashes, or suffered deprivations in displacement camps.
"A lot of young women have seen that their family members, relatives are deeply affected by conflict or face human rights violations in Rakhine," Saw San Nyein Thu said. "They don't feel safe living in the middle of conflict-affected regions where there are human rights violations ongoing every day. They are joining ethnic armed groups to protect themselves and to fight for the rights of their nationality."
That's how 21-year-old Thazin Htwe, one of the Arakan Army recruits, describes her motivations to join.
"The military uses heavy weapons, shooting randomly into villages, intentionally killing civilians and torturing villagers," Thazin Htwe said, sitting by a trench, her face marked by camouflage paint. "I joined our ethnic army because I don't feel safe living in my village and I want to protect myself and our people."
Humanitarian toll rises
The Arakan Army's battlefields are hundreds of kilometres away in Rakhine State, but its headquarters are in the mountains of Kachin, near the Chinese border. It's part of an alliance with the Kachin Independence Army, another armed group fighting a separate conflict against Myanmar's military.
Last year, Thazin Htwe made the days-long trek from her hometown, coastal Pauktaw in central Rakhine, to Myanmar's northern borderlands. She joined hundreds of young Rakhine women training as part of the same unit.
In her daily combat drills, Thazin Htwe and other recruits crouch along trenches, climb rope, and undergo weapons training.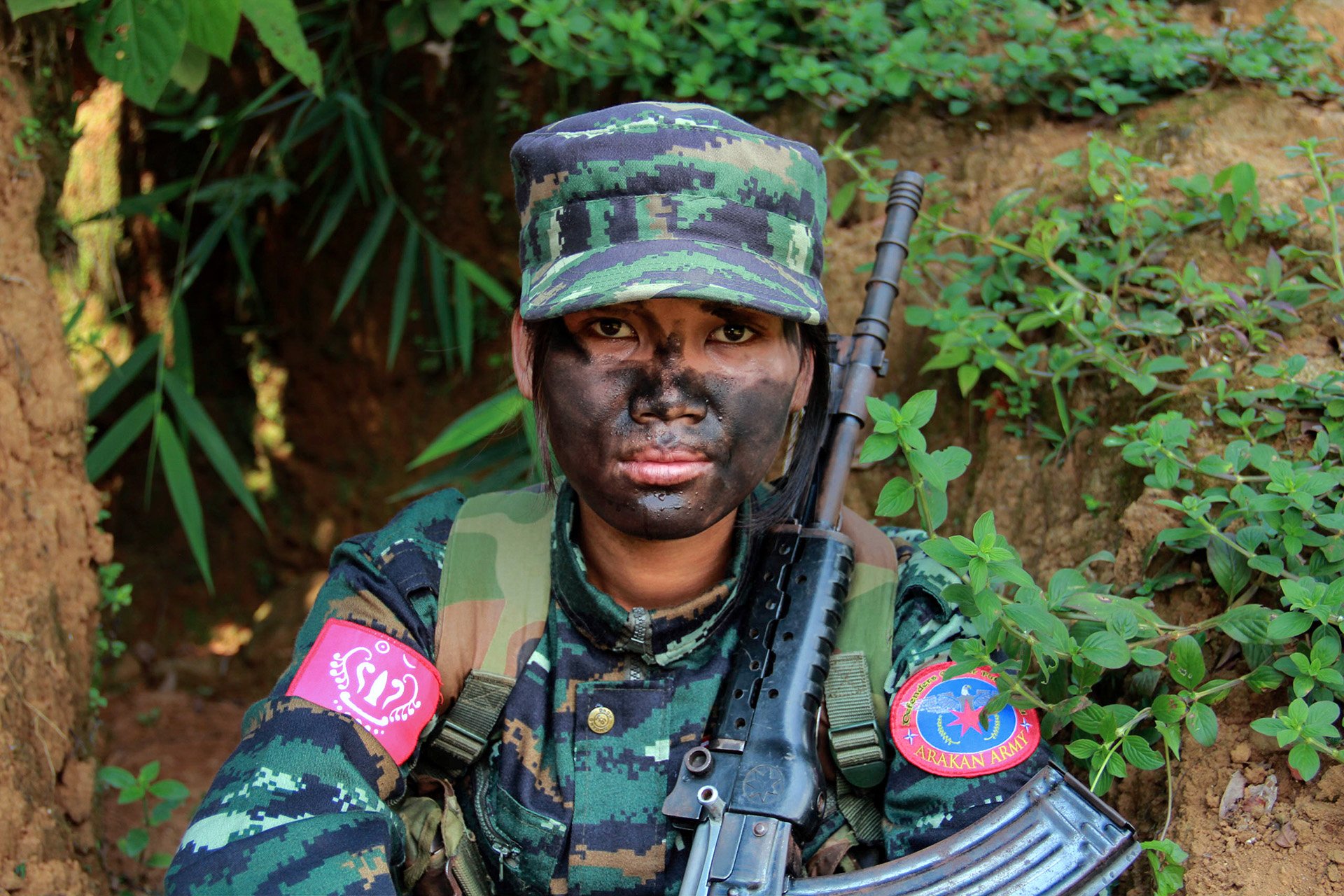 When The New Humanitarian first visited the Arakan Army base last year, Thazin Htwe was hoping to head to the front lines in Rakhine State. Coronavirus travel restrictions have kept her and the other recruits stationed in the isolated camp through 2020.
"When I saw civilians killed and fleeing their homes, I couldn't stand not doing anything for them," Thazin Htwe said. "At least I could try to earn peace, development, and security for Rakhine people."
The Arakan Army formed a decade ago, demanding self-governance, equality, and economic development in Rakhine State, which is one of Myanmar's poorest. 
"We are fighting for self-determination of our state and our people, to protect our freedom and for the future of our Rakhine people," said Tun Myat Naing, the group's commander.
READ MORE: A history of violence 
Myanmar's military has long been accused of human rights violations against civilians, including forced conscription, torture, extrajudicial killings, and using rape as a weapon of war against ethnic minority women.
Myanmar faces charges of genocide for its abuses against Rakhine State's Rohingya population, including more than 700,000 people forced to flee to Bangladesh in 2017.
Médecins Sans Frontières estimates between 9,000 and 13,000 Rohingya died in the military purge. UN investigators say the military's use of rape and sexual violence amounted to "genocidal intent to destroy the Rohingya population".
Discrimination and marginalisation are "the common thread" linking conflicts and military crackdowns across the country, the UN investigators said in a 2019 report.
But the conflict's humanitarian toll has soared since fighting escalated in late 2018. Civilians are both caught in the crossfire and directly targeted in military strikes. Shelling and airstrikes in civilian areas have doubled this year, according to the Armed Conflict Location and Event Data Project, which tracks conflict data. 
Rights monitors accuse the military of war crimes, and also blame the Arakan Army for endangering civilians.
The Rakhine Ethnic Congress, a local group responding to the crisis, said tens of thousands of displaced people have limited access to food, water, and shelter. Government restrictions prevent humanitarian aid from reaching nearly a third of Rakhine State displacement sites, the UN says. This comes amid a nationwide surge in coronavirus cases, including in Rakhine.
"People are battling for their lives and more afraid of the military's offensives than COVID-19 right now," said Htoot May, a politician in Rakhine State.
Women undervalued
While Myanmar's insurgent groups may publicise their inclusion of women, female soldiers also face inequality within their ranks.
Women are often assigned to administrative tasks rather than frontline combat, and are rarely given high-ranking positions or more authority than men, said Lynnlat Gay Zin, a sergeant in the All Burma Students' Democratic Front. The group was formed by activists after a pro-democracy uprising in 1988, and now has an armed wing that fights alongside other opposition groups.
"The biggest challenge I face is, no matter how hard I try, I don't get to harness my efforts because I am a woman," Lynnlat Gay Zin told TNH by phone. "I work as hard as men in our armed group, but men are always promoted faster than women even if we try harder."
Research by the Norway-based Peace Research Institute Oslo, or PRIO, made similar findings in interviews with female soldiers in several ethnic armed groups. Many women who joined were prepared to fight and hoped to ascend the ranks. But they were frequently put in subordinate, non-combat roles and largely excluded from decision-making, interviewees said.
The Arakan Army's information department would not confirm the number of women within its ranks, which are estimated to include at least 7,000 soldiers in total. Female recruits receive combat training, though women are mainly assigned to be medics, or groomed for support roles in administration or accounting. 
However, ethnic armed groups generally include more women than Myanmar's male-dominated military in nationwide peace talks, which have occurred sporadically since 2016, the PRIO report notes. 
These peace talks aim for negotiators to be 30 percent women, though not a single conference or negotiating committee has met this target.
"Women's potential to contribute to peace is still undervalued in Myanmar," the PRIO report concludes.
If women choose to join armed groups, then they should also have equal opportunities to contribute – both on the battlefield, in senior leadership, and in the peace process, Lynnlat Gay Zin said. 
"I work as hard as men in our armed group, but men are always promoted faster than women."
"Ignoring the importance of women's participation and their voices in the country's peace process are a huge loss for all armed groups," she said. "If women's voices are not included in the ongoing peace talks, I don't see there could be any equality or sustainable peace."
This peace process has largely stalled since Myanmar's de facto leader, Aung San Suu Kyi, made reconciliation a priority following an election victory in 2015. Her party won November's vote in a landslide, though smaller ethnic minority parties gained seats in some areas, including Rakhine.
The Arakan Army conflict has worsened in the meantime, enveloping parts of Rakhine and neighbouring Chin State. In June, the Arakan Army and its allies offered a unilateral ceasefire to the military, which rejected the proposal. The government earlier declared the Arakan Army a terrorist organisation, and in August, excluded the group from the latest round of peace talks.
Thazin Htwe, the Arakan Army recruit waiting for the coronavirus pandemic to end so she can be deployed, believes her own role in the conflict has just begun.
"I want to go to the front line and fight against the military," she said. 
This piece was reported by a journalist whose name is being withheld over security concerns. 
il/ag