While the eastern Mediterranean country of Cyprus was in coronavirus lockdown, on 10 April, Jamal Alhadzi, a 20-year-old Syrian asylum seeker was abducted and driven to a beach near the town of Chloraka along the island's picturesque western coastline. The police found his body a few days later. Eleven Syrian men were eventually arrested and charged with Alhadzi's murder, and police described the motive of the killing as a "matter of honour".
News crews descended on Chloraka and the surrounding region of Paphos, producing dramatic reports, replete with action-movie soundtracks, describing the "ghettoisation" of the town. The coverage generally presented the murder as the latest and most extreme example of alleged anti-social behaviour being perpetrated by refugees in the area, and depicted Syrians and other Muslims as being from a fundamentally alien culture steeped in violence, with little hope for assimilation.
Data on crime in Chloraka is not made public by the Cyprus police, but island-wide statistics show that incidences of serious, economic, and petty crime have all steadily fallen since 2017. Data from the Paphos district, where Chloraka is located, also shows a decrease in crime from 2016 to 2018. Data for 2019 is not yet available. Reports of racist incidents across the island however, have been increasing since 2013.
Instead of a migration-related crime problem, for civil society groups, the rising instances of xenophobia and the frenzied media response to the murder highlight the Cypriot government's failure to support refugee integration efforts on the island – where the number of asylum applications has soared in recent years – and underscore the challenges this shortcoming is creating for social cohesion.
In 2019, Cyprus received the most asylum applications per capita in the EU, following an upward trend over the past three years. But "the migration system in Cyprus is extremely outdated and non-existent," Corina Drousiotou, senior legal adviser at the Cyprus Refugee Council (CRC), an NGO that provides legal assistance to asylum seekers, told The New Humanitarian. 
For civil society groups, the rising instances of xenophobia and the frenzied media response to the murder highlight the Cypriot government's failure to support refugee integration efforts on the island.
The failure of Cypriot authorities to adopt a comprehensive national integration strategy has led to rising frustration over migration, according to Kyriakos Pieridies, a member of Open Society, a civil society organisation that helps Cypriot municipalities with integration efforts. "Hate speech is there, misinformation is there, identifying the problem without providing a solution is there," Pieridies told TNH of the government response. 
The broader failure is that of EU states to agree on a regularised system of large-enough scale to share the burden of refugee hosting, he added. 
Read more → 'No more Morias': New EU migration policy met with scepticism
The EU announced its New Pact on Migration and Asylum on 23 September, proposing a bloc-wide system of responsibility-sharing that could potentially take pressure off countries like Cyprus. But the proposal has already been rejected by the EU's more hardline, anti-migrant states and, even if it ends up being approved, the new system likely won't come into effect for several years. 
Migration, murder, and the media 
There are around 32,000 recognised refugees and people with pending applications in Cyprus. Although the number may sound small, it accounts for about four percent of the country's population of around 800,000 people. By comparison, Germany's refugee and asylum seeker population – the largest in Europe at around two million at the end of 2019 – accounts for around 2.4 percent of its population. 
Between 2017 and 2019, asylum applications in Cyprus nearly tripled – from just under 4,500 to almost 13,000 – before the coronavirus pandemic caused the numbers to drop this year. Syria, Georgia, India, and Bangladesh represent the top nationalities of applicants, along with an increasing number of Cameroonians, Bangladeshis, and Pakistanis. Except for Syrians, asylum rejection rates tend to be high. 
Most people arrive by plane or ferry in the north of Cyprus – occupied by Turkey since 1974 and easily accessible from the Turkish mainland – and make their way into the Republic of Cyprus-controlled south by crossing blind spots in the buffer zone dividing the island. Just 726 people have arrived irregularly by sea this year, compared to more than 12,000 in Greece and almost 22,500 in Italy. Although, a recent spike in boats departing from Lebanon – around 160 kilometers to the east – may be a sign of increasing sea arrivals on the horizon. 
Apprehension surrounding the increase in arrivals has been fuelled by sensationalist local media reports of rising crime attributed to refugees and asylum seekers in various areas of the island, with certain neighbourhoods depicted in news reports as ghettos that are spiralling out of the control of authorities.
The pandemic, and its economic impact, has compounded the problem, with rising unemployment and a housing crisis leading many migrants to find accommodation in inexpensive, overcrowded apartments in cities and rural areas.
Chloraka, an idyllic hilltop town overlooking the sea, is one of those areas. Since the late 1990s, it was home to a Syrian community of about 200, until it began to increase in size about three years ago. Now there are around 1,300 Syrians in Chloraka – roughly 17 percent of the town's 7,000 or so residents. 
Since the late 1990s, Chloraka was home to a Syrian community of about 200, until it began to increase in size about three years ago. Now there are around 1,300 Syrians in Chloraka.
Following the murder – against the backdrop of the frenzied news reports – tensions ran high, and, in mid-May, Chloraka's elected community leader, Nikolas Liasidis, told local media he had requested assistance from the interior ministry to deal with what he described as the town's spiralling crime problem, pinning responsibility on a group of 200 to 250 recently arrived young Syrians. Support was later provided in the form of a small police post and increased patrols.
Liasidis also made the unsubstantiated and inflammatory claim that there were former members of the so-called Islamic State extremist group living in the community – a claim that was picked up and repeated by news outlets and other politicians.   
Christos Andreou, the spokesperson for the Cypriot police, refuted the claim. The police are aware of 11 individuals with links to Syrian armed groups in the country, Andreou told TNH, and all of them are in immigration detention awaiting deportation. He declined to specify which groups, citing "national security matters". 
Still, the damage was already done. Young Cypriot men in Chloraka, presenting themselves as a 'neighbourhood watch' group – which exist in many communities on the island – began vandalising businesses and stopping, questioning, and harassing people they profiled as refugees. Andreou said the police quickly curtailed the vigilante activity. 
But Liasidis sparked controversy again in early June by appearing at a rally organised in Chloraka by Cyprus' far right, ultra-nationalist party, the National Popular Front, or ELAM, which is closely modelled on Greece's neo-Nazi Golden Dawn party.
In an interview with TNH, Emilia Strovolidou, a press officer for the UN's refugee agency, UNHCR, said the organisation was "very concerned with the increasingly xenophobic attitude" among "segments of the society", but didn't solely attribute the situation to recent events. Instead, Strovolidou said it was the product of a "longer process" of divisive political and media discourse that, for years, has depicted refugees as "a threat".
With the increased police presence in Chloraka, the perception of a crime problem quickly faded, but the underlying issue of refugee integration remains unresolved.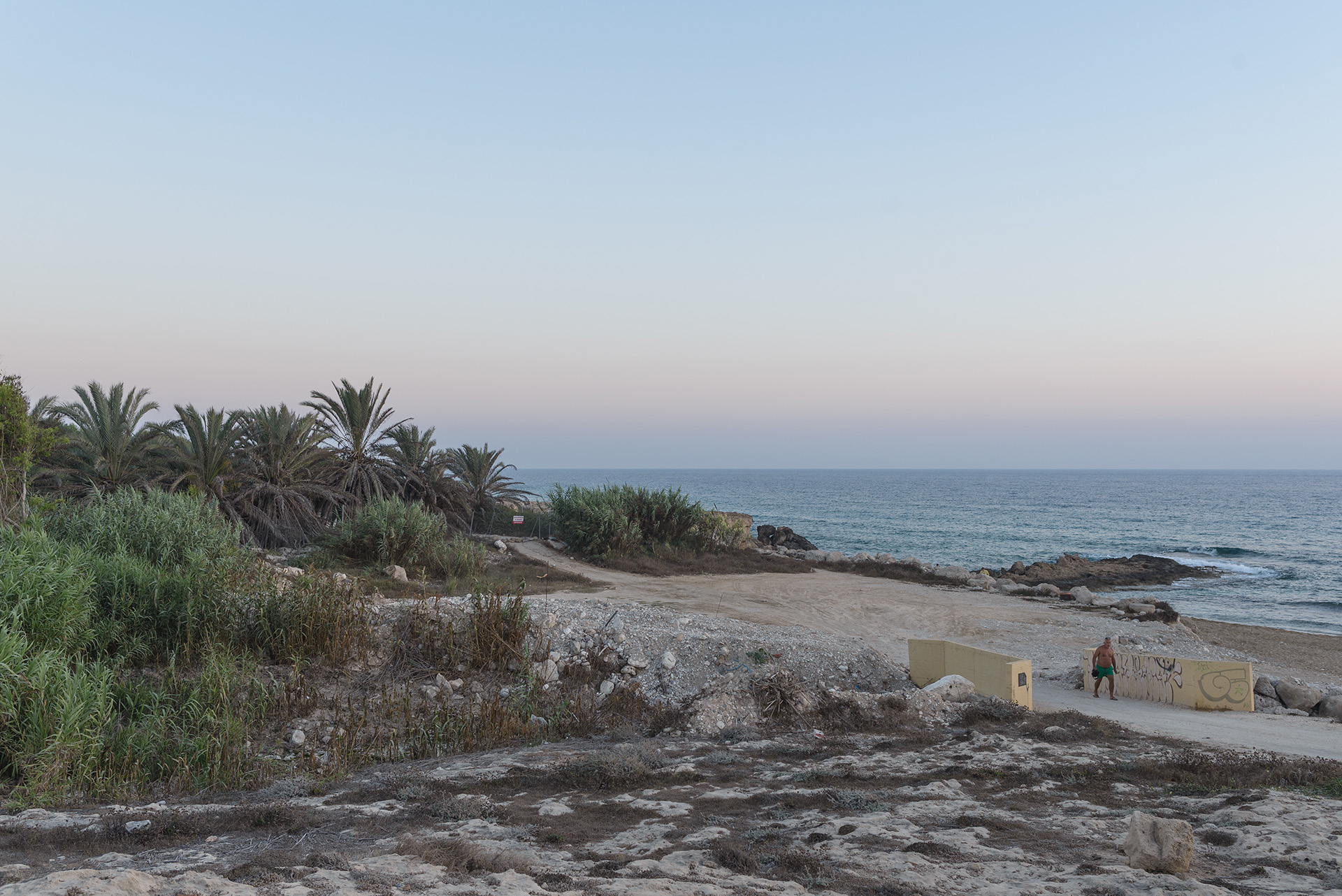 No plan
In 2010, Cyprus adopted a three-year National Action Plan (NAP) on integration that aimed to increase the participation of migrants and asylum seekers in civic life, recognise their political, economic, and legal rights, and combat racism and discrimination. The plan was revised and renewed for another three years, but the government failed to adopt a new one after it ended in 2016.
As the number of refugees and asylum seekers has increased substantially since 2017, local government officials and civil society organisations say the absence of a new plan has hampered integration efforts due to a lack of adequate employment legislation, social services, and housing infrastructure to absorb new arrivals. 
Under the current system, asylum seekers can only work in certain sectors of the economy – such as construction and agriculture – while they wait for a decision on their applications. According to Drousiotou of the CRC, the process usually takes three to four years, with a slightly shorter wait time for Syrians. 
"There is no complete national strategy to confront this [challenge]," Phedon Phedonos, the mayor of Paphos, told TNH. "We are responding with a lot of delay. We do not have substantial infrastructure for hosting... So, now, decisions and actions are taken under a lot of pressure."
The government is supposed to announce a new integration plan specifically for refugees and asylum seekers sometime next year based on a 2018 report compiled by UNHCR, which consulted NGOs, government agencies, academics, refugees, and the business community on how to address issues ranging from employment and education to the protection of vulnerable groups and civic inclusion. 
Despite the government being credited as a participant in the report, it has largely taken a hands-off approach, leaving the drafting of the plan to NGOs, according to Drousiotou, who worries that the lack of enthusiasm from the government so far means it won't give the plan the support it will ultimately need to be successful. 
Future on hold
In the meantime, the rental allowance and the food and clothing coupons that asylum seekers receive from the state amount to around 720 euros ($840) for a three-person household in Paphos, well below the poverty threshold. Still, they cover the basics, according to Mohammed Abu-Kharor, a 26-year-old asylum seeker from Deraa, Syria. But rebuilding a life requires more. 
Abu-Kharor arrived in Cyprus last year with his wife and three-year-old son and settled in Chloraka. His studies in Syria to become a doctor were interrupted by the war, and he volunteered with various medical NGOs before finally deciding to leave. In Cyprus, he has asked the local police, the Red Cross, and a number of NGOs if he can help out as a volunteer, but to no avail. 
With little to do, he spends most of his days at home and occasionally manages to find work picking grapes in the hills around Chloraka. He wants to finish his medical degree so he can "help people, Syrians and Cypriots, all people", he said. But with little integration support, those plans are on hold. 
Rehab Al-Habrat, a 37-year-old Syrian refugee, and single mother of four, who arrived in Cyprus in 2002, runs a community centre in Paphos, the nearest city to Chloraka, that provides Greek language lessons and tutoring to refugee children, distributes meals to struggling families of asylum seekers and refugees, and provides shelter for women in the community facing domestic abuse. 
Many new arrivals don't know how to access the financial assistance or other social services provided by the state because "the government doesn't give full information for asylum seekers", Al-Habrat told TNH. Even after they register, some still struggle to receive assistance for months, if not longer, because of processing delays. "Many [asylum seekers] don't receive anything from the welfare office, even the allowance they are entitled to," she added. 
But Thabet Abarrah, who arrived in Cyprus from Syria in 1993 and runs a successful and popular restaurant – frequented by Cypriots and Syrians alike – in the capital, Nicosia, remains optimistic that the Syrian community will eventually find a way to feel at home on the island: "The restaurant helps us have a better relationship between the two communities," he said, adding, "They aren't that far apart." 
With additional reporting and research support from Marcos Andronicou.
dt/er/ag