Nurul Alom's mosque is a tarpaulin-covered bamboo shelter in the middle of Bangladesh's sprawling refugee camps.
As the imam for this part of the camps, he leads other refugees in a daily plea: "Every day in every prayer, we ask Allah for justice," he said.
Nurul is among more than 700,000 Rohingya pushed from their homes in neighbouring Myanmar's Rakhine State by a military purge in August 2017. 
Three years later, little has changed: Nearly one million refugees live in Bangladesh's fragile refugee settlements; Myanmar has stripped most Rohingya of basic rights and citizenship; and Myanmar authorities haven't been held to account for what the Rohingya community believes is a genocide.
The wheels of international justice are turning, however. Three separate courts around the globe are examining atrocity crimes committed against the Rohingya. People in the camps follow the news eagerly – a December hearing in a case accusing Myanmar of genocide at the International Court of Justice (ICJ) in The Hague saw people hovering over smartphones and crammed into camp teashops to follow the proceedings from afar.
But Rohingya leaders and justice advocates fear many refugees have unrealistic expectations of what the courts can provide.
In dozens of conversations across the vast settlements this year, refugees interviewed by The New Humanitarian showed a wide range of knowledge and assumptions. While some followed the legal proceedings closely, major misunderstandings were also widespread.
Some believed a ruling would allow them to return to Myanmar within months, and guarantee their safety in their home villages. Others believed they would soon be granted citizenship, which Myanmar authorities have stripped from them over decades.
"The court has the power to give us citizenship," said Nur Alom, a teacher in the refugee camps, echoing one common view.
The International Criminal Court (ICC), another body investigating abuses, has also recently reported "massive confusion" among refugees.
The reality is that court cases are notoriously slow, often taking years to render a verdict. And any future ruling against Myanmar offers no guarantee that life will change for the refugees.
"Every day in every prayer, we ask Allah for justice."
Advocates, lawyers, humanitarians, and Rohingya themselves say it's crucial to manage expectations of what the courts can and cannot provide – or risk a further erosion of trust among the refugees. 
"If you allow the Rohingya to believe that the international courts are in a position to grant them citizenship directly, then these processes are set up to be perceived as failures before they have even started," said Kingsley Abbott, senior legal adviser with the International Commission of Jurists, a rights NGO.
But there's disagreement over who should be responsible. Some are pushing for the courts to step up direct outreach to Rohingya survivors. Others say frontline aid workers should speak to refugees about international justice, though most humanitarian organisations have resisted this, citing a need for neutrality.
Nurul, the imam, wishes he had better information to offer his neighbours, who rely on him to explain what's happening in the far-flung courts: "So we can mentally prepare ourselves for whatever might be waiting for us," he said.
READ MORE: Four paths to international justice
There are pending cases or investigations in three separate courts. A UN-mandated body is also collecting and analysing evidence.
The International Criminal Court: Judges at the ICC in The Hague authorised an investigation into alleged deportation and persecution crimes in November 2019. The investigation is ongoing. The ICC investigates and tries grave international crimes, including genocide, war crimes, and crimes against humanity.
The International Court of Justice: The Gambia filed a lawsuit at the ICJ, also in The Hague, accusing Myanmar of genocide. In January 2020, the ICJ ordered Myanmar to protect the Rohingya from genocide in an emergency injunction. The larger case is ongoing; legal experts say it could last up to five years. The UN's top court, the ICJ is used to settle disputes between nations.
Argentina: A Rohingya rights group launched a case calling on courts in Argentina to prosecute military and civilian officials, including Myanmar's de facto leader, Aung San Suu Kyi. The case is based on the disputed concept of universal jurisdiction, where domestic courts are used to investigate international crimes.
The Independent Investigative Mechanism for Myanmar: The Human Rights Council created the IIMM to preserve evidence collected by the UN Fact-Finding Mission on Myanmar, a rights probe tasked with investigating abuses against minorities, including those against the Rohingya. The UN probe issued its final report last year. The IIMM also collects evidence and prepares files for use in potential prosecutions.
Mismatched hopes
In January, the ICJ ordered Myanmar to protect Rohingya remaining in the country. It was an early emergency measure in what could be a years-long case – not a pronouncement of guilt. But it was also the first time a global court had acknowledged the decades-long persecution of the Rohingya, sparking rare scenes of joy among refugees watching on patchy internet connections in the camps.
Shawfique, co-founder of Rohingya Youth for Legal Action, a group educating refugees about rights and law, has watched replays of the hearing more than 10 times.
Shawfique, who like many Rohingya uses one name, said his fellow refugees often come to him with difficult questions and lopsided expectations. He recalled a 60-year-old man asking a common query: When will the Rohingya be able to return home?
"After I said, 'maybe 10 years', I could see him cry inside," Shawfique said.
Now, he remains purposely vague, he said, sharing the truth only with people he believes can "tolerate" it.
Abbott recalls similar problems in his outreach work in the camps.
One man started crying during one of Abbott's information sessions when he learned that international courts can't protect Rohingya if they return to Myanmar. "Why don't you just leave us alone then and give us weapons so we can fight our own way back," the man told Abbott.
Ideally, the cases in The Hague will spark more accountability and respect for rights in Myanmar, Abbott said. But the courts have little power to enforce measures that many Rohingya hope for today – a safe return, protection, and citizenship. 
"It's important to not inflate victims' hopes inappropriately from the very start of the proceedings, or we will disappoint them," Abbott said.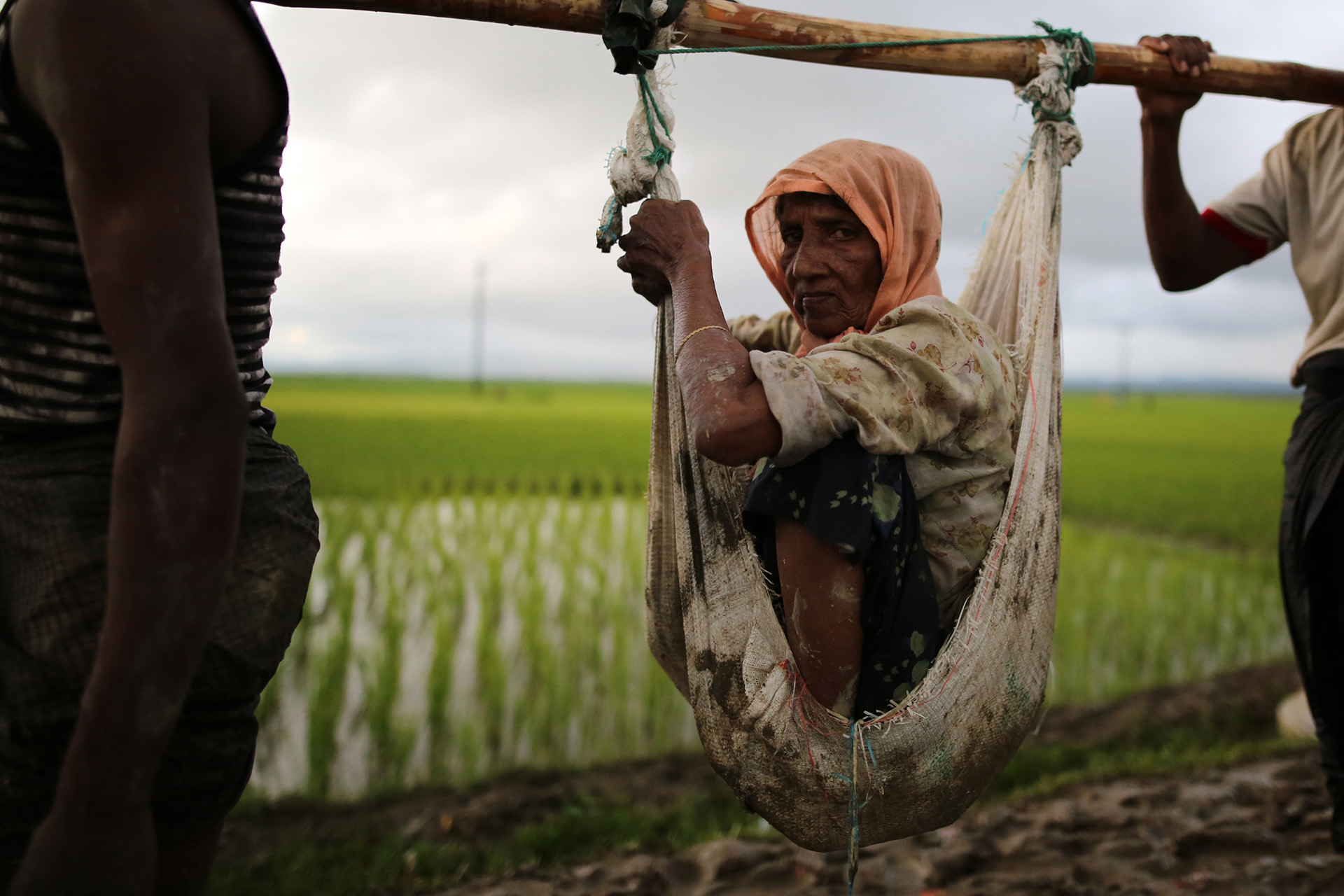 The politics of refugee returns
But the question of who should be involved in managing expectations remains unanswered. 
At a health centre run by the aid group Action contre la Faim, or ACF, children snuggled together in front of a projector screen in February. Sandwiched between cartoons showing health and safety messages, a brief video dubbed into Rohingya by a legal aid NGO explained what happened at the ICJ the month before.
Rahmud Tahar, 70, glanced at the screen from a corner of the busy centre. Like many refugees, he has high hopes for the court and expects to return to Myanmar within a year.
"What the ICJ says, Myanmar has to follow," he said. And if the court can't do it, he added, then America will have to step in.
Trained to deliver aid but not legal education, ACF staff say they're not in a position to tell people like Rahmud that this might never be the case.
"When we simplify, there might be errors," said Suchismita Roy, senior communications and advocacy manager at ACF, pointing to the risk of conveying the wrong message. "Our mandate is to save lives," she said. "But law and justice are not our expertise."
While some aid groups may feel comfortable showing basic explainer videos, the issues important to Rohingya – when, how, or if they can return home – are becoming increasingly sensitive. 
The Rohingya response itself is politicised in both Bangladesh and Myanmar: Telling Rohingya that a swift return home may be impossible means wading into politically sensitive territory, and contradicting the official government lines in both countries.
Bangladesh has pushed for refugees to return home as soon as possible, but several repatriation attempts have failed. Most refugees say they won't return to Myanmar until their safety, rights, and citizenship are guaranteed.
After the last failed attempt a year ago, Bangladeshi officials accused some NGOs of encouraging refugees to stay. Authorities later warned aid groups against "anti-state, anti-government, or anti-repatriation activities", and tightened restrictions on aid groups and refugees.
The government and aid groups have also clashed over controversial plans to relocate up to 100,000 Rohingya to a disaster-prone island on the Bay of Bengal. And the coronavirus pandemic has inflamed tensions between refugees and struggling local communities, who have been vocal about sending the Rohingya home.
"In my experience, humanitarians at some point always look back and regret a faulty notion of neutrality."
On the other side of the border, Myanmar's government has imposed heavy aid restrictions in Rakhine State for years, and denies systemic abuses against the Rohingya. It says the refugees are free to return, as long as they accept a controversial "national verification card" scheme that falls short of citizenship.
"Obviously, we will not get into political issues. We only intervene when there is a humanitarian concern," said Mahbubur Rahman, coordinator for the Communicating with Communities working group, which focuses on sharing clearer information in the camps.
"We have to be careful about our actions, so that our counterparts working in Myanmar are not targeted by the government there for being perceived as partisan," he added.
But Sam Zarifi, who heads the International Commission of Jurists, believes aid groups are putting too much emphasis on the traditional humanitarian principle of neutrality. The UN has faced criticism for not taking a stronger stand during the violent end of Sri Lanka's civil war in 2009, for example, or for acquiescing to government policy in Myanmar in the years before the Rohingya purge.
"In my experience, humanitarians at some point always look back and regret a faulty notion of neutrality," Zarifi said.
For him, helping to manage Rohingya expectations on international justice is part of respecting their rights.
And refugees don't necessarily differentiate between legal experts and aid workers, he added, even if humanitarian staff are quick to draw a distinction.
"We are perceived as one international community," he said. "That's why it's problematic if our humanitarian colleagues say: 'We will not talk about justice'."
Confusion and rumours
Others place the emphasis on the very courts that are examining the atrocity crime cases.
"Being realistic while not destroying people's hope is extremely hard," said Alison Smith, director of the international criminal justice programme at No Peace Without Justice, a Brussels-based NGO advocating for Rohingya voices on the issue. "That's why the courts need to do it themselves."
The International Criminal Court has repeatedly been criticised for not doing enough to engage with victims and survivors, especially early on in the process, despite also having an outreach mandate.
"To say that the ICC is notoriously slow would be a bit of an understatement. It often takes quite a while for them to do anything," Smith said. 
"The ICC should have already started to engage with refugees when they were saying they would be looking at the case," she added. "Once the expectations are formed, it is hard to set them straight."
The ICC itself has reported "massive confusion" among the Rohingya about the separate court cases: "The overwhelming majority of people have very little information and understanding, if any, of these various justice initiatives and, importantly, their different mandates and functions," stated a July report by the ICC's registry, which manages the court's operations.
The report called for information sessions to be scaled up in the camps "to ensure that misconceptions and rumours are addressed". However, plans for meetings in each of the 34 Rohingya camps have been derailed by coronavirus travel restrictions.
"People have trust in international courts. If they are disappointed, their trust will be broken and international courts will be like the Myanmar government for them."
Daniel Sullivan, who works on advocacy with US-based Refugees International, said failing to engage with Rohingya on the international justice process mirrors the aid response's shortcomings: Refugees say they're rarely involved in making decisions, on everything from how they receive aid to returning home.
"There has been a failure to adequately inform, include, and empower the Rohingya in the most significant aspects of this response," Sullivan said. 
For some Rohingya, the genocide and crimes against humanity cases in The Hague are a test of the international community.
"Now, people have trust in international courts," said Sawyeddollah, a Rohingya activist in the camps who follows the court proceedings closely. "If they are disappointed, their trust will be broken and international courts will be like the Myanmar government for them."
"These cases are our last chance," said Mohammed Eleyas, a Rohingya camp leader. "If the international community can't help us, who will?"
vh/il/ag