Five of the top 10 countries for new coronavirus infections right now are in the Americas, and the World Health Organisation is warning that the situation in several South American nations in particular is "far from stable". Among these is Peru.
When Peru's first COVID-19 case was detected on 6 March in Lima, the capital city on the Pacific western coast, the pandemic still seemed far removed from the towns and rivers of the Amazon Basin, more than 1,000 kilometres away in the far northeast of the country.
Eleven days later, however, the northeastern Loreto region reported its first case. Within weeks, the corridors of the regional hospital in Iquitos, the country's largest Amazonian city, were overflowing. Patients lay on mats or slumped in chairs, connected by slender tubes to life-giving tanks of oxygen. 
Then the lifeline ran out.
The hospital's poorly maintained oxygen plant was only partly operational and couldn't keep pace with a demand of as many as 500 tanks a day. As patients died for lack of oxygen, desperate relatives lined up overnight outside the two private companies that sold refills. The price skyrocketed from about $150 to nearly $1,000. Government officials promised tanks of oxygen for Iquitos, which is accessible only by air or river, but the shipments were inadequate.
Around the city of half a million people, which is the capital of the Loreto region, Catholic church workers fielded calls from desperate parishioners. On the morning of 3 May, Reverend Miguel Fuertes, administrator of the vicariate, announced on social media a fundraising drive for an oxygen plant for the hospital.
By the next day, the campaign had raised about $500,000, enough for two oxygen plants for Iquitos and one for the nearby city of Nauta, as well as oxygen tanks, medicine, and portable oxygen concentrators to be delivered to health centres in towns along the Marañón River and its tributaries, where the virus had already spread into remote villages. Three other Catholic church jurisdictions in the Amazon and various civil society groups are also taking up collections for medicine, protective equipment, and oxygen for communities and health centres.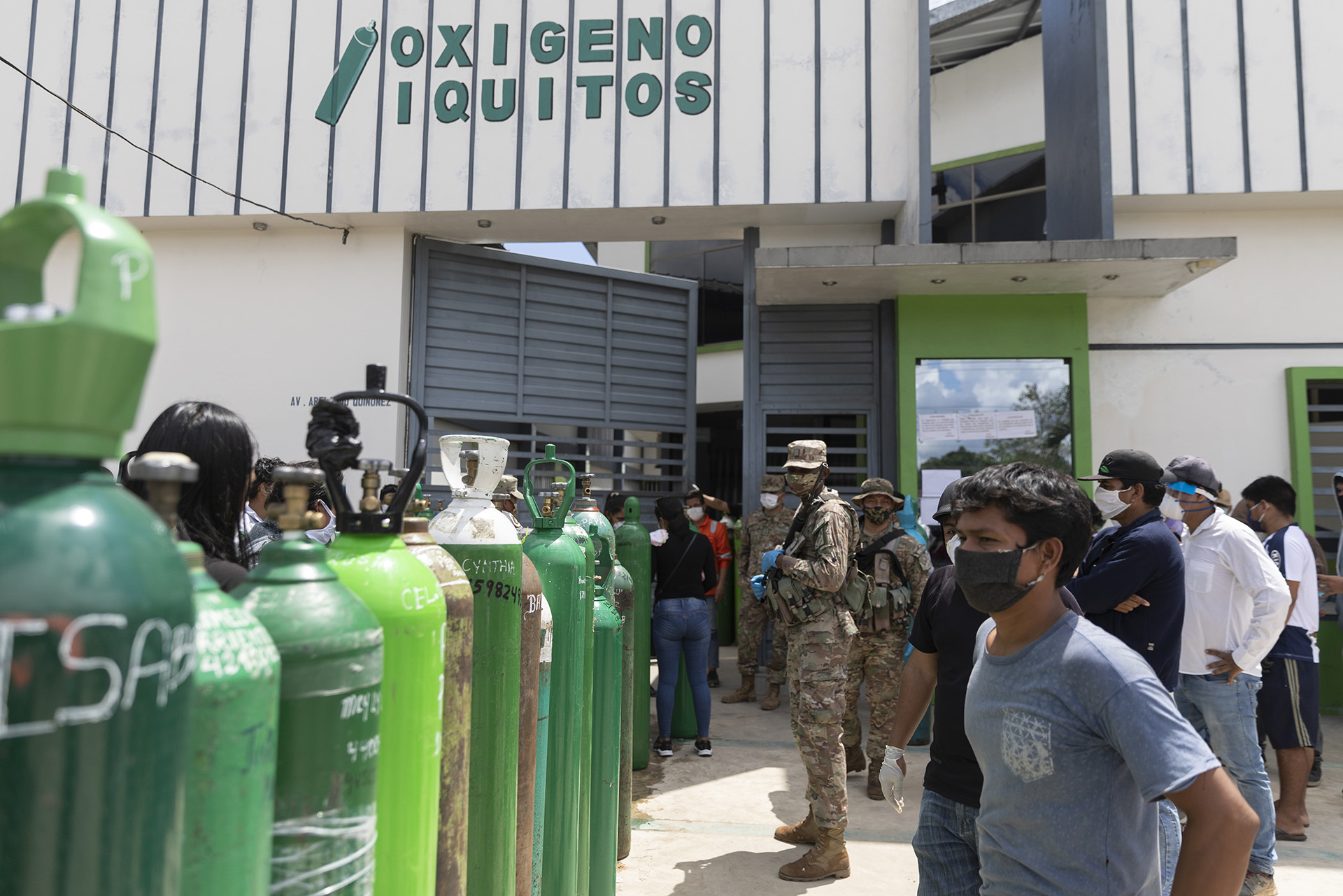 "This is something the government should have done in time, but that didn't happen," Fuertes said in a videotaped public message on 24 May, in which he explained how the funds were being used.
In Iquitos and other places where government aid has been sluggish because of red tape or corruption, church groups have stepped in to provide crucial medical supplies, as well as food and other essential items for people whose scant incomes vanished when the government imposed a strict quarantine and curfew.
Choosing between food and health
Peruvian President Martín Vizcarra declared a mandatory lockdown, beginning on 16 March, and ordered the country's borders closed to travel by land, air, sea, and river. Since then, only essential businesses – food stores, pharmacies, healthcare and public services – have been operating. Residents may leave their homes only to purchase food or medicine. By 1 June, the country had officially registered more than 170,000 COVID-19 cases and 4,634 deaths.
The lockdown, now extended until the end of June, was meant to keep COVID-19 patients from overwhelming the country's weak healthcare system. But in a country where about 70 percent of workers are self-employed or informal, and where millions live on their day-to-day earnings, it has forced people to make a grim choice: venture out to earn some money for food and medicine, or stay home and go hungry.
In Iquitos, where nearly everyone seems to know someone who has died or been ill, government officials blamed the spread of the virus on the large number of people who flouted the lockdown, especially in low-income areas.
But that measure was designed for middle-class neighbourhoods of the Peruvian capital, where people had some savings or could telecommute, Reverend Manolo Berjón, a Spanish Augustinian missionary in the Punchana district of Iquitos, told The New Humanitarian.
"This is a disaster, and it will be a massacre."
It did not work in his parish, which includes a sprawling maze of precarious, tin-roofed wooden homes near the city's largest river port, where there is no sewer service or running water for the handwashing that is the main protection against contagion, and where extended families crowd into small rooms. And it is even less suited to the thousands of indigenous and mestizo villages along riverbanks throughout the Amazon, many of which lack healthcare facilities. 
The exact number of cases and deaths may never be known. Peru lacks sufficient test kits and laboratories for analysing results. The official death toll in Iquitos as of 31 May was 297, but doctors in the city say it could in fact be more than 1,000 because many people died at home, unwilling to go to the hospital, fearing that they might die separated from their families. In Ucayali, the region bordering Loreto, 126 COVID-19 deaths had been confirmed as of 31 May, but the virus was suspected in another 536.
Read more → As COVID-19 takes off in Latin America, Amazon indigenous groups fear the worst
The triple border shared by Peru, Colombia, and Brazil on the Amazon River has emerged as a hotspot, with cases spreading toward the Javarí Valley Indigenous Land in Brazil, near the border with Peru, which is home to semi-nomadic indigenous groups that continue to shun contact with wider society. If the virus reaches them, it could destroy them, as epidemics have decimated indigenous people since Europeans first arrived on the continent.
"This is a disaster, and it will be a massacre," Fuertes said. "Not only because of the virus, but because of [official] incompetence."
Indigenous people in both urban areas and rural villages are at particular risk because they already suffer from high rates of food insecurity and non-communicable diseases, such as diabetes, Carissa Etienne, director of the Pan American Health Organisation, told journalists at a weekly press briefing on 19 May. They are also affected by tuberculosis and tropical diseases like malaria and dengue. A severe outbreak of dengue last year strained the resources of hospitals in Peru's Amazonian region, and there are still cases in some communities that must now deal with COVID-19.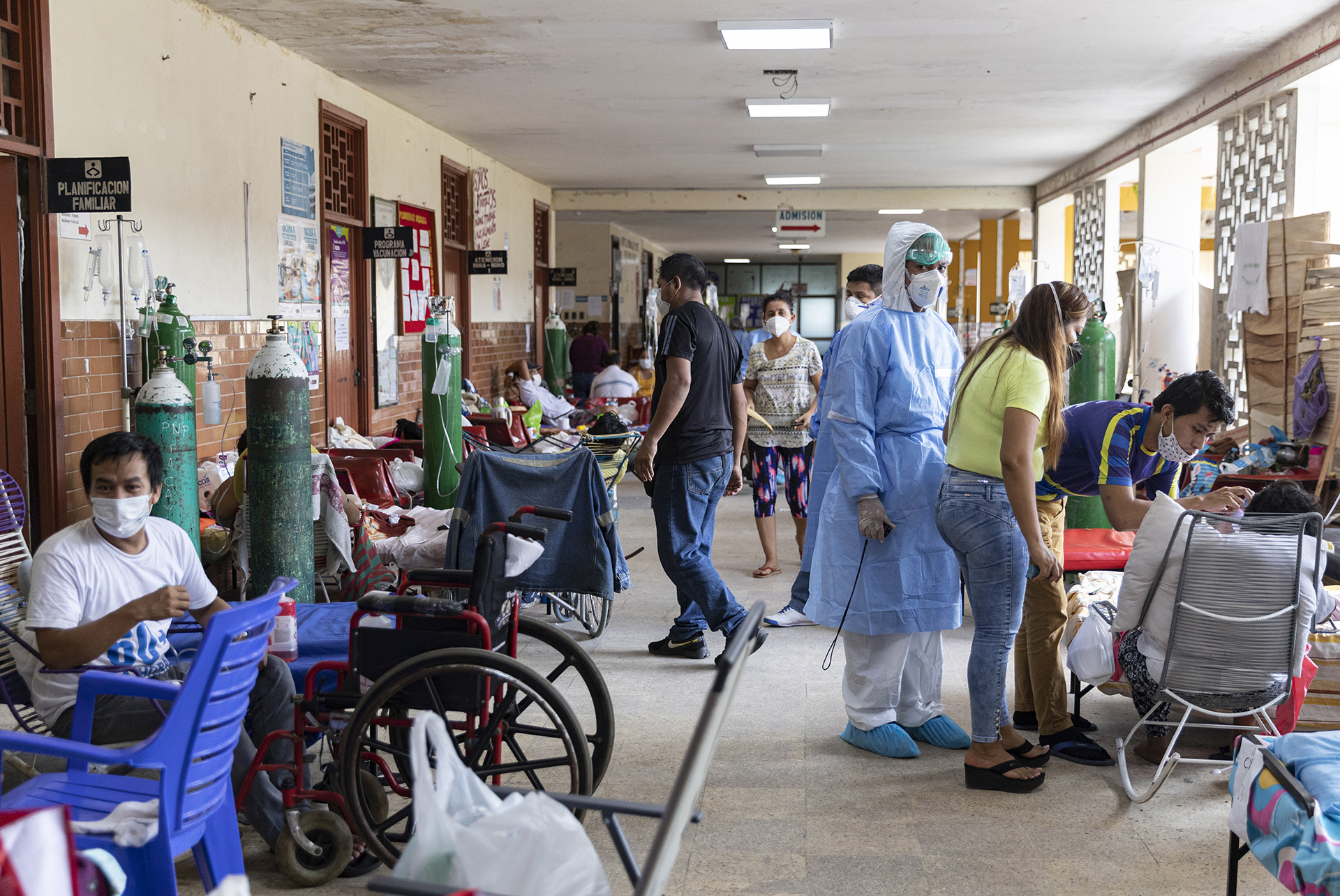 Indigenous elders among the most vulnerable
As the virus spread along rivers far from cities, some indigenous communities closed themselves off to outsiders, as generations before them have done to avoid epidemics. Church leaders encouraged them, but some government officials insisted that the communities had no right to make such a decision. On the Napo River, police threatened to arrest indigenous leaders who blocked access to their communities, and on the Corrientes River, villagers were infected when a local mayor insisted on delivering food supplies personally from a river boat piloted by crew members who were sick.
The virus, which tends to be more lethal in people over the age of 50, threatens to take a disproportionate toll on indigenous elders. 
In the Marañón River port of Nauta, 100 kilometres from Iquitos at the end of the Loreto region's only paved road, Ilda Ahuanari died on 10 May, aged 78. Ahuanari, a Kukama woman, helped revive interest in the Kukama language in Nauta and nearby villages, where the generation following hers had stopped using it. She was a regular on an early morning Kukama-language programme at Radio Ucamara in Nauta, and taught her language to children through songs, games, and outdoor classes in the radio station's Escuela Ikuari, or listening school.
On the same day, Amelia Huanaquiri Tuisima, an 89-year-old Omagua woman, died in Iquitos, probably of complications caused by COVID-19. She and her younger sister and brother, who both died just days earlier, weren't tested, but her last son, who also died a few days earlier, had tested positive.
The coronavirus pandemic is the next tragic chapter in the traumatic history of Amazonian peoples like the Omagua – a large group that inhabited a long stretch of the Amazon River when Europeans arrived, but whose numbers were reduced by the 1720s to just the inhabitants of one Jesuit mission village in Loreto.
Huanaquiri was one of a dwindling number of Omagua who learned the language as a child from her parents and grandparents, although she didn't speak it actively and didn't consider herself fluent, said linguist Zachary O'Hagan of the University of California-Berkeley, who spent hours listening to her as part of his field research.
O'Hagan hesitated to speak of languages dying out, especially because of recent language revitalisation efforts, but said the COVID-19 death of an indigenous elder is a tragedy not just for the family, but for the whole community. 
"Language is important, but (increasingly) my work has focused on the micro-histories that inevitably come out" when talking to elders, O'Hagan said of the genealogies, local history, and lore about plants and animals woven through their conversations.
"In societies that traditionally did not have writing systems and still are not widely writing-based communities, the amount of knowledge that is in oral history is massive," he said. Watching the pandemic sweep through the Amazon, "what hurts me the most is that sort of loss," he added.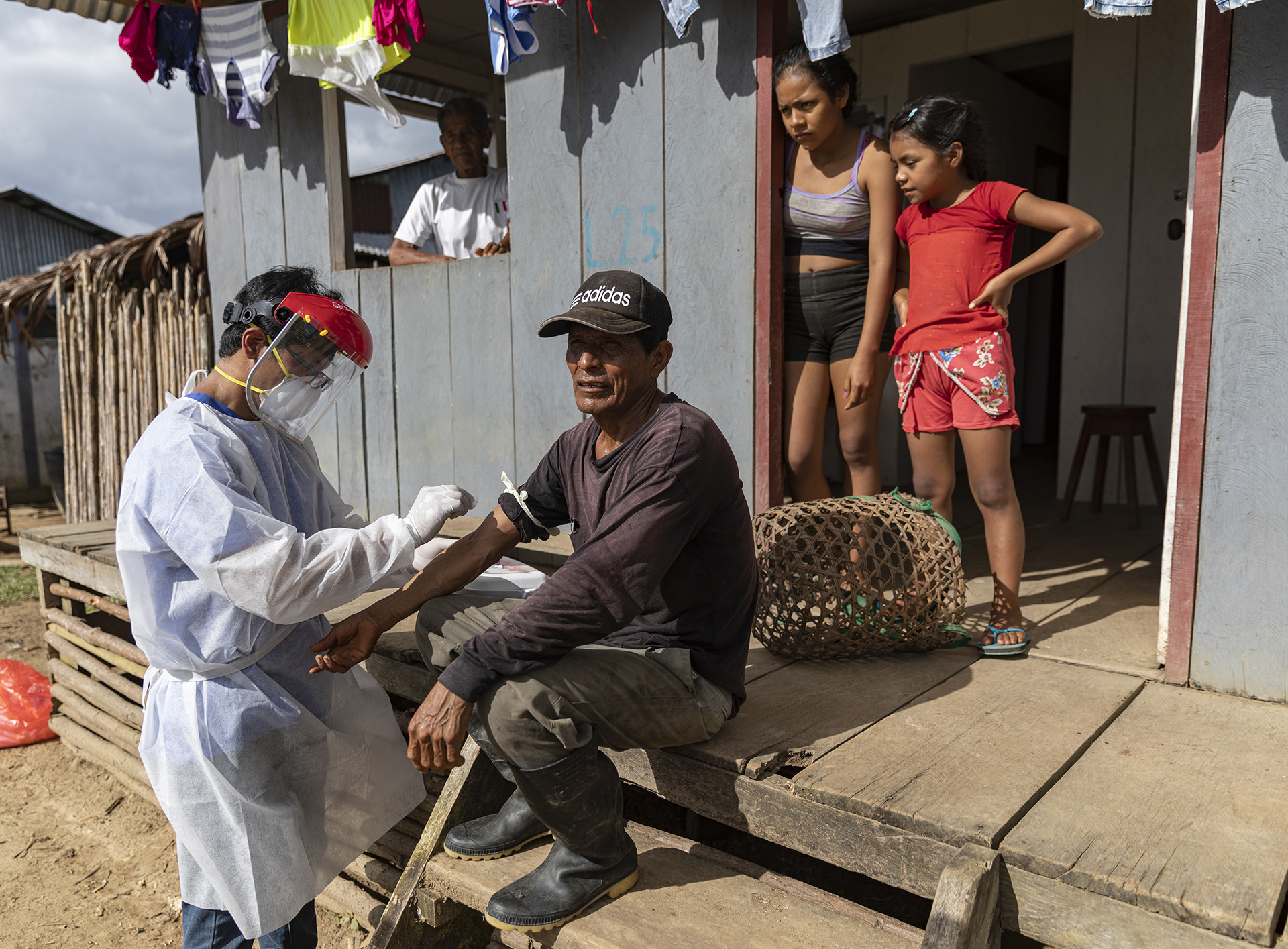 The church's oversized role
The Catholic Pan-Amazonian Church Network has tallied more than 174,000 COVID-19 cases and more than 7,800 deaths in the Amazon region as of 1 June. Not all are indigenous people, but everyone in these communities is vulnerable, not only to the virus but also because of ongoing invasions of their territory.
Illegal loggers and wildcat gold miners are taking advantage of reduced official oversight during the pandemic to expand into indigenous territories, threatening not only local people's health as they risk spreading the virus, but also the forests and rivers on which people depend for their lives and livelihoods, explained sociologist Márcia de Oliveira of the Federal University of Roraima in Boa Vista, Brazil.
The South American countries that share the Amazon basin have long turned their backs on the region, said Reverend Miguel Angel Cadenas, a Spanish Augustinian missionary who works in Iquitos with Berjón. "They don't understand what is happening," he said. "We are paying the price for the past 50 years of extraction of natural resources with little investment."
Despite the region's vulnerability, international assistance has been sparse, although the US Agency for International Development did announce on 27 May an additional $3 million for COVID-19 aid in the Peruvian Amazon, mainly for indigenous communities.
In Peru, it is mostly the church filling in the gaps, providing assistance not only through fundraising drives for emergency medical supplies like those in Loreto, Ucayali, and Madre de Dios, but also through its network of Caritas and social ministry offices throughout the country.
The national Caritas office joined the defence ministry, several TV stations, and other organisations to distribute food baskets to nearly 200,000 families nationwide, while local Caritas offices have been delivering food and hygiene supplies to families in need.
Church-run radio stations have also been broadcasting spots about preventive measures, including some in indigenous languages; and church offices in various parts of the Amazon are providing psychological assistance as well as aid to indigenous people from their areas who were working or studying in Lima and are now trying to return to their home communities because the quarantine has left them with no income.
"We are not competing with anyone in this fight against the coronavirus," said Fuertes. "We are simply taking health and life to people in Nauta and Iquitos and along the river."
bf/pdd/ag