When the first case of COVID-19 in the Democratic Republic of Congo was declared in early March, the country's once-packed Ebola treatment centres had been empty for weeks. It was hoped resources could be shifted to combat the new disease.
But on Friday – just two days before the World Health Organisation was due to announce an end to an Ebola outbreak that has left more than 2,200 people dead – a new case was reported in the eastern city of Beni.
As the spread of coronavirus accelerates across the country, health authorities now have to juggle both responses – while also treating those affected by the world's worst measles epidemic, an outbreak of cholera, and the victims of Congo's many ongoing conflicts.
Unlike Ebola, which was contained to the east, COVID-19 has already spread from the bustling capital city, Kinshasa, to the country's conflict-affected eastern provinces: 235 cases have been reported in total. Unlike Ebola, there is no vaccine and no proven drug therapies. And, with countries around the world all battling the same problem, aid groups said external funding will be much harder to come by.
A series of mixed messages on new cases and containment measures – including the abrupt cancellation of a planned lockdown in Kinshasa – has meanwhile reduced public trust in the government's ability to manage the pandemic.
And heavy-handed strategies deployed by security forces tasked with ensuring adherence to containment rules have triggered concern that mistakes made during Congo's "militarised" Ebola response are already being repeated.
"In some ways the biggest danger is the overconfidence of believing that because we've just dealt with Ebola… we can deal with this," said Tariq Riebl, an official with the UN's Ebola emergency response. "This is a completely different ball game."
Funding gaps
With the end of Ebola it was hoped some of the resources amassed over the course of the 20-month epidemic – from treatment centres and laboratories to health workers trained to manage infectious diseases – could be put to new use.
Those plans may now need to be revised as treatment centres reopen for Ebola, responders scramble to trace dozens of contacts of the new case – a deceased 26-year old man – and an epidemiological investigation into the source of the infection commences.
The length of time that passed between the man's death and the last known case of Ebola on 17 February suggests chains of transmission may have gone undetected by responders, and that more cases could soon be discovered.
Even if they don't, it will now be at least 42 days – twice the 21-day incubation period during which transmission between people normally occurs – before the epidemic can be formally declared over.
Read more → Briefing: As Congo's Ebola epidemic draws to a close, coronavirus concerns and relapse risks
While hundreds of millions of dollars were spent fighting Ebola, funding is now in short-supply according to the WHO, which said $20 million is needed to ensure response teams can continue to operate on the ground.
The Congolese government has meanwhile budgeted $135 million to help combat COVID-19 – which threatens a larger number of people in a far greater geographical area than Ebola – but its resources are limited and external funding has not been secured.
"The money came in [for Ebola], but was used mainly by the NGOs themselves, which didn't sufficiently involve or strengthen the national health system."
Though some Ebola funds were spent building new medical facilities, aid workers cautioned that little was invested in Congo's existing health system, leaving it poorly prepared to deal with COVID-19.
There is currently just one laboratory in Kinshasa with the materials needed to test samples in the country of roughly 80 million people, which is causing long delays in obtaining results.
"The money came in [for Ebola], but was used mainly by the NGOs themselves, which didn't sufficiently involve or strengthen the national health system," said Desire Nturo, Ebola response coordinator for FHI 360, a US NGO.
Aid groups said they are keen to help the country manage the new outbreak – some have already adapted their programmes to include coronavirus prevention messages – but border closures and travel restrictions may hinder their efforts to deploy staff.
"For Ebola, we had millions of dollars, 3,000-odd cases, and thousands of staff," said the UN's Riebl. "For coronavirus it is going to be the exact inverse. We're going to have millions of cases, but we're not going to have the same coverage, because so many people are leaving Congo."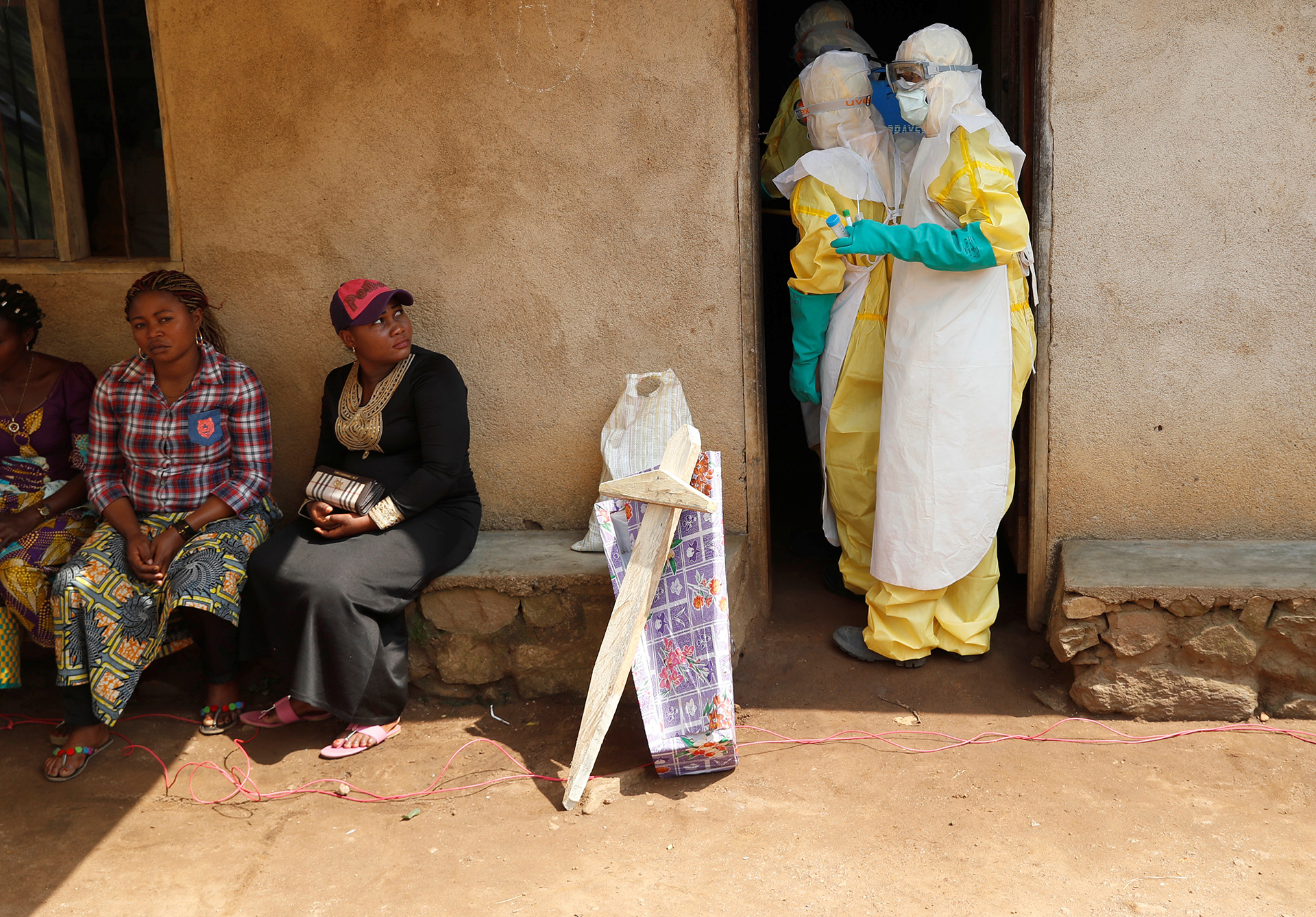 Mixed messages
Though Congo has experience stamping out nine previous Ebola outbreaks, the current one – which became the world's second deadliest ever – has been marred by distrust between residents and responders that has led to hundreds of attacks on healthcare workers, treatment centres, and patients.
Aid groups said the outbreak offers lessons for coronavirus, in particular the importance of ensuring local communities and health workers do not feel left out of relief efforts.
Humanitarian organisations are expected to take a backseat in the coronavirus response, which will be managed through the national health system, with coordination structures already set up in the capital and provinces.
"That is different from what we saw during the Ebola response, where we had a parallel coordination," said Dr. Rigo Fraterne Muhayangabo, country director for International Medical Corps in Congo. "It gives hope that we will not see the same side-effects."
But signs of mistrust in the government have already emerged. 
"It's certain that people are conscious of the gravity of the pandemic, but the decisions made by our leaders have caused a lot of confusion."
Many residents in Ebola-hit areas believed the virus was a money-making scheme. With coronavirus now spreading, the same suspicions are resurfacing, several aid workers said.
Missteps from health authorities haven't helped. When officials announced the first case of the virus in an overseas traveller in March, they got the patient's nationality, country of departure, and location of quarantine all wrong.
More confusion followed when authorities in Kinshasa – a city of roughly 10 million people – cancelled a three-week "intermittent" lockdown shortly before it was expected to start. 
"It's certain that people are conscious of the gravity of the pandemic, but the decisions made by our leaders have caused a lot of confusion," said Rodriguez, a Kinshasa resident who asked to be identified only by his first name.
A partial lockdown eventually went into force in Kinshasa's main commercial district last week, while restrictions have also been introduced in various eastern cities, including Beni and Butembo.
Read more → In Congo, a 'militarised' Ebola response has fuelled community resistance
But rights groups have criticised the way containment measures have been enforced – echoing a common complaint made during the Ebola epidemic, where soldiers and police officers regularly escorted responders and were seen stationed outside treatment centres.
Security forces killed at least three people demonstrating in the capital in late March, according to a UN source who spoke to Human Rights Watch (HRW), while motorbike taxi drivers in Beni told TNH they had been beaten by police officers for breaking travel restrictions.
Security concerns
Concerns are also growing that the virus could aggravate conflicts in eastern Congo.
The Kivu Security Tracker, which maps violence in the region, said camps where rebel combatants were cantoned have closed due to the virus, and added that mediation and demobilisation initiatives involving armed groups may stall.
The government has called on armed groups to surrender, and provincial authorities in the east have requested the Congolese army postpone military operations. Neither demands have been met as yet.
In Beni, where Ebola decimated families and orphaned children, residents are now struggling with soaring food prices and depleted markets as coronavirus restrictions bite. 
"During all of this the population gets poorer and more desperate, more likely to support the rebels," said Kizito Bin Hangi, a civil society leader in the town. "It will be a vicious cycle."
pk-rf/ag
Subscribe to our coronavirus newsletter to stay up to date with our coverage.