As Syria reports its first cases of COVID-19 and aid groups warn of a potentially disastrous spread to the rebel-held northwest, people in and around Idlib province – many of whom have fled for their lives in recent months – are left waiting, saddled with a new sense of dread.
Aid agencies and NGOs have been planning for the pandemic's arrival, disinfecting camps and trying to work out how medical care and containment might work in a part of the country where many hospitals and clinics have been bombed out of service during the long government offensive on rebels in the area. A ceasefire, holding for the most part since-mid March, has allowed for some level of preparation.
For Nisreen al-Mahmoud, getting ready means sitting inside her makeshift tent in a crowded displacement camp and barely stepping outside. There is little more she can do. 
At 60 years old, and suffering from diabetes, she fears she is at increased risk if the new coronavirus, which causes COVID-19, reaches the informal encampment north of opposition-held Idlib city where she lives with her son.
President Bashar al-Assad's government reported five COVID-19 cases as of Thursday, and while no cases have been confirmed in the northwest – the World Health Organisation says limited testing will start there any day – that hasn't stopped people like al-Mahmoud worrying.
"I'm afraid of this illness; I heard about it from other people [around me]," al-Mahmoud said, speaking to The New Humanitarian by phone earlier this week when Damascus had still confirmed only one case. "We don't have much information, but I've been told that [the virus] kills the elderly, and I'm already sick." 
Al-Mahmoud and her son fled a bombardment on their hometown in southern Idlib one month ago, eventually finding themselves in the camp outside Batbo, a village in the province's north. After escaping one deadly front line, she now has new, very different, concerns. 
"I'm afraid of dying, and I hope it's not from this illness." 
"I can't sleep at night anymore. My mind is occupied with how I'm going to protect myself and stay away from other people during this period, since I heard that we shouldn't mix with others," she said. "I'm afraid of dying, and I hope it's not from this illness." 
Undetected spread?
Makeshift camps like al-Mahmoud's are a serious concern for both humanitarians and the people living in them. 
Nearly a million people have taken flight in the northwest since December, when the government offensive intensified, and most are now sheltering nearby, in Idlib and Aleppo provinces. Many people are staying in poorly serviced camps, hastily built and without running water. Some tents house more than one family; others saw their dirt floors turn to mud this past winter as cold rains flooded campsites along the northwestern border with Turkey. 
Proper latrines and other necessities are often lacking, and buying even basic groceries is a financial burden for many displaced families. 
This could make a fertile breeding ground for the virus. In all of the rebel-held northwest, there are only 201 intensive care unit (ICU) beds, 59 of which are equipped with the ventilators needed to treat patients with severe coronavirus symptoms, according to Dr. Fadi Hakim, a Turkey-based spokesperson with the Syrian American Medical Society (SAMS), which provides funding to medical facilities across the border in northwestern Syria.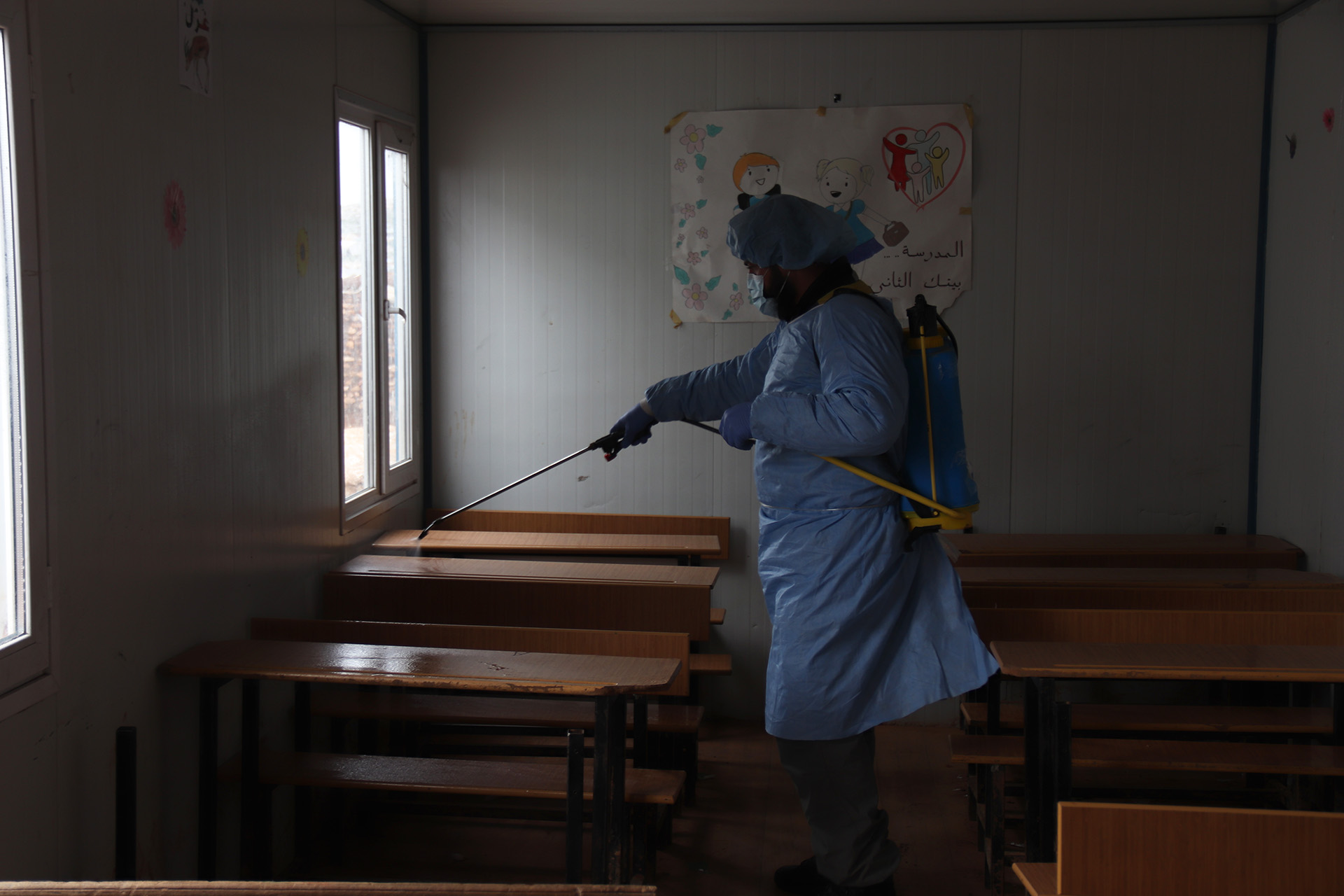 "Even these beds aren't free, because of patients already coming into the ICU with different medical needs," Hakim said. "I'd say the preparedness level is very low."
"There's a shortage of just about everything," said Dr. Haitham Diab, a surgeon from southern Idlib now working in a hospital near the border camps: "Hand sanitiser, medical masks, hazmat suits." 
All of this is compounded by the concern that COVID-19 has already been spreading in the northwest, undetected. After Syria announced its first confirmed case on Sunday night,, UOSSM, a coalition of organisations that provide medical care in Syria, said in a statement that it suspected a "significantly higher number of cases that have gone unreported" due to the country's devastated healthcare system. 
The group predicted a "parabolic jump" in cases over the next two weeks in the northwest, where it is concerned that "years of war and malnutrition have left many people's immune systems compromised and the entire population susceptible to drastically higher mortality rates".
Difficult isolation 
Even those people who have managed to secure decent housing in the northwest are concerned, and hunkering down as much as possible.
"This area is ripe for the spread of coronavirus," said Sonia al-Ali, a freelance journalist renting an apartment with her husband and children in Sarmada, a town some seven kilometres from the Turkish border. They fled their hometown in northern Idlib province several months ago.
Al-Ali said she now spends her days indoors with her children, leaving the house "only for necessary trips" in order to protect herself from the virus. She wears a medical mask and gloves when she can. 
Her family is relatively lucky.
Elsewhere in Sarmada are sprawling informal camps, where Dr. Yussuf Hassan – a dentist from the southern Idlib city of Ma'arat al-Numan – said "people are afraid, they're fearful of what they're seeing on social media".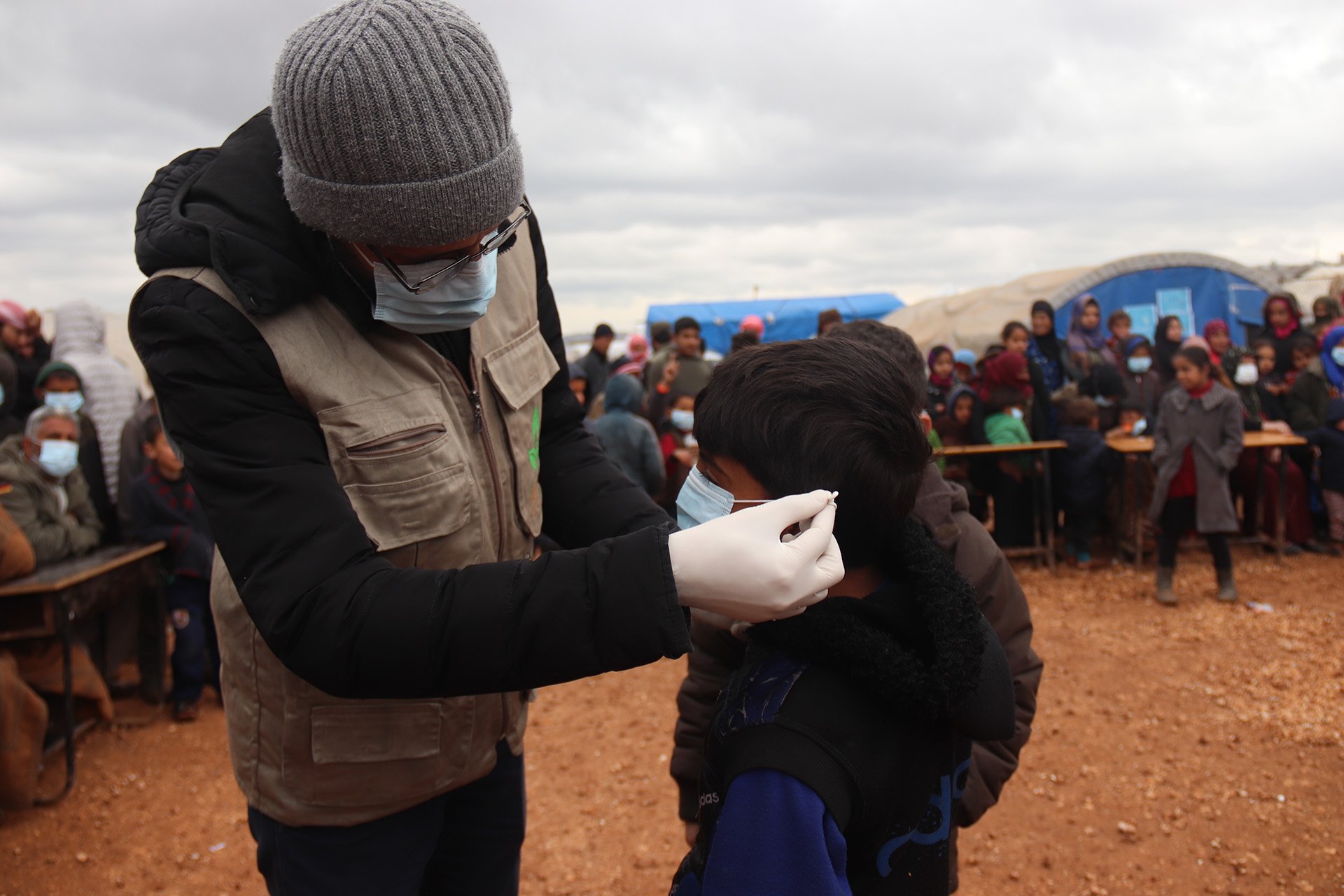 Hassan fled home several months ago and now runs a clinic in the border town of Atmeh. 
"So far, my own clinic hasn't seen any changes," he said. "But in the coming days I anticipate there may be less patients coming in for check-ups, as people hear that [coronavirus] could spread here." 
He and others wonder if it is only a matter of time, given the conditions many people are living in. 
Muteeh, a displaced man living in an unofficial encampment in northern Idlib, said he "usually" doesn't have enough money to buy tanks of clean water for washing his hands and bathing. Other residents elected him the unofficial camp "director", he said, but so far his attempts to coordinate aid to the settlement have been largely unsuccessful. 
"I'm afraid that corona entering the camps could cause a catastrophe." 
"We go more than a week without bathing just to save whatever water we have for drinking, even if we know it's dirty," Muteeh, who asked that only his first name be used because of security concerns, told TNH by phone. 
At 42 years old, Muteeh said he is already suffering from Hepatitis B. He relies on a monthly aid delivery for food. 
While he knows that social distancing and isolation are recommended to prevent contagion, he said it is "impossible" to do so in his tent, which is already too cramped to sit in for long periods alongside his nine children. Plus, the few latrines available in the camp require a walk.
Residents like him are responsible for collecting garbage in the area, he said. "I'll do what I can to wash my hands and protect my children if coronavirus comes here," Muteeh added. But he wasn't optimistic. "I'm afraid that corona entering the camps could cause a catastrophe."
If he's right, it will be the latest in a series of disasters to befall civilians in Idlib, said al-Ali, the journalist: "Coronavirus has only increased our daily suffering. Despite all the displacement and the bombing, now we also have to be afraid of this dangerous pandemic. It's another burden to bear."
mah-me/as/ag
Subscribe to our coronavirus newsletter to stay up to date with our coverage.