Romida Begum sat on a chair in her tent home. Nearby, her older male assistant eyed her with a sideways glance. Romida – 27, a woman, and a refugee – couldn't help but smirk: for once in her life, she was in charge.
Last June, Romida and other refugees headed to the polls in Shalbagan camp, one corner of the massive Rohingya settlements in Bangladesh that are home to more than 900,000 people. That's how Romida found herself thrust into the position of camp leader, representing her community before Bangladesh's government, the army, and aid groups.
However, interviews with Romida by The New Humanitarian over the past year show how attempts to make camp leadership more democratic have met resistance from an entrenched male-dominated system. And her experiences also signal the difficulties women face in their new leadership roles, even as aid groups make plans for further elections.
Months after fleeing a military purge in Myanmar, the refugees in Shalbagan were asked to choose leaders to represent their part of the camps. Stripped of rights and citizenship in Myanmar, most were voting for the first time in their lives.
Suddenly, Romida had more responsibilities as a refugee in Bangladesh than she ever had back home in Myanmar's Rakhine State – where generations of Rohingya were disenfranchised by apartheid-like government policies, and where women in conservative Rohingya communities are largely expected to stay home.
"Finally there is something positive about us fleeing from home," Romida said, beaming, when TNH first met her shortly after her election victory.
But not everyone believes Romida, or other women, are up to the task of leading.
Most of the camps are now headed by unelected Rohingya known as majhis, who Bangladesh's army installed as a stopgap measure after a Myanmar military purge pushed 700,000 people across the border in August 2017 – multiplying the existing refugee population in a few short weeks.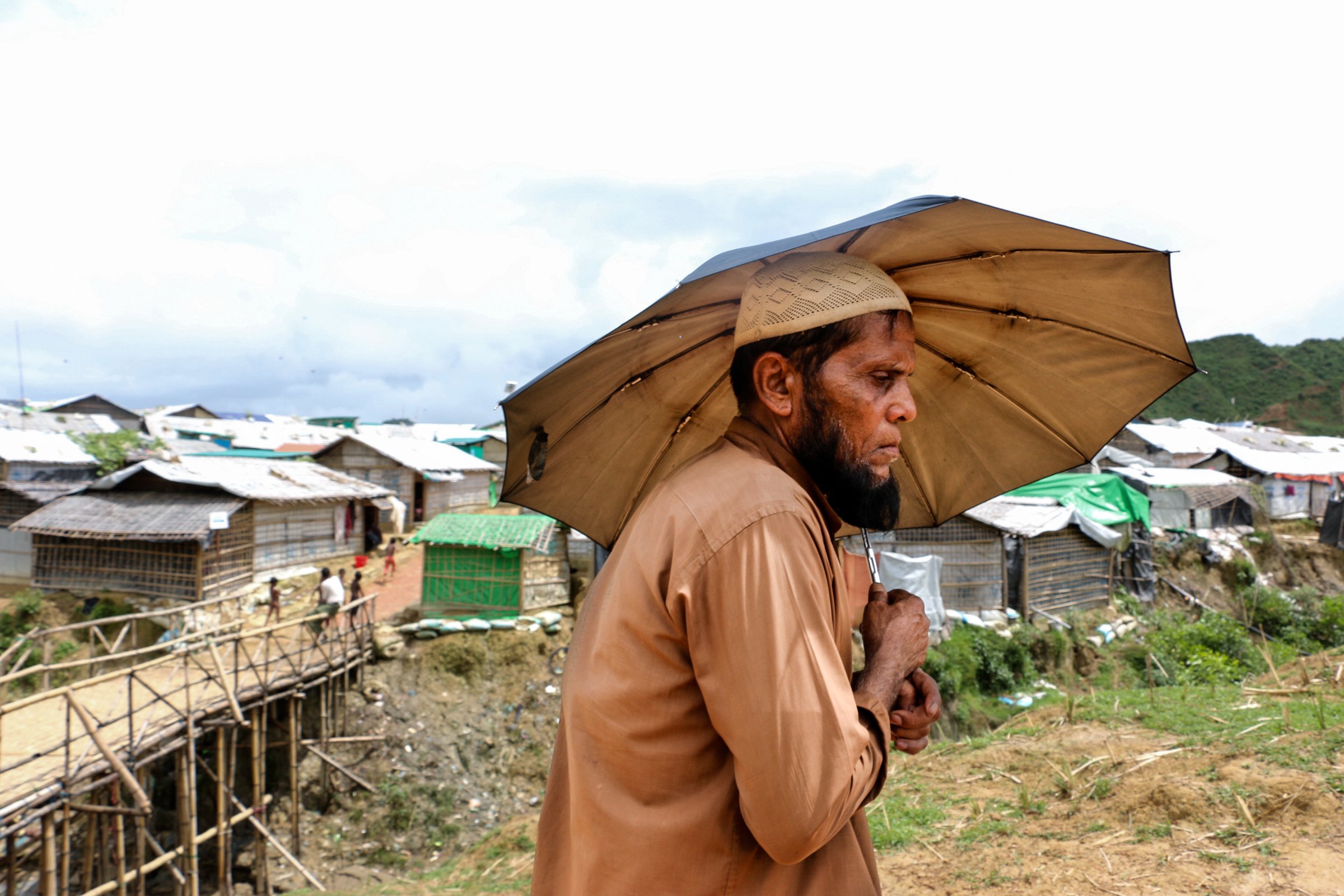 Ayob, a majhi in another part of the camps, was appointed after the influx.
He spoke in a gravelly voice – he had a sore throat, he said, from mitigating a quarrel over money between two refugees the night before.
"These two men would have never listened to a woman," he said, grumbling.
The vote that elected Romida was part of a "community governance" pilot scheme – led by the UN's refugee agency, UNHCR – that intends to replace the majhi system and bring more representative leadership to Bangladesh's camps. So far, polls have been held in four of the 34 crowded camps.
Rights groups say the existing majhi system is especially unrepresentative for women and girls – the majhis are almost exclusively middle-aged men. They hold inordinate power: as both representatives of and arbiters for their communities, and also as gatekeepers for some of the vital humanitarian assistance on which most refugees depend.
Refugees and rights groups accuse majhis of corruption – in conversations with TNH, many Rohingya referred to them as "bloodsuckers". One recent survey found one in three Rohingya had "little or no" trust in the majhis.
Learning to lead
Each of the 34 camps are subdivided into smaller sections. Romida's job is to represent 16,000 refugees in three camp blocks. Rather than political leadership, she helps facilitate the work of humanitarian groups, alerting NGOs and the Bangladeshi authorities when there are infrastructure problems like broken bridges or overflowing latrines.
When Romida was first elected last year, she worried she might not be knowledgeable enough for her new job. But after receiving training on camp management and conflict resolution, she began to settle in.
Colourful cloths decorated the ceiling and walls of her bamboo shelter, which she had partially converted into a community space. A woman in the camp had brought her husband: she wanted Romida to sort out a dispute.
The woman, Ambiya Khatun, sat on the floor with an icy stare. Her husband regularly disappeared, she said, forcing her to beg for food from her neighbours.
Sitting on a plastic chair next to Romida, Mohammed Rafique, the husband, said he didn't want to work as a rickshaw driver or any of the other unofficial jobs available – he's a painter, he said. But nobody needs a painter in the camps.
After listening patiently, Romida appealed to Rafique's conscience. "We live in a refugee camp now and we need to adapt to our new circumstances," she said, calmly.
In her role as camp leader, Romida tries to settle disputes like this almost every day. Some of her neighbours appreciate her ability to listen.
"We females like to discuss things with another woman," said Shahina Begum, one of Romida's constituents. In the election, the 23-year-old voted for "rose" – the symbol Romida had chosen to identify herself on the ballot paper.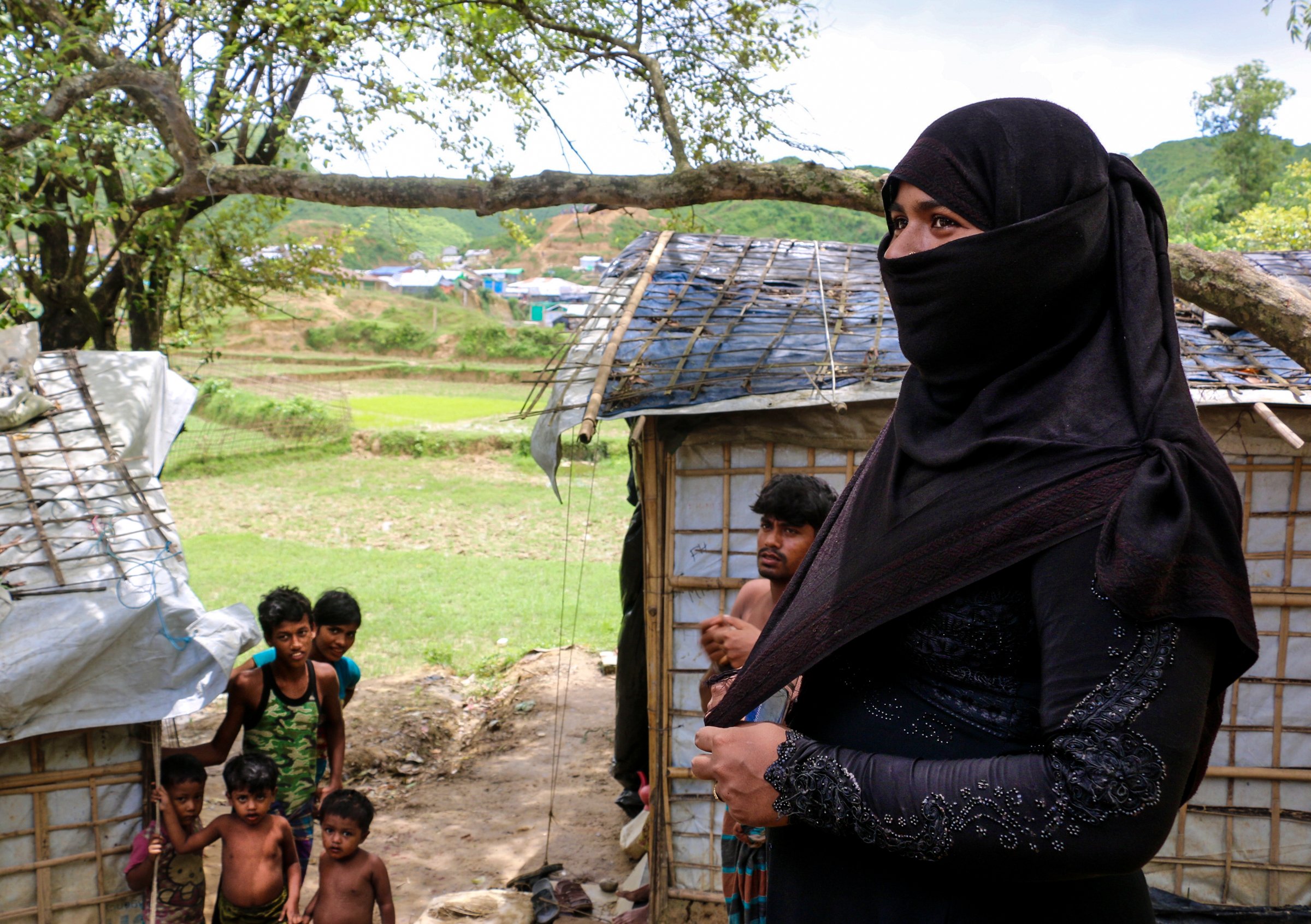 Romida spends her days with her hands wrapped around her phone – she needs to be reachable. "I did not imagine all of these tasks," she said, when TNH first spoke with her in July 2018.
Being useful to her community is meaningful after a lifetime of hardship in Myanmar and now Bangladesh: "It makes me feel good," she said.
And as a camp leader and "chairman" of her three blocks, she has the opportunity to explore the world around her, even if it's only the short walk from her shelter to the office of the government representative.
"Before being a chairman, I never left the house," Romida said. "Now I go out a lot."
Resistance to new leaders
But while Romida has learned to work with humanitarian groups and enjoys helping out her community, she has also faced resistance, even threats, from men reluctant to have a woman as their representative – including the unelected majhis. And she has grown frustrated trying to balance her newfound responsibilities with the realities of being a refugee.
The election rules have quotas ensuring that women have a voice: both men and women are represented on camp committees, and either the camp leader or the deputy must be a woman.
But female leadership represents a stark change in conservative Rohingya society. UN Women, which works on gender issues in the camps, has questioned whether the community as a whole is ready. The group was not involved in planning the election process but offers leadership training to the newly elected women.
Romida's detractors contend that she doesn't have the experience to be in charge.
"If she's still learning, she should be a student not a teacher," said Nuru Salam, a majhi in Romida's camp, sipping his tea in a bamboo hut that had been turned into a cafe.
Back in Myanmar, Nuru was chairman in his Rohingya village. In Bangladesh, the army appointed him a majhi. The idea of being replaced by a woman doesn't go over well with him.
"She can't even tell the community what the officials say because she doesn't understand," he said.
Nuru ran in the same election as Romida; he didn't win, but he still has influence as a majhi. The other refugees still call him "okata", or chairman, he said.
UNHCR officials have said they expect change to be slow: many refugees that look to the majhis for leadership won't necessarily turn to newly elected leaders like Romida overnight.
Read more: Crime in the camps
Security has long been a concern in Bangladesh's overcrowded camps, but the rapid expansion of the refugee settlements after August 2017 has made the issue more pressing.
Refugees and civil society leaders speak of receiving threats because of their work.
In an April report, the International Crisis Group warned of a need to improve law and order in the now city-sized camps. The report said there was a struggle for control among many different sides, including criminal gangs, informal leaders, and militants with the Arakan Rohingya Salvation Army (ARSA) – blamed for attacking Myanmar border areas in 2017, which directly preceded the military onslaught on civilians.
Rights group Fortify Rights has accused ARSA of abducting and threatening camp residents, including Rohingya women who worked with aid agencies, or others seen as being "informants" for authorities in Bangladesh or Myanmar. The group has denied the claims on social media.
In a June survey, Ground Truth Solutions, which researches people affected by crises, said "theft, attacks, fights, and violence have emerged more clearly as key concerns" among Rohingya refugees.
But the past year has been difficult for Romida, who feels like she doesn't wield much actual power despite her elected position.
"I am not sure if my voice really matters," Romida said when TNH met her again early this year, after she had spent months as camp leader.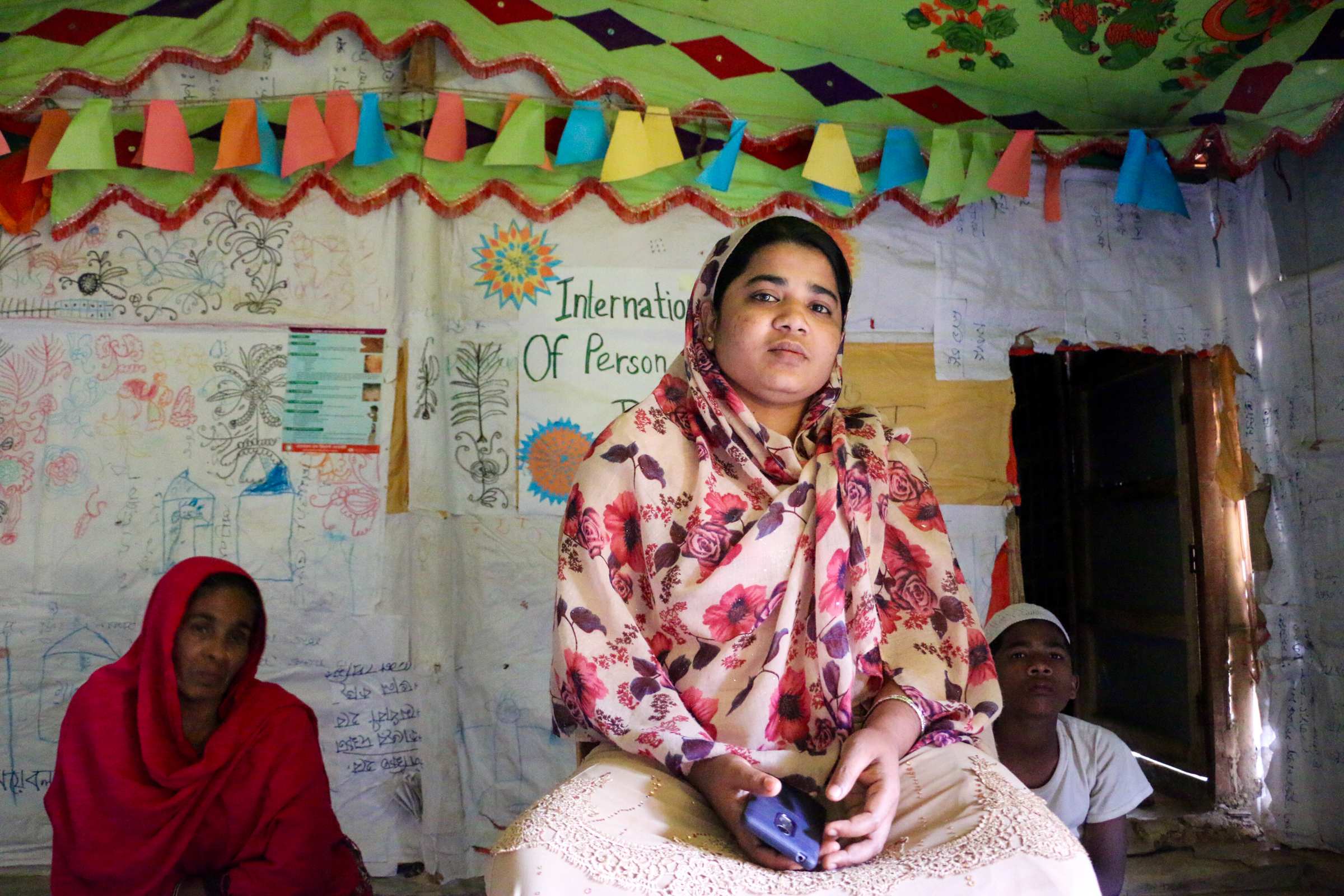 Her tent home – doubling as her office and community hall – was adorned with posters bearing drawings and human rights slogans. Her fingers still latched tightly around her phone, but she was beginning to question her role.
She said dealing with the majhis in her community has been taxing.
Some majhis are connected with "powerful gangs", she said, declining to go into details for fear of reprisals: "If I report, it is dangerous for me. As a woman, I am scared."
It's not just the threats or resistance from majhis: the job of camp leader itself is unpaid. When she applies for short-term work with NGO programmes, she's often rejected and told she already has a job. "I need to somehow support my family," she said.
When TNH spoke with her again last month, Romida had been in office for more than a year, and aid groups were still planning further elections. After her initial excitement at being elected, Romida decided that she'd had enough.
"For the next elections," she said, "I won't run again."
(TOP PHOTO: Romida Begum covers a smile as she meets with TNH after winning the job of camp leader in an election held in June 2018. Polls have taken place in four of the 34 Rohingya refugee camps.)
vh/il/js/ag