Hna Mon Non fled her village in the hills of Myanmar's northern Shan State to escape clashes between warring armed groups. But there was a new danger waiting in her family's cornfields when she returned: an explosive that killed three people and sprayed her with metal shards.
In late March, Hna Mon Non's family joined around 10,000 displaced people returning to their villages across the northern Shan townships of Hsipaw, Kyaukme, and Namtu. Their harvest had been interrupted five weeks earlier when renewed fighting between ethnic armed groups sent rocket-propelled grenades hurtling across their farmlands.
Aware of the risks of unexploded ordnance and landmines, they were cautious and stuck to well-worn paths.
"I wasn't afraid," said Hna Mon Non, 16. Then came the blast triggered accidentally by a 12-year-old boy in the early hours of 30 March.
"Nobody goes to the cornfields now," she said, rubbing the wounds on her knee that add a limp to her stride. "But we want to. The corn is all we have."
Hna Mon Non is among at least 99 people injured by landmines and other war remnants in Myanmar between January and May this year. Casualties from landmines and other explosives have more than doubled over the last five years, fuelled by renewed conflict in the mountainous north. The hidden threat of landmines is driving a youth exodus away from rural villages and creating new dangers for frequently displaced families returning home.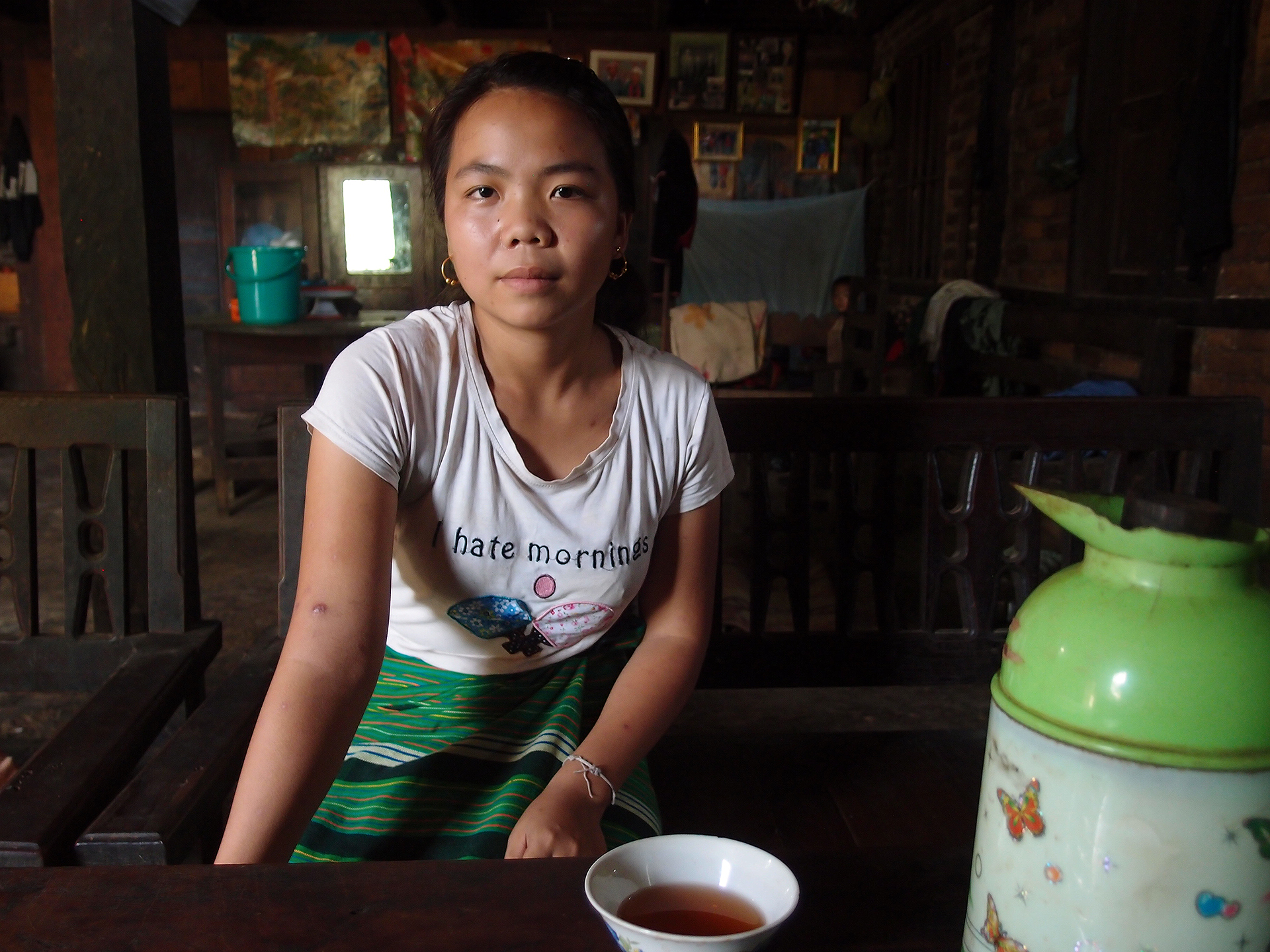 Myriad rebel groups from ethnic minorities are battling for territory in Myanmar.
Since late 2015, people living in the remote hillside villages of northern Shan have been intermittently forced from their homes by clashes between the Ta'ang National Liberation Army (the Ta'ang are one of the main ethnic groups in Myanmar's north) and the Shan State Army-South, the armed wing of the Restoration Council of Shan State (RCSS) – one of several organisations drawn from the ethnic Shan minority. Both are accused of using landmines and leaving behind dangerous explosives.
Local groups say the fear of contaminated land is destroying rural livelihoods and pushing working-age people to migrate: young people are leaving their fields behind to look for jobs in neighbouring China and Thailand.
"Our villages are emptying. There are only babies and old people left," said Lway Hlar Reang, secretary of the Ta'ang Students and Youth Organisation, a civil society group in Lashio, northern Shan's largest city. The organisation estimates that 65 percent of young Ta'ang people have crossed the border to find work since late 2016.
Rising casualties
In 2018, Myanmar was one of eight countries in which landmines were used by armed groups – and the only country where they were deployed by government security forces, according to the Landmine and Cluster Munition Monitor, which tracks the use and impacts of landmines and other explosives.
Myanmar's government adopted its Nationwide Ceasefire Agreement, along with eight ethnic armed groups, in 2015. The pact includes provisions for landmine clearance, but intermittent clashes continue among some ceasefire members and there are no active demining operations in the country.
Last year, there were 276 deaths and injuries from landmines and other explosives – more than double the 112 casualties recorded in 2015, according to Myanmar's Mine Risk Working Group, chaired by UNICEF and the government.
Read more → Briefing: Hundreds of landmine deaths and injuries each year despite ban
Most of the explosions were concentrated in the tea- and corn-growing hills of northern Shan and neighbouring Kachin State, where armed groups have staged long-running clashes with the Myanmar army and with each other. More than 106,000 people forced from their homes live in camps, and others like Hna Mon Non are temporarily displaced by repeated fighting.
Jai Hong Kham, executive officer of the Restoration Council of Shan State, told The New Humanitarian that the group opposes the use of landmines because of the detrimental impact they have on villagers working in their farms or scavenging in the forest. "We use them only when it is necessary to protect our bases from enemy attacks," he said in an email.
But local residents, many afraid to be identified by name for fear of retribution, told another story.
"If we enter the tea plantations that the RCSS army has declared unpickable, we know we won't return," said one village leader in the hills outside Hsipaw town. "By entering those areas, you declare yourself an enemy, and for that they can do anything to you. Either you step on a landmine or you are taken or shot by the soldiers guarding the hills."
Today, only 17 of 143 plantations around his village are safe enough to enter, the village leader said. A teenage girl and two buffalo herders were killed in separate explosions there last year. There are no warning signs or fences near the contaminated areas – just weeds and overgrowth that demarcate the unpickable tea from the pickable.
Many here say there has been a noticeable increase in the use of landmines in recent years.
"In the past, the ethnic armies and the government fought for a few days and then left again. They didn't leave behind mines," said Yin Shwe, 43. Her family has three plantations outside Hsipaw, but this year all are littered with landmines.
'There was no way to make money in the village'
Yin Shwe's village was once home to 100 households, but the contamination of tea plantations and farmland – the main source of income for rural communities in the northern Shan hills – is contributing to a youth exodus.
"There is only one family left in our quarter, and 40 left in the whole village," Yin Shwe said. "The rest had to go somewhere else to make money so that their families could eat."
The national census reported that 236,000 Shan State residents were living abroad in 2014. But aid worker Matthew Maguire, who has worked with youth groups across the state, noted a spike in cross-border movement in late 2016 and early 2017 as clashes intensified.
"It's the perfect storm: young people who have long seen their parents' hardships living off the land, fighting, landmine contamination and the risk of forced recruitment."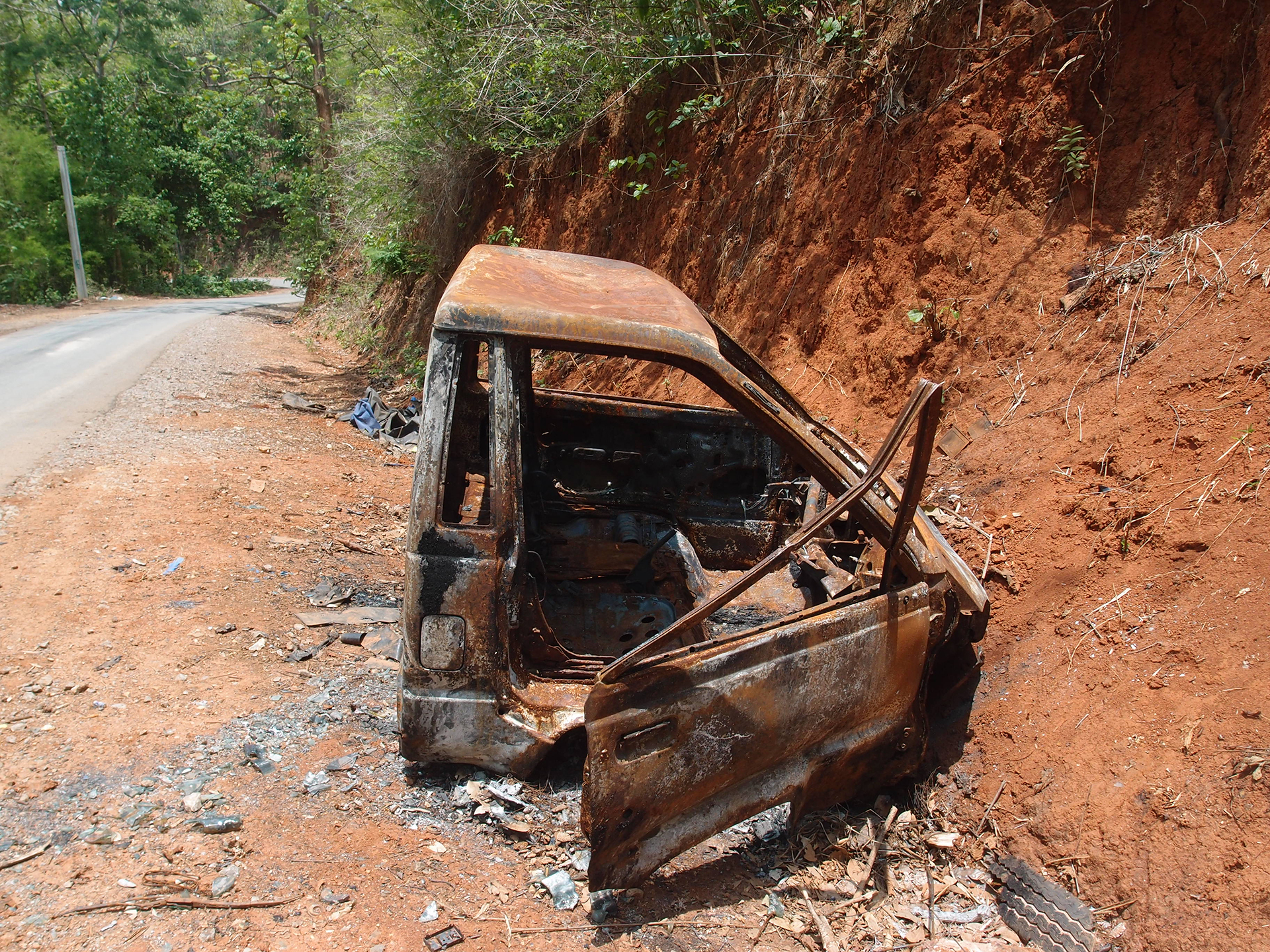 "Conflict has expedited migration from northern Shan State," he said. "It's the perfect storm: young people who have long seen their parents' hardships living off the land, fighting, landmine contamination and the risk of forced recruitment."
Hlaing Htun, 22, crossed into China on a seven-day tourist pass at the end of 2016. For 18 months he worked in a factory under the radar of Chinese authorities, packaging engine fans and sleeping in barracks with other Myanmar migrants.
"It's not that I wanted to go to China, but there was no way to make money in the village. I was afraid that if I stayed I'd step on a mine or be recruited by an armed group," he told TNH in the tea-trading centre of Kyaukme. He moved there from China last year to be closer to his mother after his father died.
The Danish Demining Group of the Danish Refugee Council says that of the 188 villages where it has conducted rapid assessments in northern Shan, 77 percent are suspected to contain landmines. Active conflict means they and others rely on piecemeal information from villagers, authorities, combatants, and hospitals, as permission has yet to be granted to conduct surveys for mapping and clearance.
Shan State's parliament has not discussed the landmine issue, legislator Nang San San Aye of the Shan Nationalities League for Democracy, the largest Shan political party in Myanmar's national legislative body, said in an email. "Aside from negotiating with the armed groups to stop the war, we are not in [a] position to do anything," she wrote. "We give our suggestion about landmines to the armed groups. But armed groups will not listen to us, just the orders from their generals."
Returning to contaminated land
While the threat of landmines has accelerated migration away from many villages in northern Shan, some are also choosing to return despite the risks.
The Danish Refugee Council says some people who have lived in displacement camps for years are returning to their old villages and farmlands, fed up with limited livelihood opportunities in the urban camps.
"When we hear that people are leaving IDP camps to go back to villages, we go immediately to deliver mine risk education and advise them on areas which might be dangerous," said Lejla Susic, the group's mine risk education manager. "It's a preventive action: not a silver bullet but it helps."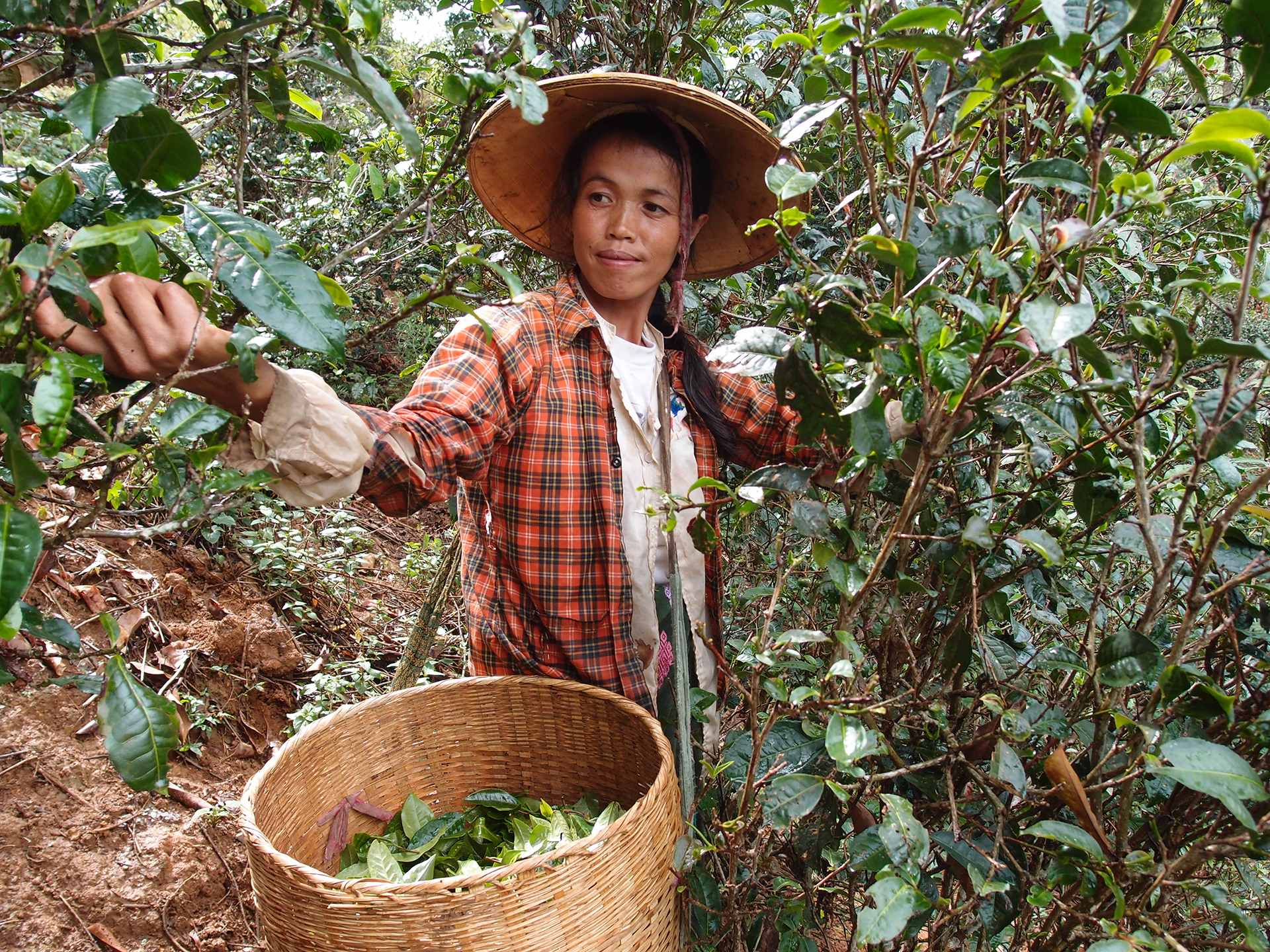 For those contemplating a return home, the future is hazardous.
"Even if the conflict ends tomorrow and the authorities give us permission to flood the area with metal detectors and staff, it could take 10 years or more to clear all of the mines from Shan State's hard-to-reach mountain areas," said Lway Ai Aww, the Shan programme head for The HALO Trust demining group.
Ta'ang youth leader Lway Hlar Reang said it's still hard to keep people off their land.
"We Ta'ang people depend on tea-farming. We don't have other options," she said.
Even when communities are told about the dangers, many people still return to their contaminated fields: "Livelihoods and the survival of their families weigh more heavily than the risk of injuries," she said.
But former labour migrant Hlaing Htun holds little hope of returning home.
"We have everything in the village: our house, our tea plantations," he said. "If one day there is peace, I will definitely go back. If not, I cannot."
(TOP PHOTO: A young monk accompanies his mother as she picks tea on the slopes leading up to their village. Local families fear an overgrown plantation 100 metres away is contaminated by landmines.)
mc/il/ag