Journalist Yardin Hasan barely survived the disaster that flattened much of the Indonesian city of Palu last September. Today, he leads a group of local journalists trying to hold their government to account as his city's recovery lurches forward.
More than 4,400 people died, or are still missing, after a series of earthquakes sent tsunami waves crashing into coastal Central Sulawesi and liquefied entire neighbourhoods in Yardin's hometown of Palu.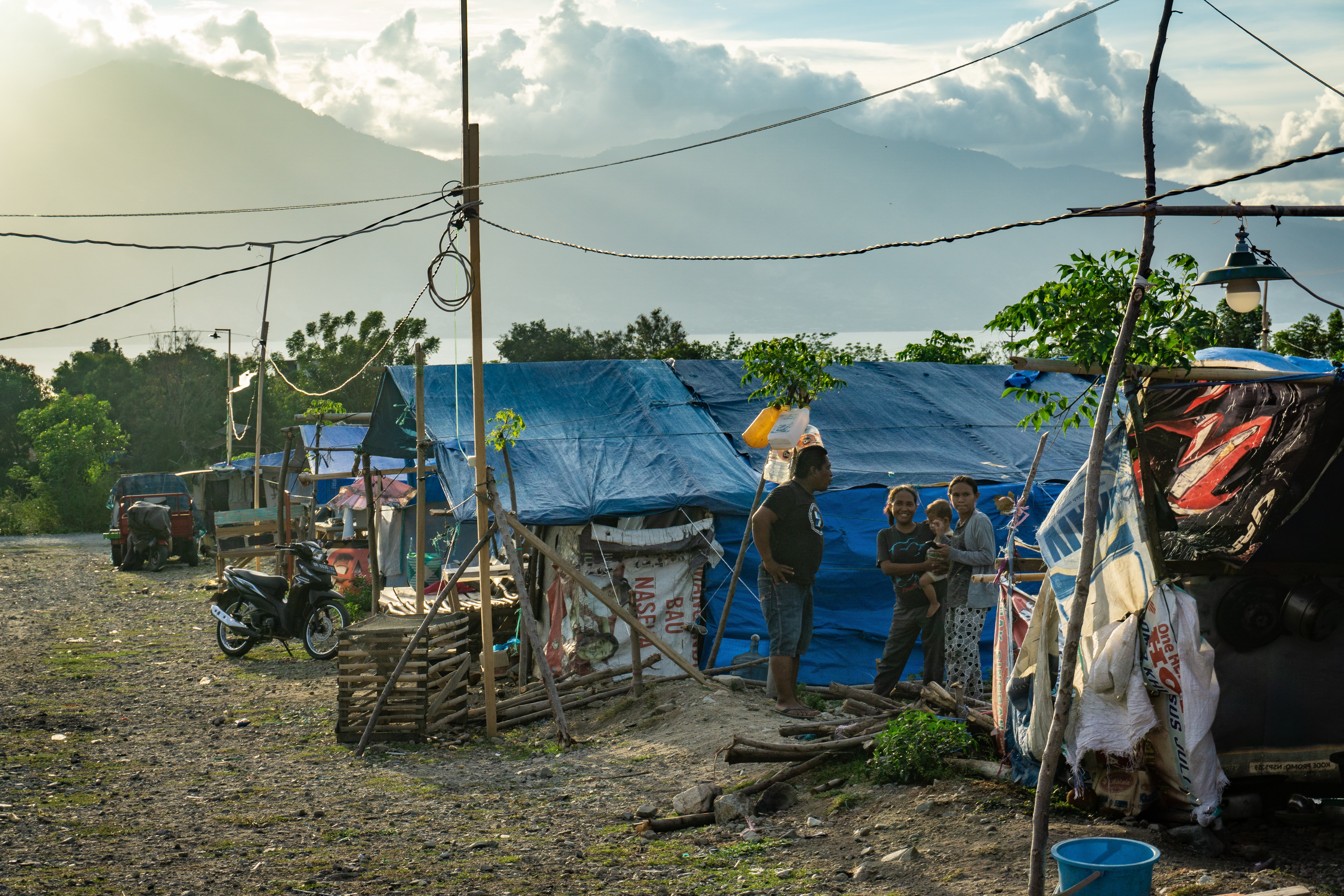 Six months later, roughly 170,000 people are homeless and thousands are still living in emergency tents or rickety makeshift shelters patched together after the quake. Their livelihoods lost, many rely on government-distributed aid while waiting for help to begin rebuilding.
The government estimates it will take $2.8 billion and at least three years to rebuild Palu and its surrounding villages.
The disaster grabbed global headlines and ushered in a torrent of foreign journalists to cover its impact. But as the weeks passed and international and national media moved on to other stories, local journalists like Yardin have stayed behind to cover a sole topic: Palu's long recovery.
Yardin is the editor of Kabar Sulteng Bangkit, a donor-funded news outlet staffed entirely by local journalists whose own newspapers and TV stations shut down during the disaster.
Kabar Sulteng Bangkit, which means "news of reviving Central Sulawesi", is a grassroots attempt to fill important post-disaster needs: communicating with survivors, and holding official aid and rebuilding efforts accountable.
"The mainstream media now tends to think the earthquake recovery efforts are over and that we've left the emergency period," Yardin said. "But the recovery is long. It has to continually be given attention."
READ MORE: Keeping Palu in the news
Kabar Sulteng Bangkit's page has nearly 9,000 "likes" on Facebook, and its journalists have published about 350 individual articles since its founding in mid-November. KSB editors say Facebook stats suggest their stories have reached 300,000 users.
While its launch was welcomed by local journalists put out of work by the disaster, KSB's pay rates are modest – the equivalent of $3.50 per story. But its contributors say they feel a responsibility to act as watchdogs tracking the recovery process and the substantial aid and rebuilding funds expected to flow in.
Rolis Muchlis, a local reporter for the national broadcaster KOMPAS TV, said Sulawesi earthquake coverage only lasted a few weeks because national media quickly moved on to other disasters, including a high-profile plane crash that killed all 189 people on board in late October.
"That's when Palu news was lost," said Rolis, who occasionally contributes freelance stories to KSB, but has a harder time convincing his own editors. "Even when there is so much happening here, we keep sending pieces to editors but they don't get accepted."
Like many media organisations, KSB is in a constant struggle to survive. Its initial costs were bankrolled by Internews; funding from Canal France International, a media development organisation, helped replace damaged equipment. But its current costs are floated largely by the national journalism association, AJI.
Later this year, International Media Support, a Danish media development NGO, plans to fund training in investigative and data reporting for 10 local journalists, including current KSB reporters.
"After three or four months, media and all other watchdogs start forgetting the story, but the ground situation remains the same," said Ranga Kalansooriya, regional advisor for IMS in Asia. "People are still in camps; people are still suffering; government or international funds come in."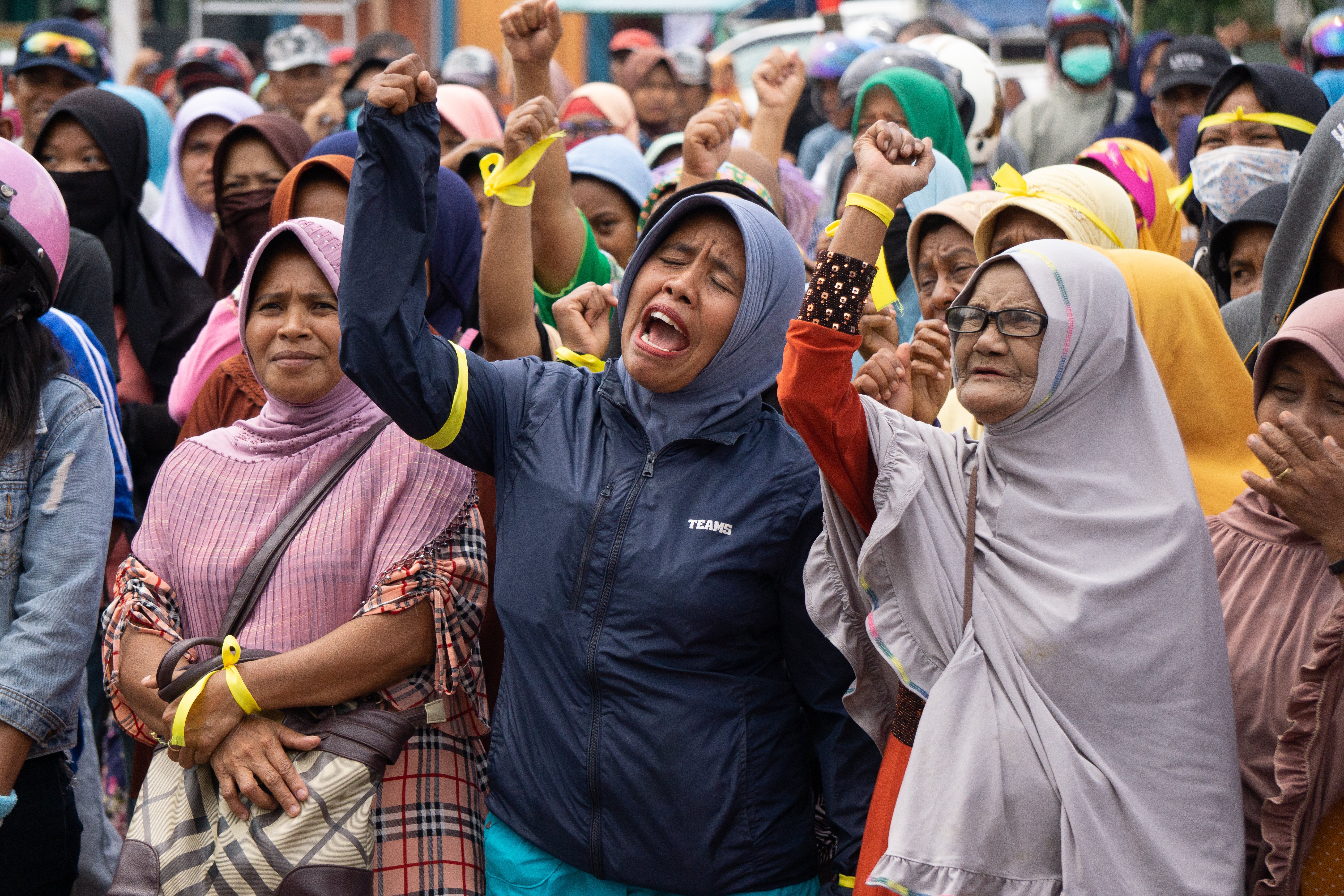 Survivors' voices
After such a massive emergency, many survivors say they're still not being heard. Earlier this month, hundreds of survivors burnt tires and protested outside the Palu mayor's office, saying they had been kept in the dark about their city's recovery. Protesters said they didn't know where to lodge complaints, and that the national media rarely covers their problems.
These issues aren't a surprise to Yardin, the KSB journalist. This month, he stood interviewing Rosmini, a Palu woman who lost her husband and her home during the earthquake. He had filled three pages of his reporter's notebook before he realised that Rosmini didn't understand what type of government aid she was entitled to receive.
Yardin finds many survivors know little about the policies that will determine their futures, so he posted Rosmini's story to KSB's Facebook page to highlight the issue.
"We have to take the view of the refugees, because few others will," he said.
Published solely on Facebook, KSB's team of freelance journalists has reported stories on unemployed food stall owners unable to return to work, survivors rebuilding with their own money because they haven't received any help, and government-run shelters with no electricity.
The global humanitarian sector has promised to be more accountable to the people who receive aid, but in many disasters the views of survivors themselves are often secondary. In Sulawesi, many say they've been left in the dark about government recovery plans and even available aid programmes, six months after the disaster struck.
Disaster news
Kabar Sulteng Bangkit's proponents say it's Indonesia's first-ever disaster news service – created to report on a specific emergency.
"At the beginning, we didn't know what form it should take," said Ika Ningtyas, a journalist and a national director for the Indonesian Independent Alliance of Journalists, or AJI, which solicited donor funding to create KSB in the weeks after the September earthquakes. "What should it be like? What kind of content exactly?"
Over the ensuing weeks, KSB's disaster reporting has taken on a distinct tone: the outlet avoids stories focused solely on heartbreaking tales of loss or gory photos showing blood. Instead, the stories highlight survivors' needs and inadequate aid, or explain government policy.
"Usually, after disaster, the kind of news that is published especially in Indonesia is just about blood and victims being put on display," said Firmansyah Syamsi, who works with global media NGO Internews, which helped fund KSB's initial start-up costs. "That really violates journalistic ethics. So we promote the perspective of victims, so that victims feel they are heard."
Yardin started working with KSB in mid-November. On top of the loss of life, the Palu earthquakes wrecked the local economy and shut down businesses – including local media outlets like the Palu Ekspres, where Yardin worked.
The newspaper's office and equipment were badly damaged or destroyed. The editor lost his home and fled the city. Yardin said a mudslide stopped just 10 metres short of his own house, but turned another reporter's home to ruins. Two other colleagues are believed to have been buried under rubble, though their bodies have not been found.
Yardin remembers the first time he felt KSB stories were making a difference. When the government unveiled new temporary housing for earthquake survivors in December, he reported on complaints from residents with disabilities whose wheelchairs couldn't fit in the narrow doorways.
"We took a picture and published it, and the district chief publicly requested to have it fixed," Yardin said.
Quelling rumours
Across the humanitarian sector, there's a growing realisation of the importance of communicating with disaster survivors – including actively seeking feedback from aid recipients themselves.
In the weeks immediately following the Central Sulawesi earthquakes, for example, misinformation spread like wildfire across social media and in quickly built tents and makeshift shelters. False rumours spread that corpses found in the waters of Palu would infect fish, or that another much stronger earthquake was on its way and would send the entire city into the sea.
For a month after the earthquake, local station Radio Nebula was the only local broadcaster still on the air. An Indonesian NGO set up to address information needs after disaster, First Response, donated 250 radios to be distributed across the quake-hit area. Radio Nebula cancelled its regular programming to air live interviews with survivors and aid officials, devoting airtime to question-and-answer sessions from listeners.
"With the radios, refugees could get information that wasn't fake news," said Andre Delano, a manager at Radio Nebula. "People started listening more because we always had sources on air that were responsible."
Radio Nebula has since returned to its regular programming – it's known locally as "the hits music station" – but it still broadcasts a weekly call-in show with the Indonesian Red Cross, featuring government officials and aid workers.
On one recent broadcast, the organisation's regional manager, Haris Abdullah, came on air to discuss the role of volunteers. But residents called in with their own concerns: the need to repair damaged irrigation on farmland.
Haris said the weekly show plays a small but important role.
"We have to educate, to let people know that we are here," he said.
(TOP PHOTO: Yardin Hasan interviews residents of a temporary shelter in Palu for Kabar Sulteng Bangkit.)
im/il/ag