Dry taps, burst pipes, human excrement flowing out of leaking sewer lines.
Residents of Harare's poor suburbs of Glen View and Budiriro endure these challenges daily. Worse still, they now live in the epicentre of Zimbabwe's deadliest cholera outbreak in a decade.
As of 19 October, the current outbreak – one of several in Zimbabwe this year – had claimed at least 54 lives nationwide, with three quarters of the nearly 10,000 infections in densely populated Glen View and Budiriro.
The cash-strapped government has taken to crowdfunding and launched an international appeal for $63 million to try to contain the outbreak. It has also suspended food vending on the street and banned public gatherings in central Harare and other suburbs affected by the disease.
According to health officials, the outbreak began in early September after two boreholes and a well used by Glen View and Budiriro residents for drinking water became contaminated by water from burst sewage pipes.
The inadequate public water supply and decaying delivery system was designed decades ago for a fraction of the 4.5 million people who now live in greater Harare. Residents often have no choice now but to turn to unsafe alternatives, including hand-dug wells and boreholes that also risk contamination.
"Drilling a borehole for the school was the only way for us," explained an official at Glen View 5 Primary School, who didn't want to be identified for fear of reprisals. "Municipal water is not reliable," he said. "It is erratic, and we can go for a week without getting it."
Since the latest cholera outbreak erupted, the government has decomissioned the school's borehole, along with others in the city, citing contamination.
NGOs and private companies stepped in to provide tanks of water for the school, which needs to provide drinking water, toilets, and washing facilities for its 2,000 children. But those stocks were only due to last six weeks and the school has since reverted to using the condemned borehole, adding chlorine tablets to try to keep disease at bay.
Good and bad boreholes
Caltas Hlerima, 67, who lives in Glen View, has been using borehole water since the country's deadliest cholera outbreak in 2008-2009, when some 100,000 Zimbabweans became infected and more than 4,000 people died.
"We only use municipal water for watering the garden and washing clothes. We do not risk our lives by trying to drink it," she said. "The water has a stench, contains several impurities and even when you boil it, it produces a green froth."
Hlerima is a leading member of the Kuwiririna Health Club, a community organisation that supplies 500 households with safe and chlorinated water from a borehole drilled with the help of Médecins Sans Frontières.
MSF, which has been assisting with cholera treatment and borehole rehabilitation projects, said wells and boreholes in Harare are only 25 to 35 metres deep on average, while a safe depth should be more than 35 metres.
Bjorn Nissen, MSF's country director, told IRIN that boreholes drilled using new and improved techniques must be embraced as a solution until the city can provide clean and safe water in sufficient quantities to everyone.
He said there was a tendency from the city authorities to see them as "competition" that may excuse residents from wanting to pay for water services, leaving less revenue for municipalities.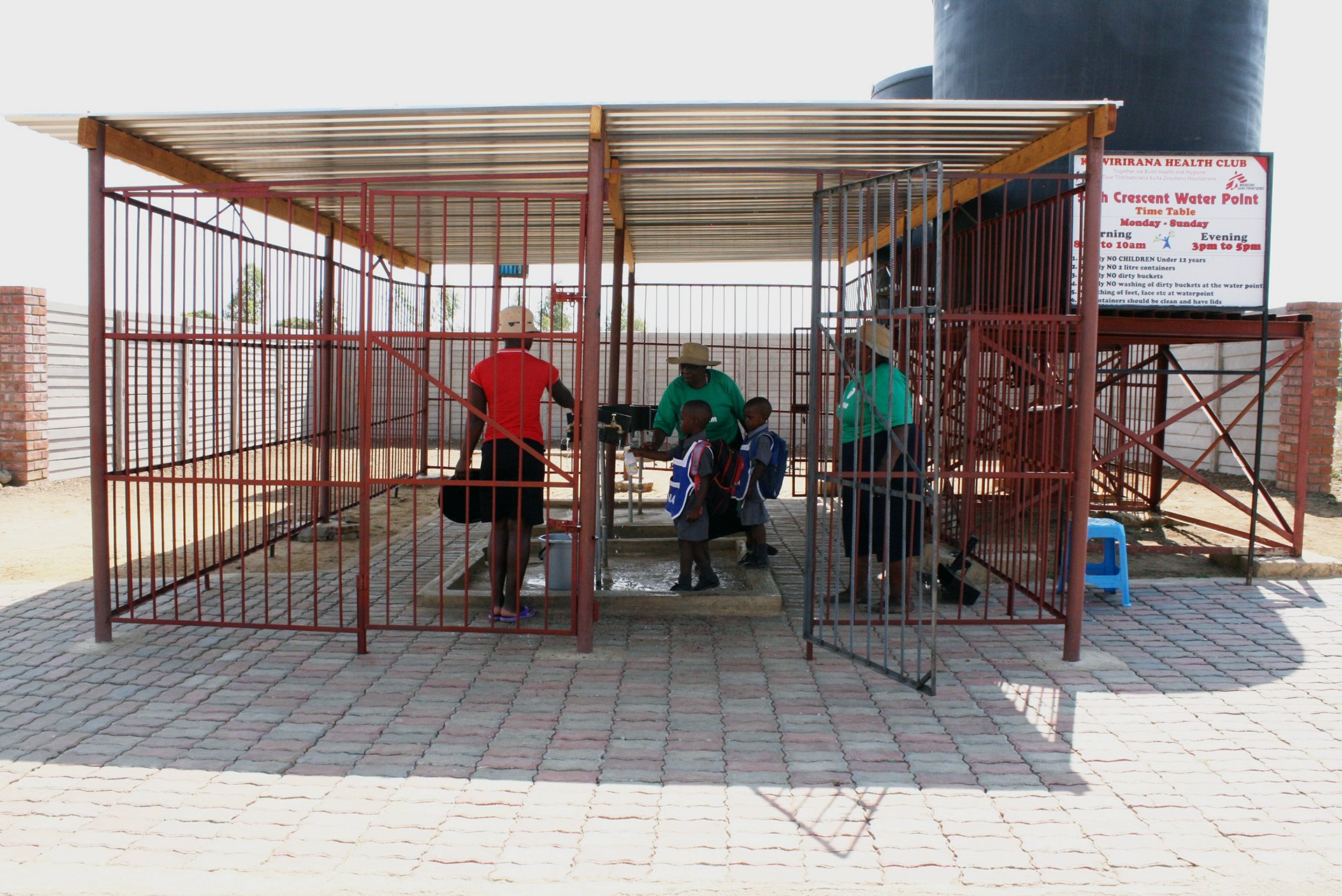 "These improved boreholes must not be looked upon as competition, but as the best tool in the interim period to keep the population safe," he said. "They should not be stigmatised. They should be emphasised."
A chronic problem
Cholera, which is endemic in Zimbabwe, is caught by eating food or drinking water contaminated with cholera bacteria. It is preventable by using safe drinking water and observing good hygiene and sanitation. Causing severe diarrhoea, the infectious disease can lead to dehydration and death if untreated, and death rates can soar when combined with other factors like malnutrition or HIV.
Children are particularly at risk as they are more likely to drink from unsafe sources or eat contaminated food. Girls are especially vulnerable in Zimbabwe due to a lack of proper toilet facilities that encourages unsafe practices.
Cholera outbreaks in Zimbabwe have become more frequent since the early 1990s, triggered mostly by poor water, sanitation, and hygiene (WASH) infrastructure and the lack of access to clean water, especially for the soaring population in the capital.
In the first quarter of the year, another cholera outbreak that affected Harare, the nearby satellite town of Chitungwiza, and Chegutu, a township to the west of the capital, claimed seven lives and left 177 people sick.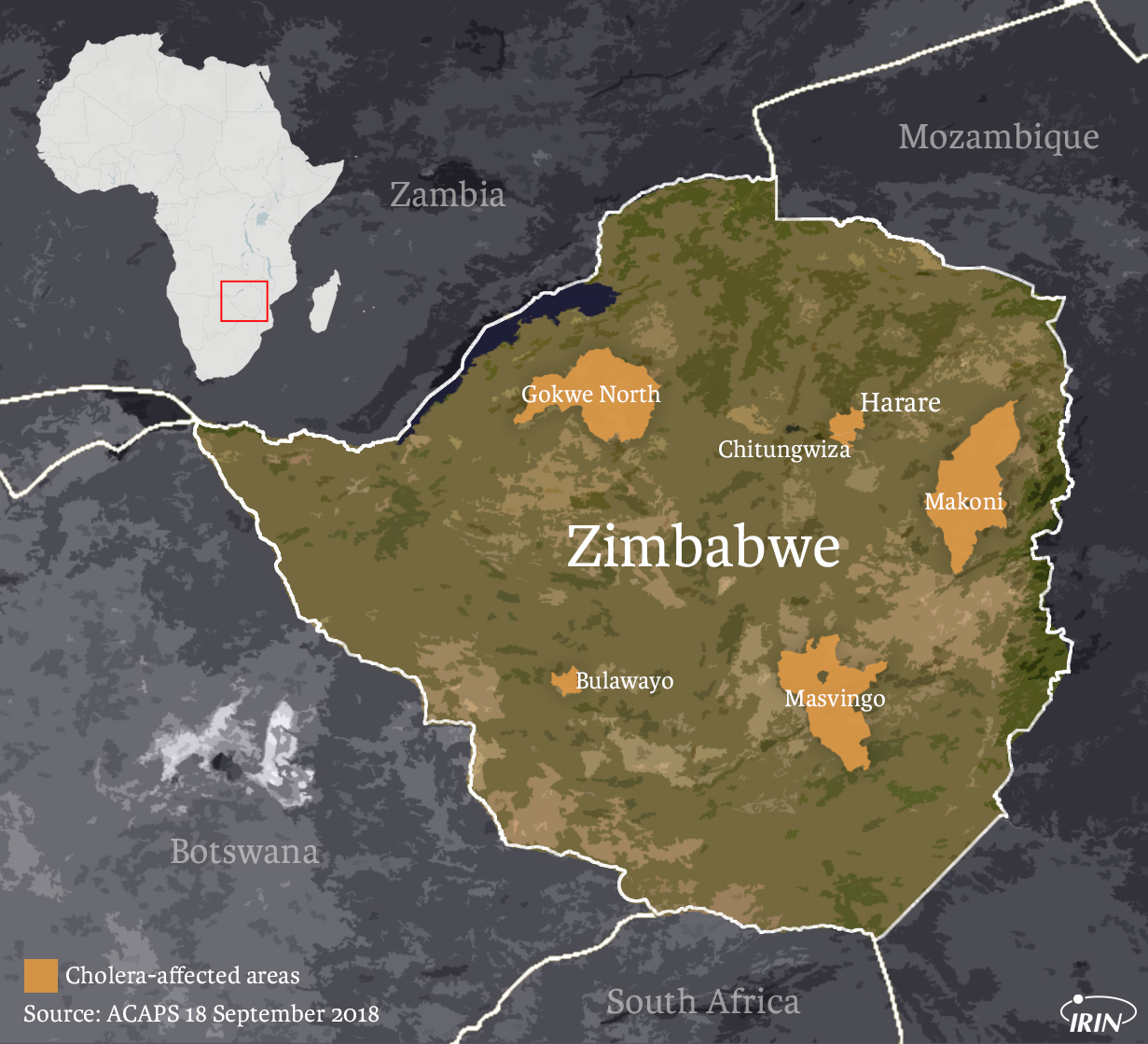 While studies are planned to try to prove the link between Zimbabwe's cholera outbreaks and groundwater contamination in the affected areas, an 18 September briefing note from humanitarian assessment specialists ACAPS blamed broken and burst sewers and poor WASH infrastructure.
In areas like Glen View and Budiriro, waste from burst sewage pipes easily flows into shallow wells, contaminating the water table. Boreholes drilled in areas plagued by sewer leaks are often highly contaminated, particularly if the borehole is not deep enough.
Hardlife Mudzingwa, director of the Community Water Alliance, a local NGO, told IRIN that Harare residents have no choice but to develop alternative sources as the local authority is failing to provide long-term solutions.
These alternatives include unprotected wells that lie open or hold stores of unchlorinated water, and borehole water, much of which is contaminated by burst sewers and sewage treatment plants discharging effluent.
"The water authority is supplying water to the affected cholera areas from bowsers (tankers) with the help of private companies and NGOs. But that is not a lasting solution," he said. "I don't see the bulk water supplies being sustained beyond three months and that means people will resort back to their usual dirty sources of water."
A new drilling technique
MSF has been rehabilitating boreholes in Zimbabwe since 2015 and reckons it may have come up with at least part of the solution.
"We have rehabilitated more than 70 boreholes in 13 suburbs in Harare. During the rehabilitation, we realised that the construction of the boreholes was not done properly," said Danish Malik, a water and sanitation engineer working with MSF.
"When constructing a borehole there are few things one must consider, like which drilling technique to use based on the soils and hard rock that form the ground, and how deep the water-bearing rock (aquifer) is," Malik explained.
MSF is now conducting geophysical surveys to determine the best places to drill and employing a new technique that uses a super seal to protect boreholes from infiltration in highly contaminated ground. New chlorination systems and diagnostic tool kits that include a camera lowered into the borehole can also help make the water safer, MSF said.
So far, Malik said, there has been "zero contamination" in boreholes drilled using the new and improved technique, and MSF is in discussion with the City of Harare to roll it out more widely.
But, as in the past, the response to the current cholera outbreak is reactive. WASH experts say the longer-term solutions include replacing the antiquated water and sewage systems, building new dams, urban planning, and a sustainable waste disposal system.
But all that takes a lot of money. According to Mudzingwa, most programmes in Zimbabwe are donor driven, and when funds deplete, the country plunges into water crisis yet again.
"What we need is fiscal commitment from both the local authorities and government towards WASH. We need a water budget. Presently, the [Harare] municipality budget is swallowed by salaries," he said. "Government should show fiscal commitment to improve access to water through a meaningful budget allocation [five percent] to the local authorities. Harare has not received any cent from national government for the past 10 years."
tm/si/ag