When the Taliban seized power across Afghanistan last August, Aaila's first reaction was to stage an act of quiet protest.
As Taliban fighters swept into Bamiyan, the ancient city in central Afghanistan, the 37-year-old got behind the wheel of her white Toyota and drove around town.
"I wanted to tell the Taliban that I would continue to drive even if I am a woman," she recounted months later, still driving the same car. Aaila is a pseudonym requested to protect her and her family's safety.
Aaila was one of the first women to drive a car in Bamiyan, and she intends to hold on to that right – no matter who is running the country.
Her decision to defy convention has not gone unnoticed. She receives threatening phone calls and text messages; at one point after the Taliban takeover, she decided to leave the city for her safety. "But then I got bored and I came back, went to the local branch of the Taliban and asked them what they wanted from me and why couldn't they leave me in peace," she said.
Their answer revealed layers of the Taliban's internal dynamics, Aaila believes: The Taliban in Bamiyan were not the same people who were sending the threats. The threats were coming from elsewhere, including the capital, Kabul.
"They asked me to record these threats," she said. "That's when I realised that the Taliban are divided in groups: The ones from my city told the ones from Kabul not to bother me."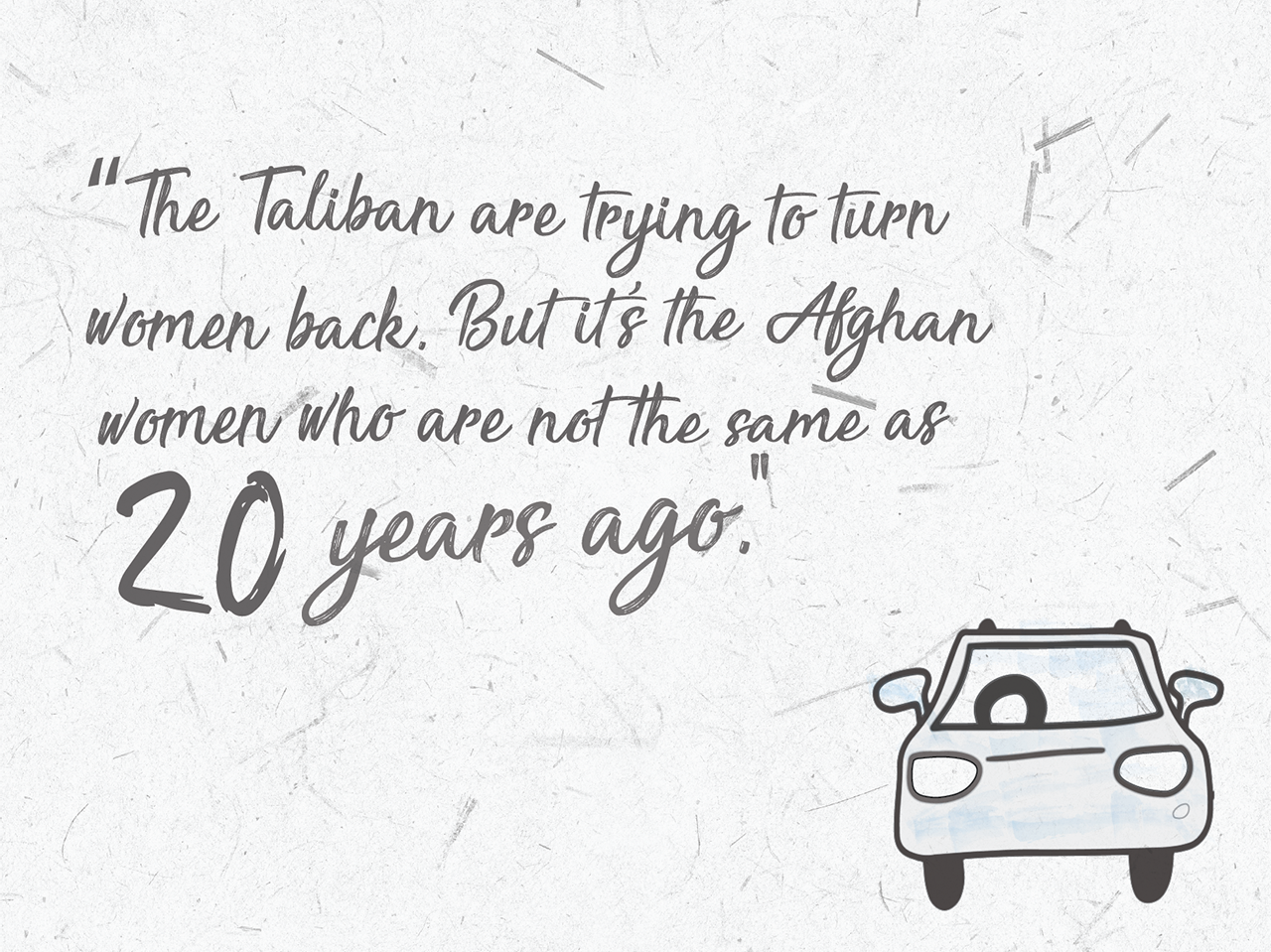 Women like Aaila are quietly trying to keep their professional and personal freedoms intact, even under Taliban rule. "The Taliban are trying to turn women back. But it's the Afghan women who are not the same as 20 years ago," Aaila said.
Her life has been shaped by both the challenges and progress Afghan women have seen over the 20 years that passed between Taliban regimes. Aaila was forced to flee her country as a child, later forced to marry at 13, then forced to endure rape and beatings by her husband.
She has also pushed back. She insisted on going to university, left her husband, became a lawyer, opened her own clothing shop, and stood up to the Taliban when they returned to power.
How the Taliban treat women like Aaila may be one tentative measure of whether attitudes have changed at all since the group held power in the 1990s. Then, they essentially erased girls and women from public life – stripping them of their rights and largely barring them from work and school.
The actions of today's Taliban often contradict their messages to the international community, rights groups say. Taliban leadership pledged to allow girls to attend secondary school, for example, but reversed course months later. Some advocates for women's rights have been abducted and detained, including students in Bamiyan. The Taliban have dismantled services for women, including the government ministry promoting women's rights.
And Aaila still receives threats, although she continues to work – and drive.
Afghanistan faces a humanitarian catastrophe as the economy implodes following the Taliban takeover: Food prices and unemployment have soared, and there are severe cash shortages. All of this has disproportionately hurt women.
Though many Afghans have tried to leave, Aaila wants to stay to maintain the life that she has built. She worries that repression will worsen as Afghanistan fades from global headlines.
Today's Taliban are not fundamentally different from those who ruled two decades ago, she said: "They grew up in the mountains, they haven't seen a woman working or doing more traditionally male things."
But she also believes that Afghan society, and Afghan women, have changed. "We lived through difficulties," she said. "We don't want to pass away in difficulties."
From child bride to lawyer
Composed and confident in dark sunglasses and a light scarf, Aaila at first appears to be far removed from the challenges she overcame earlier in her life. "I was given as a bride when I was a refugee in Iran. I was only 13, he was 28. He raped me," Aaila recalled in an interview, seated on a carpet at a Bamiyan restaurant.
She said she still cannot forgive her family and doesn't believe the societal norms of the time excuse them. "I was a child; I didn't know anything. They told me they would buy me a nice white dress, and when the party finished I collected my clothes to go back home with my family. Instead they forced me to go with my husband."
She returned to Afghanistan as an adult, and she decided to study law – against the will of her "Taliban-mindset" husband, as she referred to him.
"I would go to classes, all covered up in black. I looked like an ISIS member," she said, laughing.
"He was so against my studying at university that he beat me with the piece of a motorcycle. He thought I wouldn't go again. Instead my professors called me to ask where I was. They encouraged me, and after 10 days, even if I could hardly walk, I went back."
As a lawyer, she became increasingly aware of her rights. She left her husband four years ago. Last year, after almost 25 years of marriage and three children, she decided to pursue a divorce. Her husband, Aaila said, has resisted the divorce and is still violent.
In addition to her work as a lawyer often focused on land rights issues, Aaila said she is the first woman in Bamiyan to open and run a shop. "It's not a very big city, and at first the community didn't accept me," she said. "Now there are almost 50 shops run by women."
Aaila's experience of abuse, from forced marriage to mental and physical violence, is far from unique. Afghan society is deeply patriarchal and conservative, and girls are often considered an expense.
Underage marriages account for almost 30 percent of all marriages, according to UNICEF data collected before the Taliban resurgence. Arranged marriages, even if not always forced, are the norm.
Taking a stand
New limitations emerge as the days pass under the new Taliban regime, Aaila said.
"I needed some documents to file my divorce, but the official in charge would not receive me because I am a woman," Aaila said. "Yet, he came to the world through a woman: how is he not going to talk to a woman? He wouldn't even look at me in the eyes."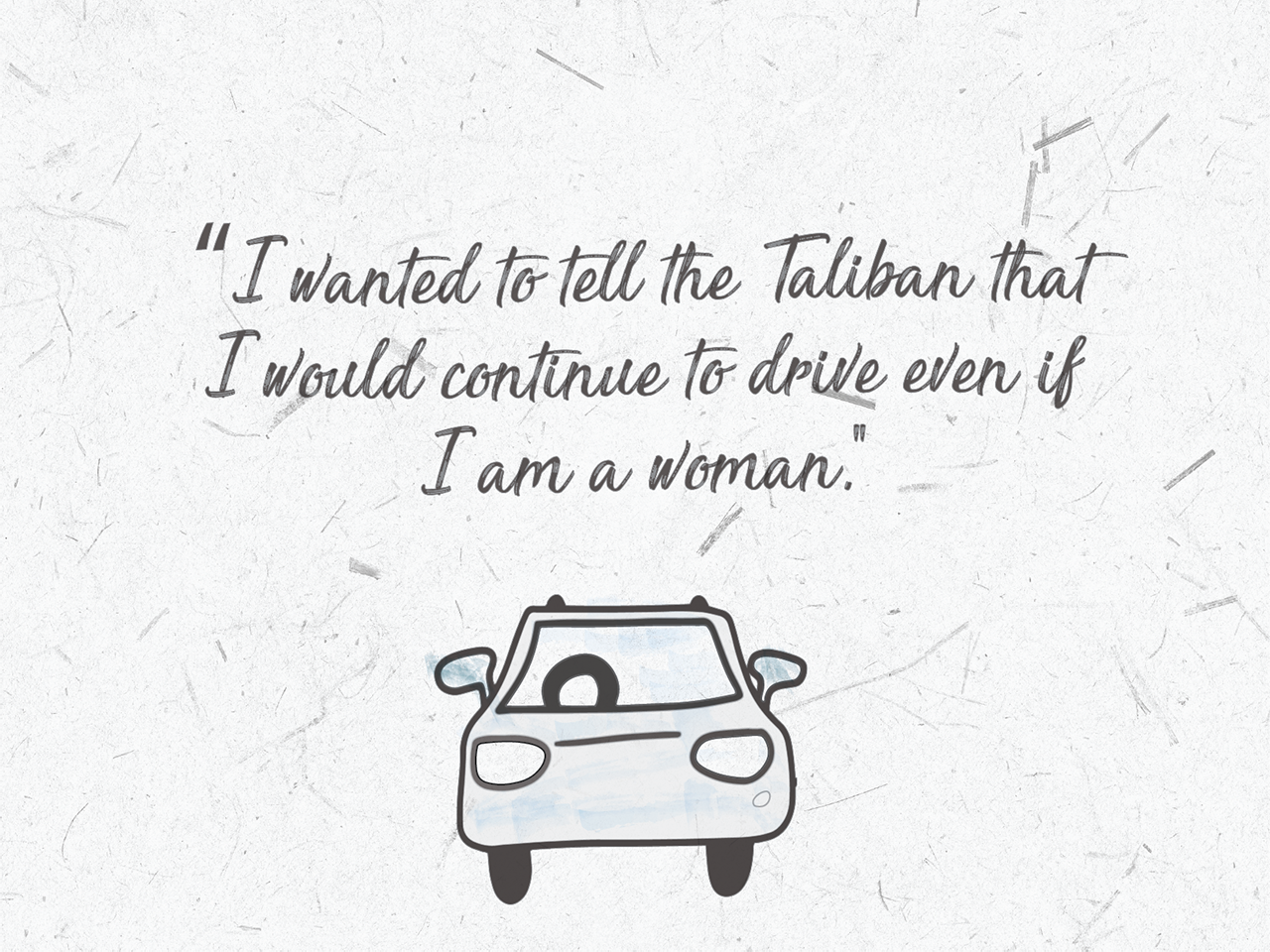 She doesn't know whether her licence to practice law, which has expired, will be renewed. Aaila has told relatives who asked for her help in a land dispute that "being a woman might be an issue". Furthermore, she is Hazara, a Shia minority, while much law – Afghanistan's legal system includes Islamic law– is based on Sunni interpretations.
And as much as Aaila continues to quietly push for her basic rights in Bamiyan, she still faces threats. Her shop has been vandalised, and she receives threatening phone calls.
"Now it's my children who are afraid for me every time I go out, even to buy bread," she said.
It's because of her children that Aaila continues to stand up for her independence: The future of her daughters is a main reason she wants a divorce, she said.
"I told my older daughter that if she falls in love she should come to me," Aaila added. "But I'm afraid that if something happens to me, then [my husband] will force her to marry somebody she doesn't want."
With logistical and translation support from Saleem Yousofzada, Mustafa Alizai, and Hamid Sediqie.
Edited by Irwin Loy. Illustrations by Sara Cuevas (TNH)