When doctors and Western medicine couldn't help him, Abdul Amin turned to a last resort in his own community: a religious healer in Bangladesh's sprawling Rohingya refugee camps.
Abdul is one of more than 700,000 Rohingya who fled a military crackdown in Myanmar's northern Rakhine State last August. Since arriving in Bangladesh, he says he has been unable to shake a persistent pain that runs through the left side of his body, despite twice seeing doctors at an NGO-run hospital in the refugee camps.
For Abdul, the pain is a constant reminder of memories he desperately wants to forget: the sound of gunfire in his village and the frightful exodus from his homeland.
"I don't sleep that much. I think a lot about all those things that happened," the 60-year-old refugee said, starting to cry as a religious healer sitting beside him muttered verses from the Quran into a bottle of massage oil.
"I've lost so much," Abdul said.
Refugees say Myanmar soldiers burned down homes, raped women, and slaughtered civilians during last year's violence – part of a military campaign that senior UN rights officials are calling ethnic cleansing. Médecins Sans Frontières estimates at least 6,700 were killed.
With 900,000 Rohingya now living in Bangladesh's refugee camps, aid groups say there are crucial gaps in recognising and treating trauma. The UN's refugee agency, UNHCR, estimates that only half of Rohingya refugees who need trauma counselling or other mental health services have access to it.
"I don't sleep that much. I think a lot about all those things that happened."
That's why some refugees like Abdul are turning back to traditional methods of addressing trauma and mental health concerns: religious teachers and spirit healers who are themselves refugees.
Aid agencies and grassroots groups say this indigenous community support is a vital but poorly understood part of dealing with psychological pain and trauma in the camps.
They hope to better understand – and incorporate – Rohingya culture and interpretations of trauma into outreach efforts.
Mohamed Elshazy, the mental health and psychosocial support officer for UNHCR in Bangladesh, said that after widespread trauma, traditional spiritual and religious healers are an important part of the "indigenous healing mechanism" – particularly when overall mental health services are in short supply.
"We cannot simply ignore or undermine them," he said. "Since they are not doing any harm, it's always better to engage with them."
A recent IOM survey to identify the mental health and psychosocial needs of Rohingya refugees found that almost half of the 229 respondents feel sadness at all times, while four percent of youth reported suicidal thoughts.
Olga Rebolledo, the mental health and psychosocial coordinator for the UN's migration agency, IOM, worries that without the proper support the situation could deteriorate further – underscoring the importance of taking advantage of existing community networks, including traditional healers, and pairing them with more formal mental health services.
"If we don't combine these different things, at the end of the day, we would definitely need more specialised services," Rebolledo said.
Seeking help  
Gias Uddin, the religious healer who treated Abdul, said the number of people coming to him for help has more than doubled since last year's influx – from roughly 30 people each month to 70. The most common complaints are non-stop headaches and chest pains, which he believes stem from the violence recent arrivals lived through.
"The headaches happen because there is a lot of thinking," he said. "They describe that they feel scared all the time and that there's the pain in their chest. I think it is happening because of the persecution they faced, the troubles that they have encountered, the loss of their things."
His cures rely on his knowledge of the Quran; he recites proverbs and verses over massage oils and bottles of water. "If I cure it according to the Holy Quran, they will feel better," said Uddin, who is also a refugee, having fled Myanmar during a previous exodus in 1992.
His four-year-old son had been waking up crying and screaming every night since they fled Rakhine last year.
Other refugees are turning to traditional spiritual healers, known as boidou, for support.
Halima Khatum, 35, describes her treatments as expelling negative enchantments or spirits, known as jinns.
"Sometimes, the illness is from other evil jinns, and, if it is, then I can cure them," she said.
Nurul Amin, 27, said his four-year-old son had been waking up crying and screaming every night since they fled Rakhine last year.
"He told me that he feels the soldiers shooting him in Myanmar. Even when he is sleeping, he still talks a lot in his sleep, and he would say out loud, 'They're coming, they're coming,'" he recalled.
The nightmares stopped after Amin took his son to see Khatum.
A lack of understanding
Jessica Olney, programme director for the Center for Social Integrity – a US-based civil society group that works with Rohingya community leaders and volunteers – explained that because there is so little research on the Rohingya, there is little understanding of how they deal with trauma and stress.
Her organisation has conducted focus groups and mental health training sessions with Rohingya women to better understand their perceptions of trauma and how they envision the concept of healing.
"The women said that they have to get trauma out so that it doesn't get 'stuck,'' Olney said. "If it's stuck, it will cause suffering. But if they express it and let it out, then they can heal."
"It is a very somatic experience where suffering can happen in the body if you keep trauma inside. It seems like emotional and physical suffering are intertwined, which is where Western psychiatry is heading in terms of understanding trauma."
Olney's group is working to train young Rohingya on how to provide psychosocial support to their communities.
In July, UNHCR started discussions with religious and spiritual healers to learn more about how they help other refugees with mental health concerns. The UN refugee agency hopes they can be part of a support network that identifies and refers the most severe cases to formal services, such as clinically trained psychiatrists.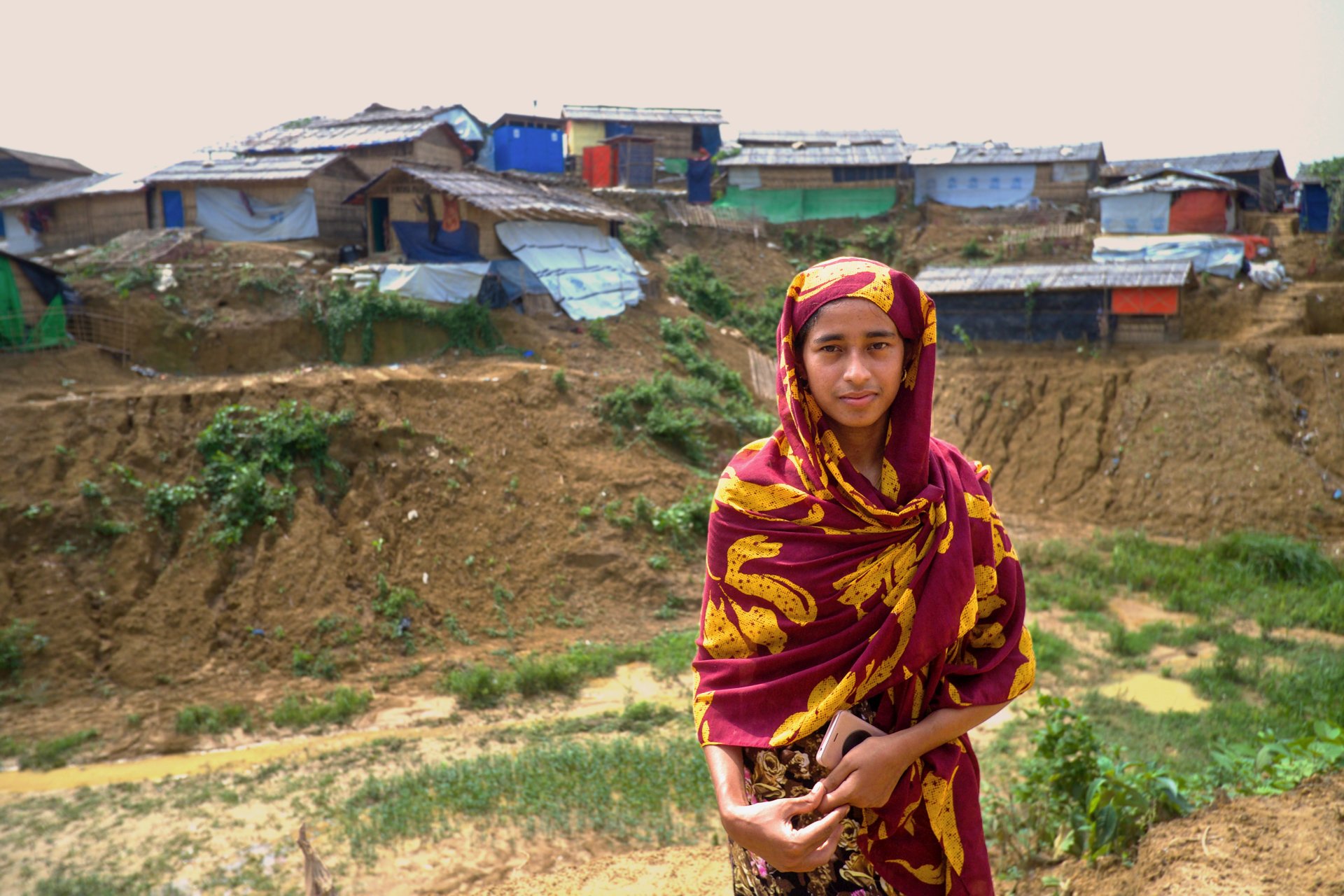 A shared experience
Some Rohingya volunteers who were already trained in the camps have found that simply offering to listen can help worried refugees feel "lighter". Formin, 18, was trained as a community health worker by UNHCR, and has also taken a workshop on mental health issues.
"If a person has a problem and they don't share it to anyone, it will add more and more problems," she said.  "This kind of pile-on can make people feel crazy."
Formin said she also lost family and friends when she fled Rakhine last September, making her well positioned to understand what other refugees are going through.
"When I first got here, I myself was lonely and thinking a lot about this," she said. "Once I got the training on mental health, I felt better."
Uddin, the religious teacher, believes a mental salve could be found if the refugees were able to be productive.
"If they don't have work, they are just sitting around, thinking, and they cannot control their thoughts," said Uddin.
But the ultimate panacea to ease psychological suffering?
"The solution," said Uddin, "is if they can get peace – they can return to their country and get their homes back."
(TOP PHOTO: Halima Khatum is a traditional spirit healer in the Rohingya refugee camps in Cox's Bazar, Bangladesh. Aid groups say they need to better understand and incorporate Rohingya culture into mental health outreach. CREDIT: Dene-Hern Chen/IRIN)
(Additional reporting by Abu Rehan)
dhc/il/js/ag