The boy took a deep breath before lifting up two bags full of red bricks, balancing the load on his shoulders. The sun burned his bare feet as he walked through the refugee camp, his back hunched under the weight.
A 10-year-old Rohingya, Mohammed has been working non-stop for the past two weeks, helping his struggling family earn a living in the world's fastest growing refugee camp. 
Leaving their former lives in Myanmar's Rakhine State to set up homes in the teeming camps of southern Bangladesh cost the family hundreds of dollars – money that must now be recouped, one brick at a time.
"We had to pay for the boat ride to Bangladesh and the material to build a house here," Mohammed told IRIN as he set about earning his day's wages – about $0.04 a brick. "I'm helping my parents earn money."
There is a severe shortage of safe spaces for kids in the camps, more than two months after a new wave of violence in Rakhine began pushing more than 600,000 Rohingya across the border. With desperate Rohingya families like Mohammed's arriving with nothing, advocates say children are at high risk of exploitation and abuse.
"It's a child protection disaster waiting to happen," said Helle Thorning-Schmidt, who heads Save the Children.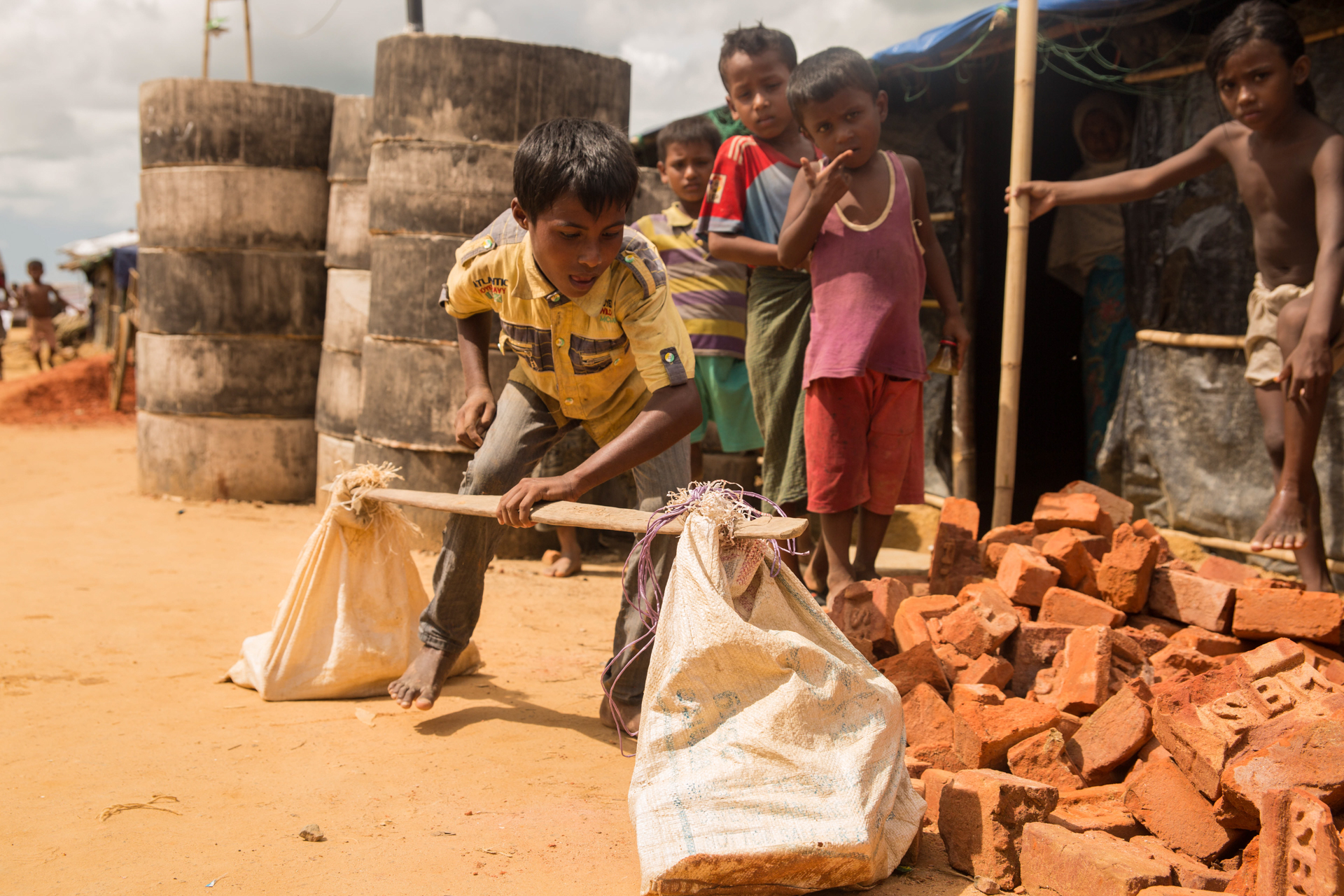 Safe spaces 
While official data and numbers of Rohingya child labourers have yet to be collected, experts worry the situation could get out of hand. More than half the new arrivals are children.
Yousuf Ali, who works with local non-profit YPSA, said it's clear many children have already started working. Most are employed by Bangladeshi businesses and earn the equivalent of between $1.20 and $1.80 a day.
"Most families are open to having their children employed, as they have no other means to survive," Ali said.
Conditions in the refugee camps are chaotic. Heavy rain continues to turn the area into deep mud fields and families are scrambling to establish a living. An army of aid groups and volunteers has rushed in to help, but the sheer numbers are immense.  
Families say it costs $120 to buy bamboo and plastic sheeting from local vendors – a significant portion of their savings. Aid groups estimate more than 400,000 children, including girls and boys who arrived before the latest wave of refugees, can't access schools or other learning places. 
With so few safe spots for children, it raises real risks of trafficking and child labour, said Torgeir Lind, an expert on psychosocial support with the Norwegian Red Cross.
"The needs in the camps are huge," Lind said. "There are lots of children, but not enough schooling. That means that there are no daytime activities for children."
The supply chain
Child labour is a problem in refugee emergencies around the world, as it often is in host communities. 
A study in Jordan's Za'atari refugee camp, for example, estimated 13.3 percent of children aged seven to 17 were working.
"If this is the overarching situation around the world, then we need to look at the Rohingya camps," said Sheema Sen Gupta, UNICEF's deputy representative in Bangladesh.
"Families arrive here with nothing. What happens once they have pitched their tents? They have a meal a day or don't eat for days. Instead of sitting around, children go and find work." 
Gupta said it's repeatedly host communities that exploit children. Often, they don't look at it as a form of exploitation, but see children as part of the available workforce. 
Kashan, a local Bangladeshi who didn't want to share his full name, owns several ice cream businesses in the Rohingya camps. Weeks ago he quit his job as a construction worker, realising that the refugee influx provided an opportunity to make easy money. Through a fixer, he finds and hires children to sell ice cream throughout the camps. The children work for six hours and are paid about $1.80 a day, he said.
"It's good money for them," Kashan told IRIN. "Many of them have never been to school and even worked when they still lived in Myanmar. I'm helping them earn a living."
Eleven-year-old Hamidul was hired by Kashan. The child walks for hours through the hot and muggy camp to sell ice cream. 
"It's tiring, but I have to help my family," Hamidul said. "We had to borrow a lot of money to come here and we are trying to pay it back." 
Hamidul said he has two younger sisters who stay at home to help in the household. 
"None of us go to school," he said.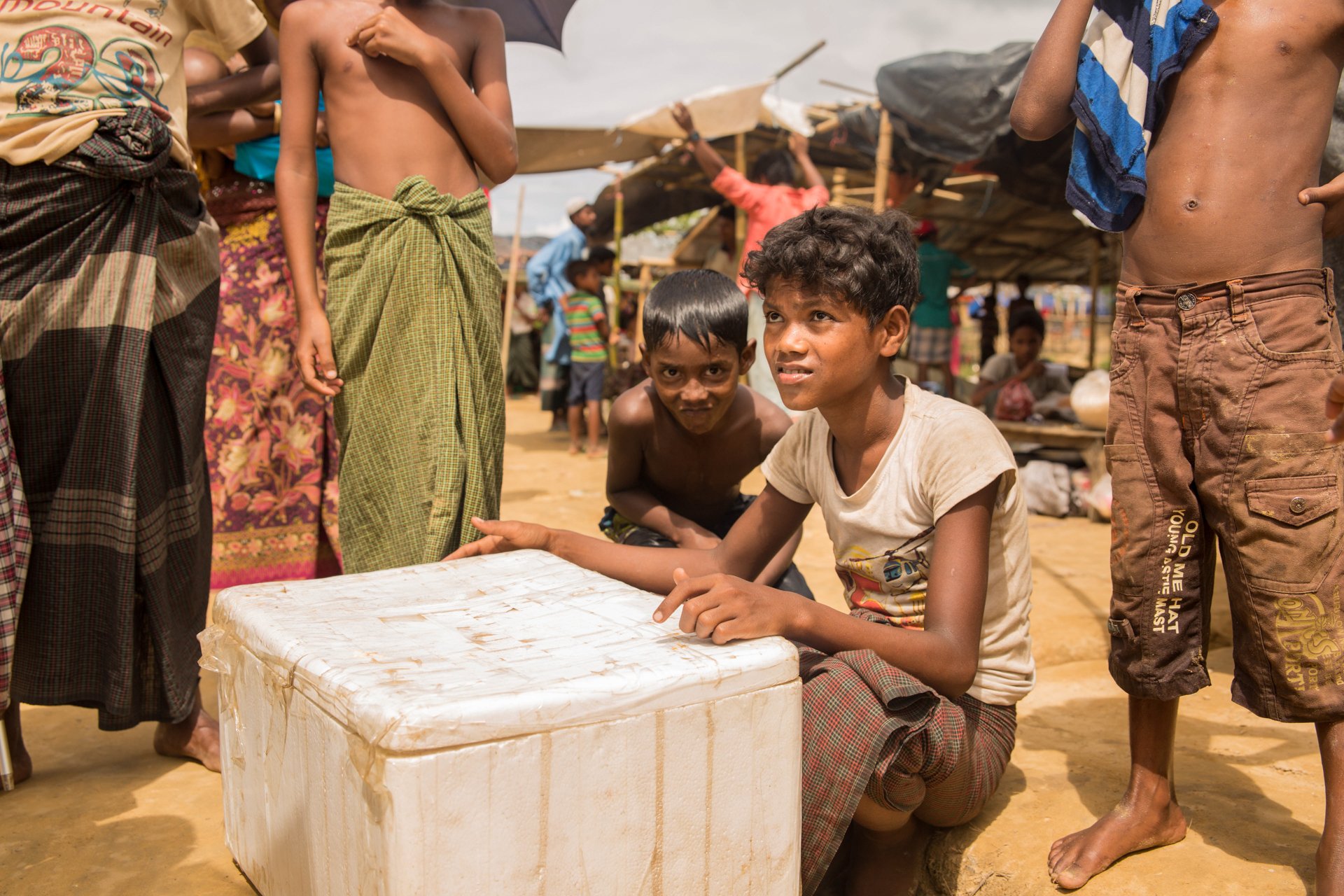 In a rapidly evolving environment, aid agencies have to be careful their own resources aren't used for child labour through local supply chains or subcontractors.
"There is always a fear that NGOs and aid agencies use these services," Gupta said. "We raise awareness and tell business owners that it can't be done. We also assess where to buy supplies and where exactly they are coming from."
Peter Meyer, team leader for the International Federation of Red Cross and Red Crescent Societies in Bangladesh, said staff members visit contractors and work sites every morning.
"We sometimes see that parents have sent their sons to go to work instead and we have to send them home again," Meyer said. "It's a huge challenge."
'I don't want them to work'
Far from the overcrowded hustle, on a steep hill in Balukhali refugee camp, Noor, 35, lives with her husband and three children. 
"We only escaped our village because it was separated by a water canal," the exhausted mother remembered. "I saw women being raped and tortured on the other side, but we managed to escape."
In Myanmar, Noor said, the family lived in a large wooden house with five rooms and owned several fishing businesses.  
Now her family lives in a small tent made from bamboo and black plastic sheets.
"I work all day. I carry jugs of water up the hill, do all the cooking and cleaning, and spend several shifts at the market," she told IRIN.
But she said she's prepared to do whatever it takes so her children can return to school one day.
"My children study at the mosque in the mornings and I hope they can go back to school soon. It doesn't matter how much I have to do. I don't want them to work." 
sg/il/ag