For 14 hours, guards did nothing while inmates from the First Capital Command (PCC) used knives and machetes to kill and behead 26 members of a rival drug gang. Having cut the electricity, the prisoners carried out the killings in darkness. The guards were simply too few and too afraid to intervene.
The massacre took place on 15 January in the notoriously violent Alcaçuz Prison on the outskirts of Natal, in northeastern Brazil. It was only the latest in a wave of gang violence inside the country's prisons that has resulted in more than 130 inmate deaths so far this year, most of them concentrated in the states of Roraima and Amazonas.
Warning signs that Brazil's prisons were heading for a crisis had been present for some time, but the Ministry of Justice, which is responsible for the penal system, failed to act on them.
In one instance in October last year, inspectors from the ministry concluded in an internal report, obtained by the magazine CartaCapital, that members of the PCC gang were moving freely around the Monte Cristo Agricultural Penitentiary in Roraima.
"Prisoners were adept at opening the locks and thus circulated freely in a wide extension of ​the unit and were able to hide themselves in the numerous unfinished or semi-destroyed buildings scattered around between the prison pavilions," the report stated.
No action was taken and on 6 January, the PCC killed 33 fellow inmates at the prison.
Ironically, the PCC started in 1993 as a prisoner rights organisation that aimed to improve conditions and security for inmates, but later morphed into Brazil's largest and most powerful organised crime group. Gang members often run criminal enterprises from their cells and represent one of the main threats to other prisoners.
Their victims at Alcaçuz Prison were members of the RN Crime Syndicate, with whom they fight for control of the drug market outside the prison walls. Following last month's killing spree, a gunfight between the two rival gangs reportedly broke out in the city of Natal that same night.
Beyond the gang warfare, the roots of the crisis can be traced to severe overcrowding and staff shortages. Brazil's prison population has nearly tripled over the last two decades to more than 600,000 – nearly twice the official capacity – in the wake of drug laws that have seen a steep rise in arrests on drug-related charges.
Vicious circle
Brazil has one of the highest homicide rates in the world and Natal's per capita murder rate is higher than any other state capital.
Fillipe Azevedo Rodrigues, a lawyer and law professor at Potiguar University in Natal who is authorised to make routine, unannounced prison inspections, argues that the conditions in the prisons both reflect and reinforce the gang violence that plagues surrounding communities. In short, he believes that prisons contribute to Natal's rampant levels of crime instead of addressing them.
"The prisons are producing criminals at an assembly line level," Rodrigues tells IRIN during a visit to an interim detention centre in the Natal district of Candelária.
Brazil imposes long prison sentences even for minor crimes, such as the possession of marijuana. While serving time, many of these minor offenders are forced to join the prison's dominant gangs as their only guarantee of safety.
Natal, alone, has more than 10 prisons. Rodrigues says Candelária is one of the better ones. Nonetheless, the smell of sweat, fungus, urine, and faeces is intense. Each 12- to 15-square-metre cell contains 17 to 20 people. They sit on the floor, shoulder-to-shoulder, with laundry hanging down from the ceiling above. A 10-centimetre opening serves as a window.
Many have been remanded in custody while awaiting trial. Brazil's judicial system is so overwhelmed that they could spend two years in jail waiting for a trial date.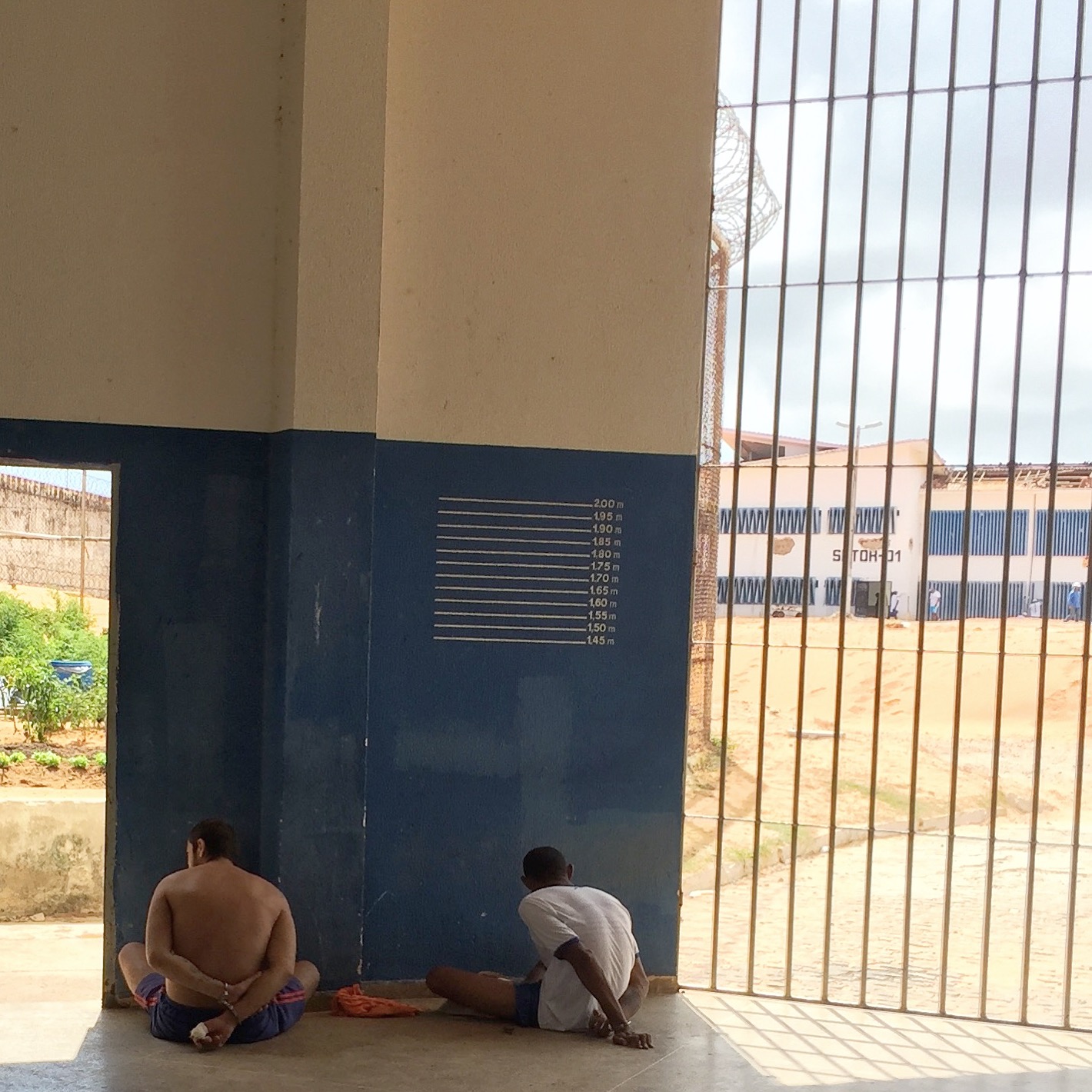 Left with the choice of letting alleged criminals go or keeping them remanded for years, authorities have consistently opted for the latter. By 2014, pre-trial detainees made up more than a third of Brazil's prison population.
Human rights groups say the chronic overcrowding not only leaves inmates more vulnerable to violence but also to the spread of infectious diseases.
According to Rodrigues, most inmates develop severe respiratory problems and skin diseases. One prisoner at Candelária stretches two pale arms through the bars. They are covered in wounds caused by skin disease. "We are being treated like animals, and some of us become animals," he says.
Tough solutions
Rodrigues recently co-authored a book in which he argues that Brazil's gangs are often better organised than the corruption-riven state.
He estimates that 40 percent of Natal's police officers have been corrupted by criminals, 20 percent only exist on paper, and the remaining 40 percent are honest but powerless. The prisons themselves, meanwhile, are woefully undermanned.
Routine cell searches to look for hidden weapons, drugs, and phones come with their own risks when there aren't enough guards. When prisoners are moved outside their cells, they often manage to start fights and sometimes attempt to escape, explained the head of the inspections and riot control unit for Natal's wider state of Rio Grande do Norte, Leonardo Alves.
During one such search at Alcaçuz Prison two months ago, before the riot, 400 inmates were ordered to strip naked and wait in the yard. They were ordered to place their hands over their heads while seven officers wearing battle helmets and full-body armour moved cautiously through the cells. The walls were covered with gang graffiti – most of them words or symbols associated with the PCC. The guards found several cell phones and homemade weapons, including a short spear fashioned from a bar broken off a window.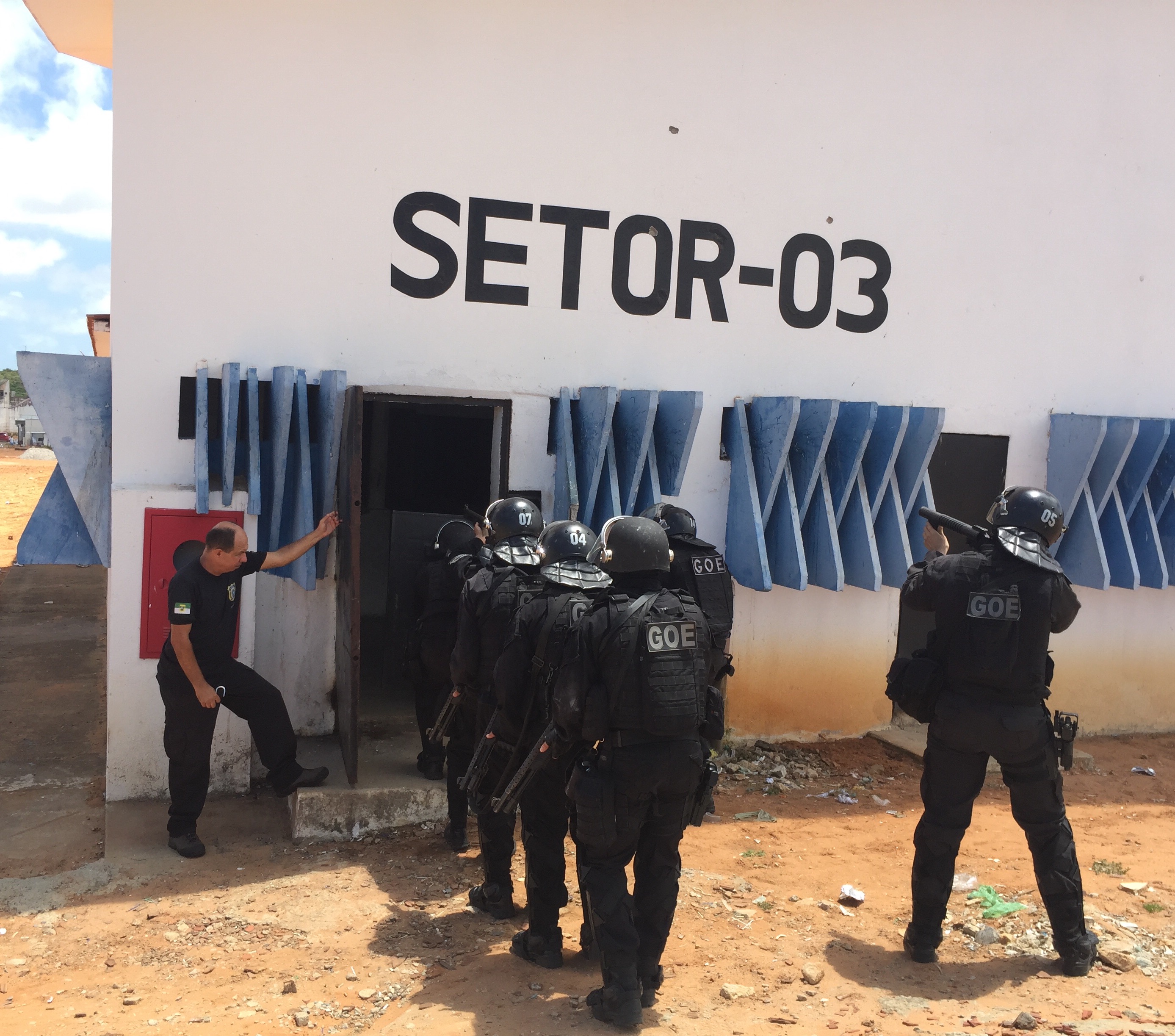 Brazilian President Michel Temer has responded to the recent massacres by announcing that 1,000 soldiers will be dispatched to prisons to assist with searches like these.
Temer also said the government would aim to build 30 new prisons over the next year, including five federal maximum security institutions to house the most violent convicts, and 25 state facilities that would aim to ease overcrowding.
But getting to the roots of the prison violence requires far-reaching reforms both in and outside the prison system. Alves admitted as much on the drive back to the city from Alcaçuz. "The violence is like an aggressive type of cancer. It is hard to fight without killing the patient in the process," he said as his police car kicked up a trail of red dust. "We won't give up, but the task ahead of us is difficult."
(TOP PHOTO: Empty cells at Alcaçuz Prison while guards conduct a search for weapons and cell phones. Magnus Boding Hansen/IRIN)
mbh/ks/ag