In the middle of a blistering June afternoon on the busy docks of the Port of Djibouti, Aouleed crouches down on his haunches in the shade of a lorry, arms outstretched resting on his knees; his head, wrapped in a wet rag, lolling. He hasn't had anything to drink or eat since the sun rose around 6 a.m.

Ramadan, which began on 6 June with the sighting of the new moon, is a religious obligation for all Muslims. The fast lasts a month, from dawn until dusk. It's a testing time for all involved, but for Aouleed, a port worker in Djibouti – a major trade hub on the southern tip of the Red Sea, one of the world's busiest shipping lanes – it's really tough. 
Read more

Ethiopia survives its great drought, but a way of life may not

Ready or not - drought tests Ethiopia

The work is constant: much of it to and from Djibouti's landlocked neighbour, Ethiopia. Not only is the demand from Ethiopia's strengthening economy never ceasing, but due to its ongoing drought – the worst in decades – ships filled with food aid also need to dock.

"We still have a lot of ships carrying humanitarian cargo and fertiliser waiting," says Aboubaker Omar, chairman and CEO of Djibouti Ports and Free Zones Authority. "The bottleneck is not because of the port, but (because of) the inland transportation," he explained. "There aren't enough trucks for the aid, the fertiliser, and the usual commercial cargo."

As of 23 June, 16 ships remained at anchorage waiting to unload about 609,000 metric tons of wheat, barley, sorghum, and fertiliser, according to the port's website. Four ships carrying about 128,000 metric tons of wheat, sorghum and fertiliser are currently docked and being offloaded. 

With drought-caused crop failures ranging from 50 to 90 percent in parts of the country, Ethiopia, sub-Saharan Africa's biggest wheat consumer, has been forced to seek international tenders and drastically increase wheat purchases to alleviate its mounting food shortfall.

In addition to the bottleneck of ships, the port authority has faced the dilemma of which ones to allow through first.

"If you give priority to food aid, which is understandable, you are going to face a problem with the next crop if you don't get fertilisers to farmers in time," Omar says.

Hot, hard work

Once ships have berthed, however, there remains the challenge of unloading them.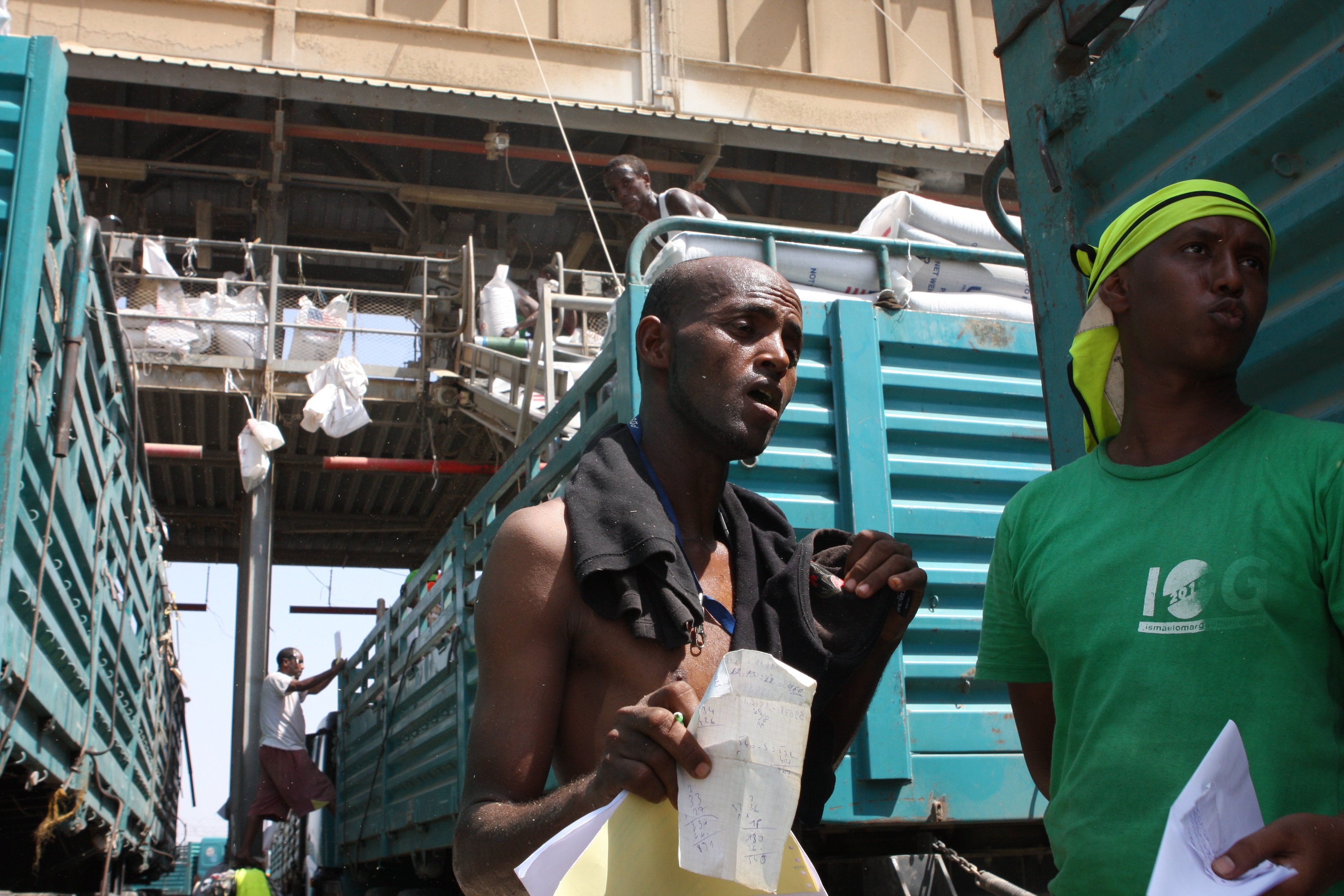 "I honestly don't know how they do it," port official Dawit Gebre-ab says of workers toiling away in temperatures of 38 degrees Celsius, which, with humidity of 52 percent, feels more like 43 degrees. "But the work has to continue."

The port's 24-hour system of three eight-hour shifts mitigates some of the hardship of Ramadan for those working outside, beyond the salvation of air conditioning: but not entirely.

"It's hard with Ramadan,"admits Agaby during the hottest afternoon shift, a luminous vest bound around his forehead as a sweat rag, standing out of the sun between trucks being filled from conveyor belts with bags of food aid destined for Ethiopia. "We feel pain everywhere. For sure, it's a struggle." 

The occasional worker says he's not fasting due to the pressures of working in such heat, but the vast majority of dockside labourers appear to adhere to the strictures of Ramadan. 

"Everyone here is fasting," says Osmah in the lee of a ship offloading wheat. His whole T-shirt is soaked through, whether with sweat or water – the one permissible use of water to help cool frying bodies during the Ramadan fast – is impossible to tell. "We just hold on until sundown, as we're doing our fast for God."

Railway relief

The new 756-kilometre railway running between Djibouti and Ethiopia was brought into service early in November 2015 – it still isn't actually commissioned – with a daily train that can carry about 2,000 tons of food aid to alleviate pressure on the port, Omar says.

Capacity will increase further once the railway is fully commissioned in September and becomes electrified, allowing five trains to run carrying about 3,500 tons each.

The jam at the port has highlighted for Ethiopia, not that it needs reminding, its dependency on Djibouti. Already about 90 percent of Ethiopia's trade goes through the port – in 2005 this amounted to two million tons and now stands at 11 million tons. During the next three years, it is set to increase to 15 million tons.

Hence, Ethiopia has long been looking to ease its dependence on Djibouti, strengthening bilateral relations with a self-declared independent Somaliland, to the east, through various Memorandum of Understandings over the past couple of years.

The most recent of these stipulated about 30 percent of Ethiopia's imports would shift to Berbera Port, which this May saw Dubai-based DP World awarded the concession to manage and expand the underused and underdeveloped facility for 30 years. The project is valued at about $442 million and could transform Berbera into another major Horn of Africa trade hub.

But even with Berbera as a docking option in the future, the problem of not enough trucks to cope with demand would lead to the same dilemma as now, Omar says.

It's estimated that 1,500 trucks a day leave the Port of Djibouti for Ethiopia and will increase to 8,000 a day by 2020, even with the new railway.

However, so many additional trucks – an inefficient and environmentally damaging means of transport – might not be needed if the turnaround time for the current fleet could be improved.

"From Djibouti City to Addis Ababa is a 36- to 48-hour journey, but it's taking trucks 10 days to make deliveries due to customs," says Omar. "We're discussing with Ethiopia about how to smooth the process and minimise customs procedures."

Ethiopians are not famed for their alacrity when it comes to paperwork and related bureaucratic processes. Drought relief operations have been delayed by regular government assessments of who the neediest are, according to some aid agencies working in Ethiopia.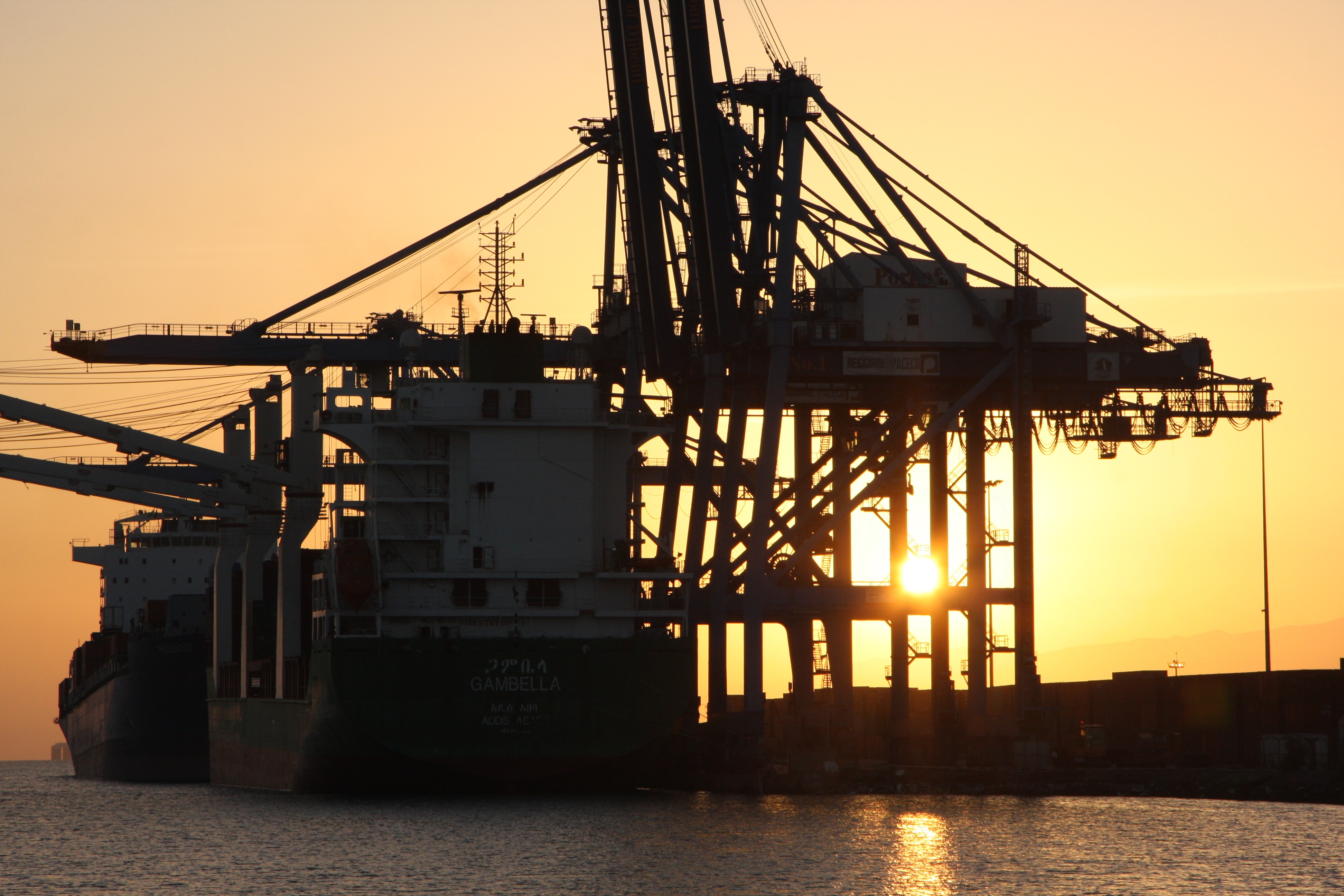 Horn of Africa integration

While the food aid bottleneck at the port has highlighted logistical frictions, the overall trend of increasing trade and strategic links between Ethiopia and Djibouti – which include further train lines and an oil pipeline in development – are serving to bring much-needed change to the region. 

"Ethiopia's projection of soft power, including trade relations with its neighbours, the development of cross-border economic infrastructure and sharing of services, is helping to bind these nations more closely together and demonstrate in tangible ways the benefits of integration," says Matt Bryden, a Horn of Africa political analyst and executive chairman of Sahan Research, a Nairobi-based think tank.

Speak to some of the numerous Ethiopian businesspeople working in Djibouti City and they say they feel quite at home. They compare it to the eastern Ethiopian cities of Dire Dawa and Jijiga, while talking of the two countries basically operating as one.

"There's infrastructure integration between the two, lots of trade, and the governments are working towards a common agenda for developing, and a long-term vision," say Samir Aden, advisor to Djibouti's Ministry of Economy, Finance and Industry. 

As the sun sets over Djibouti City, port workers finishing their shifts assemble outside the entrance to catch buses back to their accommodation. Across the city locals congregate on streets in groups for iftar, the breaking of the day's fast with dates, samosas, and pieces of fruit.

Meanwhile, beyond the city's rooftops, arc lights dotted across the ports are turned on, continuing to blaze away as offloading continues, and throughout the night loaded Ethiopian trucks set out westward into the darkness.
jj/oa/ag