While the West is fixated with migration to Europe from the developing world, it's just as common for people looking for fresh opportunities and a better life to journey South-South.
The distances may be shorter - most travel is between regional neighbours – but navigating official restrictions can be just as hard.
This week, more than 40 Ethiopians, believed to be on their way to find work in South Africa, were picked up from two houses in the Kenyan capital, Nairobi, and charged with being in the country illegally.
Last month, the police had to rescue another 23 Ethiopians from a house in the Kahawa West suburb of the city as angry residents, in a bizarre case of a murdered motorbike taxi driver, surrounded the property.
One of the Ethiopians interviewed said they'd arrived by bus a few days earlier. Their passports had been confiscated by the Kenyan hosting them, on the promise of jobs to come.
These are not one-off cases. "It's almost on a weekly basis," said Bram Frouws of the Regional Mixed Migration Secretariat. "It shows that Kenya is a hub for people moving to South Africa or as a destination in itself."
Looking for jobs
Migration in Africa is overwhelmingly about jobs. "It appears to have many economic benefits for the destination countries as well (and for migrants themselves and origin countries)," notes an RMMS report exploring mixed migration and the development debate.
"Measures designed to restrict migration can have negative impacts, since they raise the costs and risks of migration for poor people and lower the benefits by keeping them in informal low-paid job markets," it adds.
A recent World Bank study finds that South-South migrants "make substantial contributions to remittances". Based on a hypothetical scenario of severely curtailed migration, it concluded that "the loss of the remittance income leads to substantially lower welfare in developing countries".
Ethiopia is one of Africa's fastest growing economies. But the size of its population – at close to 100 million – means that even a small percentage of people seeking asylum or moving to greener pastures means large absolute numbers.
Destination countries have traditionally been in Europe and the Gulf states, but there is an under-researched southern route, from Kenya down to South Africa – the continent's second largest economy.
"Ethiopia is doing quite well economically, but to accommodate such a large population means that the economy has to grow at a much faster rate," said Frouws. "For a while yet Ethiopians are going to continue to leave the country. There are not many jobs here [in Kenya], so they will move down south."
In one of the few studies of its kind, the International Organization for Migration estimated in 2009 that between 17,000 and 20,000 male refugees and migrants from the Horn of Africa – overwhelmingly from Ethopia and Somalia – try to reach South Africa each year. Frouws said that the regular arrests in Nairobi suggest those figures may still hold good.
Welcome?
Kenya is generally welcoming to its neighbours. A series of regional agreements – poorly implemented by most governments – in theory support free movement. But jobs are a political issue, and governments tend not to want to make the complicated argument of how migration can benefit everyone.
Ethiopia is not part of the East African Community, but its citizens are allowed visa-free travel to Kenya. The confiscation of passports by agents facilitating migrants' southbound travel makes them vulnerable to arrest by Kenyan police. Passports can be extortionately expensive in Africa and laborious to obtain, in effect another handicap to free movement.
Migration and refugee protection has increasingly become conflated with security concerns in Kenya as a result of a string of high-profile attacks by the Somali jihadist group al-Shabab. The jihadists see it as retaliation for Kenya's military intervention in neighbouring Somalia – a country at war with itself for more than two decades.
"In response to security/terrorism threats, a common reflex in Kenya has been to tighten migration and refugee policies," notes the RMMS report. "Kenya regularly carries out mass operations arresting and detaining refugees and migrants, often shortly after a deterioration of the country's security situation."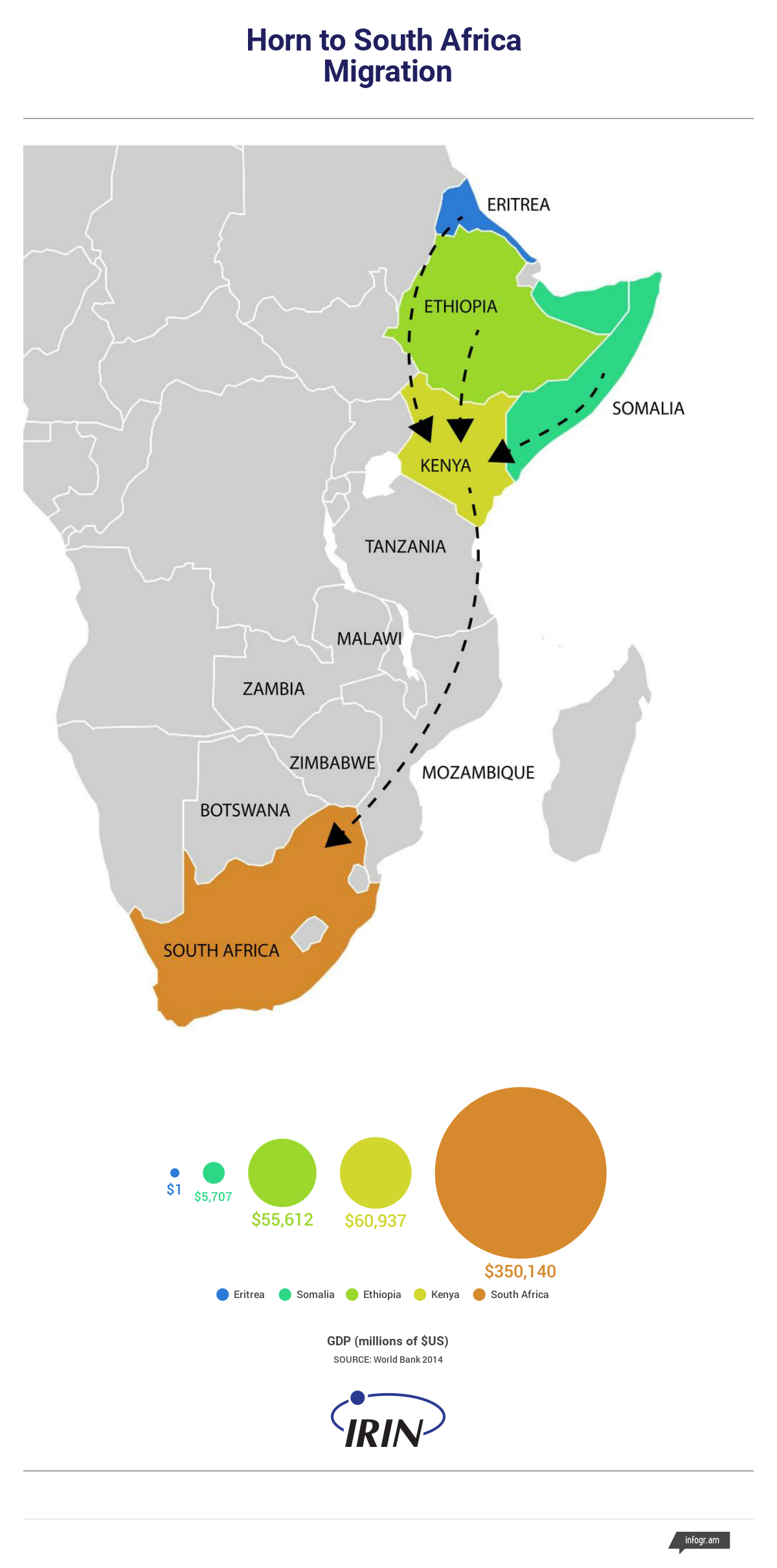 Kenya hosts more than 462,000 Somali refugees. Its refugee encampment policy – denying them the right to work – actually hurts Kenya's economy, depriving it of skills and job-creation opportunities, while round-ups aimed at irregular migrants have been heavily criticised by human rights groups.
Dangerous South Africa
South Africa, on the other hand, has a history of xenophobic violence. Between two and five million Africans, mainly from neigbouring countries, have migrated to the country looking for work or asylum. They are often perceived as a threat by low-skilled local labour in a country with a stubbornly high unemployment rate.
Among the groups especially despised (along with Nigerians and Congolese) are Somalis, according to an index by the Southern African Migration Project. Somali shopkeepers have been a particular target of shootings in poor neigbourhoods, with local businessmen often accused of stoking the violence to rid themselves of competition.
But South-South migration is also an important livelihood strategy. "It helps to diversify income sources and risks faced by households and is a way to ensure better education for the next generation," says the RMMS study. 
Migrants return home more frequently than if they resided in the North, and "bring experience and skills home when they return, invest in their countries of origin and form (trade) networks."
Local rather than global has its advantages.
oa/ag