Frustrations are mounting in Indonesia's Central Sulawesi province as survivors wait for help that's slow to arrive nearly a week after earthquakes and a tsunami destroyed homes and villages and buried an unknown number of people under rubble.
Indonesian authorities in charge of the response say they're waiting for larger aid shipments to reach the city. Damaged infrastructure and long distances continue to slow aid delivery, while fuel and electricity shortages have hampered search and rescue efforts.
"The most important thing I need is tents," said Willem Rampangilei, who heads Indonesia's disaster management agency. "The second thing is sanitation – clean water and mobile toilets."
Officials believe the death toll from the 28 September earthquakes and tsunami – more than 1,580 as of 4 October – will continue to rise. More than 70,000 people have been displaced and at least 191,000 are in need of urgent assistance, according to initial assessments.
Local aid workers and volunteers say remote areas closer to the epicentre of the earthquake – at least a four-hour drive north of the badly hit provincial capital of Palu – are even worse off, yet no official aid has reached them.
Ade Nuriadin, a volunteer with Walhi, an Indonesian environmental organisation, told IRIN he travelled to four sub-districts in Donggala District, from where little official information has emerged. Ade said he saw widespread devastation, and homeless families told him they had received no help at all.
"Shelter has to be built immediately, because about 15 to 20 percent of the houses have collapsed," he said. "About 60 to 70 percent of the houses are falling apart."
Ade said he and others reached the area on Wednesday with only an hour-long detour. Other local volunteers have also set up public kitchens to offer cooked food to displaced residents in Donggala.
"In my opinion, this seems like a crisis of leadership," Ade said. "No one wants to start the movement. There's no instruction from above."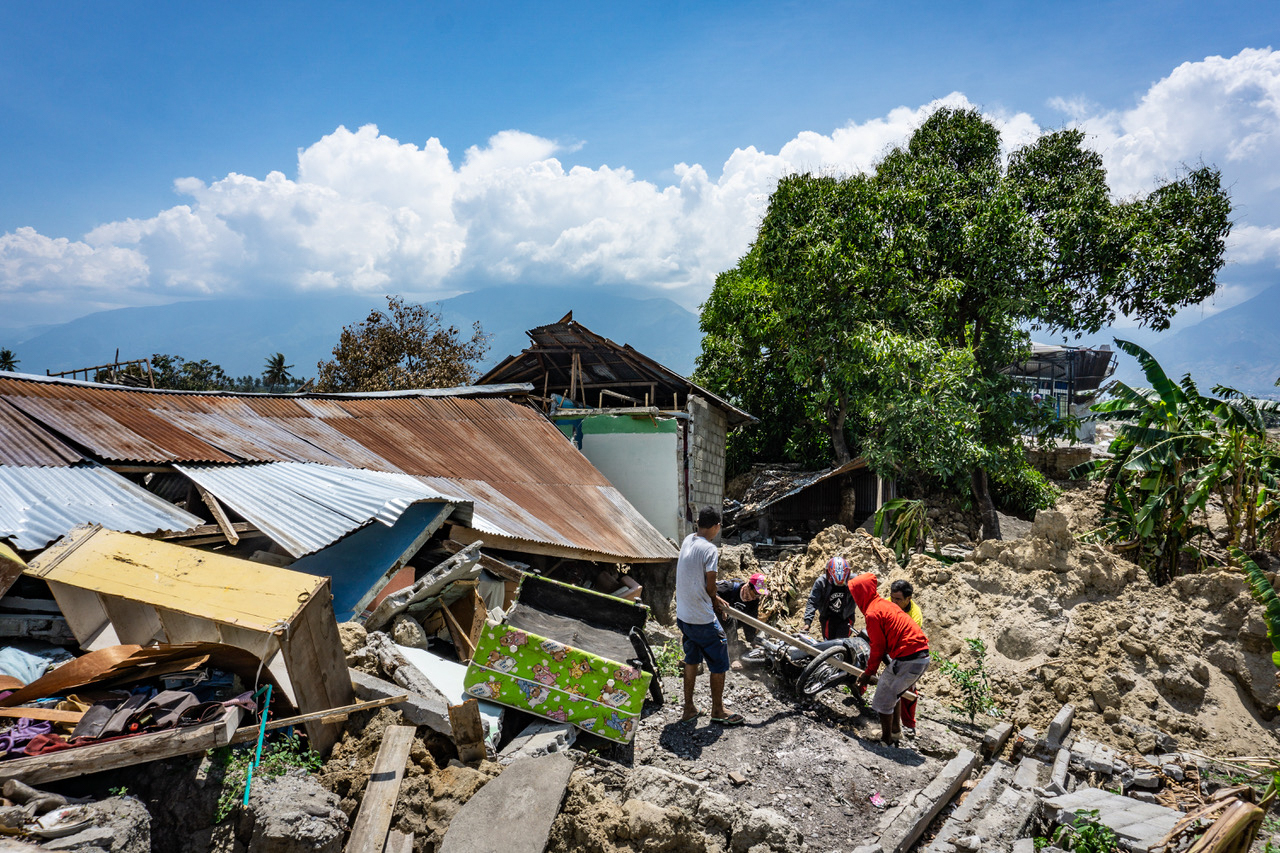 Villages gouged from the land
In Palu, crumpled sections of the city have yet to be excavated and many residents say they haven't received any help at all.
The devastation in Petobo, a village on the outskirts of Palu, underscores the scale of the damage here. When the earthquake struck, the soil underneath Petobo turned to liquid, swept away houses, and split them in half.
"The ground ripped open," recalled 23-year-old Wahyu Triwandi, who ran from his home as the earth gave way.
Nearly a week later, Wahyu and his family live in a tent and say they haven't received any kind of aid. His former home sits nearby, the crushed structure swallowed up by the ground, along with most of the buildings in his village.
Some residents have received basic supplies, but people like Muhamad David, a 31-year-old driver whose house in Palu was levelled, said the two boxes of small water bottles he was given barely lasted a day, split among three households.
"Aid from the government is not enough," he said.
Vast distances
Indonesia's government has asked for limited help from international donors and aid agencies. This includes tents for the growing number of people whose homes were destroyed, water purification kits, and generators for electricity.
But the arrival of more substantial aid supplies continues to be slowed by long distances and wrecked infrastructure.
Part of the runway at Palu's airport was damaged in Friday's earthquakes and is only open to small aircraft and military planes. International aid groups are beginning to ship supplies to Balikpapan, a city on neighbouring Kalimantan island to the west – more than a day by sea from Palu's port, which also sustained damage.
Some aid responders are transporting relief items through distant hubs such as Makassar, a port city in neighbouring South Sulawesi province. The Indonesian Red Cross, for example, sent water trucks by boat to Makassar from the capital, Jakarta. It will take another 24 hours for the trucks to make the long journey up Sulawesi and reach Palu by land, the Red Cross said today.
These transportation problems have made it particularly difficult to respond, said Rai, who heads Project Karma, an Indonesian charity that has provided medical assistance in Palu and in Lombok, which was hit by an earthquake in August.
"Sulawesi is very big, and when the airport doesn't work for three days, there has to be other ways to get food," said Rai, who uses one name. "In Lombok, it was easy to bring [aid] from Bali. But even from Makassar, it's difficult because it could take 18 hours. Along the way as well, there are people who want the aid because they may need it too."
But what angered him the most, he said, was a lack of communication and help from the authorities.
Fuel shortages
For now, disaster management officials say they're concentrating relief and rescue efforts in two of the hardest-hit areas in Palu: Petobo and Balaroa, which also saw extensive damage when the earthquake liquefied a large swathe of land beneath the village.
In the city, electricity and petrol shortages have crippled daily life. Taju Rampewa, a 40-year-old with three children, complained that the only washing water available was what was left in dirty street gutters.
He stood near the front of a queue stretching 100 metres from a petrol station. Taju said he had been waiting for the previous 24 hours, recruiting his kids to hold the spot. But what angered him the most, he said, was a lack of communication and help from the authorities.
"I'd go back to my hometown in Makassar if I could buy the petrol," Taju said.
Central Sulawesi Governor Longki Djanggola said the province was functioning with only 20 percent of its electricity needs – making it impossible for people like Taju to withdraw money from the city's cash machines. In the first days after the earthquake, only three public areas offered free electricity, but coverage has gradually increased.
This – and an initial shortage of heavy equipment – hampered search and rescue operations in the immediate days after the earthquakes.
"I sometimes panicked, I cried. So I prayed, I sang songs."
Hotel Roa Roa, a seven-floor building in central Palu that collapsed during the earthquake, has become a focus of efforts to find and save people trapped beneath the debris. Disaster management officials say seven of the 21 people found so far in the hotel have been alive, including Lucia Zefanya, who says she was trapped under a platform for two hours before she managed to wriggle free and signal for help.
"I sometimes panicked, I cried. So I prayed, I sang songs," the 15-year-old said.
That was a week ago. The National Search and Rescue Agency believes that many more could still be buried.
In Petobo, where the earthquake churned the ground into a wave of mud that sunk nearly an entire village, survivors are still looking for help.
Edo, a 38-year-old father of three who uses one name, hasn't been able to find his five-month pregnant wife and youngest child since their house was carried 50 metres away by the liquefied soil in Petobo. When he felt the earth shaking, he ran one direction and they ran the other.
When asked who was helping him find his family, he said: "Just friends at the church; do you know who could help?"
im/il/ag