The shells of burnt-out vehicles rust in the rain and crumbling houses poke out through the overgrown brush. The village of Soumouna in Congo-Brazzaville's southern Pool region lies empty and guarded by soldiers, but there's undeniable evidence of what happened here 20 months ago.
Isma Nkodia, 25, said she was passing through the village at four in the afternoon when government helicopters laid it to waste.
At first she thought the attack would be over quickly: just as soon as the pilots had found and destroyed the residence of the rebel leader they were hunting.
But an hour later Nkodia still lay crouched in the forest fearing death as the bombs kept falling and the village she had known since childhood turned into dust and rubble.
"They wanted to destroy everything," she said.
It's a scene of devastation that can be found in village after village across the Pool region, where a hidden conflict between the government and a previously dormant militia called the Ninjas has left tens of thousands displaced and entire districts deserted.
A neglected crisis
IRIN was granted rare access to the region, and was able to document the toll of the 20-month conflict. The violence here has played out with little international attention, unlike the humanitarian "mega-crisis" in the neighbouring Democratic Republic of Congo.
The conflict dates back to March 2016 presidential elections won by Denis Sassou Nguesso, who has ruled Congo-Brazzaville for all but five years since 1979.
His victory, which was marred by allegations of fraud, followed a heavily contested constitutional referendum a year earlier that removed term and age constraints that would have prevented the now 74-year-old from standing.
On the morning of the 2016 election results, with tensions high, a series of attacks were carried out in the capital, Brazzaville. Government, police, and military buildings were set alight in opposition strongholds and 17 people were killed, including three police officers.
The government blamed the attacks on a former militia group called the Ninjas, which had fought against Sassou Nguesso during civil wars in the 1990s and 2000s, but had largely demobilised.
The group's leader, Frédéric Bintsamou, better known as Pastor Ntumi, denied responsibility. But the following day the government began major military operations against Ntumi and remnants of the group, whose fighters had been based in the forests of Pool, to the west of Brazzaville.
Sealed off from the press and human rights organisations, the operation in Pool has received little media coverage. But in advance of a ceasefire agreement between Ntumi and the government – signed in December – IRIN spent three weeks in the country and obtained* exclusive satellite data that, combined, captures the full extent of the government's offensive in Pool and the full cost on civilians.
Scorched-earth tactics
The most visible consequence of the crisis in Pool is the complete absence of people, in a region that was regarded as Congo's breadbasket. On the 60-kilometre highway from Brazzaville to Kinkala, the regional capital, IRIN passed just 10 civilian vehicles. Village after village lay empty, most cordoned off by army checkpoints.
While the authorities claim to have conducted a "targeted" offensive against the Ninjas, IRIN found clear evidence of scorched-earth tactics.
In Soumouna, the first village to be bombed, back in April 2016, witnesses said government helicopters indiscriminately targeted the civilian population.
Jidele Lounguissa, 25, said helicopters rocketed Ntumi's large compound, before "bombing the entire village". She said she knew of five civilians killed during the attack, which she escaped from by hiding in the forest with her son, who was born the day before.                               
"I was afraid he was going to be killed," she said.
Isma Nkodia said her 50-year-old friend, Adele, was hit by a bomb near Ntumi's house, where she had gone to purchase traditional medicine.
"Many people died inside their homes," Nkodia said. "When it was over, I saw houses and cars badly burnt, schools completely destroyed and trees that had collapsed."
While former Ninja combatants have lived in Soumouna for many years, Nkodia and Lounguissa both said none were present during the raid.
Satellite images obtained* by IRIN confirm Nkodia and Lounguissa's accounts. The data demonstrates that much of Samouna, 86 structures, was destroyed between late February and May 2016 —  a period that coincides with the army's attacks. Satellite data also shows houses were destroyed in Kidamaba Goueri (8), Mayama (7) and Malengo (4), although clouds obscured part of the village.                             
"There were no Ninjas," said Nkodia. "Just civilians".
"People eat what they can find in the forest"
Several residents told IRIN that nearby villages that were spared the brunt of the air assault were later pillaged by ground troops.
Augustin Loufoua, 51, fled from a village called Vula in September 2016 when he heard helicopters firing into the forest several kilometres down the road. When he returned to the village a few months later, he said, "houses had collapsed, bricks had been smashed, doors kicked in, and everything in our households had been taken".
"I don't understand why the soldiers did this," he said from a camp for displaced people located outside a church in Kinkala. "Before we had Ninjas, but they left the village a long time ago."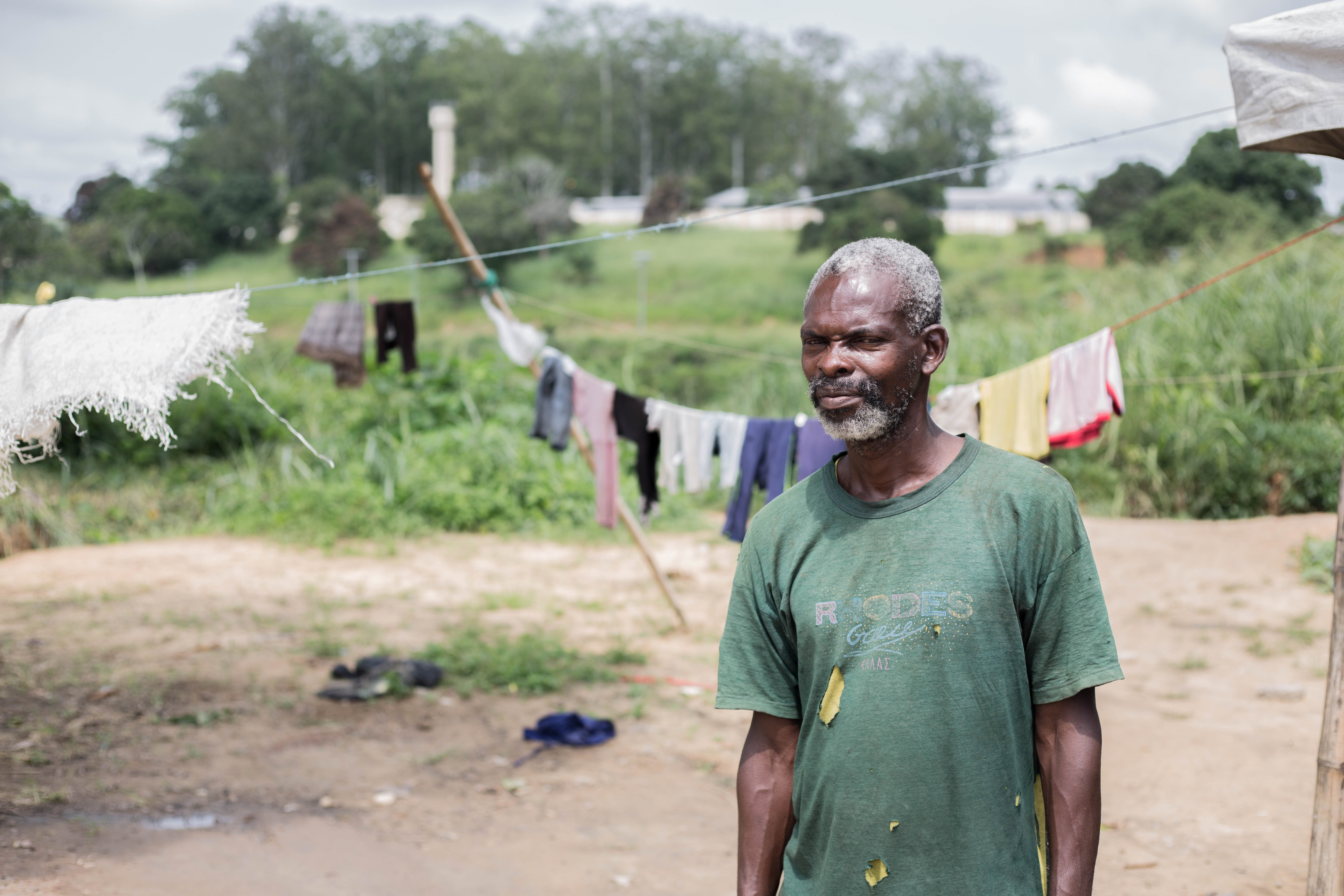 In Pool's northern districts, along the railway line connecting Brazzaville to the port of Pointe-Noire, towns and villages have been sealed off by military free-fire zones. Many residents have not been allowed to leave the area – where Ninjas are suspected of hiding – since the crisis began.
Last September, the NGO Caritas distributed food to a village called Madzia via military helicopter, but otherwise there has been "no humanitarian access" to this part of the region, said Alain Moukouri, secretary-general of Caritas in the Republic of Congo.
"People eat what they can find in the forest," he said.
Persecution
Meanwhile, in villages across Pool, young men have been arrested and accused of being Ninjas on the basis of physical appearance.
"It can be dreadlocks, tattoos on their arms, a torn shirt, even a strange face," said Monica Ngalula, who works for the Congolese Observatory of Human Rights.
Thérèse Matounga's son, Francie Nkouka, has been missing since October 2016, when he was arrested by soldiers in the village of Loumou. The 24-year-old truck driver had been socialising at a friend's house in a nearby village when he returned to find military helicopters and soldiers on the ground.
He ran to his brother's house nearby but attracted the attention of soldiers. They began searching through the house and found an old purple scarf – a colour associated with Ninjas. It belonged to his brother, who used to be part of the group but had demobilised in 1998. Nkouka protested his innocence but was put on a military helicopter and never seen again.
"My son was a serious man," said Matounga, 65. "He had no ties with Ninjas."
Between April and September 2017, the United Nations Population Fund documented 110 cases of rape by "men in uniform". This could refer to rebels or government forces, but IRIN understands the vast majority were perpetrated by soldiers.
"Violence against women is the hidden part of a hidden crisis," said UNFPA representative Barbara Laurenceau.
Government spokesman Thierry Moungalla did not respond to multiple messages seeking comment.
Return of the Ninjas
The Ninjas emerged from the upheaval of the early 1990s when the country's first multi-party elections took place after 13 years of rule by Sassou Nguesso's Marxist-Leninist Congolese Labour Party. Despite demobilisation attempts, they never really went away, remaining in unplacated opposition to Sassou Nguesso.
Very little is known about how they are structured and operate, and how much real control Ntumi exerts at the local level. Bereft of information, the international community has termed them, "armed elements". To the government they are simply "terrorists".
Ntumi has consistently denied responsibility for the 2016 election attack in Brazzaville and many Congolese and foreign diplomatic officials believe him.
With protests building through 2015 and 2016, many observers say the government anticipated a popular uprising and sought to pre-emptively crush dissent. Ntumi's Ninjas were the perfect pretext; Pool was the perfect location.
"People believe the government lost the presidential election and needed to create a mass security alert to prevent resistance," a diplomatic source who asked not be named told IRIN.
Whether or not the Ninjas were responsible for the Brazzaville attack, after the first bombings in Pool a new insurgency quickly took shape.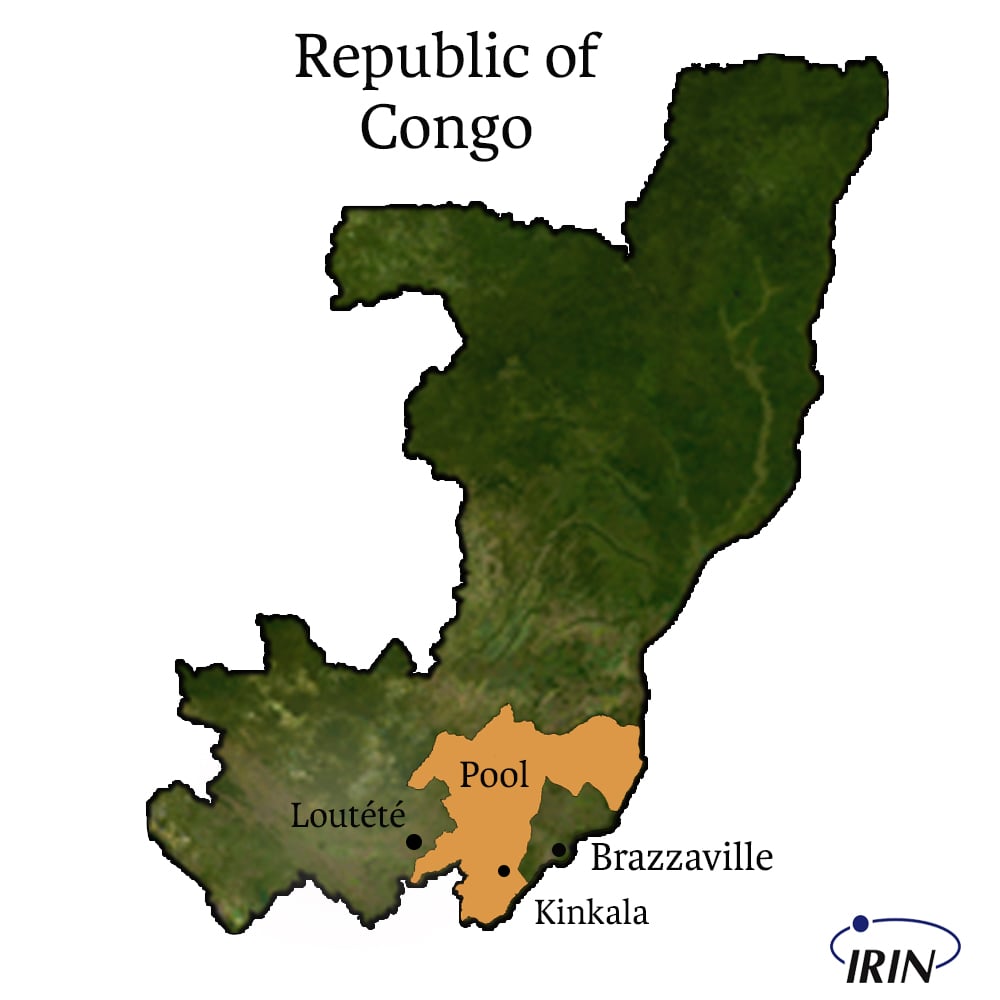 "Everything started when soldiers began killing some of the population," said a self-styled Ninja colonel from the village of Yangi, who said his group of 20 previously dormant Ninjas were taking orders from Ntumi. "That is why we started to fight."
Ninjas have since: destroyed bridges on the rail line between Brazzaville and Pointe-Noire, halting trade through the region; killed an unknown number of soldiers; and stepped up attacks on civilians in ambushes along the main roads to the capital.
Anicet Oungoula, 29, was part of an ambulance crew recently attacked by Ninjas near Kinkala. The group was attempting to rescue passengers from a bus that had been ambushed by Ninjas earlier in the day.
When they arrived on the scene, he said the fighters began shooting at the ambulance, wounding the driver and sending the vehicle into a ditch. A soldier on board crawled out and was executed on the spot. A wounded man lying on a stretcher inside was killed by a Molotov cocktail the Ninjas tossed inside.
"I am still traumatised," Oungoula said. "I think about it every day."
Displaced and forgotten
Despite huge suffering, for over a year the government refused to recognise the existence of the crisis, leaving humanitarian organisations isolated and unable to publicly appeal for funds. That finally changed in July last year when the government signed a letter requesting international assistance.
By that stage 80,000 people had been forced to flee their homes and 138,000 people in a country of just 4.5 million were in need of humanitarian assistance.
In one assessment by the World Food Programme, more than 15 percent of children in Pool were found to be suffering from acute malnutrition. Thirty children on the brink of death were brought to Brazzaville for treatment, but three of them died.
"People like to talk about the millions [of people suffering] in Kasai [a conflict-torn province in the DRC], but if you look at the proportion here, we had a lot more people in need," said Anthony Ohemeng-Boamah, the UN's resident coordinator in the Republic of Congo.
While aid groups have now reached tens of thousands of people, conditions remain challenging for thousands more displaced living with host families, in church grounds, and in local authority buildings.
At a run-down Catholic church in Loutété, a town just outside Pool, displaced people complained of hunger and sickness. Sitting in a dark, leaky room, 52-year-old Ermeline Kouelolo said her family had not eaten in two and a half days. Others said they had not eaten in three.
Kouelolo fled to Loutété, which is now hosting 4,000 displaced people, in November 2016 when soldiers in armoured vehicles arrived in her village, Loulombo. Since then, her family of five has been sleeping in a small tent with no mattress, no electricity, and no source of light. Every day, she said, her youngest child, a six-year-old girl, gets thinner and thinner.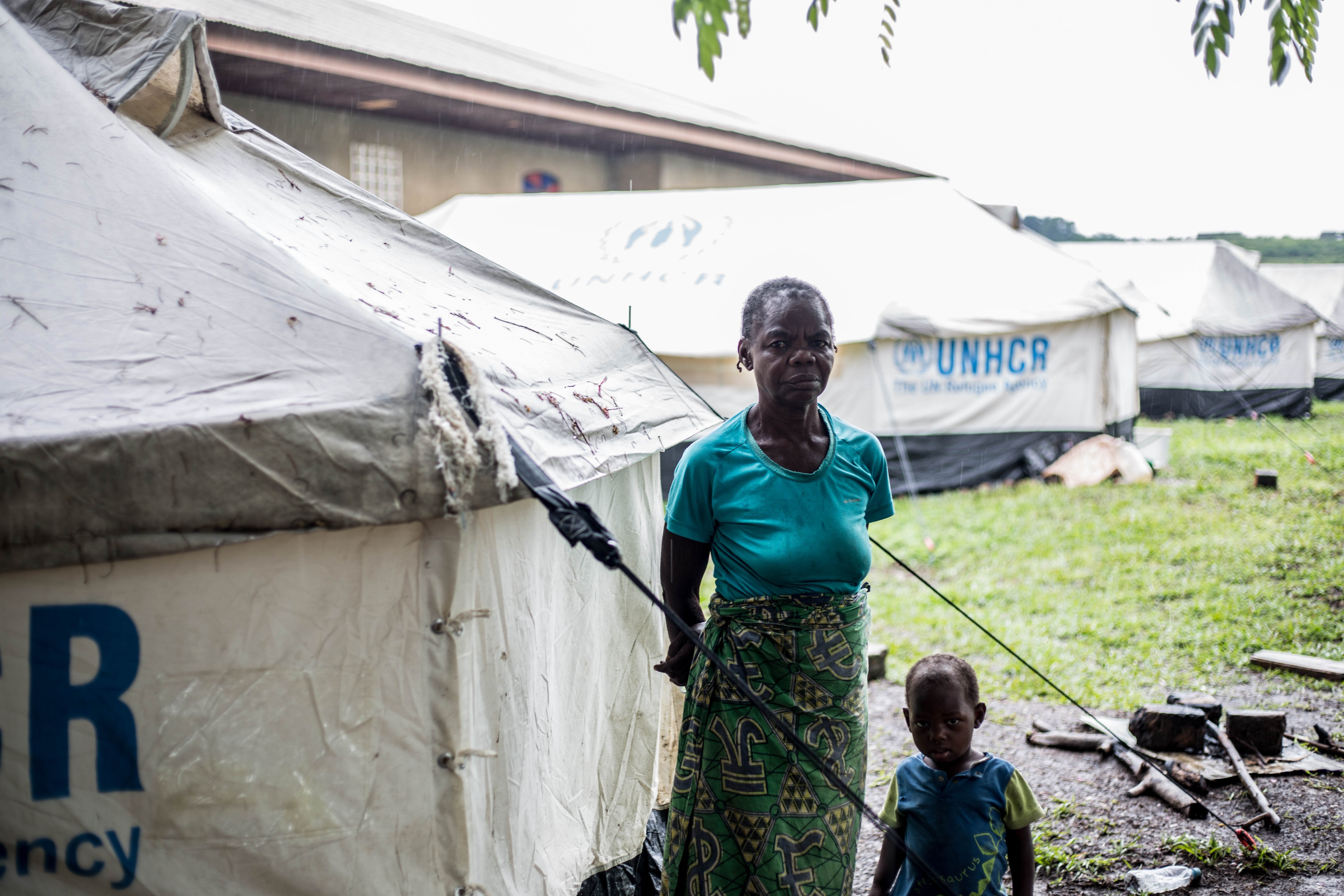 With donors preoccupied by crises in the Democratic Republic of Congo and Central African Republic, raising funds for people in need in Pool has proved challenging.
"You walk into some of the embassies in Kinshasa [the capital of the DRC] and they don't even know what is happening," said a senior humanitarian source in Brazzaville who asked not to be named. "Donors to the central Africa humanitarian network are overstretched."                                         
"It is a national crisis not a local one"
The government's ability to assist people in Pool has also been hampered by the country's economic crisis. Congo-Brazzaville is one of the largest oil producers in the region, but declining prices for global crude have drained state funds while public debt has risen to 110 percent of GDP.
The closure of the Brazzaville to Pointe-Noire rail line has made a bad situation even worse, with goods now transported to the capital in long, cumbersome convoys under military escort.
While the ceasefire announcement has raised hope that the economic and humanitarian situation may improve in Pool, the root causes of the conflict remain largely unaddressed.
"The Pool conflict is a consequence of the post-electoral crisis in Congo," said Clement Mierassa, a leading opposition politician. "It is a national crisis not a local one."
Back in Loutété, heavy rain turns the grounds of the church into mud as Kouelolo prepares for another night sleeping in a tent. It is the second occasion she has been displaced in the past two decades. For others, it is the third or fourth. This time, she says she will only return home if two conditions are met: "The soldiers must leave and the Ninjas must leave."
*This story was updated on Monday 18 June 2018 with satellite footage obtained by Emmanuel Freudenthal.
Read more in Part 2: Civilians return to razed villages and a shaky peace
pk/oa/ag